A Sensitive Movie About a Literary Oddity
A new film about Emily Brontë offers a fresh, provocative look at the misunderstood Wuthering Heights author.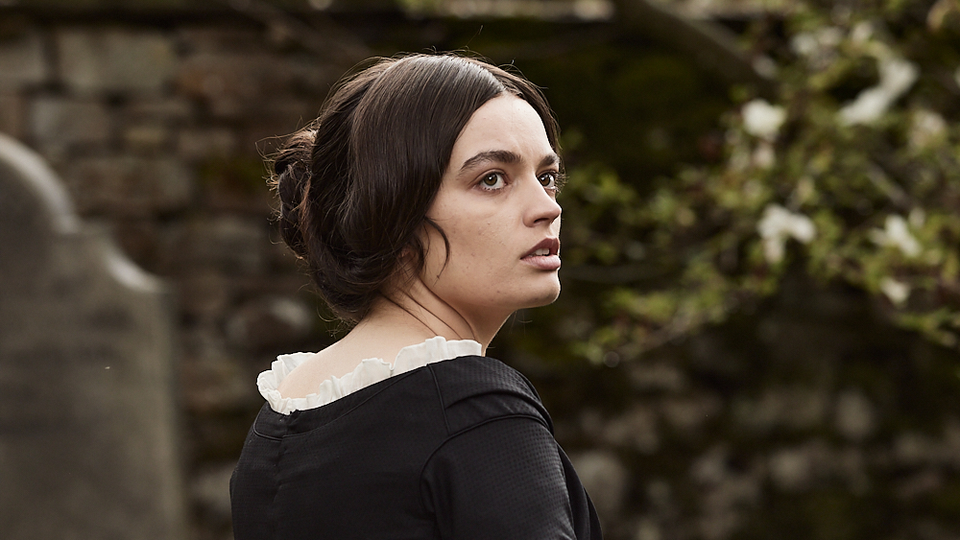 Of the Brontë sisters, Emily has long been considered the most vexing. She was reportedly jovial around her siblings but disagreeable and timid around anyone else. Her equally tempestuous and aloof reputation left her friendless, and the novel Wuthering Heights—her bold, brutal masterpiece—incensed some readers while enthralling others. She's a literary oddity, a creature whose reserved disposition seemed to belie a wildly inventive imagination.
In Emily, a new film about her life in theaters Friday, her difficult personality manifests as a near-paranormal force. Take an early scene, during which Emily (played by Sex Education's Emma Mackey) puts on a mask for a role-playing guessing game. She's supposed to choose someone fun to perform as—say, Marie Antoinette—but instead, she channels her late mother. She speaks softly, spooking her siblings, Charlotte (Alexandra Dowling), Anne (Amelia Gething), and Branwell (Fionn Whitehead). By coincidence or some inexplicable power, the winds outside pick up, the windows fling open, and the candles blow out. Her sisters cry hysterically, and Emily seems possessed, unable to remove the mask. The evening, which started in merriment, devolves into terror.
This probably never happened in the author's short life—or maybe it did. The film's writer-director, Frances O'Connor, told me that she'd read about how Patrick Brontë, the family patriarch, had received a mask as a wedding gift and encouraged his children to put it on from time to time for entertainment. Who knows? Perhaps Emily once embodied her mother's ghost.
Then again, whether she did isn't the point. Although the film traces Emily's life leading up to the publication of Wuthering Heights, the movie isn't a conventional biopic. There is no on-screen text informing the audience of the year being depicted, no flashbacks to her childhood, no gesturing at larger world events to contextualize her place in society. Instead, we get daring sequences that blend the natural with the supernatural, fact with fiction—a film "that kind of moves between," O'Connor said. She wanted to capture the spirit of Emily's work, not the truth of her biography.
Watching Emily thus feels like reading Emily's writing; it's a vivid portrait of her mind that's as romantic and haunting as Wuthering Heights. Rather than making a straightforward movie about Emily Brontë, O'Connor wanted to convey the transportive nature of the author's classic novel. "I kind of disappeared into this world," she recalled of reading the book for the first time at 15, absorbing the story on long commutes to classes. "I would get off the school bus in the middle of the city and really felt like I'd been somewhere."
O'Connor's interest in the author deepened with her poetry: "You can really feel her moving the pen across the page." To her, Emily Brontë was a young woman who repressed her passions, someone whose creativity conflicted with who she had to be to others. "I feel like that is a common experience with a lot of women," O'Connor said, noting the gap between "who they really are and who they have to present to the world." Her unusually tactile film channels Emily's heightened sensitivity. The handheld, subtly shaking camera makes the film feel as perpetually windswept as the Yorkshire moors, where Emily and her characters resided. The swelling, whooping score underlines Emily's turbulent interiority. And the intimate soundscape picks up the rustle of every leaf and the undoing of every lace on her corset. When the new minister, William Weightman (Oliver Jackson-Cohen), delivers a sermon about finding God "in the rain," the camera zooms in on Emily's face as the noise of raindrops crescendos.
The film, I've also found, shape-shifts. The first time I watched Emily, I saw it as a depiction of how love and pain were inextricably linked in her mind. Halfway in, the film invents a torrid romance between Emily and Weightman, a tragic affair that serves as a foil to Emily's relationship with Charlotte. The sisters are shown to be incredibly close, but that closeness comes from their appreciation for and resentment of each other. But upon rewatching, I saw the film as more of a ghost story than a love story, with Emily as a specter scaring others away with her untamed thoughts.
Emily fits into the subgenre of stories that reconsider misunderstood women in history through a strikingly modern lens, including the TV series Dickinson and The Great. But O'Connor's film never indulges in anachronistic flourishes as those titles do; there's no Billie Eilish on the soundtrack or Gen Z dialogue in the script. In never allowing Emily access to the 21st century, Emily comes off as only more emotionally charged. The character constantly seems caught between her mundane reality and her mind, in which she's stored her most profound feelings of lust, anger, and fear. Emily is therefore a balancing act, as O'Connor put it, "between the real and the gothic," and an examination of how Emily's remarkably contemporary ideas of morality, faith, and love excited and tormented her in equal measure.
Emily has already irked Brontë purists, thanks to how liberally it alters many facts about the family. In real life, Weightman was never romantically linked to Emily, Charlotte's novel Jane Eyre was published before Wuthering Heights, and Anne—poor, perennially overlooked Anne—also wrote. But O'Connor, a Brontë scholar herself who gave her cast a list of biographies to study, notes that her changes were made purposefully, to express Emily's fierce view of her loved ones. Besides, she added, "Emily herself was kind of a provocative character." It's only right that a film about her challenges—and maybe even disturbs—its audience in turn.