The Band That Best Captures the Sound of the '70s
Other groups made a bigger splash, but Blondie was a true genre chameleon.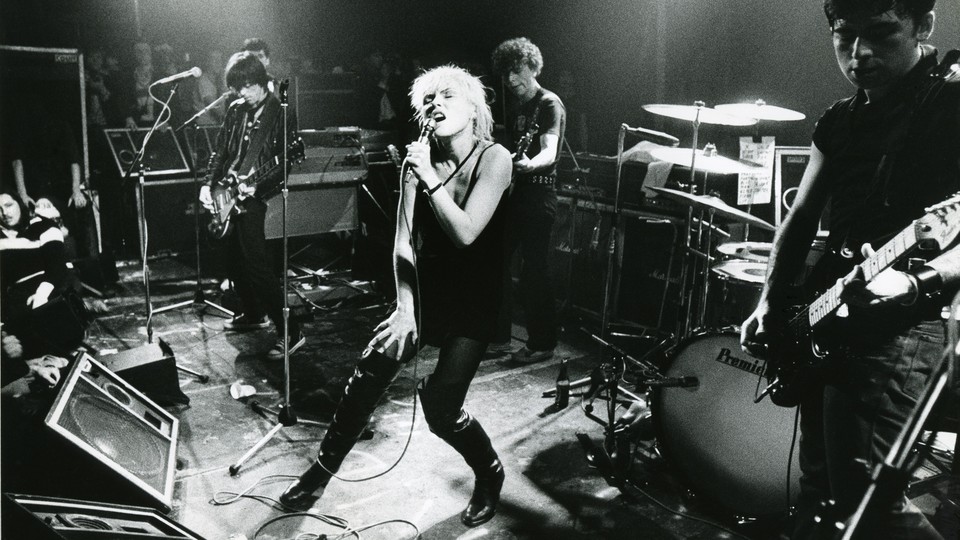 No decade is dominated by a single genre of popular music, but the 1970s was arguably more motley than most. What is the sound of the '70s? Is it … folk rock? (Neil Young's Harvest turned 50 last year.) Progressive rock? (Prog's nadir, Yes's Tales From Topographic Oceans, was released in 1973 and promptly crashed under its own weight.) How about disco? Punk? Post-punk? New wave? Reggae? Rap? Yes, yes, yes, yes, yes, and yes. And what do we do with Meatloaf's Bat Out of Hell, one of the 10 best-selling albums of the decade? Is bombast a genre?
But if you were to drill down through the decade and pull up a core sample of '70s pop, it would come up Blondie—and would look, in fact, very much like the band's eight-disc box set, Against the Odds: 1974–1982, which is nominated for the Best Historical Album Award at this weekend's Grammys. As the academic and artist Kembrew McLeod has written, Blondie was a mediator between the experimental music and art scene of downtown New York City and the larger pop audience. But more fundamentally, I'd argue, the group was also a conduit and popularizer of a wide variety of new rock and pop sounds.
A simpler though maybe less charitable way to say this is that Blondie was a musical sponge rather than an innovator. One of the astonishing things about David Bowie's career is the way his antennae were attuned to the newest fresh thing happening in music: Time and again, he seemed to arrive on the scene before it was a scene—be it Krautrock, disco, ambient, or "plastic soul"—and to leave before the party went bust. Blondie, by contrast, was more reactive than inventive, reflecting rather than leading the music scene in which they were immersed.
And they were immersed in nearly all of the most vital music of the 1970s. A track from their earliest studio sessions, for instance, is artlessly called "The Disco Song." Although it's not clear from the Afropop-inflected demo that the band yet knew what disco sounded like, they had certainly figured it out by the time of the song's commercial release, as "Heart of Glass" on the 1978 album Parallel Lines. When the band was founded, progressive rock was on life support; "Fade Away and Radiate" (also from Parallel Lines) features guitar work from the prog god Robert Fripp and stands as a loving elegy. Attuned to and energized by the street revolution in pop music coming out of the Bronx, they recorded the well-intentioned if cringey "Rapture," which became the first, well, let's not call it "rap song," but song featuring something like rapping, to top the U.S. charts, in 1981. That same year, they went to No. 1 on both sides of the Atlantic with their cover of the rocksteady (post-ska, pre-reggae) song "The Tide Is High." Across their career, and throughout the '70s, they were a genre chameleon.
As often as they were locked into others' currencies, though, Blondie always managed to sound like no one else. Usually, that was thanks to Debbie Harry's versatile—sometimes ethereal, sometimes husky—voice. The three opening tracks of Parallel Lines provide a great object lesson. The album opens with the distinctive sound of a (for some reason British) ringtone. "Hanging on the Telephone" has its place in the venerable pop catalog of phone songs dating back to at least Glenn Miller's "Pennsylvania 6-5000," from 1940, and expanded constantly, with The Beatles' "Any Time at All," Carly Rae Jepsen's "Call Me Maybe," Drake's "Hotline Bling" and beyond. (Blondie later contributed another classic to the genre: their theme song for the 1980 film American Gigolo, "Call Me.")
In "Hanging on the Telephone," Harry is no lovelorn teen waiting by the receiver, nor is she pleading for a call from a lover, as Aretha Franklin is in her song titled "Call Me." Instead, she's aggressively using the phone as a medium for erotic connection in a way that, given the gender conventions of the time, belonged almost exclusively to men. The song was first recorded by the all-male L.A. pop trio the Nerves, and Harry unapologetically appropriates the man's role: "I had to interrupt and stop this conversation / Your voice across the line gives me a strange sensation." A few years later, Cyndi Lauper would suggest that girls just want to have fun; Harry's character here is after a bit more than that. "I'd like to talk when I can show you my affection," she purrs, before growling, "Oh, I can't control myself."
The next track, "One Way or Another," continues in this vein: Harry ranges from plaintive to sultry to menacing as she insists there's no way to escape her love. The song is, if not covered, precisely, then certainly invoked—and, if anything, rendered even creepier—in the Police's chart-topping "Every Breath You Take." Harry's sexual agency is given softer focus in the next track, "Picture This," a love song for her bandmate and former partner, Chris Stein. It paints a picture of everyday domestic contentment, with sexual desire just one of its components. Harry toys with a familiar trope, slyly updating the famous E. M. Forster title: "All I want is a room with a view / A sight worth seeing, a vision of you." A view, she explains, that includes "watching you shower."
There's a case to be made, then, that Blondie's songs were just the vehicle for Harry. The band's very name is a quotation of sorts, snatched from the catcalls directed at Harry by truck drivers: "Hey, Blondie!" And is there another group of the era in which everyone other than the lead singer worked in near anonymity? (A prompt for trivia night: Name any other member.) Other bands of the decade made a bigger splash, but as we approach the half-century mark, it's time to recognize, as Against the Odds makes clear, that Blondie is the defining sound of the '70s.