An Asian American Grief
May we all find peace in the new year.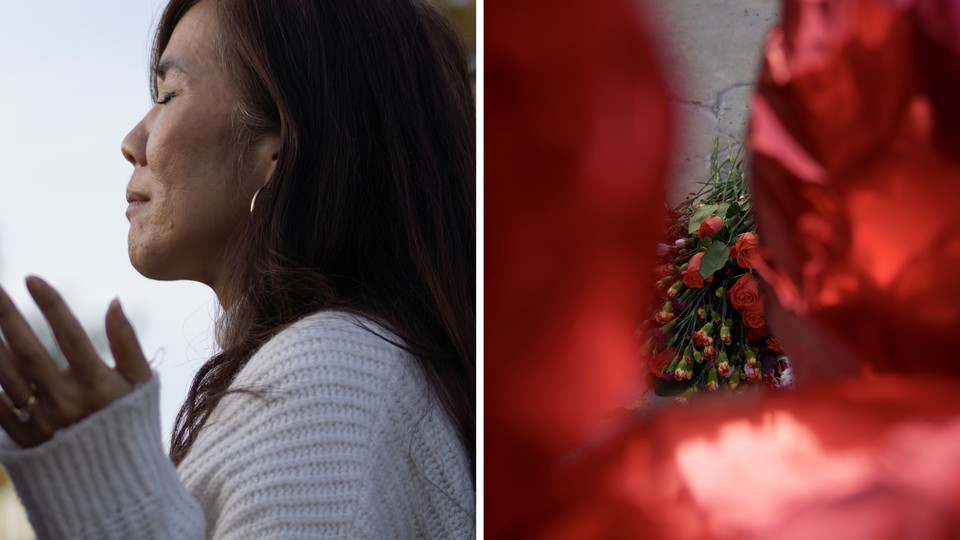 On Sunday, I had my first Lunar New Year celebration in New York City's Chinatown. At one point, after I had released my confetti popper and my friend had left, I stood in a park, alone in the crowd. I dug the tips of my black boots into the piles of festive red and pink paper shreds, fake flower petals, and tiny imitation $100 bills on the ground. And then I inhaled, holding the breath in my lungs for a few extra seconds before releasing it back into the cold air. The festivities were a precious moment of joy in what has otherwise been a difficult few years for Asian Americans and Pacific Islanders. We needed this, I thought.
Then, sitting on a bench adorned with purple silly string, I found out about the Saturday-night mass shooting at a dance studio in Monterey Park, a majority-Asian city in California. I knew that the popping sounds around me were firecrackers and not gunshots. But I couldn't help thinking that Lunar New Year festivities would be an easy target, that no one would even register the first shot. I sealed the thought into the part of my brain where I store memories of violent attacks on Asian people in America—vivid enough to feel, numb enough to stay sane. My parents asked me, over a video call, if I had seen the news.
By the time I returned home, I knew that the suspect was male and Asian. The complexity of the narrative didn't alter my grief. It's not the first time that we've seen attacks like this within our communities. Last year, a Taiwanese man loyal to mainland China allegedly attacked a Taiwanese church in Laguna Woods, California; handwritten notes denouncing the island's pursuit of independence were found in his car. Last night, only two days after the Monterey Park attacks, an Asian man was arrested in Half Moon Bay suspected of shooting seven people dead, some of whom are also reportedly Asian.
Such incidents might fall through the gaps of societal understanding. After Michelle Go and Atlanta and Christina Yuna Lee and Vicha Ratanapakdee and all the elders who have been set on fire or kicked in broad daylight, some might assume that violence against Asians in America is typically related to racism. But regardless of an attacker's motive, the trauma of violence remains. Lives have been senselessly lost. And in the same way that past attacks on Asian Americans and Pacific Islanders have helped form an invisible, pervasive dread, the attacks of the past few days will continue to affect many of us, compounding our fear and raising the risk of future copycat shootings. Research conducted in 2014 and 2015 showed that high-profile mass shootings, with four or more deaths, have a significant likelihood of sparking more shootings. Shortly after the Monterey Park attack, Los Angeles County Sheriff Robert Luna announced that someone had called one of the hospitals where victims were being treated "to say something along the lines that they 'want to go and finish the job.'"
There is also the heinous fact that in the Monterey Park shooting, at least 11 people were killed in a place that was supposed to be safe for them—what has been called America's first suburban Chinatown. Monterey Park is the place that elected America's first Chinese American female mayor, in the 1980s. It's where Asian American residents defeated resolutions to make English the city's official language and to enable the police to assist immigration authorities in finding undocumented residents. Four Asian Americans currently sit on Monterey Park's five-member city council. The activist and Rice University Ph.D. student Bianca Mabute-Louie called it a place of "gorgeous unassimilability." I think of this small oasis in a country that often asks immigrants to exist as a shell of themselves. I think of all the work emails I've edited for my parents, the way my mother's personality expands in the freedom of her native tongue, the Zumba class where she gathers with other Asians. My parents wonder if they would be safer in Taiwan, where they grew up. I feel guilty for holding them here, an American-born daughter who is determined to stay.
There was a moment yesterday when I broke down at work. I sobbed, grieving because of the trauma that Asians and Pacific Islanders in America have absorbed and tucked away these past three years, the way so many daily walks have become heavier. The way stories of violence have layered upon others until it's difficult for me to recall which individual in which city in which way. I thought of how quickly I have normalized the grotesque—standing in front of the subway beams when a train arrives so that I have something to grab onto if pushed; casually ignoring men who roll their eyes up and down my body and call me "China girl." Too many marginalized people feel this: the notion that violence is the foundation of the home that we fearfully inhabit.
Yet every time the violence happens, we grieve anew. We try, in our own time, to make sense of senselessness. But first, grief demands to be felt. Without qualifiers, without the comfort of clarity. May we all find peace in the new year.