Never Underestimate Jennifer Coolidge
Even before her comeback, the actor excelled at humanizing characters who were written as mere laughingstocks.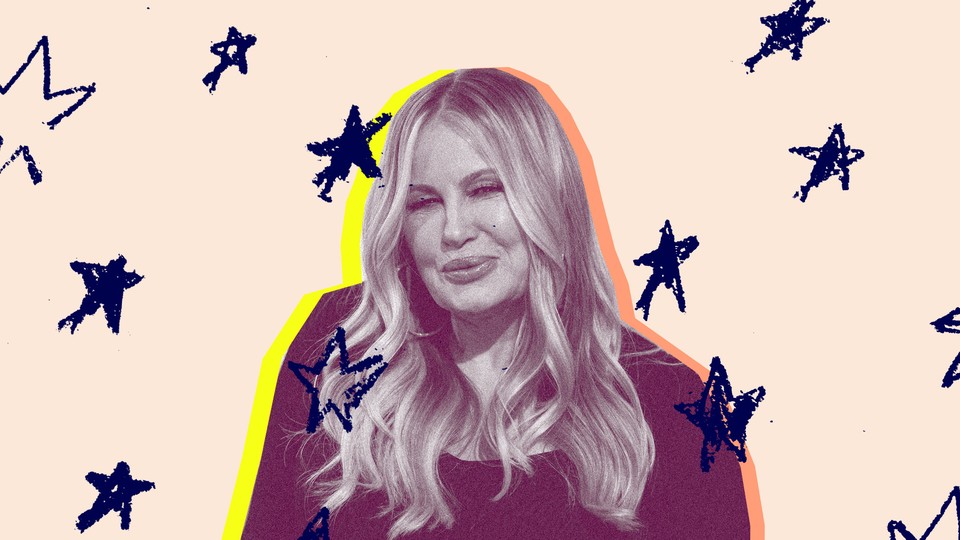 Jennifer Coolidge's comeback has been one of the best feel-good Hollywood narratives in recent years. Since starring in The White Lotus as the lovably loony Tanya, she's enjoyed the kind of critical acclaim and career resurgence that few actresses in their 60s—let alone those who work mostly in comedies and broke out decades ago—ever do. In the past few months, she's won her first Golden Globe and her first Emmy. She nabbed nominations at the Screen Actors Guild Awards two years in a row. Entertainment Weekly named her Entertainer of the Year.
The accolades are well deserved; Coolidge's work in The White Lotus is excellent—sharp and sympathetic, hilarious and heart-wrenching. Yet much of her renaissance has been attributed to her personality. Her acceptance speeches are so unpredictable, and her talk-show appearances so self-deprecating, that her off-screen antics have become the subject of YouTube compilations and The Cut's tongue-in-cheek "I Can't Shut Up About …" column. Even her first TikTok was deemed a "cinematic masterpiece."
Although Coolidge is a hoot to watch whenever she's handed the mic, her pre–White Lotus work deserves just as much recognition. I'm not talking about the roles for which she's best known—Paulette in Legally Blonde, Stifler's mom in American Pie, and Sherri Ann Cabot in Best in Show—though they're obviously worth revisiting. I'm talking about the roles she herself at the Golden Globes called "little jobs that, like, kept me going" when her career seemed in stasis: the guest turns on sitcoms, the thankless parts in big-screen spoofs, that one scene from Soul Men with Bernie Mac. Together, they prove that Coolidge's superpower is taking the roles the industry has typecast her in—oversexed, obnoxious women of a certain age—and humanizing them into something more than a mere laughingstock.
Her supporting turn in Amazon's Shotgun Wedding is the latest example. Although the action rom-com about a marriage ceremony that turns into a hostage situation (just go with it) started streaming last weekend, the film was made before the release of The White Lotus Season 1, and it cast Coolidge in a classically Coolidge-ian part. She plays Carol, the eccentric mother of the groom who at one point tries to negotiate with her captors by informing them that she was "Milford, Michigan's top realtor in 1998 and again in 2007." In another performer's hands, Carol would've simply been comic relief. The mediocre script positions her as a stereotypical overbearing relative whose sole purpose is to deliver silly one-liners and look funny shooting a machine gun while wearing a floppy sun hat.
But Coolidge makes Carol all that and more by rooting the character's most ludicrous ideas in fear rather than stupidity, and her oddball whims in years of being overlooked and underestimated. "I'm a mother; I can be upset about a lot of things at the same time," she says more than once. In one scene, Carol is convinced that the couple have ended up in a ditch; her repeated request for the staff to "check all ditches" sounds not just absurd but truly desperate. Carol, as embodied by Coolidge, isn't some pathetic, clueless narcissist; she's justifiably terrified.
Coolidge is a master at making a meal out of scant scenes in lackluster—or, in the case of Shotgun Wedding, fun but forgettable—material. After watching the film and hearing Coolidge's assessment of her own work during her Golden Globes speech, I revisited some of the projects from that critically maligned period of her career, in the late 2000s and 2010s. Watching them now, it's striking how Coolidge threw herself into the thinnest roles. In her introduction as "the White Bitch of Gnarnia" in Epic Movie, for instance, she slips out of her sleigh as if she can't bear to part with it, keeping her body glued to the carriage and letting her feet dangle perilously above the ground for a beat too long. In Alexander and the Terrible, Horrible, No Good, Very Bad Day, she takes a one-scene part as a manipulative driving instructor and makes her the scariest driving instructor ever committed to screen, so rageful that the audience can't help but wonder where the fury comes from.
Meanwhile, on TV, the CBS sitcom 2 Broke Girls couldn't get enough of Coolidge. The show promoted her to a series regular after she elevated Sophie, the titular duo's sex-obsessed Polish neighbor, from a raunchy fool into a fully realized character. Whenever Sophie stepped into the diner setting of the show, Coolidge made her sound beyond delighted to see the girls, turning the woman from an annoying oversharer into someone who's just overeager, friendly to a fault. No wonder she became a fan favorite, just as Tanya would years later.
In other words, Coolidge's greatest feat as a comedic performer is her ability to make the audience share her curiosity and appreciation for her characters, many of whom were written to be the butt of jokes about older women. Some, like Carol, are supposed to be pitiable simpletons. Others, like Sophie, are cringeworthy for having robust sexual appetites. Yet Coolidge knows what people expect of Carols and Sophies, so she doesn't stop at making the audience laugh with her off-kilter line readings and impeccable timing. She uses her magic to turn objects of ridicule into objects of affection.