SNL Couldn't Help Itself
The Oscars Slap was low-hanging comedic fruit, and the show lunged at it. But there was nothing left to say.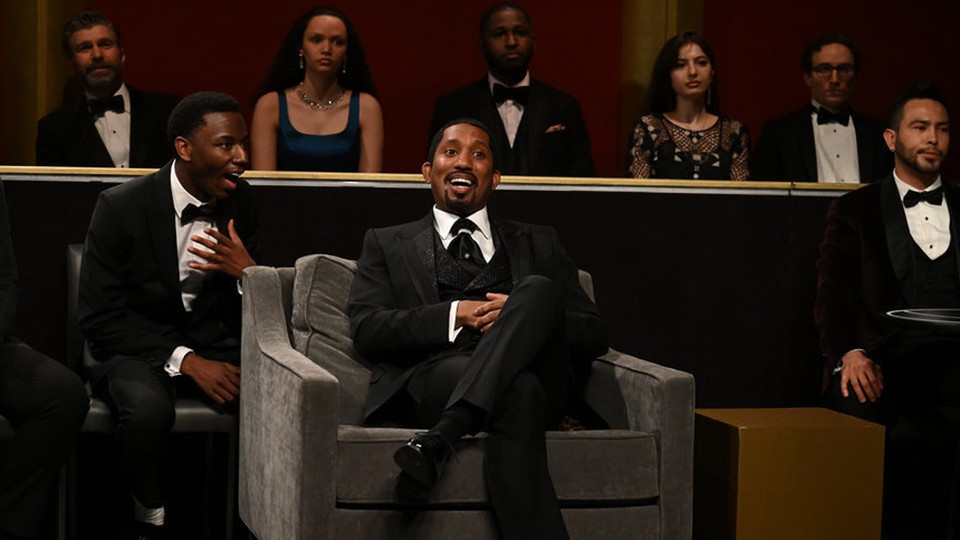 Six days after the Oscars Slap came to dominate America's cultural conversation, Saturday Night Live joined the fray with not just one joke but a torrent of them. Perhaps this was inevitable: The now-infamous pop-culture moment—an attack on a comedian, no less—is clearly within SNL's wheelhouse, and the show latched on to the moment with zeal. But it was too much, too late. After a week in which every opinion has already circulated, SNL struggled to find anything fresh to say.
It didn't have to be this way. The host, Jerrod Carmichael, a thoughtful and sardonic stand-up comic who recently released his third HBO special, Rothaniel, launched into his monologue actually acknowledging America's exhaustion with the Slap. "I'm not gonna talk about it," he said, never once mentioning Will Smith, Chris Rock, or the Oscars. "I'm gonna be clear up top. I've talked about it enough, kept talking about it, kept thinking about it. I don't wanna talk about it. And you can't make me talk about it." He seemed to grasp how the rapid churn of public debate nowadays obviated the urgency of any further discussion of the smack. "This happened a week ago. Doesn't it feel like it happened years ago?" he said. "Like, doesn't it feel like it happened when we were all in high school?" But SNL proceeded to talk about it anyway, only underscoring how delayed the show's reaction felt.
The altercation between Smith and Rock came up during the cold open, in Carmichael's monologue, in a full sketch, and in several "Weekend Update" jokes. In the unfocused sketch, Carmichael played an initially starstruck seat filler at the Academy Awards witnessing an erratic Smith (Chris Redd) unraveling. "Weekend Update," meanwhile, looked for easy ways to laugh about the violence, including a character bit featuring Kenan Thompson playing O. J. Simpson. The way the Slap absorbed SNL reflected the way it overshadowed more important stories in the news cycle this week, such as the more-than-seven-hour gap in former president Donald Trump's January 6 phone records, Ginni Thomas's texts encouraging an overturn of the 2020 election, and the ongoing war in Ukraine. But SNL has struggled to offer relevant political commentary this season, and this episode, predictably, leaned into the dependable topic of pop culture.
Carmichael's turn hosting was ripe for a bigger moment than it delivered. The comic helmed SNL one day after premiering his most poignant stand-up special to date, in which he comes out as gay. An openly gay Black comic remains a rarity in the stand-up world, and, historically, on SNL's stage. (Although the current cast has three openly queer members—Kate McKinnon, Bowen Yang, and Punkie Johnson—it previously had few.) Coming so close on the heels of Carmichael's monumental special, the comic could have produced an episode on par with those of Daniel Levy and Phoebe Waller-Bridge, both strong writers who pushed SNL in invigorating directions when they hosted. Instead, the episode felt innocuous. "The nation don't even know me," Carmichael quipped in his monologue. "The nation has no clue who I am. I have to be the least-famous host in SNL [history]." Last night probably didn't change that fact.
The disjointed episode made Carmichael feel more like a new cast member than a celebrity host. In the night's most relatable sketch, he played a forgettable contestant on a game show that tested people's pandemic-era brain power, and in the most outrageous bit, he played a doll maker who sold an unintentionally lewd creation on a wholesome shopping TV channel. When not talking about the Slap, this episode's sketches largely felt random and unconcerned with giving Carmichael an opportunity to insert his personality. SNL, in other words, played it safe. By putting all its energy into an incident that felt edgy and shocking nearly a week ago, the show just felt stale.