Fox's Alter Ego Is Weird—But Not Weird Enough
How could a singing competition show that features holographic contestants be this dull?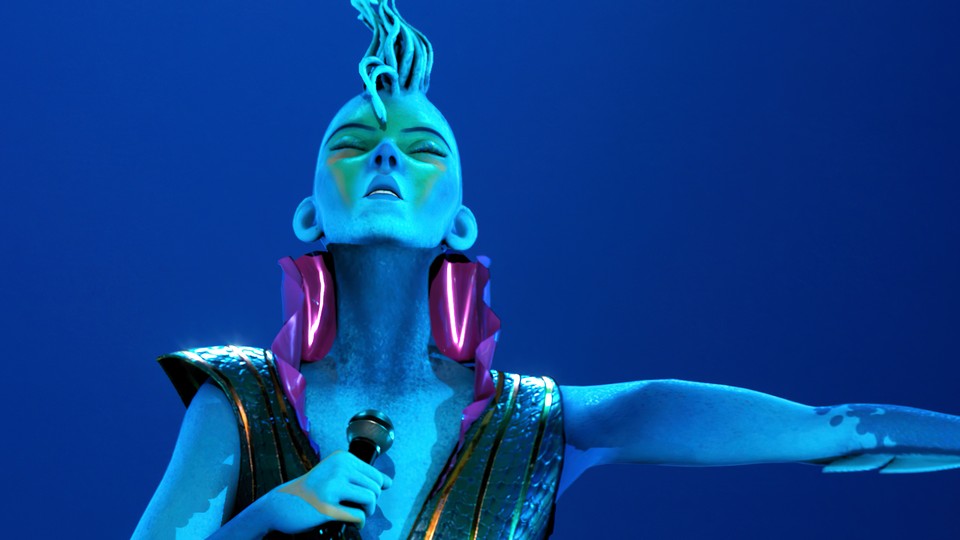 The aspiring pop star Seven has blue skin, finned forearms, and a mohawk of writhing tentacles. Amber eyes and feline bone structure make her strikingly beautiful. What otherworldly wisdom does this being have to share? Standing before a panel of human celebrities in the first episode of the Fox reality series Alter Ego, Seven sheds a big, glistening tear and says, "I am who I think I am. And I don't have to be afraid."
The long-prophesied future in which holographic performers replace real ones is here, according to Alter Ego, a singing competition that has amateurs inhabit CGI avatars. But the viewing experience is not as bizarre or dystopian as you might expect: A wacky premise and judging panel (will.i.am, Alanis Morissette, Nick Lachey, and the "musician, innovator" Grimes) just disguise the same schmaltz and strained belting that have been common on network TV ever since American Idol premiered in 2002. Sci-fi technology, we're told, will help people be more like themselves—and Alter Ego's dullness hints at the way that identity has become a suffocating concept in the 21st century.
The series ostensibly follows the spirit of The Masked Singer, the freaky costumed competition that Fox imported from South Korea in 2019. The rise of digital anonymity—the Fortnite avatar, the burner Instagram account—would seem an obvious explanation for what's going on here. But an older impulse is embedded in these works: the impulse of The Prince and the Pauper, or Batman, or Mrs. Doubtfire. Imagine you're freed from the station, situation, and body that you drag along every day. Imagine the fun you could have.
Pop music, the art form at the center of Alter Ego, thrives off of this kind of imagination. Some of history's most unifying stars—Prince, David Bowie, Madonna, Lady Gaga—performed the magic trick of reinvention, with sparkly spandex and shoulder pads keeping their flesh-and-blood banality hidden. Others, such as Britney Spears or Beyoncé, coif themselves into caricatures—larger-than-life projections of the sort of humans we all might wish to be. Alter Ego's concept would seem poised to celebrate pop's joyful artifice—and even to push it further than it's ever gone before.
The show's motion-capture tech, unfortunately, casts the uninspiring spell of 20-year-old Star Wars prequels. Contestants squeeze into sensor-studded bodysuits and then hop around while their characters—cartoonish humanoids that, to my untrained eye, are cruder and less compelling than what I'd expect from CGI in 2021—mirror them on camera. The effect is very Wizard of Oz, except that you're absolutely supposed to pay attention to the person behind the curtain: The show spends as much time on the human backstories of the singers as it does on their singing. In saccharine biographical segments, Alter Ego suggests that afflictions as diverse as Crohn's disease, shyness, and having a "baby face" can be transcended with the same technique that gave us Jar Jar Binks.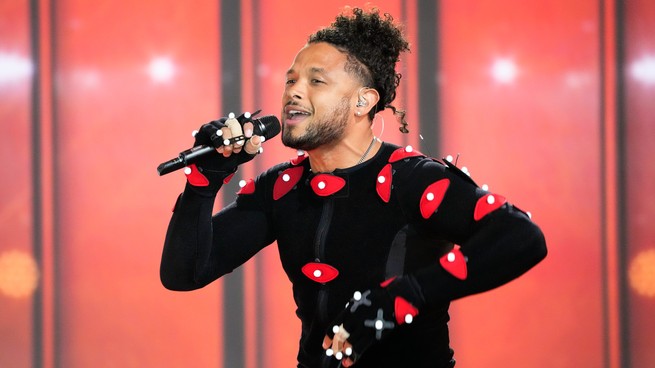 But the judges, at least, don't know anything about the performers' identities. They rave, "She's embodying the hell out of this alter ego," and, "I just can't believe there is somebody backstage singing," and "I totally forgot that there was someone backstage singing." They praise voices (which emit from lethargic mouth movements, the shoddiest part of the illusion) and appearances (contestants exert an unclear amount of control over whether their avatars wear pants or summon sparkles from the ground). But mostly the judges pine to learn who is behind the visages. At the end of each audition round, one eliminated player steps in front of the curtain to show their true human form, and the live audience gives a wow. This coda, rather than the preceding competition, provides the cathartic climax of Alter Ego episodes. The point is not creativity but revelation.
Which is really the point of so much entertainment these days. In music, the Madonna/Prince/early-Gaga ideal of superheroic strangeness has been fading as Taylor Swift records her diaries and Billie Eilish beams us into her bedroom. Even a persona as dazzling as Lil Nas X makes biographical show-and-tell central. At least since the advent of social media and the paparazzi-assisted deconstruction of various 2000s celebrities, the entertainment business has been stuck in a spiral of nosiness and exhibitionism: We want to see one another's scars to get a reference point for our own. Vulnerability is a beautiful thing—but when commodified en masse it can create a more self-serious, and self-obsessed, culture. I tuned into Alter Ego hoping for WTF-worthy dreams of a pop star totally unlike all of us, but so far it's giving about as much thrill as an office Halloween party.
There is one exception. In the second episode we meet a purple-skinned fellow named Wolfgang Champagne, a werewolf who says he was bitten by a chihuahua 500 years ago. The man behind the mutt is a 60-year-old trucker named Matthew Lord, and there's genuine poignance to the backstory he shares with viewers. "I need an alter ego because I was thinking my life was winding down," Lord says, "and I think Alter Ego is giving me a chance to wind it up."
But that context isn't even needed to appreciate what happens next: Wolfgang launches into a booming rendition of Celine Dion's "My Heart Will Go On" in Italian, in the operatic style of Il Divo. "That was, like, one of the weirdest things I've ever seen, and that's a compliment," reports Grimes, the one judge who votes for Wolfgang to advance in the competition. Other judges are amused but skeptical, and in the end, it's the live audience that sends Wolfgang to the next round of the game. Were I to keep watching Alter Ego, I'd root for him and his competitors to build yet-fuller and wilder fantasies—not about what we escape, but how we escape it.