In the Heights Knows the Second-Generation American's Dilemma
In the new musical, restless young adults are torn between a beloved neighborhood and dreams of escape. But Abuela Claudia, the community's matriarch, suggests a different way of thinking.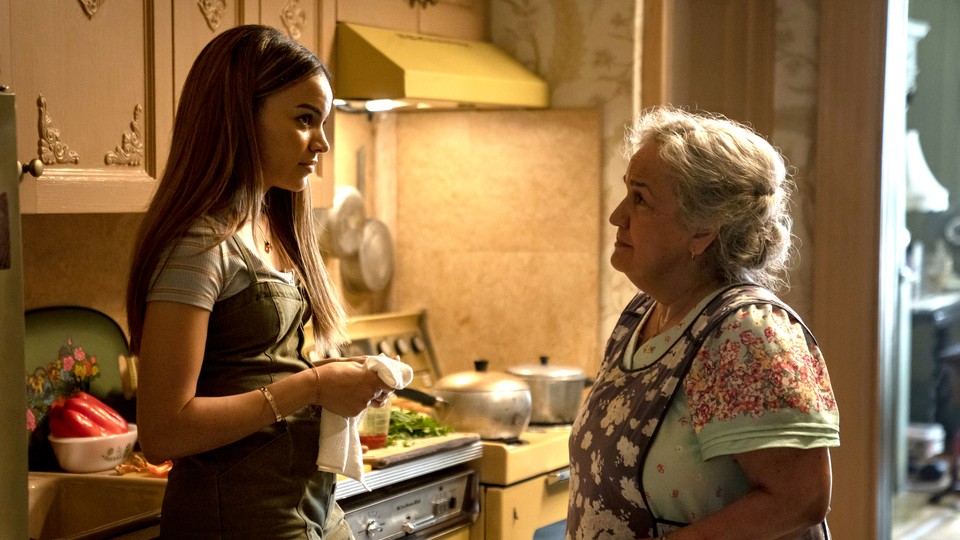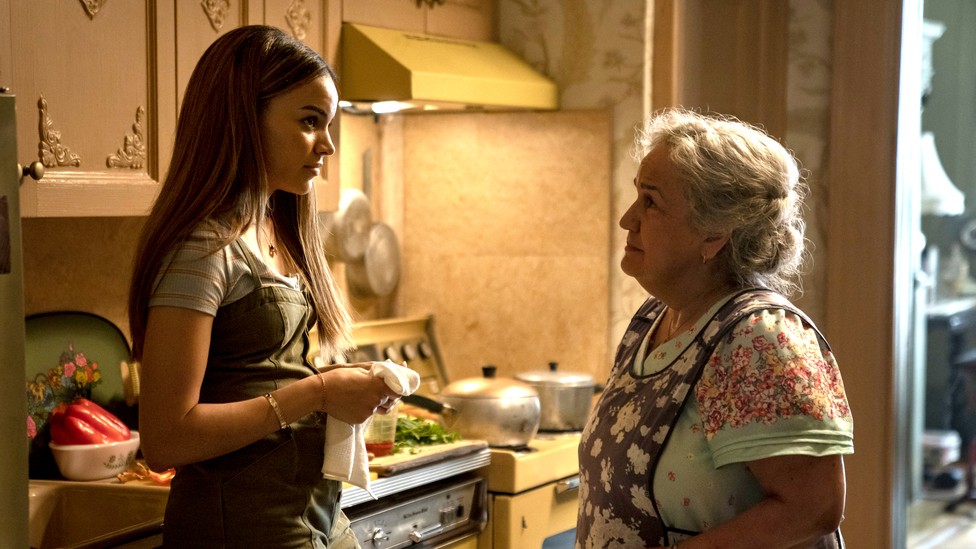 This article contains spoilers for In the Heights.
In The Heights, the director Jon M. Chu's Hollywood adaptation of the groundbreaking Broadway musical, is ostensibly a tale about the aspirational young. Its focus stays mostly on some dreamers (and a "Dreamer") living in the Upper Manhattan neighborhood of Washington Heights. They form an ensemble cast of working-class Latino characters—immigrants and American-born—chasing far-fetched but not entirely implausible sueñitos, or "little dreams."
There's Nina (played by Leslie Grace), a student back from Stanford University who is afraid of betraying her values; the businesswoman Daniela (Daphne Rubin-Vega), who has been priced out of her storefront; Vanessa (Melissa Barrera), a fashion visionary trying and failing to lease a downtown apartment. Usnavi (Anthony Ramos), the entrepreneurial 20-something owner of a corner bodega eager to return to his childhood home in the Dominican Republic, narrates their triumphs and tribulations.
But one character who's key to understanding In The Heights is not a young adult with bold plans: Abuela Claudia is the community matriarch and emotional lighthouse of the film. She is portrayed by Olga Merediz, the same remarkable Cuban American actor who played the role in the Broadway version of the musical, created by Lin-Manuel Miranda and Quiara Alegría Hudes. Her singing is potent and sorrowful, with a hint of desperation in every word; her movements are tender. Abuela means "grandma," although Abuela Claudia is no one's relative by blood. Instead, she is the cheerleader and caretaker for everyone in the film's vivid barrio.
And the neighborhood's strivers need Abuela Claudia's guidance, because a contradiction plagues them. They foster a fierce yearning for things to stay the same. They want the local piragüero to keep doing his rounds, the beauty-salon ladies to remain gossip savants, and the bodega coffee to stay sweet; they want the reliable fixtures that make a home. Yet they also have their life plans. They want to evolve, to become fashion designers or lauded college graduates, while still holding on to their multicultural identity. They want to escape.
The classic peril of assimilation in America is that a perceived greater belonging demands a partial loss of self. What In the Heights endearingly suggests, through Abuela Claudia, is that you can become who you want to be by being who you already are.
In recent years, grandmothers have been prominent dramatic engines for stories centered on migrant families. In Lulu Wang's The Farewell and Lee Isaac Chung's Minari, which earned the seasoned South Korean star Youn Yuh-jung an Academy Award this year, the grandmothers' charming personalities veer between unabashed impertinence and hard-earned wisdom.
In films like these, grandparents personify an American-raised child's connection to their heritage outside the U.S.; they are a bridge to languages, religious customs, and culinary traditions left behind. Abuela Claudia has no relatives, but she serves a similar purpose, seemingly for an entire neighborhood. As an immigrant herself, she draws on her personal struggles to console and encourage. She understands alienation.
During In The Heights' stirring, ethereal number "Paciencia y Fe" ("Patience and Faith"), we find out that, when Abuela Claudia was a kid, her mother took her from La Vibora—"the Washington Heights of Havana" as she describes it—to the harsh grit of Nueva York.
She sings of her journey, of the pressure to learn English, of missing the heat of the Caribbean in the immobilizing cold of the Northeast, and of her mother cleaning houses to support her. Her experience is far from singular among immigrants. Yet the memories she paints are newly validated by their precise articulation in song.
As in traditional Hollywood musicals, lyrics and choreography become a magnifying glass that translates characters' innermost thoughts into visible, exuberant spectacle. In Chu's film, dashes of magical realism occasionally even liberate the story from the physical world.
"Paciencia y Fe" unfurls in a liminal realm between life and death that takes the form of an underground subway station. The viewer is transported from mid-19th-century Havana to modern-day New York City inside the same train cars. We are given access to the turmoil in Abuela Claudia's mind as she grapples with pain, regret, and remnants of hope.
Her candid recollections are at once a heartrending prayer and a protest. With this number, the parallels between Abuela Claudia and the film's younger characters become clear. The latter's pursuit of socioeconomic advancement, the film suggests, sprouted from the older generation's. Abuela Claudia and her mother sought a similar chance to improve their circumstances, but in the far less inclusive society of decades past.
Still, underlying Abuela Claudia's motto, "Paciencia y fe," is a bittersweet resignation. She has carried on, storm after storm, holding on to a divine optimism contained in the infallible combination of patience and faith. But despite her conviction that miracles come to those who wait, when we learn that hers is the winning lottery ticket that caused an uproar earlier in the film—the song "96,000" is about everyone in the Heights who sees winning as a fast track to their endgame—we understand that Abuela Claudia doesn't know what to do when her fantasy materializes.
Over time, Abuela Claudia has turned her sueñito into an amalgamation of all those around her—her wishing has been on behalf of others. In a final moment of clarity, she looks to her adopted family and knows that whatever ambitions her newfound fortune enables are, by proxy, her own.
That selflessness, of living vicariously through a new generation's triumphs, is shared by Nina's father, Kevin Rosario (Jimmy Smits), who sacrifices his lifelong business to put his daughter through school, and Usnavi, who pays to help his younger cousin Sonny (Gregory Diaz IV) obtain legal status. This is the lesson the film's younger characters come to learn: The question of whether to stay with your community or escape it is misguided.
In The Heights presents a distinct and diverse version of Latino culture in the United States. Washington Heights is a tapestry of its residents' homelands: a bit Vega Alta, a bit Santo Domingo, and a mélange of other locations. Miranda and Hudes have captured a beautifully fragmented community that clings to what its members have in common while cognizant that they are not a monolith.
But for all that the film celebrates the specificity and beauty of Washington Heights, it also telegraphs that the neighborhood's precious, incubated culture hinges on not the physical space itself but the people who inhabit it. Immigrants and their children—ni de aquí, ni de allá, "neither from here nor there"—make wherever they go an enclave of their own.
Within this constantly reinvented community, pursuing one's aspirations affects the group. Nina's song "Breathe" highlights the weight of responsibility borne by those who have "made it out" of the Heights. At the intersection of what the elders envision as success and what the young adults want for themselves is the film's ultimate realization: Everyone's little dreams are only partly their own.