Hollywood Doesn't Know What to Do With Angelina Jolie
She's always been an A-lister. But her new film, Those Who Wish Me Dead, reflects Hollywood's impulse to stifle female action heroes once they hit a certain age.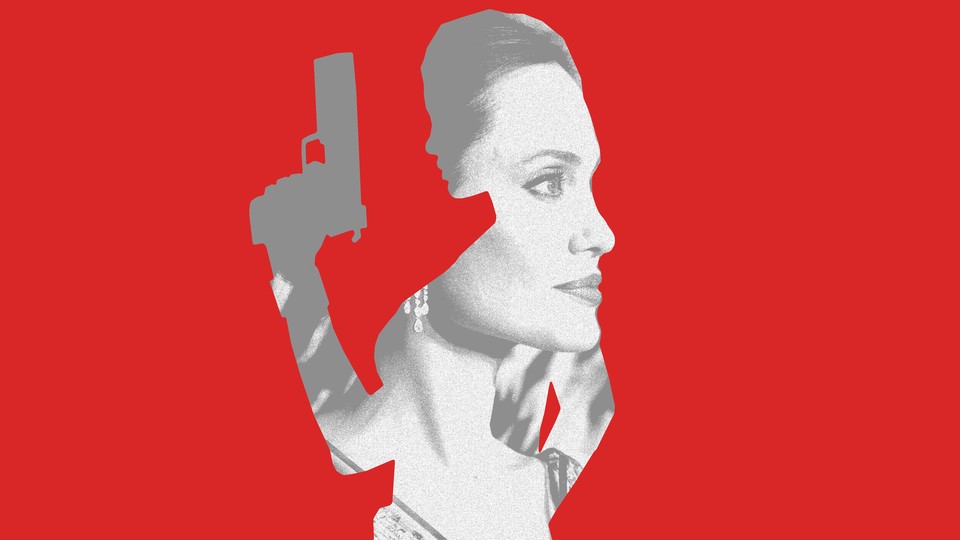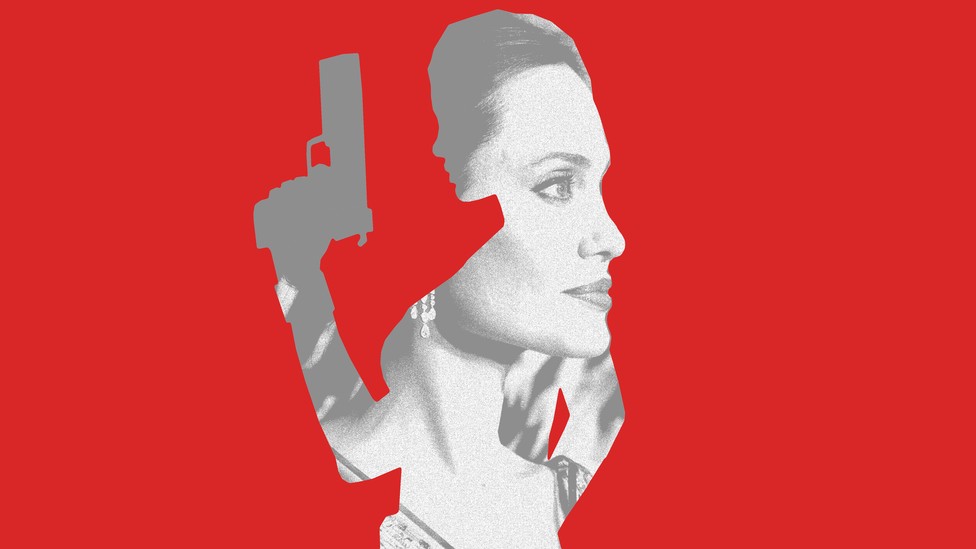 Early in the action thriller Those Who Wish Me Dead, Angelina Jolie's character, Hannah, straps on a parachute and hops onto the back of a pickup truck. As the vehicle snakes through the Montana wilderness, she deploys her gear and lifts off, laughing as she glides back down. Hannah's a smoke jumper—a trained firefighter who drops into wildfires from above—and she's clearly tough as hell.
Yet that's about as much excitement as she gets in the film, which debuted yesterday on HBO Max and in theaters. Those Who Wish Me Dead, based on the 2014 Michael Koryta novel and directed by Taylor Sheridan, marks Jolie's return to the action genre after more than a decade away. At first glance, the film seems fit for the actor's reentry. The story follows Connor (played by Finn Little), a boy on the run from assassins, who encounters Hannah after he witnesses his father's murder. Hannah, still traumatized from her failure to stop a blaze that killed a group of hikers, vows to get him to safety before a forest fire wipes out the area. From the posters and trailers, Jolie appears to be the star, with Hannah serving as the emotional center of the ludicrous but propulsive story.
Instead, Jolie's more of an ensemble player; for an action star, she sees little action. While other characters fight and show off their survival skills, Jolie spends most of her screen time hiking or crouching in the shadows with her pint-size companion. It's a letdown to see Jolie limited by the thin role, and to see the film continue a Hollywood trend of diminishing her, and other older female action performers', potential in the genre.
Jolie has said that she resumed taking onscreen jobs—she will also play an otherworldly superhero in the upcoming Eternals—partly because of "a change in my family situation," referring to her ongoing divorce proceedings from Brad Pitt. For the past decade, the 45-year-old Jolie has mostly been behind the camera, directing dramas and documentaries while occasionally doing voice-over work (the Kung Fu Panda sequels, The One and Only Ivan). Her most visible acting role has been playing the Disney villain Maleficent; otherwise, she's been pursuing humanitarian work or staying home. So it's easy to see why Jolie chose Those Who Wish Me Dead: Hannah's role doesn't involve much martial-arts training, the movie is 100 minutes long, and the set pieces occur within a radius of only a few miles. Given Jolie's long hiatus from action films, Those Who Wish Me Dead offers reliably low-stakes work.
Still, to see Jolie return to the genre at this stage in her career is unusual. Such movies used to dominate her filmography, but many of them restricted her performance while capitalizing on her stardom to sell tickets. Wanted, from 2008, featured Jolie prominently in marketing materials, but she was third-billed in the cast. Meanwhile, Salt, a 2010 spy caper led by Jolie, ended on a cliff-hanger but failed to yield sequels, despite the film raking in healthy box-office returns. And Jolie has been replaced by Alicia Vikander as the tomb raider Lara Croft, in Jolie's most well-known action franchise.
Besides, 40-something actresses rarely lead action films—even though Jolie is 13 years younger than Tom Cruise, and 23 years younger than Liam Neeson. She is also the same age as Charlize Theron, one of the few female A-listers who's managed to maintain a steady presence in the genre, yet who still got replaced in her career-defining role as Furiosa in the upcoming Mad Max prequel. (De-aging technology, it seems, is available only for the likes of Will Smith.)
A movie star of Jolie's caliber could choose any project she wants, and as someone who's confessed to having grown uncomfortable with acting, Jolie chooses carefully. In Those Who Wish Me Dead, she has said she saw a challenge in playing against her maternal instincts. In a scene where Connor finally reveals why he's being hunted, Jolie's face doesn't soften around the boy; it hardens. Even as the script apparently forgets to explore Hannah's personal trauma, Jolie maintains the emotional through line, capturing a fragile toughness to the character—her instincts are not to embrace Connor, but to avoid feeling anything that might shatter her. Her lines are brusque but lively, leaning into the film's inherent ridiculousness and contributing a playfulness that the overly serious tone lacks.
Those Who Wish Me Dead could have risen to meet Jolie's ability. But the film reflects the industry's lack of imagination for an older female action star. Hannah's arc is tired: a woman realizing the strength of her maternal instincts, the same arc given to a surfeit of other actors recently pursuing action after a certain age. She gets beaten up relentlessly by the elements and her enemies, to the point of being tortured by one of the assassins, as if the writers believed viewers needed additional proof of Hannah's toughness. (She does get to swing a pickax, but that's not even the film's money shot; that honor belongs to a scene led by Medina Senghore, who plays the pregnant wife of the deputy sheriff and wields a shotgun while on horseback.) And of course, while Hannah is cleaning her wounds, there's an extraneous shot of her undressing. Though Sheridan has a track record of creating nuanced neo-Western thrillers such as Sicario, Hell or High Water, and Wind River, he has indulged the action genre's worst impulses here—gratuitous violence, black-and-white characterization. He leaves Jolie to do the heavy lifting in a film that, without her, would be destined for TNT.
By diminishing Jolie, the film does what Hollywood has always done to her: doubt her abilities. Unlike her superstar peers, she inspires a particular distrust over every aspect of her image and career: whether she's healthy, whether she's a role model, whether she should even be considered a movie star. To the general public, she's been a chameleonic and controversial celebrity, the blood-vial-wearing starlet turned Oscar winner turned other woman turned serious filmmaker turned globe-trotting humanitarian. And though she's continually made the case for herself as an action hero, even now, reviews for Those Who Wish Me Dead question the effect of her "ice-sculpture perfection" on the film's believability—as if a film featuring Hannah getting hit by lightning needs to be believable—and whether audiences can "get past the miraculously dewy complexion and on-point smoky-eye look." In the past decade, Jolie has used her fame to elevate the story of the Cambodian Civil War, co-author a book on protest rights geared toward teenagers, and even criticize the United Nations, where she advocates for the rights of refugees. She hasn't played a seductress since Salt. How are her good looks still such a sore spot?
As refreshing as it is to see Jolie return to the action genre, Those Who Wish Me Dead is a muted welcome back. The film stifles Jolie's potential, leans into the skepticism that has dogged her throughout her career, and mishandles her star power. "There have been times in my life where I have felt—and maybe I've hidden them well from the public—where I have not felt free, I have not felt safe," she said in 2019 of her celebrity. "I have felt small. I have felt cornered." Playing a smoke jumper could have freed her—or at the very least, actually let her fight a fire. But once again, Jolie gets to be larger-than-life only on the billboards.