The 1970s Fashion Designer Who Was Outlandishly Ahead of His Time
Twenty years ago, fashion lost the visionary designer—and prophet—behind P-Funk and Kiss.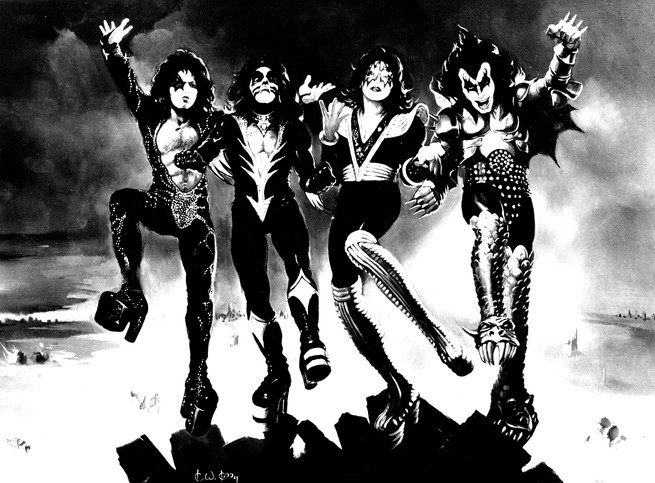 One night in 1977, George Clinton stepped out of a flying saucer, teetering in his new pair of nine-inch platform boots. That fantastical footwear "was hard to wear onstage but great to take pictures in," the Parliament-Funkadelic leader told Vogue in 2018. Clinton was always risking a wardrobe malfunction during concerts. Not only were his outfits cumbersome and ostentatious—kind of like Sun Ra meets Star Wars—but he'd also use a prop spacecraft called the Mothership to make a grand entrance at shows. "You could pose real good" in those shoes, he added, "but you couldn't do much jumping out of spaceships."
That decade saw Clinton begin to mash glam and funk into an Afrofuturist symphony that would remake pop music. But despite his wild imagination, he didn't concoct those otherworldly costumes in the '70s—Larry Legaspi did. The designer, who died 20 years ago, created the eye-popping looks that Clinton and his P-Funk collective have since made legendary. If that was all he'd ever accomplished, his legacy would be secure. Yet Legaspi also designed glitter-studded stagewear for Labelle, Grace Jones, Betty Davis, Diana Ross, Eartha Kitt, Klaus Nomi, and his dear friend Divine—not to mention the cartoonish, superheroes-from-Hell costumes worn by the members of Kiss. Legaspi's influence, if not his name, is as pervasive as ever today. Glints of his larger-than-life aesthetic shine forth from a host of contemporary stars with a flair for the thespian and the spectacular, including Janelle Monáe, Beyoncé, and Lady Gaga. The Star Wars costume architect Michael Kaplan is an admirer, and Rick Owens—the fashion designer known for his dark concepts and sculpted silhouettes—dedicated a 2019 show to him. Legaspi's futurism took wing more than 40 years ago, yet it still looks like the garb of tomorrow.
Although Legaspi remains overdue for a widespread revival, Owens did write a book about his underappreciated hero. The gorgeous, lushly illustrated, coffee-table hardcover, titled Legaspi: Larry Legaspi, the '70s, and the Future of Fashion, was published in 2019, and it's the closest thing to a biography of the designer that exists. It includes Legaspi's own written account of his early life. He describes growing up in New Jersey, where he says his hard-drinking stepfather regularly beat his mother and molested him. After years of abuse and trauma, he left home for New York, where he opened a boutique called Moonstone and began designing garments. "I am self-taught," he told the fashion journalist André Leon Talley in 1979. "I went to the Fashion Institute of Technology for a few semesters of basic trainings, but what you see is mostly my dreams." In his own words, he was a "gay hippie" upon arriving in New York, but he soon gravitated toward the angular, intergalactic sparkle of glam rock. Incorporating elements such as arched collars and reflective materials into his designs, he also drew from the past—namely from the science fiction he had devoured as a kid.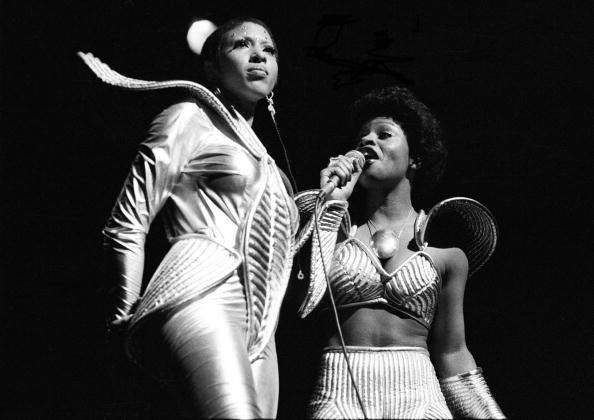 New York in the early '70s was hardly what you would call restrained. But when Legaspi wore his own outfits on city sidewalks, his Flash Gordon–on–Fire Island style drew catcalls of "Moon man!" from passersby. "I never could bear to look like everyone else," he told Us Magazine in 1980. Moonstone struggled to attract clientele at first, but that changed when Legaspi got a job on Broadway as a dresser for the original run of Jesus Christ Superstar. Soon, he was noticed by Labelle. The trio of Patti LaBelle, Nona Hendryx, and Sarah Dash was transitioning from a sweet vocal group—one that Legaspi had loved as a child—to a fierce and forward-thinking funk powerhouse. Legaspi began designing their stage costumes, stitching together shimmering metallics, white leather capes, and ludicrous plumage straight out of some hallucination of alien ornithology. Hendryx, also a lifelong sci-fi fan, had urged Legaspi, "Make me a spacesuit." Labelle's striking new look, the music magazine Melody Maker observed in 1974, was "like a soul version of UFO."
Legaspi dubbed his new line of costumes "Primal Space," a term that played on both his adoration of sci-fi imagery and his connection to the earthy pulse of funk and rock. His name began circulating, and as his Labelle creations made waves, other musicians took notice. Before long, the members of an unknown rock group playing small clubs in New York asked Legaspi to help them realize their own bizarre ideas for stagewear—costumes that were extravagant, gleaming, superhuman, and just a little bit scary. Legaspi obliged, unaware that Kiss would become one of the biggest bands of all time. "Our manager Bill Aucoin introduced us to Larry. He had a storefront in the far West Village," the Kiss guitarist Paul Stanley recalls in Owens's book. "He was doing costumes for Labelle." In fact, Kiss stole Legaspi away from Labelle, whisking him up in a rise to fame that, ironically, did little to help the designer's brand recognition. He loved applying his aesthetic to the world of popular music, and the money didn't hurt. He wanted nothing more, though, than to be seen as a high-fashion creator.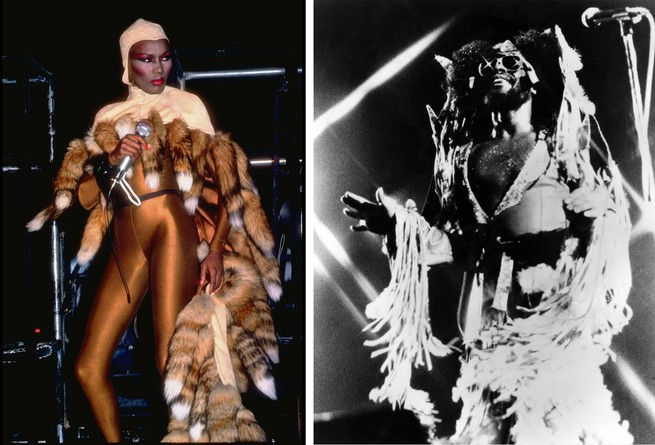 But Legaspi wound up stuck in a strange place: too bold to go mainstream and too weird to be embraced by the fashion industry. With seemingly nowhere else to turn, Legaspi continued making costumes for his friends in the New York art scene, including the operatic singer Klaus Nomi, whose retro-futurism meshed with Legaspi's. And after becoming close friends with Divine, he supplied the gay icon with designs that accentuated camp, drama, and subversive sexuality. Grace Jones, as she was moving from modeling to music in the late '70s, tapped Legaspi as well. But of all the people he dressed, no pairing was more perfect than Legaspi plus P-Funk. "I know the theater well," Clinton told Vogue in 2018. "I watched a lot of these plays, and when we first did the Mothership Connection album in 1975, I knew that I had to get the costuming from Larry Legaspi."
Working with Clinton and crew—including the irrepressible bassist Bootsy Collins—Legaspi's cosmic visions and sci-fi obsessions truly soared. Parliament's Mothership Connection was the first in a series of interconnected albums by it and the overlapping group Funkadelic. In the albums, an epic battle between good and evil—that is, funk and funklessness—sprawls across the backdrop of space-time. Legaspi was finally fully unleashed. He "made crazy sci-fi costumes," Clinton wrote in his memoir, Brothers Be, Yo Like George, Ain't That Funkin' Kinda Hard on You? They "made us look wild and interstellar." Legaspi's garb brought a vital element to the P-Funk mythology—and, in his own words, came "right out of my fantasies about the future."
Tragically, Legaspi's own future dimmed. He contracted HIV in 1987 as the epidemic decimated New York, especially the queer and artistic communities he was so intimately involved in. Focusing on his health, he left the city and ultimately settled in North Carolina, where he died of AIDS-related causes in 2001, having ceased any creative output years earlier. Although clients such as Clinton realized—to the point of potentially breaking a leg onstage—that Legaspi's designs weren't very practical to perform in, the designer himself always saw them as having the potential to be much more than rock-star garb. "My clothes are not a stage costume," he told an interviewer in the early '80s, just as his visionary style was being copied and adopted by music's growing futuristic, new-wave movement. "They are something that can actually be worn in the day as well as the evening." He dreamed of new synthetic fibers and other technological advances that could be used to make solar-heated and air-conditioned bodysuits: "Our clothing is going to have to help us cope with our environment, and of course venturing into space travel is going to affect the way we dress." He wanted, essentially, to reboot civilization's entire concept of what clothes were and did. And he wanted that concept to be sexy.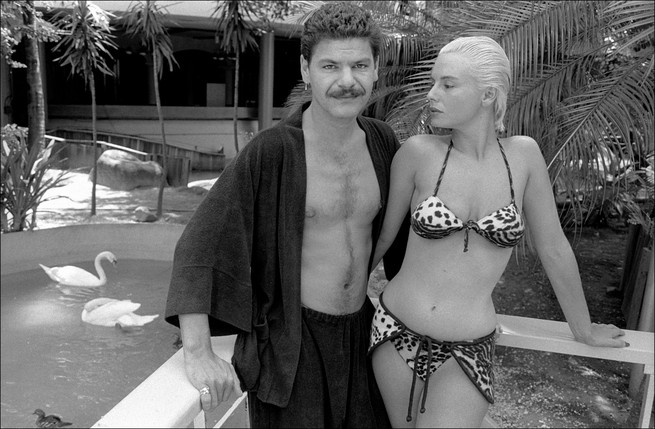 Twenty years after Legaspi's death, his vision of futuristic glam as everyday streetwear—or everyday spacewear, for that matter—hasn't quite come to pass. But maybe that's because he was even more outlandishly ahead of his time than his biggest fans and most famous patrons could have imagined. "I knew I'd have to wait for the world to catch up with me," he said in 1980, already 10 years into a career full of fabulousness, frustration, and idealism about the future. "But I didn't think I'd have to wait this long."
Legaspi barely got to see the 21st century he anticipated with so much wonder and hope. Now we don't even blink at innovative technologies such as electric cars and smartphones, which seemed like science fiction back when Legaspi was peaking as a designer. We've charted thousands of exoplanets and are looking ahead to the human exploration of Mars. Still, onstage Legaspi's prescient vision seems to guide many of today's leading-edge artists. Lady Gaga, his most conspicuous stylistic descendant, appeared in the video of her 2020 hit "Stupid Love" wearing sleek, twinkling bodysuits that recall the space-warrior vibe of Legaspi's vintage Labelle collections. "The world rots in conflict," the video's opening slate reads. "Many tribes battle for dominance. While the Spiritual ones pray and sleep for peace, the Kindness punks fight for Chromatica." It's the kind of sci-fi mirage that Legaspi himself dreamed into fashion.