And the Best Oscars Acceptance Speech Goes to …
When Youn Yuh-jung collected her latest trophy for Minari, she showed everyone why she keeps winning.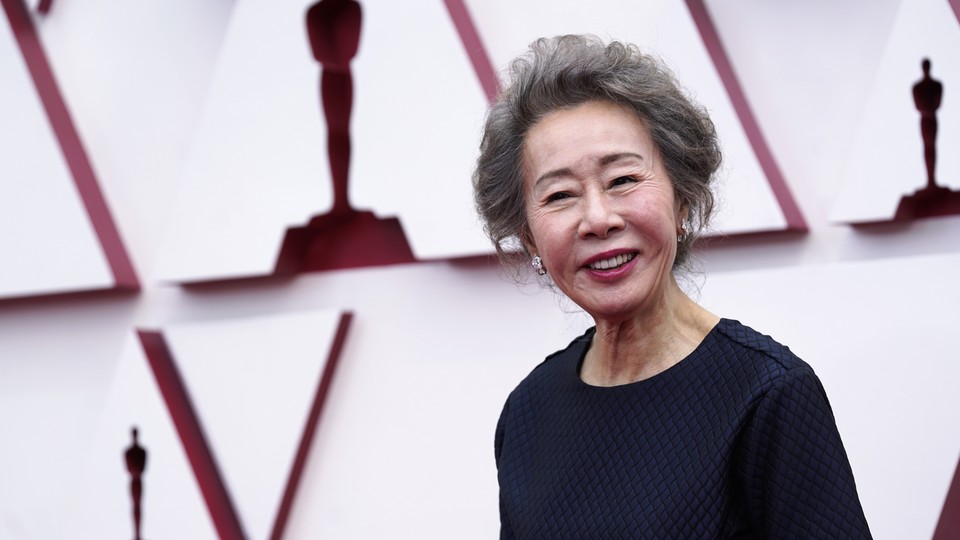 When she took the stage to accept the Oscar for Best Supporting Actress last night, Youn Yuh-jung claimed something else, too: her name. The South Korean actor said it clearly for everyone watching and then noted how often it is mispronounced. "Tonight, you are all forgiven," Youn said cheekily—effectively pardoning Brad Pitt, who had made such a mistake when he announced her victory.
The 73-year-old actor went on to give the night's standout speech, in which she demonstrated why she's nabbed nearly every supporting-actress trophy this awards season—and why it's been such a joy to watch her win. Youn delivered a lively, acerbic performance in Lee Isaac Chung's warm drama Minari, which Pitt's Plan B Entertainment produced, as a matriarch who moves from South Korea to stay with her daughter's family in Arkansas. The cantankerous but loving character of Soon-ja adds unexpected dynamism to the home, and lends real frisson to the quiet 1980s-set film. If Minari was inspired by Chung's childhood, Youn brought some of her own family history to her role: She told my colleague Shirley Li that she modeled Soon-ja after her great-grandmother.
The actor's charming acceptance speech, which she said she didn't prepare ahead of time, because of the caliber of her category's contenders, was a highlight of this year's ultra-laid-back, pandemic-era ceremony, held mostly between Los Angeles's Union Station and Dolby Theatre. Youn, of course, is not her character. But she delighted for many of the same reasons that Soon-ja does. The actor imbued her words with generosity as well as dry humor. She thanked her two sons, "who make me go out and work," holding her trophy up and declaring that it's "the result because Mommy works so hard."
Youn also shouted out her "wonderful Minari family" by name—Chung and her co-stars Steven Yeun, Yeri Han, Noel Cho, and Alan Kim—before speaking to her fellow nominees. "I don't believe in competition," she said. "How can I win over Glenn Close? I've been watching so many of her performances." That sense of awe and graciousness radiated throughout her speech, despite all the accolades she's collected for her scene-stealing work in Minari. "I have a little bit of luck, I think, maybe," Youn said, to audience laughs. "Or maybe it's the American hospitality for the Korean actor; I'm not sure," she continued, to even bigger laughs.
Her tongue-in-cheek comment gestures at the Academy's long history of overlooking performances from Asian and Asian American actors. Indeed, Youn is the first Asian woman to win in an acting category since 1957, when Miyoshi Umeki took home the Best Supporting Actress award for her role in the Marlon Brando–led Korean War drama Sayonara. Youn's was also the only Minari win of the night, though the film was also up for Best Picture, Best Original Screenplay, Best Director, Best Original Score, and Best Actor.

While Youn's fame in the U.S. is new, her talent isn't. Her impressive career spans five decades, and she's been amassing industry awards since the late '60s. (In her Oscars acceptance, she thanked Kim Ki-young, the "genius" director of the first film she starred in, 1971's Woman of Fire.) With the sudden Hollywood attention comes unique pressures: Earlier this month, Youn told NPR that being nominated for an Oscar made her "feel like … an Olympian competing for my country." That's a whole lot more fanfare than the Academy Awards garner when she watches them at home. In South Korea, Youn said in her acceptance speech, the ceremony is just "like a television program for us." This year, she was the star of that show.