When Meanness Was Celebrated
For decades, the media have chronicled a Hollywood mega-producer's reputation as a bully—and even praised him for it.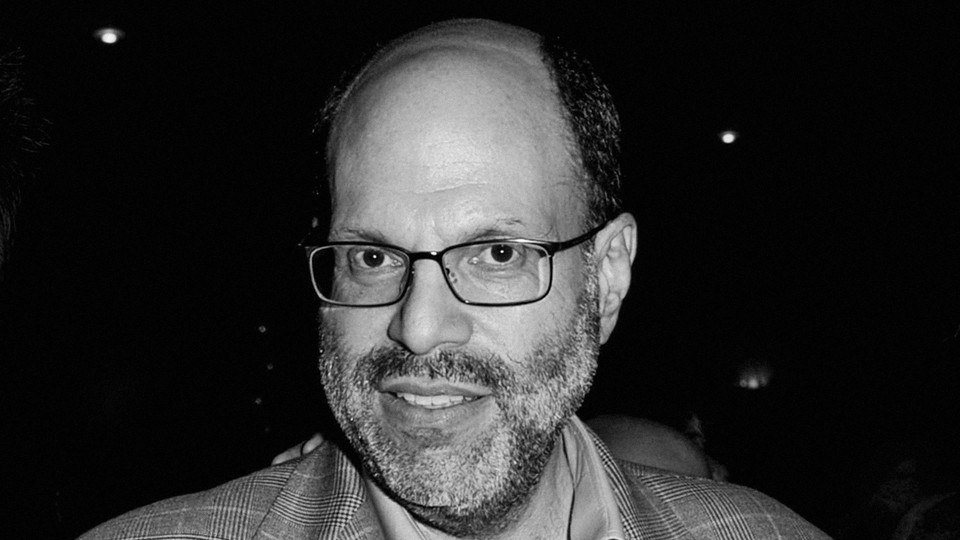 Earlier this week, The Hollywood Reporter published a detailed cover story on the veteran film and theater producer Scott Rudin's alleged mistreatment of his employees. The piece features on-the-record testimonies from former staffers and a slew of accusations describing physical assaults, traumatizing outbursts, unreasonable demands, and a penchant for throwing things. In one account, Rudin reportedly broke a computer monitor on an assistant's hand, sending the bleeding employee to the ER. In another, he allegedly chucked a glass bowl at a colleague, causing a human-resources representative to have a panic attack and leave in an ambulance.
As vivid as these stories may be, the article isn't exactly an exposé. Rudin's behavior, as The Hollywood Reporter notes, has been an open secret in the industry for decades, so much so that it's regularly written about in major publications. His temper was labeled "legendary" by Variety in 1999, the Los Angeles Times in 2003, The New York Times in 2004, and Page Six in 2014. "Mr. Rudin holds the unofficial crown of Hollywood's most feared boss," read one line in a 2005 Wall Street Journal piece headlined "Boss-Zilla!" And though Rudin declined to comment on specific allegations in the Hollywood Reporter article, he has openly acknowledged his reputation several times in the past. "At least people who apply here know they're not coming to work for Florence Nightingale," he once told The New York Times.
Unlike past stories, The Hollywood Reporter's offers, for the first time in Rudin's almost 40 years as a producer, an unromanticized affirmation of the seemingly endless anecdotes about him as a manager. It details his alleged misbehavior as well as his influence, which has arguably made the industry and the journalists who report on it more likely to accept workplace aggression as a condition of great art. A closer look at the articles written about him over the years reveals how coverage of the producer helped hide his bullying tactics in plain sight, softening his image until it became passively accepted.
Ironically, many pieces about Rudin portray him not merely as a producer, but as a protector. "Auteur types like the [Coen brothers] and the [Wes] Andersons gravitate toward Rudin because of his mantra to create 'the safest possible environment' for them to realize their visions," Variety observed in 2008. Rudin is known for supporting lofty literary adaptations, pushing big creative swings from directors with difficult reputations, and making critical favorites. He holds the rare title of EGOT winner—as in, someone who has scored an Emmy, a Grammy, an Oscar, and a Tony—and his fingerprints are probably all over some of your favorite stage and screen projects. (They're definitely on mine, given my love for Clueless, Lady Bird, and The Social Network.) Rudin's stewardship of acclaimed artists made him well liked by A-listers, but his intuition made him bulletproof. "Scott brings an intellectual rigor to all things," John Lesher, then a Paramount executive, told the Los Angeles Times in 2008. Rudin has elsewhere been described as a "voracious consumer of culture" with "unimpeachable taste" and a "propensity for intellectually complex projects and high-energy negotiation."
Pieces that referenced his alleged mistreatment of employees characterized him as a defender of art. Entertainment reporters wrote of Rudin's belligerence—he butted heads with Harvey Weinstein to get movies made the way he wanted and blacklisted The New Yorker after the publication broke the review embargo for The Girl With the Dragon Tattoo—and occasionally challenged him on his meanness. Sometimes, Rudin leaned into his notoriety, talking about his hostility as a strength. As he told the Los Angeles Times in 2003, filmmakers he works with "want that combative ability … They want you to go and kill for them." Every film or play that led to a trophy only seemed to fortify the idea that Rudin's vicious approach was a necessary pathway to prestige.
Some stories about working for him were so absurd, they sounded like fiction. Because the producer reportedly went through an estimated 250 assistants in five years, tales such as that of the entry-level employee who got fired for buying the wrong breakfast muffin could seem unremarkable. And indeed, satires such as Swimming With Sharks and Tropic Thunder reportedly based their unhinged and intimidating entertainment-industry moguls on figures like Rudin. To make it in Hollywood, these depictions made clear, you needed to pay a heavy psychological toll.
Even former assistants who survived their tenure with Rudin and became executives themselves described the tough skin they developed as an asset. Emotional and mental anguish—reportedly at minimum wage, by the way—were a given. "You'd always forgive him because he's so smart, cares so much, and he gets movies made that no one else can," explained Amy Pascal, one of Rudin's former assistants who became a major studio executive herself, in 2008. "I attribute an enormous amount of whatever success I've been able to attain directly because of how I saw him operate," the producer Craig Perry, another Rudin acolyte, said in 2005. "Does he yell? Sure. Do I yell? Sure."
Rudin's workplace behavior may have been an open secret, but open secrets eventually build cultures—in this case, one where tolerating mistreatment is a fundamental ingredient for success. And that culture was reflected in the press: Many stories about Rudin casually downplayed or reframed his nastiness. Tempestuousness was excused as "behind-the-scenes excesses of passion," per Vulture. A paragraph about bullying in a Guardian piece ended with a line about how artists appreciate such "uncommon dedication," and temper tantrums were called "versatile" by The Wire, The Atlantic's onetime partner publication. A Page Six story chronicling his alleged workplace abuse concluded with a section about the ways in which he could be "exceptionally generous." "Love him or hate him, but producer Scott Rudin is fighting the good fight for good movies," gushed IndieWire in 2010. Rudin wasn't simply being excused for his actions; he was being mythologized as a tough boss with a good eye for Oscar bait.
Myths can distort the truth, but they don't tend to fully obscure it. The remarkable thing about the Hollywood Reporter story, in the end, is also a simple thing: It put the accounts of those whom Rudin allegedly mistreated front and center, rather than hiding them amid paragraphs of praise from his peers. It's yet another reminder for Hollywood that great art, even from revered creators, is not a justification for cruelty. It doesn't call him "the reigning champion of the phone-throwing, desk-clearing Hollywood tantrum," because it's long past time to retire such ego-stroking niceties, even tongue-in-cheek ones. Rudin's been thanked more than enough.