A Confusing, Experimental Oscars
This year's Academy Awards tried to be like a movie. So we tried to review it like one.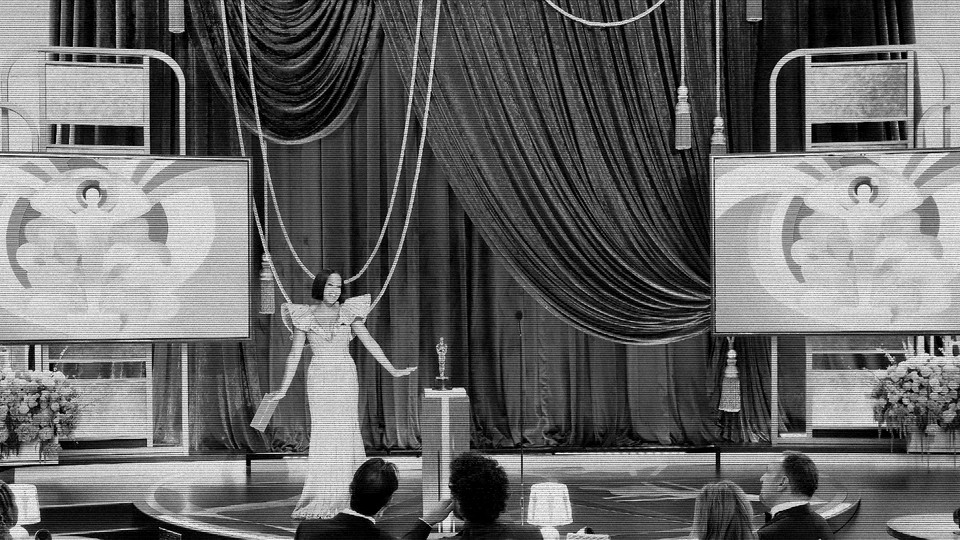 The filmmaker Steven Soderbergh has always liked to veer left when you expect him to go right. He followed his own Academy Award win—in 2001, a year when he was a double nominee for directing, by the way—by making cerebral indies. He treated "retirement" as a euphemism for making television. He turned a movie about male strippers into an intimate character study. Soderbergh, in other words, delights in rejecting the conventional.
So it was a surprise when he announced he'd co-produce the 2021 Oscars, the 93rd entry of an extremely long-running, extremely conventional annual ode to the film industry. Talk about low stakes for one of the most dexterous filmmakers in Hollywood.
But in true Soderberghian form, he explained that he'd up the ante by framing the telecast not as an awards show, but as a movie. The plot would revolve around the noble yet yawn-inducing theme of "Stories Matter." There'd be no protagonist, but an ensemble cast of A-listers would perform as themselves, according to the trailer, and masks would play "a very important role in the story," Soderbergh said. It'd be called—drumroll, please—The 93rd Oscars.
Other works in the Awards Season Cinematic Universe haven't fared so well in their pandemic-era attempts: mics muted, stars lingering awkwardly at a social distance, and all that glitzy haute couture cut off from the waist down. Like those productions, The 93rd Oscars had to work with a noticeably slimmer cast at an atypical primary location—Los Angeles's Union Station rather than the Dolby Theatre—and navigate a tricky tone that acknowledged the devastation of 2020 while celebrating the year's artistic achievements. Perhaps Soderbergh couldn't help but be drawn to the potential. In 2019, he told my colleague David Sims that his dream Oscars would be "super intimate." "Here's the dirty secret: Going to the big thing is not fun," he said at the time. "It's more fun to watch on TV. The trick would be doing something super cool and small."
The long-awaited ceremony was indeed small, but not always super cool. More experimental than efficient, it felt refreshing in some ways, stiff in others. The lack of an orchestra to play winners off the stage allowed them time to share everything on their mind. For some, like the supporting-actress winner Youn Yuh-jung, this meant cheekily berating Brad Pitt for not visiting the set of her film Minari—which was made through his production company, Plan B—while others simply read a longer-than-usual laundry list of people to thank. The stylish camerawork—an opening one-shot of Regina King sauntering through Union Station, the zooms into the sacred winner's envelope, and a contrived off-center framing for onstage speeches—made the Oscars look better than it has in years. But the high production values didn't always translate into high-quality performances, especially when stars missed their mark or crew members darted across the background. And though The 93rd Oscars nixed traditional original-song performances, the running time still dragged past the three-hour mark.
Clearly, Soderbergh and his co-producers, Stacey Sher and Jesse Collins, sought to make this year's proceedings character-driven. Nearly every nominee got a backstory, delivered at a rapid-fire pace by the category presenter, who sometimes addressed those being honored directly, lending the scene a casual feel. But these well-intentioned monologues did little to showcase the work of those being feted. Film clips were shown for the feature categories, but not for the visually appealing costume design or makeup and hairstyling ones. Viewers got trivia about the producers of the shorts instead of clips from the shorts themselves. Often the presenters did the heavy lifting for these scenes, selling the sincerity of their appreciation for each nominee's work as a proxy for what the audience couldn't see.
But if the first two hours of The 93rd Oscars started to shakily reinvent the franchise's formula, the final stretch collapsed into confusion and chaos. The tone flailed wildly: A comedic scene with Lil Rel Howery in a surprise cameo sparring with the rest of the cast—including Glenn Close, delivering what might be a career-best performance—led straight to a montage memorializing the deceased. Sequences droned on with the same setup and payoff: A cast member shares a memory about a movie that mattered to them, then hands out a golden statue. This script merely paid lip service to the importance of moviemaking. Take Halle Berry presenting the trophy for cinematography: She explained that it's "one of those jobs you have absolutely heard of, but still don't understand completely," then failed to enlighten the audience accordingly. I was horrified when I realized, as one A-lister after another waxed poetic about their memories for seemingly no reason at all, that this was exactly like the Broadway show Cats.
Worst of all, the final plot twist backfired. Rather than present the trophy for Best Picture last, as is customary, the producers opted to have the lead-acting categories wrap up the show. The idea was clever in theory: Plenty of previous Oscars have ended with unrecognizable producers, rather than a household name, delivering an acceptance speech. The late Chadwick Boseman seemed a lock to win Best Actor, which would have capped the night with a somber and powerful denouement. Instead, Anthony Hopkins won the trophy, and Joaquin Phoenix read a limp prepared statement from the Academy because Hopkins, at 83, could not make it to the shoot.
Of course, experimentation does not happen without risk. But the Oscars already had enough newness this year to prove its thesis that it deserves a future. Look at all the milestones reached with the nominations alone: Youn was the first Korean actress to get a nod and the first to win; Riz Ahmed was the first Muslim nominee for Best Actor; two women were nominated for directing; 70 women were nominated across all categories—the most ever. Hopkins was the oldest Best Actor nominee and winner of all time. This Oscars installment even featured the longest film title in nominee history, with Borat Subsequent Moviefilm: Delivery of Prodigious Bribe to American Regime for Make Benefit Once Glorious Nation of Kazakhstan.
Maybe Soderbergh and his team felt that a franchise known for being self-congratulatory didn't need to openly congratulate itself any further. But as a result, they created an uncanny show with an underwhelming finale.
Fine—obviously, The 93rd Oscars isn't really a movie, just a telecast that sold itself as one, because the pandemic-era awards shows before it haven't succeeded in drawing eyeballs, and neither have the nominated films. But the lofty goal of making a staid ceremony feel fresh by making it cinematic may have been overkill. Soderbergh couldn't possibly make every beat go according to script. Two minutes in, Regina King quipped "Live TV!" when she stumbled onstage. And the first winner of the night, the Promising Young Woman writer-director Emerald Fennell, unintentionally revealed the folly of the show. Receiving her award for original screenplay, she admitted she hadn't written her speech beforehand as she'd been instructed. "I'm going to be in trouble with Steven Soderbergh," she said. "I'm so sorry."