Your Moviegoing Experience Is About to Change
Theaters barely survived the pandemic and can't wait to welcome audiences back. Here's what you can expect when you return.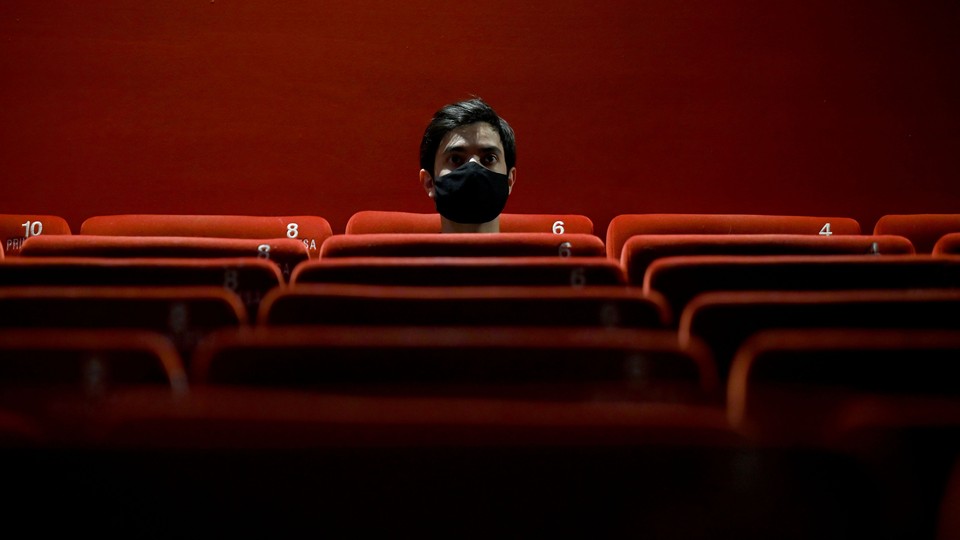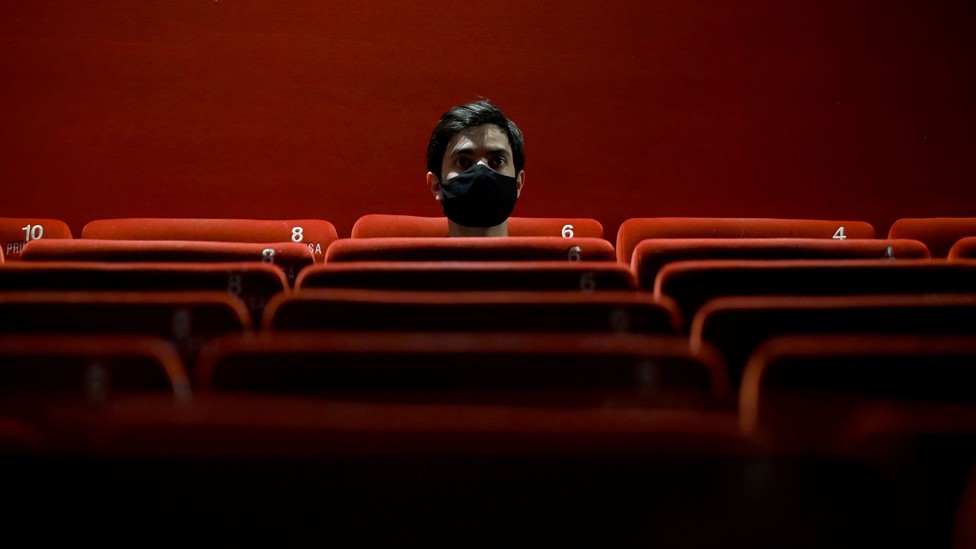 When 2020 began, the future of movie theaters looked bright. Seemingly every major Hollywood studio was pursuing its own cinematic universe, and every big-budget film was seeking a sequel. Viewers were promised a slew of surefire hits, including a new Christopher Nolan thriller, Daniel Craig's last outing as James Bond, and the next era of Marvel movies. "There's no way one can say theatrical is dead," Deadline observed of the year to come.
Of course, 2020 put that declaration to the test. The COVID-19 pandemic forced indoor-viewing suspensions, Hollywood's biggest studios delayed their most anticipated titles, and theatrical windows shrank—or disappeared altogether—to accommodate the boom in streaming services. After earning a record $42.3 billion in 2019, the global box office tumbled a whopping 72 percent last year.
Now, as vaccination rates climb and film-release dates hold firm (for the moment), the industry appears ready to heal. Theaters have been slowly reopening across the country—rehiring employees, introducing new cleaning standards, and installing top-of-the-line ventilation systems according to industry-wide guidelines. Major chains such as Cineworld, the U.K.-based owner of Regal Cinemas, have renegotiated how long films will be shown in theaters before going online, and Godzilla vs. Kong, the CGI-drenched monster mash, drew $48.5 million at the box office its first week. Seeing sold-out showings, even at limited capacity, is a "promising sign," Seth Parsley, a general manager of a UEC Theatre in the South, told me over email. Milt Moritz, the president of the National Association of Theatre Owners of California and Nevada, agreed: "This is the light at the end of the tunnel we were looking forward to for well over a year."
Still, one film's success isn't proof of an entire industry's resurgence. To survive beyond the pandemic, theaters must persuade moviegoers not just to come back, but to come back more frequently than they did—to start thinking of their local cinema as akin to their favorite coffee shop. Because a return to pre-pandemic habits isn't enough, industry executives told me they've been spending this past year rethinking the role of theaters in the first place. "What we did during our downtime is … spend our energy on things that are going to move us forward and improve the experience of coming to the cinema," Tim League, the founder of Alamo Drafthouse Cinemas, a Texas-based chain, told me. Moviegoing, simply put, is hoping to meet your post-pandemic needs. Here's what viewers can expect:
---
1. Theaters will be more digitized.
You probably noticed that major cineplexes were moving in a digital direction long before the pandemic. Paperless ticketing and online seat reservations were becoming common, but the shutdown provided the opportunity to fine-tune such services. Mark Zoradi, the CEO of the global theater chain Cinemark, told me that launching "Snacks in a Tap," a program that allows moviegoers to order concessions online, was one of the company's priorities in 2020. Alamo Drafthouse did the same, adding to its app the feature to order food in advance. Making every step of the theatergoing experience as contactless as possible has made it even easier to give customers what they're ultimately looking for these days: "that sparkling-clean environment," Zoradi said.
2. Theaters will be more private.
Don't expect virtual screenings to continue outside of smaller indie venues. But do expect the private auditorium rentals that theaters began offering during the pandemic to stick around. They've been lucrative: AMC hosted more than 150,000 such showings in 2020, as has Cinemark through February of this year, and half of Alamo Drafthouse's revenue during the height of the pandemic came from such a program. "It's become very, very, very popular," Moritz said. "People want to be secure about who's at the theater."
And most theaters, he added, will maintain staggered showtimes to allow for cleaning between screenings and to keep guests comfortable—no more shoving your way past departing moviegoers to get to your seat, at least for the time being. Indeed, major chains, encouraged by the success of private screenings, are focused on offering, as Zoradi put it, "enhanced" experiences at affordable prices: more reclining chairs, more food and beverage options on the menu, and the ability to have concessions delivered straight to your seat.
League told me that the Alamo, already geared toward cinephiles with its strict moviegoing etiquette and celebrity events (Q&As with a cast, for instance, or director introductions to film screenings), has also been building out the company's video-on-demand feature, which provides content such as director commentary that can be accessed after showings on the Alamo app or at home. "There is pressure to make sure the experience is awesome every time," he said. "I think every exhibitor feels that." So do theater employees, who must put in extra effort on the ground to produce that coziness for every attendee. "It's nothing that I'm not used to, as I am an Avengers: Endgame survivor," Parsley told me of the extra time he's spent cleaning theaters between every screening. "But it has made for some very long days."
3. Theaters want to be your first stop away from home.
It might seem obvious, but theaters depend on frequent moviegoers, defined as those who see a movie at least once a month. In the U.S. and Canada in 2019, they represented about 11 percent of the population, yet accounted for 47 percent of all tickets sold. Thus, chains with loyalty programs—for instance, AMC Stubs or Cinemark Movie Club—that offer rewards for regular moviegoers will "reignite," Zoradi said. "Doing this subscription program was very important, and we've stepped up our digital and social-marketing efforts … We think of ourselves not as a theater exhibitor owner, [but] as a very modern retailer, like a Target or a Starbucks."
To that end, executives want to change the way you think about theaters; they want frequent moviegoing to be the norm, not the habit of a dedicated minority. In the post-pandemic era, they see Hollywood's backlog of blockbusters and audiences' pent-up need to leave home as unique advantages. Therefore they consider other social settings, not streaming services, as their primary business rivals going forward. "I think we're an out-of-home experience competing with bars and restaurants and nightclubs," League said. "Folks who watch a lot of streaming also go out to theaters a lot, and I feel comfortable that that's not going to be the end of cinema." AMC's CEO, Adam Aron, expressed a similar sentiment during an earnings call in February: "I think people are overstating that streaming is somehow going to cause screen closures … We're not quite as desperate as we were in June of 2020." And yet …
4. Theaters may still continue to close.
No theater escaped the pandemic unscathed. The Alamo furloughed more than 5,000 employees and declared bankruptcy to refinance. AMC permanently closed 60 theaters. Cineworld reported a loss of more than $2 billion in 2020; its sites in the U.S. have begun reopening just this month. Cinemark, even with its conservative financial approach, still had to reduce salaries across the board. And though Moritz said he felt "total euphoria" when we spoke after the release of Godzilla vs. Kong, the following week brought news of the closing of ArcLight and Pacific theaters, a historic Los Angeles–based chain. "It is a sad day for Hollywood," Moritz wrote.
Reopening doesn't happen with a simple flip of a switch; it requires starting almost from scratch and contending with fresh, pandemic-induced challenges. It's little wonder, then, that employees working at reopened venues feel conflicted about the industry's future. Some have noticed positive changes: Connor, an employee working at an AMC in Colorado who asked to have his last name withheld to protect his job, told me that "things feel mostly normal-adjacent," with customers being more tolerant of shortcomings. "'No cash, card only' is met with understanding instead of anger," he wrote. "'Sorry, we don't have fresh produce right now because of supply-chain issues' is met with acceptance."
Parsley, the UEC employee, told me that any issues he encountered with patrons paled in comparison to the frustrations—staff layoffs and eliminated weekday showings—caused by release delays and slashed theatrical windows. "I can confidently say that at my theater, the decline in business can be attributed to the lack of product," he said, "and not the fear of COVID." Movie theaters, after all, will always be beholden to the decisions of movie studios.
Turning the corner in the pandemic doesn't guarantee stability for theaters. Offering luxurious experiences at affordable prices doesn't mean audiences will show up in droves every week. And knowing that the worst has passed at the box office doesn't erase uncertainty about its prospects. Moritz told me he could see 2021 being a "record year" if capacity limits end before the spate of summer blockbusters arrive. League balked at that calculation when I told him, saying the end of the year would be his earliest guess for a healthy industry. Zoradi hesitated before offering his own prediction. "I would put it a little differently," he mused. "I would say we're in a 'transitionary' year … In 2022, we'll figure out what the new 'normal' is."