Elon Musk's SNL Hosting Gig Is a Trap
By the time you understand the billionaire's motives, you've already been trolled.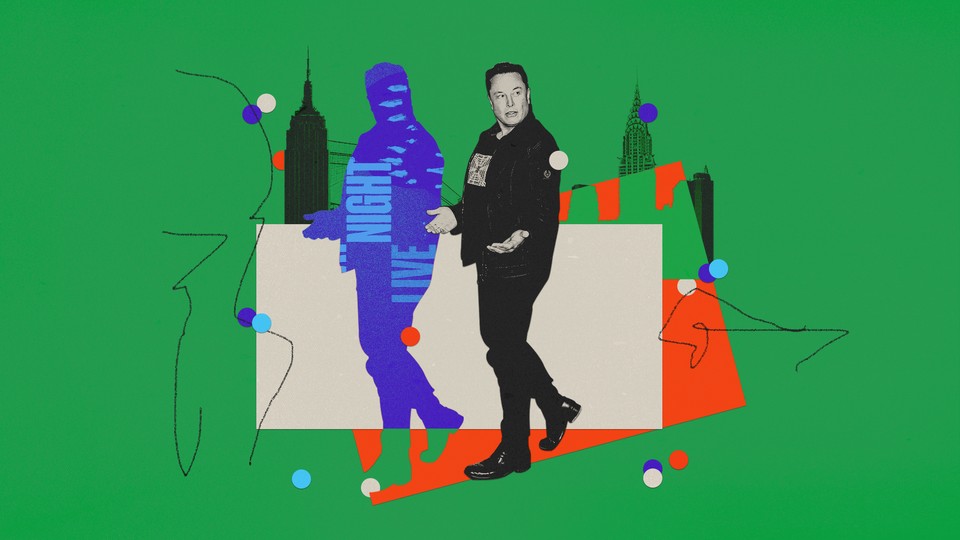 Updated at 11:31 a.m. ET on April 29, 2021
Elon Musk is an eyebrow-raising choice of host for Saturday Night Live. He's a controversy-courting tech CEO with a tenuous connection to the entertainment industry. He's never seemed interested in performing sketch comedy. And his Twitter following of more than 50 million accounts eclipses SNL's audience—this season, the series' highest-rated episode drew about 9 million viewers. Musk, in short, doesn't need SNL.
But SNL, which doesn't typically invite guests like Musk to Studio 8H, seems to need him. Yes, the show has made atypical host choices in the past, including athletes, politicians, and, on occasion, sportscasters, but these figures have always arrived with a message and a motive for subjecting themselves to the trials of live TV. They want your vote, or your visit, or your viewership. Only once has SNL chosen a host completely outside of these boundaries: an early show featuring Miskel Spillman, a woman who won a contest called "Anyone Can Host," in 1977. Musk's hosting gig begs the question: Why would this man want to head to 30 Rock?
Before 2018, Musk sometimes appeared as himself in film and television, perhaps hoping to come off as an affable public figure willing to poke a little fun at his image. In Iron Man 2, he pitches an idea to Robert Downey Jr.'s billionaire inventor, Tony Stark, a character to whom Musk has often been compared. In The Big Bang Theory, he meets a starstruck Howard (Simon Helberg) while volunteering at a soup kitchen for Thanksgiving. In Machete Kills, he helps Machete (Danny Trejo) get to space.
But in the past few years, Musk's persona has mutated from that of the visionary tech genius into the overly online eccentric who named his son with the musician Grimes "X Æ A-12." Musk's plan to save soccer players trapped in a cave in Thailand in 2018 turned into a Twitter rant—including an unfounded accusation of pedophilia—against one of the divers who took part in the actual rescue. (Musk later apologized.) In 2020, Musk, again on Twitter, initially denied the severity of the coronavirus pandemic, spread misinformation on the topic, and prematurely opened Tesla's factories amid lockdown.*
The man who'll take the SNL stage on May 8 won't just be a billionaire with spacefaring dreams, but one who shamelessly and aggressively stirs the pot on the internet—whether to get people to call him "Daddy Dotcom" or to move cryptocurrency markets with a single tweet—to the cheering of his ardent acolytes. "For better or worse, he shows that he has a sense of humor on Twitter," Ashlee Vance, Musk's biographer, told me over the phone. Vance pointed out that Musk once tried to start his own satire magazine; going on SNL could just be a higher-profile extension of that. Early in his career, "he was pretty shy," Vance said. "He was self-confident in his intellect and his abilities, but I would not say he was socially self-confident, you know? Over time, he's grown and grown … it's all part of an evolution of this guy who enjoys the celebrity and keeps getting bigger."
SNL, however, isn't usually so generous with its stage. It's a thoroughly mainstream institution that has lasted for almost 50 years, consistently holding the attention of millions of Americans every weekend. The show books hosts and musical guests based on who's in, or should be in, the cultural zeitgeist, thereby underlining their importance to the public—that's why Oscar nominees tend to stop by. Simply by providing a platform, the series has legitimized guests, defanged them, or shattered their reputations altogether.
Choosing Musk defies this goal of highlighting talent; instead, he appears to have been picked just to inspire debate. He inevitably will, because he already has. Even his contributions to Tesla have been disputed in court, his persona as a tech genius muddied by allegations of forcibly ousting the company's founder and taking credit for the work of engineers after joining the company. (The company denied these claims, and the suit was later settled for undisclosed terms.)
But if SNL thinks it can brighten or dim the star power of its host, Musk poses a particularly risky challenge. He's a black hole, a rare figure who absorbs attention, good or bad. He's already downplayed the latest news about Tesla, involving the deaths of two people in a driverless car in Texas, claiming that autopilot was not enabled, and moved on to reiterating his calls for turning humanity into a "multi-planetary species." His power does not depend on cultural support from the likes of SNL; he can be disliked, but not "canceled." None of his scandals have substantially altered his influence on the tech industry or his online following. Unlike a typical SNL host, he has nothing to lose. The show has effectively invited into the hallowed halls of 30 Rock a walking, talking, breathing meme with a net worth of $172.1 billion as of this writing.
No wonder some working at SNL seem baffled, if not outright frustrated, by the decision. They've been left in the uncomfortable, lopsided position of creating comedy for someone without any need for their work or support, who's basically trolling them for kicks. A few cast members have posted cryptic responses on their social-media accounts: a sad emoji from Bowen Yang, a quip from Andrew Dismukes about "Cher-E Oteri" being the only CEO he'd want to work with, a tweet reposted by Aidy Bryant of Bernie Sanders' calling billionaires "a moral obscenity." Even Michael Che, who rarely posts on Instagram, felt compelled to release a tongue-in-cheek statement making fun of Musk's polarizing reputation. There's little else they can do: Having Musk as host erodes the series' reputation as a cultural gatekeeper.
It's easy to argue that criticisms against SNL and Musk are overblown, but Musk hosting SNL doesn't so much reflect a moral quandary as it does a shift in the balance of power between the big TV networks and the memes. "It's like asymmetric warfare for him," Vance said. "He obviously enjoys the celebrity and the attention, and not only does he enjoy it—he uses it as this tool." In other words, even if nothing Musk does on May 8 entertains America, he will be entertained.
Musk has become arguably one of the most successful trolls on Twitter today, a public figure without any stake in entertainment or politics capable of provoking a reaction, full stop. This hosting gig—unconventional for SNL, but entirely unnecessary for him—is a trap. So is trying to understand his motives. Because no matter what he does on the night—and he's been delighting in teasing the fiendish possibilities of live television—he's already seized our attention. And that's how you know his trolling has worked: It doesn't matter whether you react positively or negatively; you've already been caught reacting.
---
* This article previously misstated that Elon Musk initially denied the existence of the coronavirus pandemic. In fact, he initially denied the pandemic's severity.