What Grief Tastes Like
Michelle Zauner's Crying in H Mart shows the possibilities and limitations of the food memoir.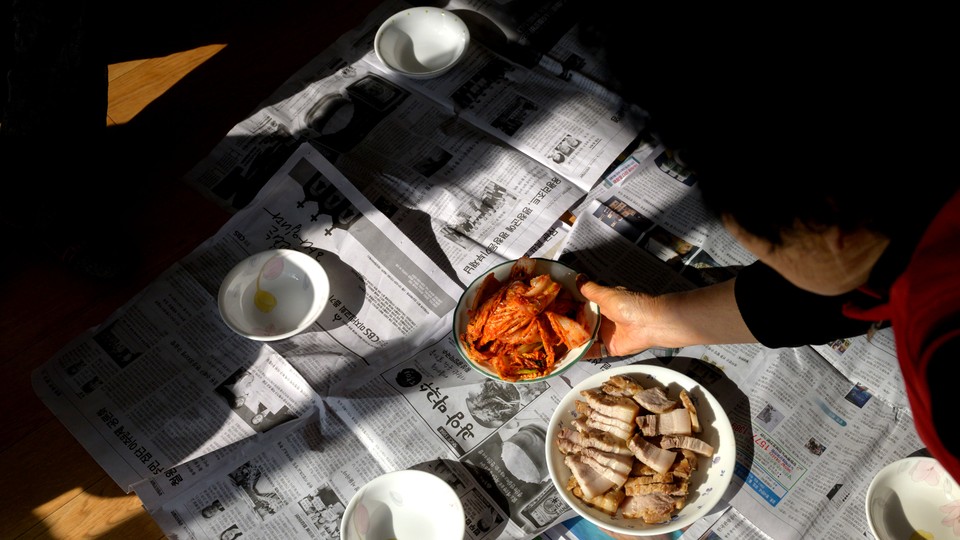 The musician Michelle Zauner's mother died on October 18, 2014, a date that Zauner would have trouble remembering in the years that followed. She wasn't quite sure why she was always forgetting it. Maybe this amnesia was her mind's way of protecting itself. Maybe she scrubbed the detail from memory because it seemed so minute compared to all else she endured as her mother succumbed to cancer.
But Zauner hasn't been able to forget what her mother ate. The older woman's appetite was particular, Zauner writes in Crying in H Mart, her moving new memoir. Her mother would order minestrone with extra broth at Olive Garden "steamy hot," a quirk of language that revealed her native Korean tongue. She'd feast on roasted chestnuts in the winter. She'd ask for extra vegetables with the spicy seafood noodle soup called jjamppong that she got from a Korean restaurant in Eugene, Oregon, near where Zauner's family lived.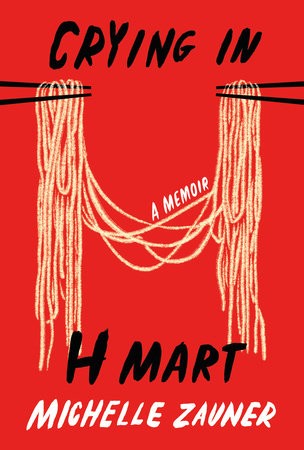 Likely best known to the public as the singer and guitarist Japanese Breakfast, Zauner spends Crying in H Mart detailing the disorientation that her grief gave rise to, weaving food into her process of mourning. (The book feels particularly, if unintentionally, suited to this period in history, after the past year of accumulated grief.) Food is more than an anchor for Zauner as she navigates loss. She also uses it to construct her identity as a biracial woman, one she experienced in fractured terms being raised by a white American father and Korean mother in the States. Grief seems to split this internal crisis open. Building on Zauner's popular 2018 New Yorker essay of the same name (which forms the basis of the first chapter), this expanded effort reveals the possibilities—and occasional constraints—of deploying food as a tool of memoir.
The very act of eating, as Zauner shows, can buoy the bonds between loved ones. If Oregon could feel like a confusing place for her to come of age, she'd find comfort spending summers visiting her Korean family in Seoul. There, on sleepless nights, she and her mother would scavenge the refrigerator for any snacks they could find: cucumber kimchi, yellow sprouts with scallions and sesame oil, braised black soybeans. "This is how I know you're a true Korean," Zauner's mother would tell her. These meals would tether Zauner to her Korean heritage. Yet her mother died early, at only 56. Zauner and I were the same age—25—when we lost a parent, and in the same way, to cancer. The loss felt seismic, and Zauner forcefully articulates the gravity of losing a parent at a pivotal age. "It was the year her life ended and mine fell apart," she states early on.
Zauner is specific in recounting her mother's sudden diagnosis and swift deterioration, refusing to collapse into generalities about grief. She is precise and unsparing in describing cancer's physical indignities, for example, and she's especially graceful when placing food in these memories. Zauner recalls feeding her mother tteokguk, a soup of rice cakes in mild beef broth. She renders the scene in plain, effective terms: "Again she resisted, managing only a few bites, which she vomited later that night." Later in the book, her mother's body breaks down, and Zauner watches in horror. "Her tongue looked rotten—like a sack of aging meat," she observes. Her mother's final breaths resemble "a horrible sucking like the last sputtering of a coffee pot." These food metaphors help capture the illogic of this disease, how cruelly it deprived her mother of life.
Grief has long been fertile narrative terrain for food memorists, many of them women. Zauner's book recalls the writer Molly Wizenberg's A Homemade Life (2009), in which the death of Wizenberg's father from cancer clarifies her desire to commit her life to writing about cooking. Donia Bijan starts Maman's Homesick Pie (2011) by describing the freakish death of her mother, an immigrant from Iran who'd been run over by a car. The book reads like an elegy: Bijan perceives her mother's trove of old recipes as a way to understand the enormous courage it took to leave Iran in exile at the start of the Iranian Revolution. A more recent entry in this micro-genre is Olivia Potts's melancholic, often funny book A Half Baked Idea (2019), which begins, too, with her mother's unexpected death from a stomach ulcer. I offer these comparisons with caution—each of these books comes with recipes, and Zauner's does not—but in all of these memoirs, loss animates the appetite.
Though it lacks recipes, Crying in H Mart teems with descriptions of food, and one's mileage may vary with them. Zauner front-loads her book with elaborate memories of consumption that sometimes have a flimsy connection to the narrative spine. She regales readers with recollections of an herbal tea she had in Seoul, writing that it "tasted like fruit rinds soaked in murky lake water and was the most bitter thing I'd ever consumed." She describes how her grandmother would cook "large batches of yukgaejang, taking pounds of brisket, bracken root, radishes, garlic, and bean sprouts, and bubbling them into a spicy shredded-beef soup, which she would ladle into small plastic bags and sell to office workers on their lunch breaks." Zauner devotes lines to the "decadent jjajangmyeon noodles, dumpling after dumpling served in rich broth, tangsuyuk pork with mushrooms and peppers, and yusanseul, gelatinous sea cucumber with squid, shrimp, and zucchini" she ate with her Korean family at a restaurant.
Zauner illustrates these dishes with impressive clarity, yet her voice reads as uncharacteristically dutiful during these diversions, too, revealing the pitfalls of writing about food when there's a larger story to tell. She starts to sound as if she's reciting the items on a menu, or rattling off a cookbook's recipe ingredients, rather than using food to glean insight into her characters and their moods. In the book's weaker junctures—primarily in the stretch before her mother's diagnosis—Zauner's food descriptions seem to function primarily to stimulate the reader's appetite. It may seem inane to fault a food-centric memoir for devoting too much real estate to food, yet these minor missteps expose the genre's limitations. Reading certain passages, I am reminded of the times in my career as a professional food writer when editors have pleaded with me to bring the story back to the food, as Zauner does here. This is the food writer's dilemma: So often, our implicit job is to make our reader hungry. But fulfilling that brief can easily cause a writer to lose sight of their tale's focus. As lovely as Zauner's indulgent sketches of meals are, they slow her momentum.
But agile writers know how to mine food for emotional truth, and Zauner finds her footing as Crying in H Mart progresses. Near the end, she connects food to her own unmooring. She looks back on miyeokguk, the nutrient-rich seaweed soup that she ate in Seoul after her mother's death. That dish, she writes, is one that women often eat postpartum, or on birthdays as a way to celebrate one's mother. For Zauner, her mother's loss imbued this soup with symbolic weight: "It soothed me, as if I were back in the womb, free floating." Later, she remembers how she "had thought fermentation was controlled death." In these instances, food isn't just an object; it's a character. It reveals Zauner's renewed awareness of the cycles of birth and death. Everything she eats is a reminder that she's still here.
Meals, too, can summon someone's spirit long after they've left us. The most arresting example of this is when Zauner recounts how she sought solace in the YouTube videos of the popular Korean chef Emily Kim, known to many as Maangchi. "Every dish I cooked exhumed a memory," Zauner writes. "Every scent and taste brought me back for a moment to an unravaged home." Here, Zauner realizes food's full narrative potential: It triggers memory with such force that the dead nearly spring back to life. The recipes—for Korean fried chicken, for black-bean noodles, for mandu filled with tofu and bean sprouts—are time capsules. Food can teleport us to a lost moment from the past, a version of the world where we can find those we've lost.