The Crime Drama That Will Enthrall and Repel You
In the ornately violent AMC series Gangs of London, even the pigeons are on cocaine.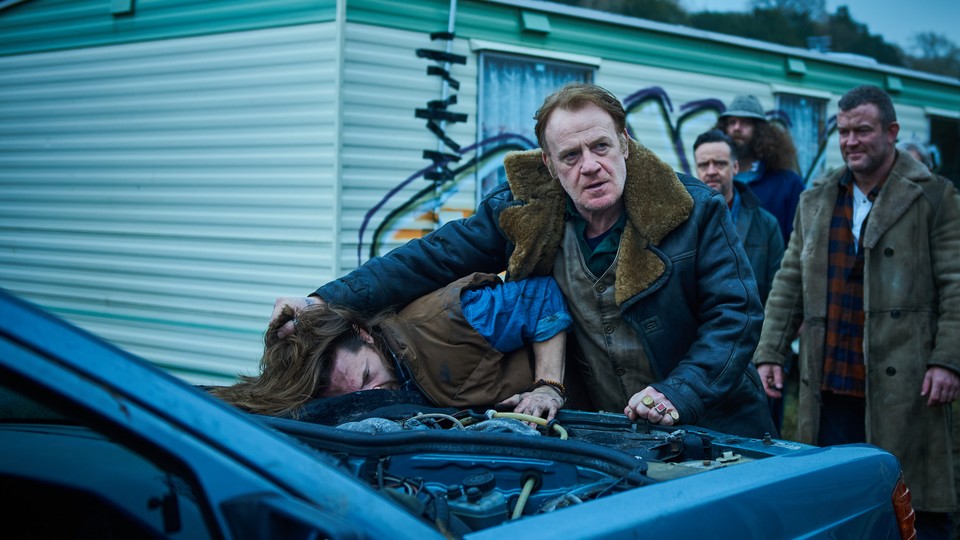 Writing about Titus Andronicus in 1948, the scholar John Dover Wilson bemoaned how Shakespeare's bloodiest play "seems to jolt and bump along like some broken-down cart, laden with bleeding corpses from an Elizabethan scaffold, and driven by an executioner from Bedlam." You couldn't say the same for Gangs of London. AMC's newest British crime drama is replete with violence, slathering on the carnage like so much frosting on a cake, but its excess is intentional and its pacing exquisite. This is not your grandmother's murder mystery, or even a contemporary riff on the rock-and-roll machismo of Peaky Blinders. Rather, Gangs of London exists on a fully realized plane of its own, where brutality is power, death is inevitable, and even the pigeons are on cocaine.
I love it. I cannot get enough of this show, in which an undercover cop might lay out eight gangsters using a single pub dart, or a meat cleaver might dance back and forth between two rivals' faces like Siegfried in Swan Lake. The reason isn't the violence per se, although Gangs of London—co-created by the director Gareth Evans (The Raid)—exists in the same kind of heightened video-game universe as John Wick, in which the fight scenes are choreographed for total immersion and the set pieces never stop. It's more that, after a few years of sludgily plotted streaming shows, watching a series whose pace and structure are meticulously arranged feels revelatory. Each episode has its emotional realization, its intensely calamitous battle, its twist. The question of who has the most power is constantly and thrillingly in flux.
The show is set in a version of modern-day London where a consortium of gangs, uneasily brought together by the Irish mobster Finn Wallace (played by Colm Meaney), is responsible for virtually all crime. When Finn is murdered in the first episode, his death leaves a void the rival factions begin battling to fill, while Finn's son, Sean (Joe Cole), vows, with Hamlet-esque perma-gloom and furious consonants, to avenge his father's death. (Sean spends more time surveying his city from above than Batman.) Much as when watching The Wire, your allegiances might shift depending on who's in conflict with whom at any given moment. The most obviously sympathetic character is Elliot (Sope Dirisu), a policeman who manages to infiltrate the Wallace organization, and whose ability to dispatch enemies with breathtaking ingenuity is both his operating principle and the show's superpower.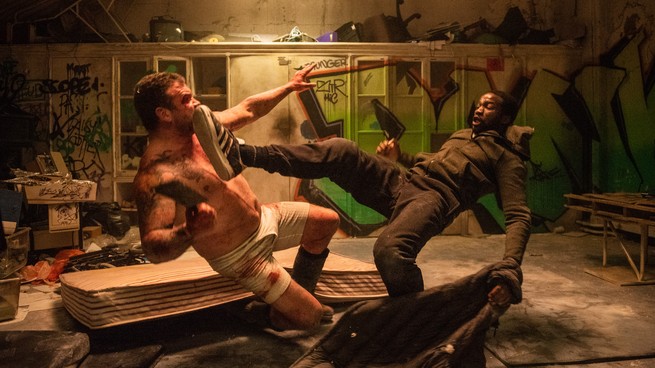 Gangs of London's intramural conflicts are numerous, detailed, and begrudging enough to occupy a George R. R. Martin novel. In the show's lore, Finn built his family firm, body by body, in partnership with Ed Dumani (Lucian Msamati)—they were both "illegitimate bastard children of the great British Empire," as Ed puts it. Ed's son, the dashing financier Alex (Paapa Essiedu), helps run an investment company that launders billions of dirty pounds into empty skyscrapers that litter the London skyline. Within the consortium are the enigmatic Lale (Narges Rashidi), a Kurdish militant who runs a heroin operation to fund guerrilla fighters in her home country, and Asif (Asif Raza Mir), a ruthless Pakistani drug lord whose son is running for London mayor on an anti-capitalist platform. Also in the mix are groomed Albanian mafiosi and hirsute Welsh travelers and flaxen Danish assassins, all cheerfully plying their trade and murdering each other in a slightly exaggerated interpretation of Boris Johnson's "Global Britain."
Evans established himself as a propulsive action director with The Raid, a 2011 thriller about an elite Indonesian police squad facing off against a drug lord within a single Jakarta high-rise. Violence, in his work, is less a quality than an exercise in tweaking and testing sequences for maximum impact. To watch his fight scenes is to be enthralled and repelled by the physics of what's happening on-screen—the mechanical reaction of a bullet hitting flesh or the specific crunch of a hammer hitting a kneecap. But Evans and his co-creator, the cinematographer and writer Matt Flannery, wield tension even more excruciatingly than mayhem. A fight scene in an East London squat, enclosed by bloodied walls with lurid Day-Glo graffiti, is made more nightmarish by preceding scenes of incipient dread. And a chaotic gun battle between a makeshift army of orphans and a merciless paramilitary unit is emotionally riveting in its high drama even though both sides, for viewers, are virtually unknown.
The writing is loaded with rhetorical emphasis meant to hammer home the stakes of a show in which every character has accepted that dealing death is the price of survival. "We are born into a certain world," Finn tells young Sean in a flashback, as portentous as Prospero. "It's chosen for us—fated. Some might say it's brutal. I say it's glorious … If you can take a life without hesitation, you can build an empire, be a king." But there are flashes of humor amid the unsubtlety. (Asked how he took out six goons singlehandedly, Elliot pipes up, "Eight," before sheepishly adding, "But I had a dart, so.") And for a show that's otherwise steeped in masculinity, its female characters, including Michelle Fairley as Finn Wallace's widow and Laura Bach as a terrifyingly methodical assassin, are as formidable and cutthroat as the men. Gangs of London's hierarchy sprawls out across trailer parks, boardrooms, and private clubs, with every character playing the same game and paying in the same currency. The only difference is in how much they've managed to gain for themselves in the process.
Evans's version of London is obviously extreme—the city had 126 killings in all of 2020, about the same number that a besuited Sean Wallace might orchestrate in a single episode from his brooding perch above a twinkling cityscape. But the show's analysis of unfettered greed, as sadistically wielded by politicians and investment banks as by street dealers and enforcers, carries familiar resonance. Gangs of London isn't for the squeamish, but its baroquely complex universe can be a thrilling one to visit.