What Will We Want When We Can Travel Again?
Two new TV series offer hints.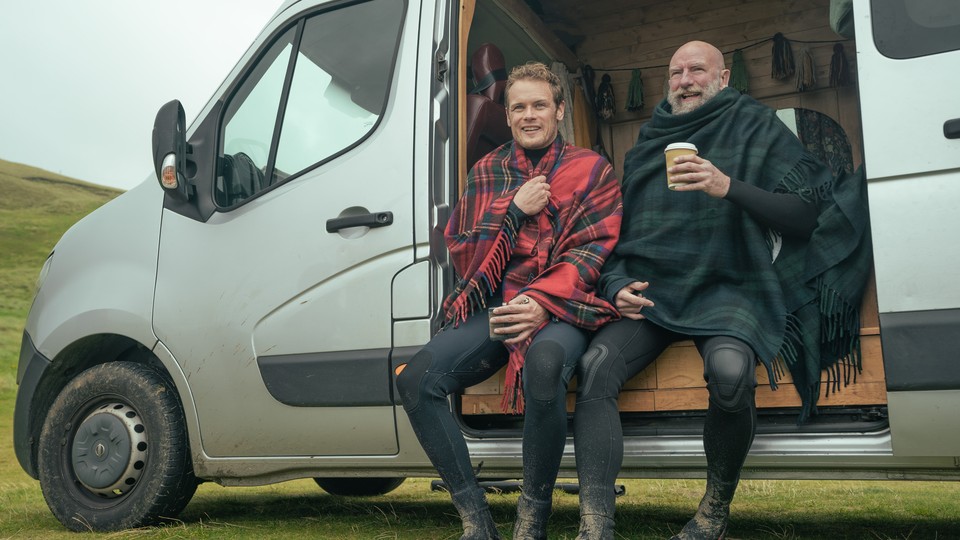 Pity the travel influencer (or don't; it's easy not to). Before COVID-19, the art of stoking wanderlust was defined by selling a fantasy—the promise not only of a perfect vacation, but of a self somehow fortified and made special by going to the same bleached beaches and blue-domed Greek villages as everyone else. But now, almost a year into a pandemic that's grounded people like never before, professional nomads find themselves being excoriated for the very same thing they built their reputations on: escaping reality for far-flung places most others can't reach.
There's something distinctly loaded, now, about watching someone roam around, with all the attendant pleasures and pit stops and moments of connection that used to punctuate everyday life. Two new TV travelogues find themselves butting up against a reality they hadn't anticipated. Stanley Tucci: Searching for Italy, a six-part series on CNN hosted by the actor and cookbook author, presents itself as escapism, even as it half-acknowledges the reality of the pandemic—its first episode, set mainly in Naples, was filmed after the first Italian lockdown ended last year. Men in Kilts, a half-hour series on Starz, follows two actors from the show Outlander as they traverse Scotland in a camper van. Although it was filmed almost entirely pre-pandemic, its concept seems to have anticipated a particular truth about this moment.
Judging purely by the response to Searching for Italy on social media, a significant audience of people is grateful for the opportunity to spend time in a glamorous location with such a genial guide. The idea of a television genre featuring impeccably tailored men striding across ancient cobblestones and stopping for approximately 90 food and alcohol breaks per hour seems like it should have arrived sooner. Life is short, and straightforward pleasures are hard to find; there are many worse ways to spend a Sunday evening than watching Tucci peer ardently at an undulating blob of buffalo mozzarella through heavy black-rimmed spectacles.
Tucci has long been a masterful actor, but he has more recently unlocked a second career as an epicure and an object of internet thirst. (The covers of his cookbooks, 2012's The Tucci Cookbook and 2014's The Tucci Table, are notable in that, in lieu of featuring food, both give rightful pride of place to the cook's sinewy forearms.) Searching for Italy, then, is a gift, equally wholesome in intention—Tucci tours Italy and explores how its food intermingles with its history—and knowing in subtext. In its Naples episode, the actor earnestly reveals how the Neapolitan tradition of pizza fritte began as a way to sterilize food during cholera outbreaks in the city; he tells viewers this while leaning casually against a street stand in a cobalt linen shirt and chinos so well cut, they'd make a sailor blush. Some travelogues, such as the late Anthony Bourdain's Parts Unknown, seek out underexplored destinations and culinary traditions. Searching for Italy takes its audience through the most obvious stops on the Italian itinerary (Rome! Milan! Tuscany!) while winking at the darker crevices of our imagination. Enthused by history and slyly aware of his power, Tucci has the distinct vibes of a chaperone on a girls'-school summer field trip. Verbosity isn't his forte ("Mmm, it's very good" is his standard response to culinary excellence) so much as exquisite presentation and an understanding that he's in on the joke.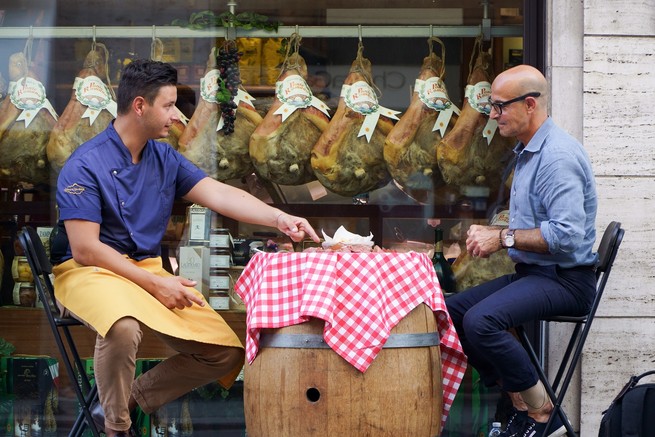 In an ordinary time, the show would have been a pleasantly tranquil hit. In our unholy era of perpetual March, it's supposed to be a sop to those for whom escape hasn't been an option. But not even a show this intentional about distraction can ignore the realities of the pandemic. Filming on Searching for Italy began before COVID-19 hit the country and concluded after the first Italian lockdown ended last summer. The Naples episode, which aired in February, is affected by the pandemic, if not entirely altered by it. Tucci and his occasional companions eat al fresco; he wears a mask while strolling through indoor locations. An episode filmed in Rome, though, predates 2020, and filled me with anxiety: Tucci dines indoors in a tiny pasta restaurant near the Pantheon, stuffed with visitors eating and drinking and expounding volubly in Italian. To watch it now, all hopped up on studies about aerosol transmission and panicky about closed windows, is to wonder: When will we be able to actually do this again? Will we even want to?
---
Men in Kilts is a travel show that takes the Tucci model and doubles down. You don't need to have seen Outlander, Starz's fantastical time-traveling Scottish romance, to appreciate the charm of two of its actors, Sam Heughan and Graham McTavish. Indeed, Heughan's pulchritude is so striking that the strangers he encounters during the series—from bagpipers to an auld grizzled fishing-boat captain—regularly seem dumbstruck. The concept of Men in Kilts is simple: Imagine The Trip, the Steve Coogan and Rob Brydon comedic travelogue franchise, but without the acerbic repartee. Instead, Heughan and McTavish, both Scottish, drive a camper van through parts of their native country and peaceably banter, in a series that radiates both bonhomie and fan service.
Once, Men in Kilts might have felt like a simple spin-off, the standard stuff of cross-promotional series. (Norman Reedus, who stars in AMC's The Walking Dead, has a motorcycle-themed travel show, also on AMC, that effuses worn leather and performative masculinity.) Now it resonates at a different frequency. As Heughan and McTavish traverse Scotland in their hermetic van, what's most mesmerizing is how few people they encounter. Drone footage captures mile after mile of billowing scenery, with an unthinkable abundance of stone ruins and purple-heather hills woven into the backdrop. The two actors bike, fish, dig for peat, and rappel; 99 percent of the time, they're outside. It is the perfect post-pandemic TV travelogue.
To me, Men in Kilts has a visceral appeal that's distinct from its hosts, as delightfully squabbly and equipped with double entendres as they are. It offers, quite simply, an escape from others, without an escape from companionship. McTavish and Heughan help cook langoustines and lobster on a makeshift fireplace; they skinny-dip in the frigid Atlantic Ocean, with not a single bystander. Even when they visit a distillery near Loch Laphroaig, the windows are conspicuously always open, to ventilate the malt with the cool sea air. They golf. They throw hammers. They do all this while, like Tucci, bringing their best sartorial game, dressed in waxed jackets and cashmere turtlenecks and faded tweed. Watching the show, after a year in a New York City apartment, I had a profound longing for the space and sky and air in virtually every scene—for landscapes that signal the endurance of humanity but are comfortingly devoid of humans.
The pleasure of watching Men in Kilts, and the slightly more weighted escapism of Searching for Italy, made me think about what travel will look like after the pandemic, and how the yearning to steep yourself in a different locale can survive the immediate future of face masks and isolation. To be optimistic is to assume that everything might reasonably soon return to "normal," complete with the ability to crowd into a gelateria or join a teeming throng of human bodies taking selfies by the Fontana di Trevi without wincing. But will the impulse to tick destinations off predictable bucket lists be traded for a more intentional kind of exploration, and connection?
Travelogues have always relied on a sense of immersion—the feeling of being subsumed vicariously in someone else's adventure. I can watch Tucci now, perusing artichokes professorially inside a covered Roman market, and imagine the smells and textures of the space, but the scene is tempered by the knowledge that the market won't be as it is on-screen for a while. The conclusion of a dark period can bring celebration: In Naples, one of Tucci's dinner companions tells him, 60,000 pizzas were made on the day that first lockdown ended. What we know, watching at home with perfect hindsight, is that it wasn't the end. That's not to say Tucci's understated Italian fantasy isn't transporting. It's more to wonder whether COVID-19 has burrowed deep enough into our psyches to alter what we desire.