The Odd Pattern That Keeps Happening at the Grammys
The show has a tradition of white artists dedicating their awards to their Black peers who lost.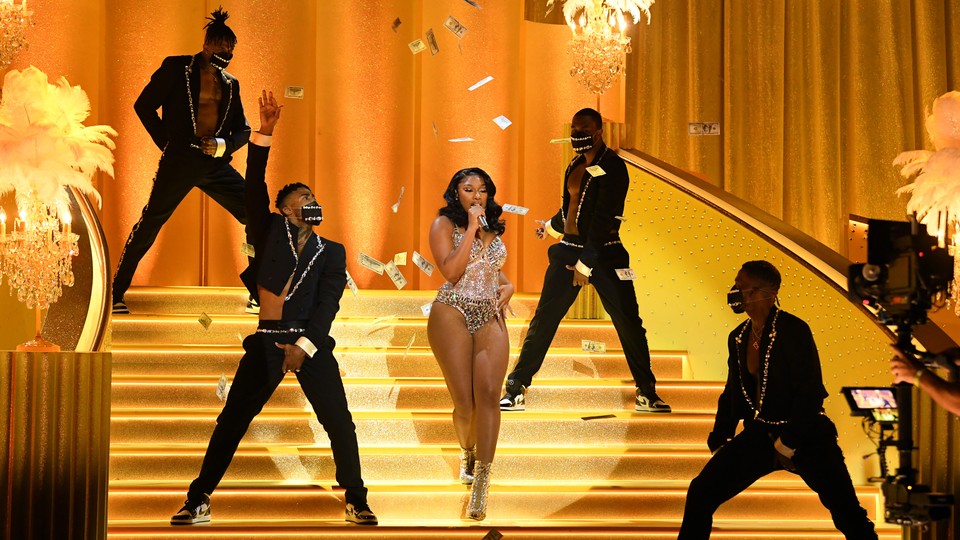 One year into fussing with Zoom backgrounds, who can't relate to Megan Thee Stallion and Cardi B twerking in front of a digital wallpaper of purses, diamonds, big-rig trucks, and the rappers' own faces? At last night's Grammys, two of hip-hop's top talents put on a digital-meets-physical hallucination that turned out to be the best entertainment of the night. A stiletto heel doubled as a stripper pole. Cardi and Megan cavorted in a bed as big as a house. Their backup dancers had blue skin. In disrupting the self-seriousness of a major awards show, the trippy performance was kind of like the most wonderful pandemic meme, courtroom cat, but with a lot more choreography.
Over the past few months, conservative commentators have singled out "WAP," the No. 1 hit that was the centerpiece of Megan and Cardi's medley, as unacceptably raunchy. So placing the song and some other sex-positive singles (including Megan's "Body" and "Savage Remix") in an outrageous televised dreamscape sent a message: Pop is fantasy, and fantasy feels good. This is the message that many memorable Grammy performances—Pink swinging from rafters, Rick James shimmying in sparkles—impart. Megan Thee Stallion, the 26-year-old Houstonian who just won Best New Artist and ended up as the defining figure of this year's Grammys, knows that the secret to popular entertainment involves exuberance, viscerality, and charm. She is unfailingly exciting—a virtue that the Grammys appreciates but also often, unfortunately, seems afraid of.
Billie Eilish, the 19-year-old pop singer who swept all four major Grammy categories last year, agrees that Megan Thee Stallion is exciting. That's why, when she won this year's Record of the Year (the ceremony's final prize), she dedicated the trophy to Megan. "You deserve this," Eilish told Megan. "I think about you constantly. I root for you always … Genuinely, this goes to her." Eilish had won for her song "Everything I Wanted," a lush and drowsy ballad that feels, in the arc of her career, like a stopgap single between albums. Megan's "Savage Remix," by contrast, was integral to the rapper's ascension to superstar status (a status that she's still adjusting to, judging by her endearing look of surprise every time she won an award). Eilish herself said she'd thought she had zero chance of beating Megan.
But in many ways, Eilish's Record of the Year victory was predictable—as was her salute to Megan. There's a telling tradition of white Grammy winners apologizing to the Black performers they beat. It happened in 2014, when Macklemore won Rap Album of the Year and then texted Kendrick Lamar to say he should have gotten it. It happened in 2017, when Adele won Album of the Year and then spent her speech praising Beyoncé, who had been nominated for the beloved concept album Lemonade. ("What the fuck does she have to do to win Album of the Year?" Adele asked.) Such incidents draw attention to the racist history of an awards show that, to cite just one eye-popping statistic, hasn't given Album of the Year to a Black singer since 2008.
The Recording Academy made clear that it is aware of its reputation for bias—and that it'd like to be seen as fixing its problems. Explicitly political performances from Lil Baby (featuring the reenactment of a police shooting of a Black man), DaBaby (with white singers in judges' robes looking down on the rapper), and Mickey Guyton (a country musician singing about being Black in a genre whose current sales heavyweight was just caught saying the N-word) got airtime. Another protest song, H.E.R.'s "I Can't Breathe," won Song of the Year. An address from the interim academy president, Harvey Mason Jr., asked the music community to join in his efforts to make the organization more inclusive. There was even a title card late in the broadcast that said the Recording Academy and CBS denounce racism and sexism.
Maybe the most awkward attempt at image management came in the way that the ceremony heaped attention on Beyoncé. After she co-accepted the Best Rap Song award for her role in Megan's "Savage Remix," the ceremony's host, Trevor Noah, interrupted her exit from the stage to announce that history had been made: Beyoncé had tied the record for the singer with the most Grammys ever. A few minutes later, when Beyoncé won another award (Best R&B Performance for "Black Parade"), the onstage presenter declared that she had broken the record. Twenty-eight Grammys by age 39 is an incredible feat. Yet glaringly, all but one of those awards have been in genre-specific categories rather than in the "Big Four" that signify cross-cultural acclaim. Beyoncé, for example, has never won Album of the Year. By contrast, Taylor Swift, last night, won that prize for the third time in her career.
Race is integral to the history of musical classification in America, and many Black artists have experienced some version of Beyoncé's story: being highly publicized Grammy performers who mostly prevail in the hip-hop or R&B categories. Watching this year's Grammys felt like a reminder of the aesthetic implications—and justifications—behind such patterns. Swift, for example, isn't just any white woman: She's a guitar-slinging singer-songwriter who is currently in a phase of making folkie rock, not unlike other recent Album of the Year winners, such as Beck and Kacey Musgraves. She fits some old notion of what a so-called serious musician looks and sounds like. You could say something similar about Eilish when she's making whispery piano ballads. You could even argue that H.E.R.—who is Black and sings about Black identity—fits the archetype: someone who sings and plays instruments on thoughtful songs that won't derail a dinner party.
This kind of music is what the Grammys most clearly wants to associate itself with. Overall, the 2021 ceremony was a relatively crisp and refreshing affair, in part thanks to innovations forced by the pandemic. Awards were presented on a socially distanced patio—it looked like a pleasant brunch—while performances took place inside a large venue with multiple connected stages. Artists stood in the same physical space but far apart, creating an appearance of safety as well as togetherness. Yet at the show's start, the novelty factor was dulled by a pileup of young acts doing soft rock. Harry Styles kicked things off wearing a fluffy boa and swaying his hips; Eilish and her brother, Finneas, then brooded on a sparse set; the Haim sisters then jammed on drums and guitar. Each of these performances was strong, but the battle-of-the-bands vibe (heavy on white kids) felt pointedly nostalgic for a bygone era of popular music.
Later on, the ceremony's true highlights came from rappers. DaBaby's courtroom drama of a performance was riveting; the artist generally has a reputation as a goofball, but here his fury was even more noticeable than his beautifully jeweled gloves. Lil Baby's set was an overt conversation piece: Sequences portrayed police brutality, riots, and protests, with the activist Tamika Mallory calling on President Joe Biden to take action for racial justice. The Latin trap star Bad Bunny and the singer Jhay Cortez put on a surprisingly intense rendition of their track "Dákiti" from within a thicket of mirrors. Combined with Megan Thee Stallion and Cardi B's deliciously fun medley, the pattern was clear: In terms of stagecraft, button-pushing, and charisma, the propulsive energy of these Grammys came from the world of hip-hop—as is the case for so much in popular culture right now.
Somehow, year after year and despite rule changes and reforms, the Grammys seems unsure of how to handle that energy. Exuberance, play, provocation, and undisguised ambition all drive popular music forward. Those attributes readily course through mainstream hip-hop and other genres largely made and consumed by populations (people of color, women, queer people) who know what it's like to be told to quiet down. The Grammys does feature those genres in performances that reliably draw eyeballs to the ceremony. But, outside of rare examples like Megan's Best New Artist win, it awards those genres' artists only in categories such as Best Latin Pop or Urban Album (the only win for Bad Bunny, Spotify's most-streamed artist of 2020) or Best Global Music Album (where Burna Boy's Twice as Tall prevailed).
In her acceptance speech for Best Pop Vocal Album, the disco diva Dua Lipa spoke about worrying that she "had to make sad music to feel like it mattered" but deciding instead that happier fare was, in the end, more essential. That speech came to mind when watching Eilish win an award for a quiet song about disappointment—and then heap praise on Megan Thee Stallion, champion of the sassy, the moody, and the nasty.