The Brilliance in Francis Bacon's Early Failures
A new biography of the painter sheds light on a little-known period of his life: the time he spent working as an interior designer.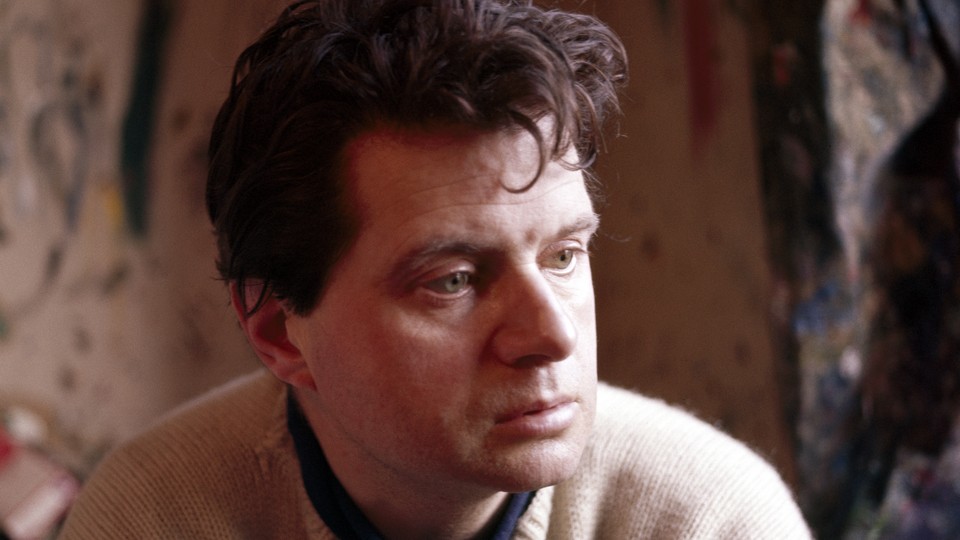 In 2013, Francis Bacon's painting Three Studies of Lucian Freud sold for $142 million, setting the world record (since surpassed) for the most expensive painting sold at auction. His second- and third-highest-selling paintings, one of which was sold as recently as the summer of 2020, place him firmly in the art-market ranks of Pablo Picasso, Claude Monet, and other blue-chip masters. The similarities between Bacon's three top sellers are clear. Each piece is composed of three panels and, as in much of his work, the central figures are grotesquely distorted: bodies compressed at their joints, expanded into fleshy puddles, coerced into jumbled parts. As with the best evocative art, many of Bacon's paintings inspire discomfiting questions. Are Freud's hands gruesomely melting or surreally clasped? Is he one- or three-legged? Is he lounging and relaxed, or is he caged, on the verge of a violent uncoiling?
These questions arise from a central tension, not just between what we might expect a portrait to look like and Bacon's warped rendering, but between the body and the room it inhabits. Bacon's rooms aren't passive settings: They close in on and clash with the bodies inside them. Freud's body, for instance, is conscribed by a rectilinear structure built around (or extending out of) a bed's headboard. He sits on a delicate wooden chair, its casually curved legs and cane-woven bottom reminiscent of the spare chair one might keep in a closet. The simmering tension between the familiar space and the freakish, distorted figure is a quiet but major part of the work's allure. Baconian settings—which abound with doors, walls, windows, carpets, curtains, chairs, beds, and banisters—help stabilize the chaos and orient the gore. However—as the Bacon biographers Annalyn Swan and Mark Stevens explore in their sprawling new biography, Francis Bacon: Revelations—the carefully painted rooms of Bacon's oeuvre were not the first that he designed.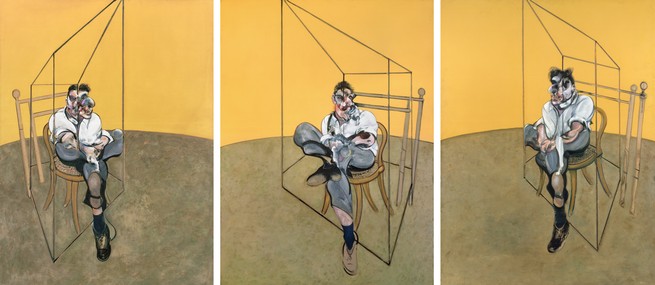 Bacon, before most people had heard of him in the late 1920s and early '30s, was briefly an interior designer. "A little-known fact that we discovered," Swan explains in the 2017 BBC Documentary Bacon: A Brush With Violence, is that Bacon "was for three or four years part of a very important design and interior-decorating world." He might even have studied—as the authors report in Revelations—in the workshops of such avant-garde designers as Evelyn Wyld, Elizabeth Eyre de Lanux, and Ivan da Silva Bruhns (the latter's rugs are now auctioned for hundreds of thousands of dollars). Bacon was already sketching and painting, even as he was designing. But at age 18, he likely regarded a painting career as an intimidating, if intriguing, possibility—one that he lacked the formal training, connections, and overall artistic vision to fully indulge. The adjacent world of design was more accessible. "Bacon would only have to display an interest," Swan and Stevens explain, and the design community would welcome him. And welcome him it did.
For a painter whose fascination with the grisly would eventually result in depictions of figures hacked to bits on a bed, shrieking into the void, or nailed to a mattress by a hypodermic syringe, Bacon excelled in a design style that was exceptionally sleek and clean. Born in 1909, he was in his teens and early 20s by the time postwar aesthetics took hold. The Bauhaus movement, for one, made quick work of disassembling the leafy tendrils and sweeping arabesques of the past Art Nouveau era. Organic, foliate forms were replaced with a crisper geometry. Circles, squares, and triangles found expression in cradles and tea infusers. A jointless steel chair was a triumph both material and existential—indeed, with its emphasis on seamlessness, Bauhaus took on universal and even democratic aspirations.
In addition to Bauhausian simplicity, Bacon enjoyed other modern, cubistic forms of design, as well as Art Deco trends, which used geometry a bit more ornately. These included the work of the designer Eileen Gray, whose showroom Bacon had apparently come across in 1928 while living in Paris (around the same time he studied in design workshops). Like most visitors, he was galvanized by what he saw. "Suddenly," Swan and Stevens write of Gray's studio, "the known world of rooms looked undone and emptied out, replaced by light, a few simple forms, and exhilarating open spaces." This sight was one of the major aesthetic shocks Bacon experienced in Paris. Another was his first encounter with Picasso's work, which sent Bacon reeling. "At that moment," Bacon explained in an interview with the British art critic David Sylvester, "I thought, Well, I will try and paint too." But paint like a master he could not. Not yet. Design like one, well—he could try. Or he could imitate.
By the next year, Bacon had opened his own design studio at 17 Queensberry Mews, London. He had sleek business cards made: "Francis Bacon," they announced, "Modern Decoration, Furniture in Metal, Glass and Wood/Rugs and Lights." A sign outside the studio read FRANCIS BACON, DESIGNER. According to Revelations, the space itself, a former automobile garage with lofted ceilings, offered "a beguiling mix of radiant white, gleaming steel, mirrored glass, boxy chairs, animal skins, and mysterious geometries."
If Bacon's glass-topped tables looked suspiciously like Gray's (they did), his wooden bench "was an almost exact copy" of an earlier Gray design. Still, in London—considered less artistically adventurous than the booming Berlin and Paris—Bacon's studio made a splash. The influential British critic Madge Garland (whom Bacon had befriended) glowingly covered it, praising the studio's windows—"curtained with white rubber sheeting, that hangs in sculptural folds"—and its rugs, which she admired as "purely thought forms." The article generated attention and brought Bacon a few commissions, one of which inspired a subsequent review, likely also written, Swan and Stevens surmise, by Garland: "It is not often that you find painters turning into decorators, but … Francis Bacon has done this with marked success."
That "turn," of course, never happened, although Garland would have had good reason to expect it. By that point in 1934, Bacon had experienced a massive humiliation in his still-fragile painting career: He had put together the first solo exhibition of his paintings, which he had worked on concurrently with his designs; the show was sparsely attended and censured in the press for expressing more of the artist's angst than his painterly skill. And yet, maybe confounding to Garland, it was the design world that Bacon mysteriously abandoned. Perhaps he felt he had pushed against design's limits. A shapely rug or chair can take on only so much nuance (or expression of internal rage). Perhaps he sensed that he needed to test the constraints of paint, not so that he might conform to those constraints, but so that he might learn to exploit them most expressively.
Later in life, as Bacon accrued success with his shock-inducing paintings, he began to carefully reconstruct his past. Those decorating years? "He never mentioned" them, Bacon's friend and biographer Michael Peppiatt explains in A Brush With Violence. "Decoration was one of the foulest words in his vocabulary after that." Swan and Stevens back this up, writing that Bacon "went to great lengths in later life to conceal his early years … especially his life as a designer." Why? No one is sure. Perhaps Bacon did not fail spectacularly enough as a designer. For a man whose difficult upbringing only enhanced his seemingly lifelong drive toward masochism and self-mythologizing, the most repulsive thing about his design years might have been their mediocrity. The contemporary artist Damien Hirst, a fellow record-setter, who owns one of Bacon's earliest works, claims in A Brush With Violence that you can feel Bacon in these years "almost egging himself on to be confident enough to paint," perhaps in the same way that Willem de Kooning and Andy Warhol used their commercial-art experiences to help inform their eventual mastery. The difference is that those artists readily admitted to their history. Bacon, perhaps preferring to seem preternaturally fully formed, did not.
Yet the design years' influence is huge. Take Bacon's painting of Freud. Not only does the immaculately painted room feel eerily emptied out (think of Gray's "exhilarating open spaces"), but its clean geometric lines are direct echoes of the design styles with which Bacon once engaged. Bacon is, in fact, at his most profound when objects and bodies feel like rooms unto themselves—when his faces show us geometric panoramas of their profiles, reveal to us the torn hemispheric circles of skin and the curved sinew beneath them. In certain portraits, a viewer can practically descend into a subject's eye socket as though down a spiral staircase. Recall Bacon's studio and its half-circle glass tabletop, or the sculptural folds of its rubber curtains—are they not expressed in the famously bulbous tips of his figures' heads, in the pleated, sculptural curves of the umbrella of death? It's no surprise, then, to read in Revelations that one of Bacon's painting tools was "a T-square used in his designer days, which remained in his studio for the rest of his life." Caught in a design aesthetic that sought to efface the grisly, Bacon wanted to indulge it, and he would succeed in doing so. What he did try to efface was the role design played along the way.