Stars Now Understand That Their Destruction Is Our Entertainment
The latest in a line of revealing pop documentaries, Dancing With the Devil shares the brutal details of Demi Lovato's drug overdose—even though sharing brings its own risks.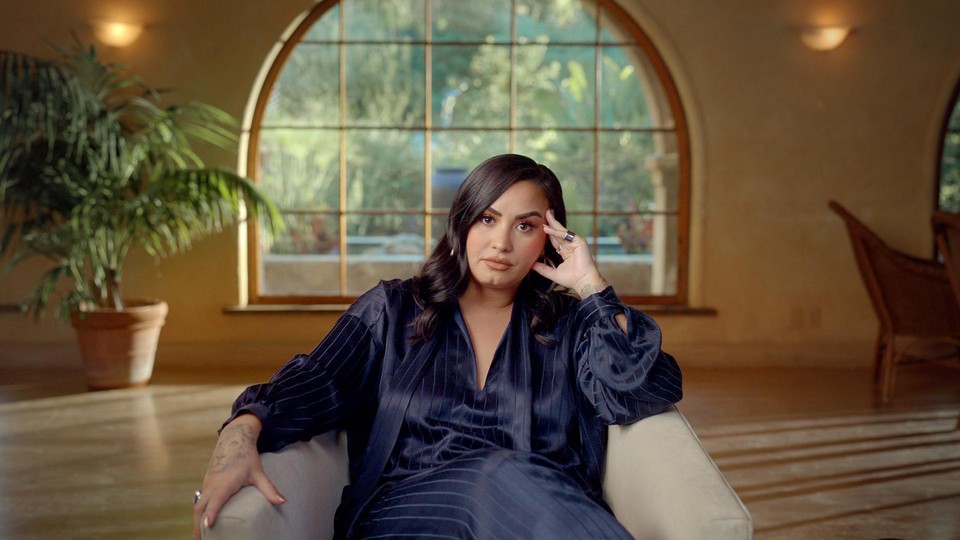 "Whatever they think happened is probably pretty far from what really did," the director Michael Ratner recently said in an interview about his new four-part YouTube documentary, Demi Lovato: Dancing With the Devil, whose first two installments are now out. The "they" he refers to is the general public, and the "what" is the July 2018 incident that landed the now-28-year-old singer Demi Lovato in intensive care. Media reports have suggested that Lovato used hard drugs and nearly died. In Dancing With the Devil, Lovato says she smoked so much heroin—possibly laced with fentanyl—that she had three strokes and a heart attack, plus pneumonia and brain damage. So the general contours of what really happened, it turns out, fit with what people think happened. Dancing With the Devil just fills in the details for anyone concerned—or curious.
Those details are upsetting. Lovato is a former Disney Channel actor with a titanic voice, unshakable poise, and a very public history of mental-health struggles and addiction. In March 2018, she celebrated six years of sobriety from drugs and alcohol with a tweet and a tearful concert speech. A month later, Dancing With the Devil reveals, she opened a bottle of wine, and soon after, she tried meth, heroin, and crack cocaine for the first time in her life. On the night of her overdose, she says in the film, her drug dealer had sex with her when she was too high to consent. (The big rumor that the documentary does debunk is the allegation that one of Lovato's backup dancers supplied her drugs.) When an assistant found Lovato passed out the next morning, she was minutes away from dying, according to her doctor. She awoke in the hospital with her vision severely impaired, and today she still has blind spots and cannot drive. She says she is off hard drugs now but does drink alcohol and smoke marijuana in moderation.
Lovato's forthcoming album (out April 2) is called Dancing With the Devil … The Art of Starting Over, and the documentary that precedes it is a clear launch of a new career phase. But much of the film series—and much of the publicity it has generated so far—is an unrelenting download of difficult information about Lovato's life before and after the overdose. Viewers hear tales of grief and sexual assault from her teenage years. They also hear about the ease with which Lovato lied to friends about her substance use, and the relapses she had even after the 2018 overdose. Sharing such nightmares might seem risky—image-wise and wellness-wise—for a former child actor who sings catchy empowerment slogans. But Lovato arguably knows better than anyone else that popular culture expects its idols to open up about their trauma, even though trendy imperatives to be authentic and raise awareness can wound stars as well.
Dancing With the Devil is the third hair-raising documentary of Lovato's career. The 2012 MTV special Stay Strong addressed Lovato's rehab stint at age 18 to treat an eating disorder and a habit of self-harm. The 2017 documentary Simply Complicated revealed that Lovato had been using cocaine while filming Stay Strong, but also detailed how she'd since attained sobriety with the help of managers, doctors, and advisers. Now, in Dancing With the Devil, she says that same team is a big reason for her 2018 brush with death. The restrictions and routines that were meant to keep her safe also made her feel trapped; the pressures of being a mascot for sobriety filled her with dread. One day, the misery led her to start drinking again. She fired her old manager just weeks before the overdose. "If your life is set up to be focused on how you're not well, then you're not going to feel well," the rapper Sirah, a friend and former sobriety companion of Lovato's, explains.
The wellness that Lovato says she's found is still pretty new. In 2019, she signed on with the famous music executive Scooter Braun, whom the documentary depicts as taking a less rule-oriented approach to protecting Lovato's health than her previous manager did. Braun says in the film that he doesn't agree with Lovato's belief that moderate drinking and smoking will prevent her from riskier activity, but he does appear to accept it. Though Lovato was back to performing in early 2020, she says that it took pandemic-enforced isolation for her to finally tackle some of her deepest problems. She also says that, as a preventive effort, she's regularly getting shots that dull opioids' effects. But a question nags: How does making Lovato's still-fledgling recovery the centerpiece of her new album's marketing campaign fix the problem—scrutiny about her health—that allegedly made her relapse?
There are noble reasons to invite such scrutiny. As the opioid crisis continues to take lives across America, Lovato's briefing on treatment options will help some viewers. Others will be enlightened about the way that fame and the music industry torment young stars. Lovato has said she finds public transparency to be liberating. More than anything, she and her documentarians have said over the years, the pop star wants to combat the sense of shame surrounding mental-health issues of all sorts: self-harm, eating disorders, addiction, anxiety, depression. Anti-stigma campaigns have been shown to encourage people in distress to get help, and Lovato's fans frequently testify that her honesty has helped them seek treatment for their own issues.
Still, it might be time for a check-in on the efficacy of the watchword destigmatization, at least as rendered by recent pop culture into escalating games of show-and-tell. As the benefits of talking openly about one's problems have become a hot media topic, rates of overdose deaths and suicide have kept climbing in the United States, where access and affordability remain the most significant barriers to mental-health care. Social media, the means by which people so often share their pain, is also the source of a lot of that pain, and Dancing With the Devil demonstrates how celebrities experience a jumbo version of that feedback loop. Lovato has repeatedly stepped onstage to share her scars, and the ensuing attention of fans, friends, and business associates has taken its own toll.
The torment of the rich and famous commands attention for reasons that aren't purely therapeutic, after all. Even back in her Disney days, Lovato's personality stood out for having an "edge," her former manager, Phil McIntyre, said in Simply Complicated. In other words: Danger sells—even on the Disney Channel, and even in the motivational-pop economy that many child stars graduate into. Addiction is a sad constant of music history, but unlike a Lou Reed or an Amy Winehouse, Lovato projects an image of optimism and transcendence. The depth of what she seems to be overcoming makes her ballads soar. Even in the most harrowing interview moments of Dancing With the Devil, Lovato is sanguine, charming, and solutions-oriented. Animated introductory sequences soundtracked by her gauzy music—plus one interlude featuring cartoon butterflies—add to the sense that dark truths are being alchemized into nourishing entertainment.
Lovato might argue that there's something subversive about this alchemy. Her candor certainly defies the (often sexist) expectations for pop stars to maintain airbrushed personas. But it's also clear by now that the public doesn't thirst for flawlessness so much as it thirsts for seeing flawlessness defaced. This year has, for example, seen renewed attention to the mid-2000s trials of Britney Spears. She arrived as a teen singer with an ultra-polished image—but the media saw a more delicious spectacle in her dropping the facade and needing health interventions. Lovato's narrative contains many of the same ingredients as Spears's. The difference is that Lovato is in charge of telling her story and monetizing the shock. Spears rebelled by shaving her head as paparazzi lenses invaded past salon curtains. In Dancing With the Devil, Lovato slices off her long mane and smiles at the cameraperson she invited.
Other stars today similarly preempt the press by making fallibility part of their package. Justin Bieber, Braun's original protégé, went through an ordeal similar to Spears's in his teens. But since 2015, his career has been powered by themes of reckoning and recovery, and last year, Ratner filmed a 10-part YouTube series in which Bieber gave a haunting tour of his ongoing mental- and physical-health struggles. Meanwhile, the latest supernova teenage singer, Billie Eilish, arrived on the scene with an arsenal of confessions. The new Apple TV+ documentary The World's a Little Blurry highlights the loving family environment that raised Eilish, the throngs of fans she has earned in a short time, and the thoughts of suicide that have chased her since childhood. But the documentary's suspense lies in its implication that adulthood will complicate her life in unmanageable ways. In the film's most striking scene, Eilish and her mom argue about the song "Xanny"—an anti-drug manifesto—with an associate who suggests that Eilish might someday try drugs herself and regret the song.
Popular culture's need for constant verification that idols are flesh-and-blood humans explains why Eilish has to worry that a song she made at 17 is a risk for her future self. It also might explain why Lovato keeps issuing painful updates about intimate situations. In addition to addressing a relapse, Dancing With the Devil captures Lovato going through an engagement and breakup over the course of a few months in 2020. It also sees her renouncing her role as a public advocate for the treatment of bipolar disorder (she now thinks she was misdiagnosed with the condition in 2011). To the documentary's credit, its explicit theme is that people are messy and change. But viewers inevitably end up thinking about, and partaking in, the brutality of voyeurism. "We provide that opportunity for you to have a whole picture here," Ratner told The Hollywood Reporter about Dancing With the Devil, "and then pass your judgment if you'd like."