'I Didn't Realize How Much of a Machine It Is'
For years, The Bachelor has been losing sight of the fantasy that made it so beloved. Now many of its most loyal fans have had enough.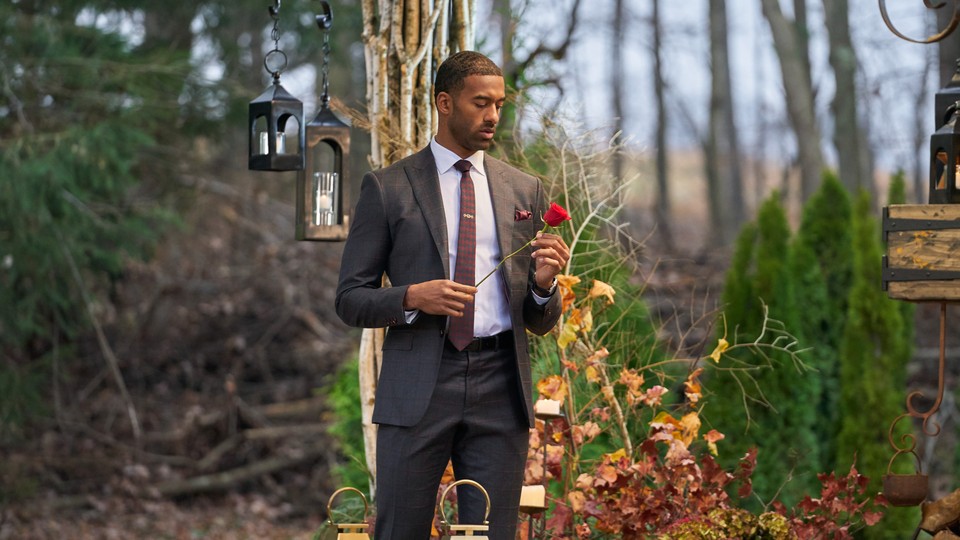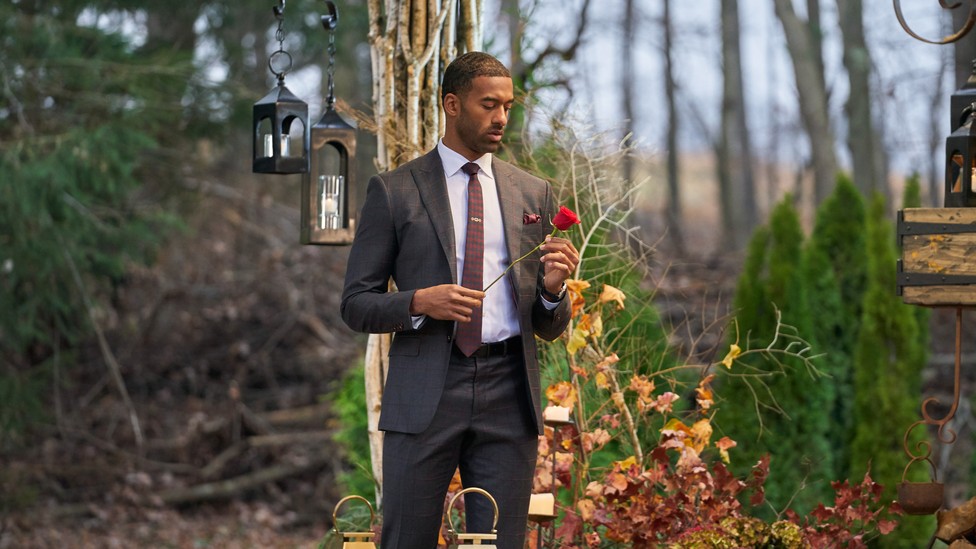 To be a fan of The Bachelor is to accept a set of contradictions. It professes to help people find true love, but via artificial means. Contestants will say they're on the show "for the right reasons," but later admit to non-romantic motives or bristle at the thought of getting engaged. It implies that love is universal by casting a wide net for suitors, but it didn't feature a Black lead until Matt James became the Bachelor this year. It promises contestants a rose-laden fantasy, yet uses controversial tactics to deliver drama to the millions who tune in.
So when The Bachelor came under fire by critics again, in its 25th season, nonviewers might have dismissed the turmoil as typical. In reality, the ABC ratings giant was undergoing a transformation—its biggest since premiering nearly 20 years ago. The trouble began when Reddit users uncovered social-media evidence that a white contestant, Rachael Kirkconnell—who ultimately won James's season—had attended an antebellum-plantation-themed college party in 2018. The Bachelor host, Chris Harrison, defended Kirkconnell in a much-discussed interview with the first Black Bachelorette, Rachel Lindsay (now a correspondent for Extra), and drew immediate backlash. Many fans called for the host to be fired. Some questioned whether the show knew of Kirkconnell's online history before filming and hoped it'd lead to onscreen tension with James.
Within days, Harrison issued an apology for "excusing historical racism" and said he'd be stepping aside. Though The Bachelor continued to air as though nothing had happened, the reputational damage had been done: The season, the lowest-averaging one yet, ended with a finale that drew a mere 5.75 million total viewers—a huge drop from last season's finale and far from the show's peak of nearly 26 million viewers for an episode.
Harrison stepping down is unprecedented. He's been the face of the show, and of the larger franchise it spawned, since the beginning, introducing viewers to the cast and often acting as the Bachelor or Bachelorette's onscreen confidant. But the host's statements to Lindsay are only the most visible expression of the show's deeper problems, which have been years in the making. In 2017, my colleague Megan Garber wrote of spin-off The Bachelorette, "Watching it has become harder and harder to enjoy—and, like that other blood sport, harder and harder to defend." Today, The Bachelor no longer seems interested in even pretending that it's about love and is alienating many of its most loyal fans. Ardent viewers that I spoke with are frustrated by how recent seasons have exploited contestants to new extremes and cynically mined racial conflicts for drama. "It's very polarizing," Alecka Edwards, a longtime fan and co-host of the podcast The Blachelorettes, told me over Zoom of this moment in Bachelor history. "I don't think I've seen this before."
Edwards and other members of "Bachelor Nation," as the fandom is known, have usually been among the show's most vocal defenders. They understand that what they're watching isn't completely authentic, and they often comb through episodes for insights into human behavior. Some argue that the show is "feminist," or that it's TV's "smartest" sociological experiment. On their podcast, Game of Roses, Chad Kultgen and Lizzy Pace analyze Bachelor shows as if they were a sport. Kultgen, who has watched every season of the series and its spin-offs, told me he admires how the franchise sells its premise that genuine romance can be engineered. "For me, the fascination is it's an open lie that most of the audience believes," he said.
That putative boundary between the onscreen love story and the behind-the-scenes drama has traditionally allowed the franchise to avoid talking about its connection to the real world. But in recent years, The Bachelor started blurring that boundary in a bid to seem more progressive. In 2017, Lindsay was cast as the first Black Bachelorette. Last year, The Bachelorette devoted airtime to a conversation about race, a rare topic for a lead and suitor to discuss on camera. After last summer's Black Lives Matter protests, the show announced that James would be the first Black Bachelor, perhaps expecting fans to celebrate the historic move. And they did—until the controversy over Kirkconnell and Harrison suggested the show hadn't changed as much as it had made cosmetic fixes to remain relevant.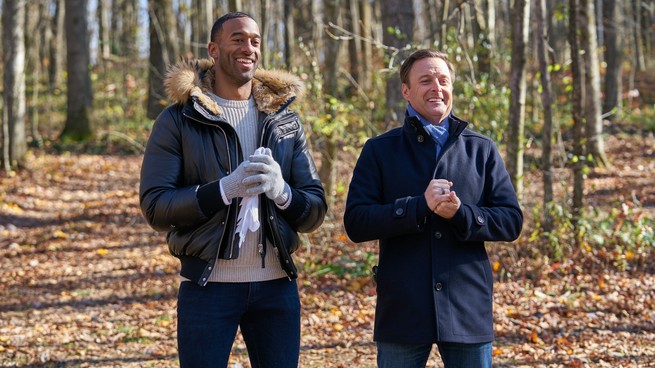 This year, the contradiction—of a series asking fans to applaud it for meeting the outside world's changing standards on a casting level and then failing to meet those standards behind the scenes—was too obvious to ignore. "A few years ago, the mainstream media would have moved on [after Harrison's apology] and this would be quickly forgotten," Rachel Dubrofsky, an associate professor and reality-TV scholar at the University of South Florida, told me over email. Pushback from former contestants also made moving on harder. The Bachelorette finalist Ivan Hall and others have said they wouldn't feel comfortable participating in spin-offs if Harrison returns. Lindsay announced she's leaving the franchise after her contract to co-host a series-affiliated podcast ends. "What has shifted right now, in this particular moment with the Harrison situation, is with the culture in which the series is airing," Dubrofsky said.
Much of The Bachelor's fractured fandom is rethinking its role. Some viewers have become the show's most perceptive critics, even helping to educate nonviewers as they grapple with their own relationship to the franchise. "We are at a breaking point," Jhenelle Monique, who co-hosts The Blachelorettes with Edwards, told me. The duo, who decided to talk only about the contestants of color this season, are unsure whether they'll continue the podcast. Another fan I spoke with, a former Bachelor contestant named Sharleen Joynt, stopped watching and recapping the show on her popular blog midway through this season. "A lot of my readers have said that I gave them the motivation to step away," she told me. "When you no longer have any respect for it, how can you justify spending that amount of time on it?"
---
The world of The Bachelor is a bubble, an alien domain with an internal logic mystifying to anyone outside. Inside, a rose isn't just a rose but a symbol of a woman's entire self-worth. Thirty or so women are supposed to date one man at the same time and be ready to get engaged after 10 weeks of vying for his heart. Maintaining the bubble requires work. Over the years, journalists have reported on the control that Bachelor producers exercise over a contestant's day-to-day life during filming, which involves zero external contact or access to entertainment in the form of personal devices, the internet, and television. Such an environment can make it easy for even the most level-headed cast member to believe she's falling in love.
Drama requires fuel, and someone to stoke the fire. The reality-TV genre as a whole often relies on dubious tactics, such as "frankenbiting"—cutting together audio to create a whole new sound bite—and having contestants sign contracts agreeing to be portrayed however producers see fit. Firsthand accounts of how The Bachelor actually works are limited. Although former contestants have shared their experiences, the creator, Mike Fleiss, rarely gives interviews, and journalists have had their access revoked for less-than-glowing coverage. (ABC and Warner Bros., the studio behind the series, declined The Atlantic's request for an interview with the show's producers.) The careful image management allows viewers to focus more on the love story on-screen rather than on the show's production practices. And the franchise keeps fans busy by airing its various programs—The Bachelor, The Bachelorette, and Bachelor in Paradise—back-to-back.
With so much content to consume and collectively dissect, Bachelor Nation is easy to enter and hard to leave. As anyone who spends time on Twitter or Instagram can attest, the fandom is visible, active, and massive. "You're not just watching by yourself; you're watching with a whole group of people," Edwards said. Kultgen and Pace sighed when I asked how much time they spend watching, talking, and thinking about the show every week. "That is a number I prefer to not calculate," Pace said. "I think that's an easy one to calculate," Kultgen quipped. "How many hours are in a week?"
For the most part, the franchise has kept up with its savvy online fanbase. Whereas contestants once had to delete their social-media accounts, eventually they were allowed to use them to promote the show and engage with viewers after filming had wrapped. Sometime toward the end of the 2010s, the franchise became more comfortable integrating the cast's online activity into actual story lines, rather than walling it off as part of the outside world. This adaptation made sense, but it also effectively punctured the Bachelor bubble. Viewers could dredge up contestants' fishy history, or turn onscreen heroes into villains with a single screenshot.
What's more, the growing ecosystem of Bachelor-related podcasts and blogs meant that fans were more closely tracking what was happening off-screen and analyzing the franchise's shortcomings, despite how quickly the shows aired. For instance, viewers started to call out dramatic exploitation of racism as a pattern: On Andi Dorfman's season of The Bachelorette, in 2014, a white contestant was accused of using a racial slur against a Black contestant, an allegation that was turned into a story line. On Lindsay's season, a white contestant with a history of racist tweets—which was revealed by fans, not producers—was similarly pitted against a Black contestant. As my colleague Megan wrote at the time, although the show's producers claimed they weren't aware of the tweets, they "may have knowingly set the conditions for all that exploitation to occur." What the franchise knew or didn't know about different contestants' histories was unclear, though fans grew skeptical. "We start to see this type of [racism-driven plot] popping up again and again," Kultgen said. "If it worked for them once, they're going to do it again."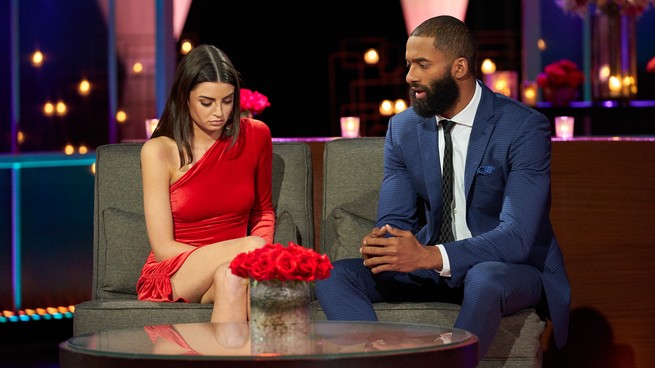 Many viewers began to seriously question the show's intentions, in matters of race and beyond. "There's so much evidence stacked against [the producers, to the point] where you can no longer give them that benefit of the doubt," Joynt said of the show's ignorance on racial matters. As a contestant who underwent an extensive vetting process, she's skeptical that producers would be unable to discover what TikTokers and Reddit users have. As a fan, Joynt has seen viewer-led efforts to hold the show accountable. She pointed to the Instagram account @BachelorData, which illustrates the franchise's bias for white contestants in granting them significantly more airtime. "Having Chris Harrison step aside is a Band-Aid," she said. "Casting Rachel Lindsay now in retrospect looks like a Band-Aid, because they didn't change anything structurally with the show or how they cast … It's just—it's all fake."
As the cracks in the franchise's veneer became more obvious, many viewers also felt that the shows' story lines had become flimsier, cheaper. Before, onscreen drama related directly to the love story—contestants would get jealous about others getting more private time with the lead, or worry about whether their feelings were reciprocated. But starting around 2017, according to Joynt, the shows became a blatant competition for individual airtime and used conspicuous setups for confrontations. Contestants openly mocked one another, coming off as caricatures with catchphrases rather than actual personalities. And the shows' manipulation grew in intensity. Not only did producers introduce two-on-one dates—in which two contestants are pitted against each other for the chance to remain on the show—but they also appeared to orchestrate unnecessarily brutal breakups, edit footage to make contestants look obsessive, and use personal family drama for story lines. These tactics turned off many fans who had considered the shows more respectable than their peers. "I didn't exactly think it was people going on the show to find love," Edwards told me, "but I didn't realize how much of a machine it is."
Once upon a time, the Bachelor machine could air seasons that didn't feature a single contestant of color and face little public criticism from the media or from its own fans. Now it's no longer able to fully separate its foundational fantasy from reality. No wonder the illusion it used to sell—of a love story drenched in champagne, both tested and nurtured by bizarre reality-TV circumstances—is crumbling.
---
During last week's After the Final Rose, the post-finale special usually hosted by Harrison, his interim replacement, Emmanuel Acho, welcomed Kirkconnell and James onstage to talk about their relationship. For much of the conversation, the pair looked miserable: They'd broken up off-screen when Kirkconnell's social-media history was exposed and she needed James to explain why the photos of her attending a plantation party upset him. Acho told Kirkconnell that he and James weren't there to "cancel" her or force her to apologize. She did anyway, telling James she still loved him, while James struggled to look her in the eye.
It was an awkward and measured conversation. But at no point in the show or The Bachelor's two-hour finale—a waste of time in retrospect, given the breakup—did Acho ask questions about casting or vetting or the production. Not once did the show address the role the franchise played in the controversy, as many disillusioned fans had hoped it would. In other words, it operated as it always did, just without Harrison in the hosting chair. After the segment wrapped, Acho enthusiastically welcomed the next two Bachelorettes. That's enough of that mess, the show seemed to say. Shall we move on?
Once again, the franchise appears to be banking on its fans' institutional amnesia. The news headlines have naturally slowed—though Harrison has just hired a prominent lawyer—and the franchise has turned its focus toward promoting its next two seasons of The Bachelorette. And though such passivity might be enough to appease some viewers, it's maddening for the ones who want more transparency from the producers about the show's inner workings, fairer treatment of the cast, and clearer methods of supporting leads and contestants of color. Those are the Bachelor superfans who, rather than walking away entirely, are hoping to use their platforms for good.
"The show thinks the drama has been successfully brushed under the rug, but it hasn't been for us," Edwards and Monique, the Blachelorette hosts, told me over email. "Acho's conversation with [James and Kirkconnell] was very much Race 101. It pandered to the show's mostly white audience and focused on painting [Kirkconnell] as a victim rather than a perpetrator." The duo acknowledged that the fandom has been quieter since the finale, but said they think that criticism of the franchise will ramp up again ahead of the next Bachelorette season this summer. The franchise might consider the Harrison saga, and everything that preceded it, old history. But, Edwards and Monique told me, "we certainly will not stop talking about it."