An American Reckoning at the Golden Globes
The show felt lost in time. The winners did not.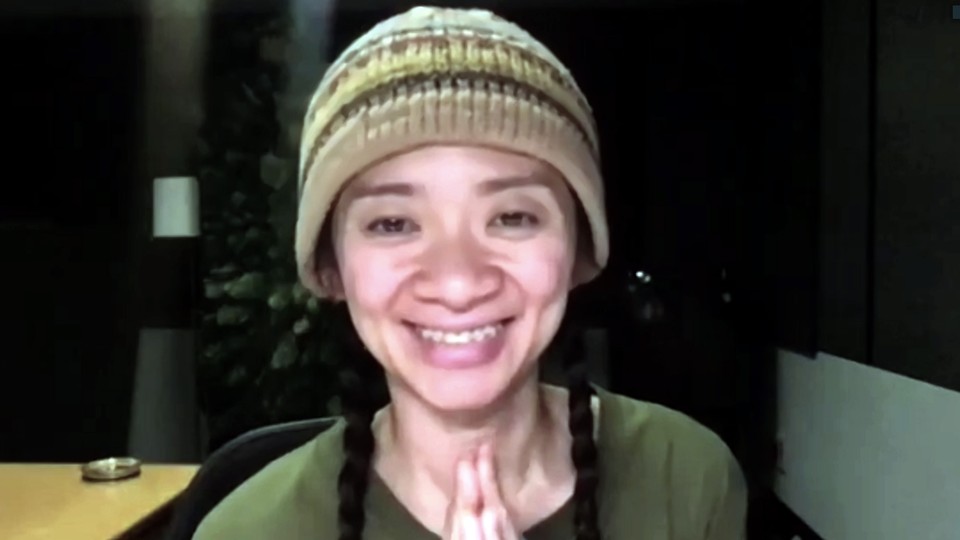 If this were a normal year, Hollywood's awards season would already be over.
This being the opposite of a normal year, however, the Golden Globes have only just aired, and the glitterati of TV and film Zoomed in from their homes, wearing everything from haute couture to homey sweatshirts. One winner, Chloé Zhao—the first Asian woman to win the Globe for best director—toasted the camera with a mug. No trophies were handed out; they'd be delivered safely at a later date. No A-listers were seen mingling or milling about the ballroom at Los Angeles' Beverly Hilton Hotel. Technical difficulties abounded, and early in the ceremony, three members of the Hollywood Foreign Press Association, the voting body behind the Globes, addressed the organization's ethical issues (namely, that it includes zero Black members) while standing stiffly onstage and reading from the teleprompter like glass-eyed automatons. A party, this was not.
Looking back at more than a year's worth of film and television in a virtual format certainly made the ceremony drag on. And yet, despite the way the Globes felt lost in time, they celebrated several strikingly timely movies. The biggest film honorees all say something about the changing American identity, with narratives that urgently stressed the country's dire political climate. Nomadland, Zhao's poignant look at a wandering population searching for a meaningful life after suffering from the 2008 recession, took home the trophy for best drama; Borat Subsequent Moviefilm, the writer and actor Sacha Baron Cohen's follow-up to his 2006 hit made specifically in time for the 2020 presidential election, won for best comedy or musical; and Minari, the writer-director Lee Isaac Chung's empathetic look at a Korean American family learning to assimilate in 1980s Arkansas, won for best foreign-language film.
These are movies about the state of being American, and the evolution of the American dream. They speak to the nation's continuing anxiety after four years of a presidential administration that threatened the country's foundation, and to the uncertainty now, under a president who has made the repeated promise to restore the nation's "soul." Against other film nominees that felt like earnest throwbacks, such as Mank, Hamilton, and The Prom, these winners captured the reality of today's fractured climate.
But the films themselves weren't the only things making the aimless Globes feel timely. Several of the night's acceptance speeches focused on America's reckoning with its ideals and exceptionalist beliefs. Aaron Sorkin, who won for best screenplay for the film The Trial of the Chicago 7, a historical courtroom drama about the rot in U.S. politics, spoke about the deadly Capitol riots incited by former President Donald Trump by quoting the activist Abbie Hoffman, whom Cohen portrayed in the film. "I don't always agree with everything the characters that I write do or say, but here's something Abbie said: 'Democracy is not something you believe in or a place to hang your hat, but it's something you do. You participate. If you stop doing it, democracy crumbles,'" he said. "I don't need any more evidence than what happened on January 6 to agree with this." Cohen, while thanking his Borat collaborators for working together amid the pandemic to ensure that the movie would be released before the election, explained that the film had been made "to show the danger of lies, hate, [and] conspiracies, and the power of truth, empathy, and democracy." These speeches trained the spotlight on recent history, keeping the Globes from seeming completely out of touch.
Rosamund Pike won for best actress in a musical or comedy for her role in I Care a Lot, in which she plays a guardian who exploits the loopholes in America's conservatorship system to scam her elderly clients. In her speech, she cheekily thanked "America's broken legal system for making it possible to make stories like this," recognizing how the country's bureaucracies "enable the abuse of elders, people who have disabilities, and anyone else who doesn't have the legal or societal power to fight back," as my colleague Hannah Giorgis wrote.
In one of the most memorable moments of the night, Jane Fonda, the winner of the Cecil B. DeMille Award, used her time to scrutinize and appeal to Hollywood itself, delivering a fiery speech about the industry's chronic inequities. "Let's all of us, including all the groups that decide who gets hired and what gets made, and who wins awards—let's all of us make an effort to expand that tent, so that everyone rises and everyone's story has a chance to be seen and heard," she said. "Doing this simply means acknowledging what's true [and] being in step with the emerging diversity that's happening because of all those who marched and fought in the past and those who've picked up the baton today."
The HFPA has long enforced such inequities, with its reputation for making baffling nominations, accepting lavish gifts that sway votes, and excluding Black voices while insisting that its membership is already diverse. But last night's winners took advantage of their airtime, and even feted actors with less pointed speeches represented performances that cross-examined America, making the Globes feel more relevant than perhaps the HFPA intended. Daniel Kaluuya, who starred as the Black Panther Party leader Fred Hampton in Judas and the Black Messiah, and Andra Day, who played the singer and activist Billie Holiday in The United States vs. Billie Holiday, won for playing Black Americans who were targeted by the FBI. Jodie Foster looked stunned to win the sole trophy for The Mauritanian, a conspiracy drama about a prisoner held in Guantánamo Bay without charge for more than a decade.
But perhaps the show's weightiest moment came when the late actor Chadwick Boseman won for his work in Ma Rainey's Black Bottom. His wife, Taylor Simone Ledward, tearfully delivered an acceptance speech reminding viewers of how he spent much of his career playing revered heroes, characters that resonated with Black Americans in particular. "He would say something beautiful, something inspiring, something that would amplify that little voice inside of all of us that tells you, 'You can,'" she said, "that tells you to keep going, that calls you back to what you are meant to be doing at this moment in history."
In a normal year, the stars inside the ballroom would have probably risen to their feet at those words. In a normal year, they'd have probably then sat down to sip a little more champagne and rub elbows with friends and future collaborators, before moving on to wondering which after-party to attend. But in this utterly abnormal year, the power of such speeches lingered a little longer. In this utterly abnormal year, the Globes ended the night sober.