The Sports League That Refuses to Court Certain Fans
The National Women's Hockey League distanced itself from a Barstool Sports endorsement, sparking a firestorm about how teams should build their audiences.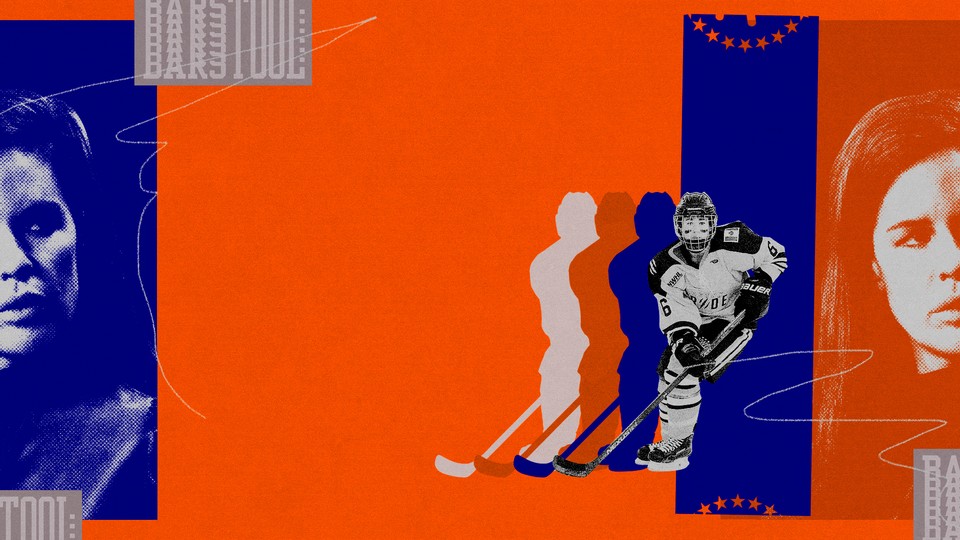 The National Women's Hockey League is just six years old, has only six teams, and, like many women's professional sports leagues, has faced slow early growth. The players are part-time, often competing only on the weekends, and the salaries are small—just $7,500 a year on average. Their games are broadcast on Twitch, an online streaming platform usually used for video games. And the coronavirus pandemic ended last year's season early.
So you might think that when Barstool Sports, a media company and website with a large and rabid following, gave a couple of NWHL players press ahead of a planned January bubble tournament and encouraged its readers to support the contest, the league would have been thrilled. Instead, the NWHL distanced itself from the site, and some potential fans, creating an online firestorm that highlighted a deeper question: Can women's sports leagues afford to be choosy about their fan bases?
Barstool Sports, which says it has 66 million unique monthly visitors, has had a history of racism, misogyny, and trolling anyone who challenges its online community or its employees since the website was founded in 2007. The site publishes regular features that ask community members to rate women (also referred to as "smokeshows") on their appearance. Its bloggers and radio-show personalities routinely objectify female athletes and sports reporters, make rape jokes, and use anti-Semitic language. One Barstool podcast episode even spelled out the N-word in its title. The former hosts, who are Black, said that the episode would address the unrepentant use of the term by Barstool's founder, Dave Portnoy, who is white, and ask the question: Can you make a racist comment and not be racist? A 2017 television partnership between Barstool and ESPN was canceled after just 10 days, thanks to internal pushback at ESPN, mainly from female employees who had been targeted by the site in the past.
The NWHL, on the other hand, has signaled progressivism: It was the first professional team-sports league to embrace a transgender player, Harrison Browne, and its players have worn End Racism patches on their jerseys during games. These choices are notable for a sport like hockey, which some studies find has a mostly conservative, very white, very male fan base. So when Erika Nardini, Barstool's CEO, interviewed two NWHL players, Rebecca Russo and Kelly Babstock, on her podcast, many of the league's fans and employees experienced a moment of discord. Nardini urged listeners to support the league's bubble tournament and even mused aloud about Barstool possibly buying a team, prompting some league supporters to speak out online against Barstool's attempt to align itself with the league. Nardini then fired back by compiling those tweets into a video, essentially siccing the site's troll-happy fans on every person whose handle appeared. (Neither Barstool nor Russo and Babstock responded to requests for comment.)
The controversy brought up a familiar tension in discussions about how women's sports leagues can and should nurture growth. Most men's sports leagues have historically tried to portray themselves as free from politics in an effort to be welcoming to all. Think of how swiftly the NFL painted Colin Kaepernick's kneeling during the national anthem—an act divisive among fans—as damaging for the league. Even the NBA's show of support for Black Lives Matter came after protests that started in the WNBA, whose players began speaking out and wearing BLM T-shirts in 2016. The WNBA initially responded by fining its players, but after backlash, it rescinded those fines and pledged support for players' activism. Last year, the league dedicated its season to Say Her Name, an African American Policy Forum campaign that brings attention to the Black women killed by police violence. Players used media time after games, and teams used score updates, to highlight the names and stories of victims.
Now it seems that the NWHL is adopting a similar ethos. Saroya Tinker, a defender for the Metropolitan Riveters of New Jersey and one of the few Black players in the league, took to Twitter after Nardini's video was posted on Barstool. "WE, as a league do not want support from ANY openly racist platform … If you, as the CEO cannot recognize that your platform promotes that of white supremacy & only further divides the athletic community, perhaps we need to have a conversation," she wrote. Portnoy then posted a video in which he said Tinker "should be in jail" for calling the site a white-supremacist platform. The NWHL's commissioner, Tyler Tumminia, appeared to back up Tinker's messages in her statement about the video, emphasizing the league's values. "First and foremost, we must remain inclusive and empowering for women," she wrote. "The success of our movement hinges on respect, opportunity, and a strong sense of connectedness across our players, teams, staff, fans, partners and avid supporters." (The league did not respond to a request for further comment.)
Taking the time to make such a statement suggests that the NWHL is not worried about alienating a certain type of fan. David Berri, a Southern Utah University economics professor who studies sports, says women's leagues are wise to seek out a different audience than long-standing male leagues have. Some of the people typically found among the Barstool readership probably aren't going to become women's sports superfans. "To be a sports fan, you have to make an emotional investment in the team—that's typically how this works," Berri told me over the phone. "A man who doesn't like women's sports in general—I don't think you're going to convince them to become a fan."
The WNBA, for example, has openly embraced their LGBTQ fans, hosting Pride nights that have consistently drawn large crowds since 2014. And its teams have refused to keep politics out of sports: When a co-owner of the Atlanta Dream, then-Senator Kelly Loeffler, told the league commissioner in an open letter that she "adamantly [opposed] the Black Lives Matter political movement," her entire team, soon joined by players throughout league, came out in support of her opponent, Reverend Raphael Warnock. Their open campaigning for him likely contributed to his win in a January runoff. (Loeffler has since sold her stake in the Dream.) And those ratings some men's sports leagues are worried about losing for being too political? Viewership for the WNBA's 2020 games was up 68 percent from the previous season.
According to Berri, the political acts of the players probably increased the WNBA's marketing appeal and helped drive more eyeballs to their games. Nielsen polling from last summer suggests that despite the "shut up and dribble" admonishment from some corners, the majority of fans approve of athletes raising awareness for racial-justice issues. "Our fans know how we roll," Elizabeth Williams, a forward for the Atlanta Dream, told me recently. "Our authenticity has been what's driven us as players on and off the court, and our fans appreciate that."
Tinker, the NWHL player who called Barstool an "openly racist platform," is paying attention to the success other women's leagues have had in growing a unique fan base. "In terms of women's hockey, our LGBTQ+ community is huge," she told me, adding that she hopes the league can seek out a more racially diverse fan base, too. "I look to the WNBA a lot … They have a consistent and dedicated fan base that's inclusive and enjoys women's sports but respects us as women in sport. And I think if we can encourage that, too, we will be a successful league." Before the January tournament was canceled because several players tested positive for COVID-19, it had been scheduled to air live on NBC Sports Network. And the league has announced big endorsement deals with Dick's Sporting Goods and Discover, proving that cultivating their existing fan base can pay off.
Maybe the reason women's sport leagues are willing to focus on a more diverse, female, and progressive fan base is because if they didn't, they might not have a product to sell at all. Tinker says that if the league didn't embrace inclusivity, as a Black woman she simply wouldn't play. "We're not just athletes, here to be your Friday- and Saturday-night entertainment. If we don't feel included in our league, we shouldn't have to sit here and play for y'all." That focus on supporting the player—and building an emotional investment with the fans that women's leagues already have—will plant seeds for audience growth for years to come. After all, if there's one thing women's leagues have figured out, it's that building a fan base is a long game.