The 6 Best Indie Movies to Watch Out for This Year
Here are the most exciting works to come out of the 2021 Sundance Film Festival.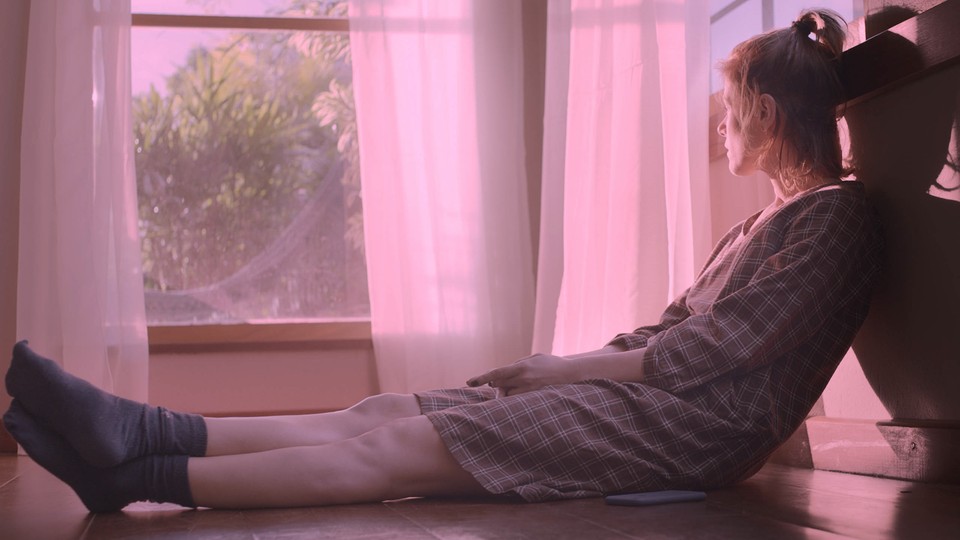 "This film was written in 2017 and shot in 2019." So reads the disclaimer at the start of The Pink Cloud, a clever and surprising Brazilian movie that was among the best offerings at this year's Sundance Film Festival. Far from a mundane declaration, the note from the writer-director Iuli Gerbase underlines the accidental resonance of her film. The story is about a deadly cloud that swamps a city and forces everyone to stay inside their homes, where they're glued to their screens and can only interact with roommates. Every Sundance overflows with topical indie movies, but watching The Pink Cloud alone on my couch almost one year into a pandemic was particularly discombobulating.
My visceral reaction to Gerbase's film was a testament to cinema's ongoing currency, after one of the toughest and strangest years in the medium's history. Last year's Sundance was among the movie industry's last significant events before the pandemic closed theaters worldwide, postponed the release of dozens of major titles, and left people wondering if the big-screen experience could survive COVID-19. This year's festival took place not in Park City, Utah, but online; it also ran shorter than usual and featured a more limited selection of films. Yet even with those restrictions, the best entries still reflected the exciting possibilities of moviemaking in a chaotic time.
Read: Shaka King on directing 'Judas and the Black Messiah'
The Pink Cloud felt extraordinary not just because it eerily echoed real life, but also because it brought stylishness and grace to its setting of drab apartment interiors. The ostensibly sci-fi film is Gerbase's feature debut, but it's made with the confidence of a veteran director, fluidly switching among genres (romance, comedy, horror) as the quarantine stretches from days into years. Though I'm not really ready for movies about the actual COVID-19 pandemic (Doug Liman's Locked Down left me cold), The Pink Cloud succeeds by being only inadvertently relevant, focusing mostly on the psychological toll taken on its main character, Giovana (Renata de Lélis), who's holed up with the one-night stand she brought home the evening before the crisis began.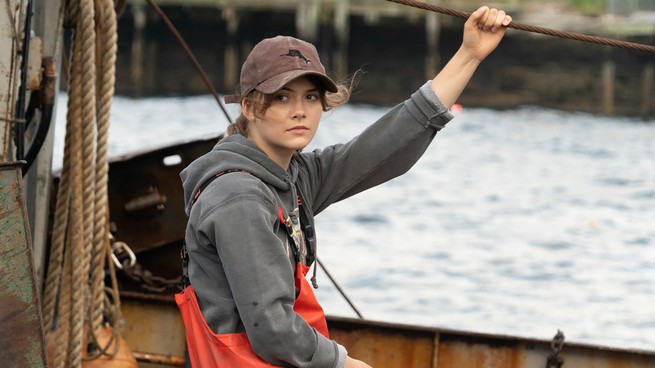 The online approach to this year's Sundance was safer and allowed expanded access around the country. Rather than having to fly to a Utah ski town to see exciting new movies, you could buy tickets online and watch them live, even attending virtual parties with other cinemagoers. But the lack of a collective viewing experience was notable for some of the year's biggest hits, especially Sian Heder's fantastic CODA, a witty, sweetly told drama about a hearing 17-year-old girl in a deaf Massachusetts fishing family. Heder (whose previous film, Tallulah, was an underrated melodrama) zooms in on small details and humorous moments as Ruby (Emilia Jones) and her family navigate life.
The dilemma in CODA is that Ruby loves to sing—a passion that's mostly inaccessible to her parents, Jackie (Marlee Matlin) and Frank (Troy Kotsur). With the encouragement of a high-school teacher (a wonderful Eugenio Derbez), she begins to pursue music seriously. But the film isn't structured around overdramatic conflicts or exaggerated plot twists. Its key emotional moments are rooted in the family's love for each other, even as Ruby's parents and brother might struggle to understand her passions. The movie's climactic scene is one I would have loved to experience with a hushed, tearful audience, the kind of moment I fondly remember from recent Sundance hits such as The Farewell. Still, CODA managed to build buzz virtually. It was reportedly acquired by Apple for $25 million, a record-breaking number for the festival, while winning both the Audience Award and the U.S. dramatic Jury Prize.
Another major acquisition came from Netflix: The studio purchased Rebecca Hall's feature debut, Passing, an adaptation of Nella Larsen's 1929 novel, for nearly $16 million. The figures for streaming acquisitions are always inflated, because the company is essentially buying out a film's theatrical and home-viewing rights as one big package. Still, the eight-figure deals indicated that there was little long-term fear from major studios about the future of movie viewing. Passing might not be a crowd-pleasing blockbuster, but it's a precise and self-assured work from Hall (whose African American mother has a family history reminiscent of the film's story). With Passing, she's taken on a great, but highly internal, literary work that might not appear easily translatable to the screen.
Hall's directing style is reminiscent of indie legends such as Todd Haynes; she composes carefully controlled shots in stark black-and-white film over a haunting piano score. Set in 1920s Harlem, the movie follows two mixed-race women: Irene (Tessa Thompson) and Clare (Ruth Negga). Clare "passes" as a white woman in high society, to Irene's fascination and suspicion. Negga is a particularly arresting presence in a strong ensemble also featuring André Holland and Alexander Skarsgård. But I was even more impressed by how Hall deliberately investigates the novel's wider themes of integration versus liberation, and how Clare's act of defiance—to "pass"—challenges Irene's more conventional thinking on social progress in America.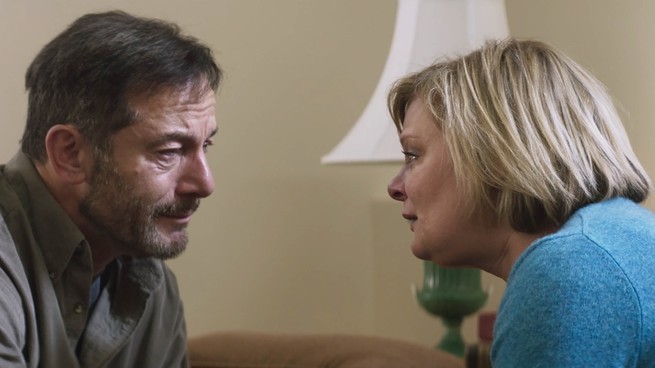 Yet another festival standout from an actor-turned-director was Mass; Fran Kranz's writing and directing debut focuses on its four central performances. Set almost entirely in a church's conference room and featuring scarcely a camera movement or special effect, Mass follows a meeting between two grieving couples: one (played by Jason Isaacs and Martha Plimpton) who lost their son in a school shooting, and the other (Ann Dowd and Reed Birney) whose son was the shooter. The film avoids leaning into sensationalism, and though it's emotionally wrenching, there's something comforting to the process of mourning that both couples are going through as they wrestle with the political implications of a very personal event. Despite its one-room setting, Mass doesn't feel stagey; Kranz gets close to his characters' faces, creating a uniquely cinematic intimacy.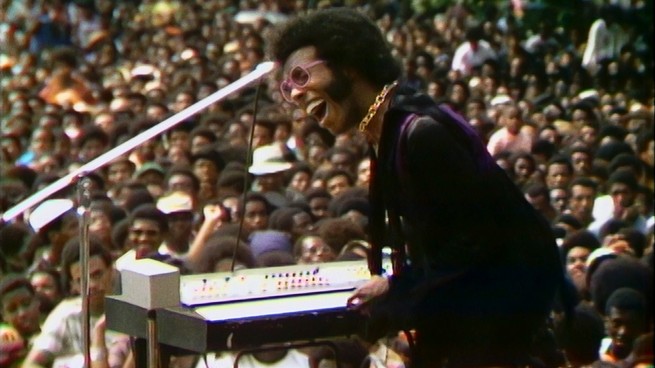 Given the current difficulty of producing fiction films due to social-distancing rules, some of the most-discussed Sundance titles this year were documentaries; that's one area where the festival thrives at churning out crossover hits. The jury prize went to Summer of Soul, the filmmaking debut of Ahmir Khalib Thompson, best known as the musician Questlove. An outstanding archival work, it digs up beautiful footage of the 1969 Harlem Cultural Festival—a rapturous celebration of music that featured acts such as Sly & the Family Stone, Stevie Wonder, Nina Simone, and Gladys Knight & the Pips. The extensive footage has essentially never been seen, and Thompson presents it while interviewing some of the surviving musicians. He also puts the celebration in the context of the end of the '60s, the death of Martin Luther King, and the overpowering presence of the better-known Woodstock festival happening only a few hundred miles away in upstate New York. My only complaint about Summer of Soul was that I didn't get to see it on a huge screen with a cheering audience and a booming sound system.
Finally, there was the innovative and visually dynamic documentary Flee: a sober accounting of the life of a gay Afghan refugee, rendered in stark rotoscoped animation. Already acquired by Neon, Flee has the plot structure of a mystery, unraveling every twist and turn in its subject's efforts to escape persecution and find a home. The animation renders his fond childhood memories with painterly grace, and turns his darkest hours into nightmarish horrors.
Although the festival's two biggest jury prizes went to the kind of conventional crossover hits that often emerge from Sundance, the breakthrough of smaller efforts such as Flee and The Pink Cloud confirmed that the festival's original mission remains soundly in place—drawing attention to artistic corners the industry might otherwise not explore. Last year's festival was the launching pad for almost all of 2020's most fascinating films. And since Hollywood's blockbusters probably won't return to theaters nationwide for months, Sundance's 2021 offerings should be equally prolific.