The Biggest Country Musician in America Is a Disgrace
After saying a racial slur and being exiled from radio, Morgan Wallen has become only more popular. What's going on?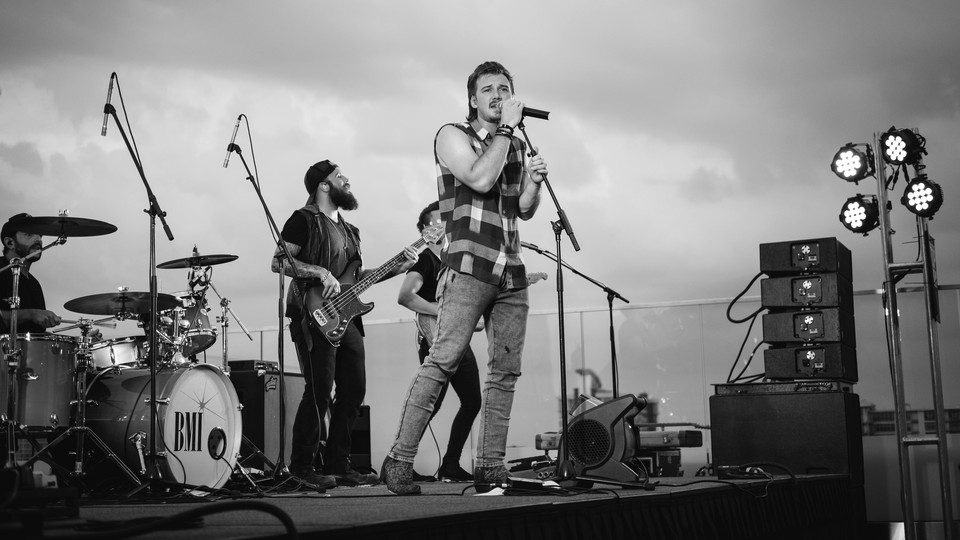 It's no exaggeration to say that one of the biggest artists in American music right now is a disgrace. Three weeks after the 27-year-old country singer Morgan Wallen said a racial slur on camera, his second studio album, Dangerous: The Double Album, is at No. 1 on the Billboard 200 chart. His singles have been bobbing in the country-music top 10 and the cross-genre Hot 100. Billboard's ranking of the most popular artists in the United States had him in the top spot for five straight weeks. Thousands of people are, at this moment, streaming Wallen's songs, buying his records, and watching his music videos—putting money in the pockets of someone who has admitted to saying one of the most noxious things imaginable.
So whatever happened to cancel culture?
A former Voice contestant with a broadly appealing sound, Wallen had only recently achieved superstardom when, on February 2, TMZ posted a video of him yelling the N-word to a friend outside his house two days earlier. It wasn't Wallen's first scandal. In May, police arrested him for alleged drunk and disorderly conduct, and in October, Saturday Night Live disinvited him for violating the show's COVID-19 safety rules. He apologized for those incidents and continued on his ascent, but when he was caught shouting slurs after a night of partying, the music industry's reaction was swift and decisive.
Major radio networks stopped playing his songs. Streaming services took him off their official playlists. The Academy of Country Music disqualified him from this year's awards consideration. His booking agent quit, and his record label, Big Loud, suspended his contract. In a five-minute Instagram apology posted February 10, Wallen said that he accepted whatever "penalties" his deeds merited and asked that fans not defend him.
Coming after a year in which country music's—and America's—racist history was under a microscope, the industry's disavowal of Wallen seemed intended to send a message that times are changing. The singer-songwriter Luke Combs apologized for previously featuring the Confederate flag in performances; stars such as Maren Morris began saying that Wallen's offense was a sign of a racist status quo that needed to end. A press release from the Black Music Action Coalition praised the industry's expulsion of Wallen, saying, "The message was loud and it was clear: racism will no longer go without consequences."
Wallen's fans appeared to want to send a different message. Sales of Dangerous: The Double Album tripled in the days after the TMZ video was posted. Streams of Wallen's music videos shot up as well. The listenership boost more than offset Wallen's loss of radio spins, major-label marketing, and streaming-service support. With six weeks in the country's top spot, Dangerous is the longest-running No. 1 album for a male artist since Drake's Views in 2016. In the nine days after TMZ published the video of Wallen, his music brought in more than $2 million.
What's going on? One common theory from inside and outside the industry is that Wallen's continued popularity is a referendum on "cancel culture," that poorly defined but ubiquitous topic of argument. For example, former Arkansas Governor Mike Huckabee said that listeners "are fed up with the 'cancel culture' trying to destroy people's lives and careers because they made a dumb mistake for which they have publicly apologized." Really, though, Wallen's situation simply shows the term's incoherence. Conservatives often portray "cancellation" as the fascistic tool of an all-controlling elite, and progressives often reply that cancellation is another word for healthy things such as consequences, accountability, and justice. Yet powerful forces in media and entertainment have hardly erased Wallen for his offense, and whatever consequences Wallen is facing seem at least equal to the rewards that he appears to be reaping. As it so frequently happens lately, the term cancel has hijacked a much thornier discussion about culture itself.
---
Wallen's post-scandal streaming success has plenty of precedent: Even when movements such as #MeToo and Black Lives Matter have dominated headlines, the music-listening public has kept playing supposedly canceled hits.
In the months after the 2019 HBO documentary Leaving Neverland gave major airtime to child-molestation allegations against Michael Jackson, the late pop star's catalog became more popular in sales and streaming as his estate loudly contested the film's assertions. The same sort of boost—by an order of millions of streams—happened to R. Kelly after a Lifetime exposé aired around the same time that criminal charges of sexual assault were filed against the R&B singer (he denies the allegations). After a patch of bad publicity for Justin Bieber, including a video of the singer making a racist joke as a teenager, he leveraged his apology tour into one of the biggest hits of his career. Post Malone still reigns after having said sorry for a video in which he used the same slur that Wallen did. Scan the pop charts on any given week and you'll find names such as Chris Brown and Tekashi 6ix9ine: convicted abusers who thrive despite constant criticism and calls for boycotts.
Abuse is a different offense than saying a slur, but each post-scandal musical success is alike in demonstrating the maxim that all publicity is good publicity. Headlines stir up curiosity and trigger an itch to listen to memorable melodies. Tunes grab the ear before the brain can compute who's singing them, and thanks to headphones, music can be a particularly personal and private medium. Listeners who have kept Wallen in their playlists or have sought out his hits in recent weeks might well be doing so with indifference to his controversy, with separate-the-art-from-the-artist principles, or—and this is the big one—with total ignorance. One recent survey found that only 18 percent of country listeners who were familiar with the name Morgan Wallen knew that he'd been dropped from radio rotation.
Some portion of that 18 percent, however, has taken an activist approach, creating a lucrative backlash to the backlash. The day after the TMZ video was posted, sales of Wallen's albums—which had already been outpacing most other music in 2021—rose 1,221 percent: a number so stark that it indicates a concerted effort. (One thing to keep in mind, though, is that in this era of generally low album sales, that percentage increase represents only 7,435 more units sold.) Radio stations that dropped his music from rotation found themselves swamped with angry feedback from listeners demanding his return to the airwaves. "In a lot of [controversies], you can say it's the vocal minority speaking up," a media executive told Variety. "In this case, with Morgan, it doesn't feel like the number of people [demanding his immediate return] is a minority." This reaction has precedent too: Die-hard fans of Michael Jackson and R. Kelly were extremely vocal about streaming their embattled idols' music and buying their albums.
Whatever the reason for Wallen's enduring popularity, it shows the limits of the power wielded by the music industry's kingmakers. Digital listening gives consumers a new ability to make or break stars: A song such as Lil Nas X's "Old Town Road" can blow up without being spoon-fed to the public by labels. Streaming services themselves don't enjoy total control either. When Spotify announced in 2018 that it would stop promoting the work of abusive artists, the ensuing criticism was so intense that the company walked back the policy within weeks. Streaming services have now removed Wallen from the playlists that they promote to hundreds of thousands of users, but the ability to fully yank his music from availability likely lies with his record label.
That label, Big Loud, is presumably still profiting from Wallen's music, even though it says that it has suspended Wallen's record deal indefinitely. What suspension means, exactly, is not publicly known. What it sounds like is a public-relations measure that leaves the door open for Wallen to return to stardom. Is there any doubt that such a return will happen after a little bit of time and a redemptive interview or two? Almost from the moment that Wallen's TMZ video was posted, fans—and some fellow artists—have been talking about the need for forgiveness and the inhumanity of condemning someone for a mistake. The long history of musicians continuing to prosper after a "mistake" indicates that such calls are probably redundant.
Wallen himself knows how easy a comeback can be. In October, after partying maskless and kissing random fans days before he was scheduled to perform in the quarantine bubble of SNL, Wallen put out a solemn apology video. In it, he said that he was going to take some time off to reevaluate his priorities, because "I think I have some growing up to do." A little more than a month later, he was re-invited to SNL, on which he acted in a skit that made light of his transgression. Weeks after that, he put out Dangerous, and weeks after that, he was shouting the N-word on the street.
---
The public is going to listen to catchy music by charismatic people regardless of what the media say or what big corporations do. That doesn't mean a star's conduct should go unscrutinized—especially when that conduct indicates a broader problem. In his latest apology video, Wallen said that his offense was the result of a 72-hour bender. But Maren Morris hit on an important subtext of the situation when she tweeted, "We all know it wasn't his first time using that word."
We all know—who can argue with that? Scroll through any Wallen-related comment thread lately and you'll see that the defenses fans furnish for Wallen rest on the idea that his use of the slur wasn't that big of a deal. They portray it as casual, flippant, unthinking (and tend to add, uselessly, that Black rappers say the same word all the time). According to Billboard, the insurance company SpottedRisk "rated Wallen's use of a racial slur as Tier 3 out of 7 in its Public Outcry scoring system, reasoning that it was perceived to be directed at a friend and that the public expected this kind of behavior from Wallen." All sorts of assumptions are embedded in such expectations—and the point of public-outcry campaigns is to make people aware of such assumptions.
"When I read comments saying 'this is not who we are' I laugh because this is exactly who country music is," the Black country singer Mickey Guyton tweeted after the TMZ video was released. "I've witnessed it for 10 gd years. You guys should just read some of the vile comments hurled at me on a daily basis." The coming weeks and months will see whether the discourse now unfolding in Nashville's public forums and behind-the-scenes dealmaking sessions will result in a culture less hostile to Black performers. Wallen's removal from radio and awards consideration sends a clear signal—but it doesn't solve the problem Guyton tweeted about. What remains is the challenge that entertainers, businesses, and activists alike always puzzle over: how to change a culture.
What's striking is that a big part of Wallen's appeal in the first place lay in how he resisted cultural change. Country music is generally in love with location and tradition, but Wallen's lyrics are especially fixated on the idea that he'll never move on from the place that raised him, and that that place will always stay the same. It's now hard not to hear the 2018 track "The Way I Talk," a salute to his own accent, somewhat differently than before: "It sounds a little bit like my daddy / It don't cuss around my mama / Some words you've never heard / 'Less you come from down yonder." By attempting to put Wallen's career on ice, the country-music industry has forced a discussion about why the most hateful word in America turned out to be part of the way Wallen talks. Some of the people still playing Wallen's music may want that discussion silenced—but really, they're only amplifying it.