The Awful Intimacy of Allen v. Farrow
A new docuseries about the molestation allegation against Woody Allen is determinedly focused on making its case, sometimes at the expense of nuance.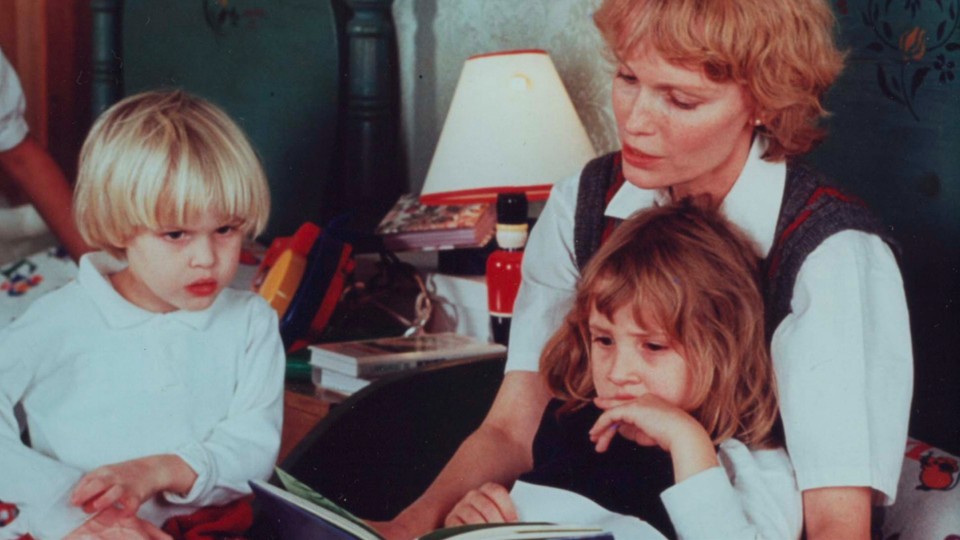 Updated at 3:33 p.m. ET on February 24, 2021.
Watching Allen v. Farrow, HBO's new four-part miniseries about the 29-year-old allegations of child molestation against the director Woody Allen, I kept having a feeling that I couldn't entirely identify. Since revelations about Harvey Weinstein emerged in late 2017—broken, in part, by Allen's son, Ronan Farrow—harrowing stories about abusive men in the workplace have been reported one after another. But the story of Dylan Farrow, who was 7 years old in 1992, when she told her mother that her father had sexually abused her, is different, an allegation of domestic trauma that's been weaponized by interested parties again and again. The feeling I had, I eventually realized, was one of wanting to look away. Not because I don't believe Dylan (I do), or because I believe Allen's work is so valuable that her testimony is worth shunting aside (I don't, and no one's is). It's queasier than that: a nagging sense that, at this point, there's still no way for Dylan to tell her story without it being exploited.
The conflict between Allen and the actor Mia Farrow began when Farrow discovered explicit Polaroid photos revealing that Allen had been having an affair with her 21-year-old adopted daughter, Soon-Yi Previn. Seven months later, a babysitter reportedly observed Allen kneeling with his head in Dylan's lap, and when Farrow questioned Dylan later about what had happened, she told her mother that he'd molested her. The ferocious media blitzkrieg that arose when both stories became public led to Allen and Farrow being maligned in the press, with their friends and family flinging accusations into the cross fire. The week the news broke, during the 1992 Republican National Convention, newsweeklies bumped planned political coverage to focus on the story. "Cries and Whispers: The Ugly Explosion of an Unconventional Family," Time blared. Allen's proxies claimed that Farrow was an unfit mother who abused pills and neglected her adopted children in favor of her biological ones. Farrow's allies told the press that Allen had been seeing a therapist for his inappropriate attachment to Dylan, with Farrow's mother stating in one interview that he was "a desperate and evil man."
But over the years, Dylan's story has been steadfast, even if few cared to remember it. In 2014, when she chose to re-air it via an open letter in The New York Times, and in 2018, when she spoke out again amid the #MeToo movement, she said she did so to shock an industry that had never stopped lauding the man she says abused her.
The series, in litigating Dylan's accusations once again, stretches the conflict out into a fourth successive decade. Allen v. Farrow has the weighty quality of wanting to put something definitively to rest; in focusing on Dylan, and in presenting some previously unaired evidence, its filmmakers, Amy Ziering and Kirby Dick, aim to offer a conclusive case for Allen's guilt. (He has always denied abusing Dylan in any way, and declined to be interviewed for the series, as did Soon-Yi and her brother Moses Farrow, the two siblings in the family who publicly spoke out in 2018 against their adoptive mother.)
But a documentary series, ideally, should feel like a journalistic investigation, not a case being presented in family court, especially when so many of the details have been picked through and blasted out by so many parties for so long. It's easy to see why Ziering and Dick might have wanted to gloss over some facts. Custody battles and sexual-assault cases are both zero-sum: Any point that undermines one side, however frivolous, tends to have the unfortunate effect of boosting the other. The fact that Allen, Soon-Yi, and Moses declined to participate in the show is unfortunate, and unsurprising; all of Farrow's other surviving children were interviewed in the course of putting together the series, and all supported their mother and their sister Dylan's account. It's still hard to justify, however, giving such short shrift to the accounts of the other two, both of whom have offered strikingly different versions of growing up in the Farrow household in the past, and who are cursorily dismissed on camera by their white siblings. The show's narrative is too determinedly focused for any nuance that might complicate its momentum.
The landscape for survivors has also changed significantly even over the past three years, shifting the power dynamics of the family yet again. Since Dylan retold her story in 2018, Allen has been effectively cast out of the industry. Most of the stars who once attached themselves to his projects have disavowed him; his most recent movie was released primarily outside of the U.S.; his four-movie deal with Amazon was dropped; his autobiography was pulped by Hachette after the publishing company's employees staged a protest. (It was later released by the independent-trade house Arcade.) There's so little appetite to defend Allen that, in the moments when I realized that the series had omitted elements that might have portrayed Mia Farrow unfavorably, I felt a little guilty about remembering them.
Ziering and Dick have made their name exposing institutional abuses of power and the ways in which organizations protect alleged offenders to protect themselves. Their 2012 feature, The Invisible War, delved into an epidemic of sexual abuse within the military, and 2015's The Hunting Ground revealed how assaults on college campuses are routinely covered up or underreported to minimize the damage to academic reputations. On the Record, released last year, considered assault allegations made against the music producer Russell Simmons and the conditions within the industry that deter accusers from speaking out. (Simmons denies all allegations against him.) But with Allen v. Farrow, the directors enter a different realm. In an interview with The Hollywood Reporter, Ziering and Dick explained that they'd been offered funding for a project that explored incest, and in Dylan, they seemingly identified a subject who allowed them to examine both the consequences of childhood trauma and the hypocrisy of Hollywood mythmaking.
The challenge of Dylan's story is that for decades, many people preferred to forget it, which, Allen v. Farrow argues, has affected her ability to heal. Her allegations against Allen complicate the legacy of a man who profoundly changed film—who normalized the neurotic strain in the creative imagination and, in the words of the writer Claire Dederer, "shows something that's uncomfortable in himself. And then you feel less alone." But the charges against Allen aren't that he abused his power as a filmmaker and Hollywood legend. They are that he fundamentally corrupted his role as a partner and a father. Think about the conflict between Allen and the Farrows (Mia, Dylan, Ronan, and their siblings) as a domestic one, and its fault lines and contradictions become easier to understand.
The flaws in Allen v. Farrow arguably stem from its determination to settle things once and for all, and the uneven weighting of events and subjects it offers in the process. Families are inherently messy and illogical, and the neat hero-villain frame the series superimposes doesn't exactly fit. From the start, the relationship between Allen and Farrow appears to be counterintuitive: the Earth Mother devoted to her ever-growing brood and the solipsistic writer with zero interest in children. Central Park, one senses, wasn't the widest gulf between them. Part of Farrow's intention in adopting Dylan, she explains in an interview for the series, was wanting a baby who might pique Allen's interest—he'd previously stated that he didn't want anything to do with her adoption of another child, but that he might be more disposed to a "little blond girl." The subtext of that statement and the inferences viewers might draw about the four Vietnamese and Korean children Farrow adopted before Dylan is a minefield all by itself. But Farrow's instincts proved to be right, and Allen became entirely enchanted with Dylan, to the point where even the child found his interest obsessive and overwhelming. "I was always in his clutches," Dylan tells the filmmakers. "He was always hunting me."
Allen's uncomfortable fixation on Dylan is compared in the second episode to his romantic preoccupation with teenage girls in his work, and his relationship with Soon-Yi, which Allen v. Farrow alleges began when she was in high school. (Both Allen and Soon-Yi, who remain married, have disputed this claim in addition to the rest of the series, which they described in a statement as "a shoddy hit piece" and "a hatchet job riddled with falsehoods.") Smartly, the series employs female critics, such as Vox's Alissa Wilkinson and Slate's Lili Loofbourow, to reassess the awkward synergy between his personal life and his work. Allen's films have always been a canvas for him to explore his darker fantasies, and the particular theme of an older man dating a much younger woman is so recurrent that it was tacitly accepted for decades. A whole generation of film writers watched Manhattan, in which Allen's 42-year-old character dates a 17-year-old, and found nothing amiss; before they started dating, Farrow even wrote to Allen to tell him how much she'd enjoyed the movie. The filmmakers also interview Babi Christina Engelhardt, who says she dated Allen when she was a teenager and believes she was the muse who inspired Manhattan. Once again, time adds haunting context. "I was very much in love with him," Engelhardt tells the camera. "I thought he was magical." Then she adds that she later became "a super-vigilant mother" who "would not let my daughters go over to an older man's home, no matter what."
The threads between Allen's public work and his alleged private abuses have been documented ad infinitum. What feels more relevant, and more harrowing, is footage that's being publicly revealed for the first time: the videotapes Farrow made of 7-year-old Dylan in the days after she first told her mother that Allen had touched her "privates," and the audiotapes Farrow made of conversations with Allen after his relationship with Soon-Yi and his alleged abuse of Dylan became public. The tapes of Dylan are brutal to watch, and Allen v. Farrow recruits a team of child-abuse experts to watch them, all of whom testify that her allegations are both plausible and convincing. Days after watching, though, I can't stop thinking about the intentions of the person who recorded them. Later in the series, another expert explains (in the context of critiquing a later investigation into Dylan's allegations) that repeatedly interviewing a child about acts of abuse is a profoundly damaging thing to do, because it traumatizes that child over and over. And yet this is exactly what viewers of the show watch. "Hey, Dylan, just tell me again what happens, okay?" Farrow's voice can be heard saying. Later she says, "Okay, Dyl, wanna tell me again what happened in the attic?" In some moments, Dylan appears to shut down. It seems clear that she doesn't want to keep enduring the effort of recollecting these events.
The tapes are included because they're new, and they're presented as damning evidence that, despite what Allen has always said, he did abuse Dylan; in truth, they're extremely difficult to interpret any other way. But I can't help wondering about the impulse to record the tapes in the first place, and the nature of a family preparing to fight its battles in public. Even if you believe that the tapes were always made for Dylan's child psychiatrist, as has been stated, and not to be stored as future collateral, the fact that they were first leaked in 1992 to a news network (which ultimately decided not to air them) is discomfiting.
Later, Allen v. Farrow lays out the battles that arose after Dylan's allegations became public, fought as much in the media as in the courtroom. It presents Allen as a Hollywood leviathan, with fleets of high-powered lawyers at his disposal and a publicist who'd use any means necessary to twist information in a way that spared her client's reputation. It doesn't mention the fact that Farrow hired Alan Dershowitz as her attorney during the custody fight over Dylan and two of her siblings, or that Dershowitz reportedly offered to make the child's allegations against Allen go away for a multimillion-dollar settlement. (Dershowitz denied that money was attached to a proposal for a private settlement.) Presumably, the filmmakers didn't want to include anything that might detract from Dylan's own story. But this information exists, and is widely accessible. It's yet more evidence of the fallout that ensues when family conflict goes nuclear, which inevitably does its most vulnerable members a disservice. Dylan's motives are impossible to fault: She tells the filmmakers that she wants to share her experiences again so that others who have endured what she has feel less alone. She deserves to get to do that, and if more exposure brings catharsis, then so be it. But the paradox is that in portraying events so selectively, Allen v. Farrow leaves too much room for yet another public wrangling.