Why Were We So Cruel to Britney Spears?
The more vulnerable she became, the greater the public's interest was in watching her disintegrate.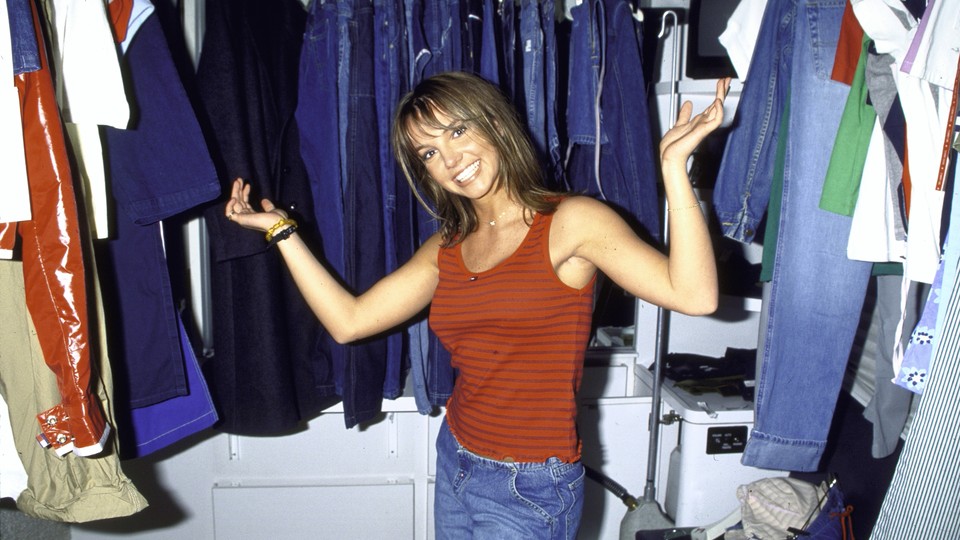 In a video that recently went viral after it was dug out of the aughts time capsule, the former late-night host Craig Ferguson brings up Britney Spears. TV viewers have become accustomed over the past few years to talk-show hosts digesting difficult news and processing it for a nation to grasp, but in early 2007, when Spears's erratic behavior and self-administered buzz cut consumed the public, Ferguson did something unexpected: He declared that he wouldn't be making jokes about Spears. But his whole monologue is remarkable. He opens by invoking the media, and says that, lately, he's had a similar feeling watching the news to when he used to watch America's Funniest Home Videos. "You know, you'd be laughing at the kid falling over and then you'd go, 'Wait a minute, put down the damn camera and help your kid! What the hell is wrong with you?'" The audience splinters into laughter. "And I think we're holding the camera," Ferguson continues. "People are falling apart. People are dying. That Anna Nicole Smith woman, she died."
The audience laughs, again. Ferguson interjects to stop them: "It's not a joke."
To the people in that room, though, it had obviously felt like one. Here was an audience so conditioned to seeing women in crisis as punch lines that even the death of one of them felt inevitably comical. In 1994, New York magazine put Smith on its cover, wearing a pink halter top and white cowboy boots, with her legs akimbo and a family-size bag of chips covering her crotch. The headline was "White Trash Nation." Smith sued: She'd been told that she was shooting an all-American look with glamour shots, and the chips photo was taken for fun during a break. "I guess they just found the picture we chose unflattering," the magazine's editor, Kurt Andersen, said at the time. I guess? After Smith's death, Slate's Jack Shafer analyzed the breadth of media coverage and found it not excessive: "Fat, no-talent, bleach blondes from Texas with breast implants aren't rare," he wrote. "But add a little show-business success to that package and top it with a potential half-billion dollars, and you've got a story."
This same strain of cynical, depersonalizing disdain helped Spears's mental-health crisis become a gripping public spectacle—"the Britney Show," as The Atlantic framed it in its 2008 cover story about the monstrous evolution of the paparazzi. The early days of the internet collided with nonstop cable-news coverage and submerged us into a peculiarly banal kind of drama: Spears buying snacks at a gas station, swarmed by photographers waiting for her to cry, or yell, or do something that affirmed the public perception of her as unworthy of her renown. When she picked up fast food, or drove away from paparazzi with her young son on her lap, or drank soda, or got out of a car without wearing underwear, the resulting photos would usually sell for hundreds of thousands of dollars, because they chipped away at the pop star's golden image.
The recent New York Times/FX documentary Framing Britney Spears is largely about the legal battle over Spears's conservatorship, and her legal inability for more than a decade to control her own money and make her own decisions. (My colleague Spencer Kornhaber wrote last year about the "Free Britney" movement that's arisen in response.) But the film feels revolutionary now because it confronts viewers with the larger arc of Spears's career—how her magnetism and talent were constantly undercut by the media's inability to comprehend, as one subject puts it, how she could claim to be sexy and virginal at the same time. "Everyone's talking about it," a middle-aged Dutch interviewer tells a teenage Spears in one archival clip from the documentary. "What?" she replies. "Your breasts," he says. Framing Britney Spears also touches on how Spears was excoriated by the tabloids for supposedly cheating on her then-boyfriend, the pop star Justin Timberlake, and how Timberlake stoked the scandal in a music video that framed himself as the victim. (He's since apologized, writing, "I do not want to ever benefit from others being pulled down again.")
In the aughts, enabled by the internet and by stigmas surrounding mental health, people reveled in the spectacle of women—particularly beautiful, famous ones—breaking down in public. Women who invoked sexuality as part of their image had to be reduced, like Smith, to "trash," diminished not with a scarlet letter but with the crude penises Perez Hilton drew next to their faces on his blog. This country reserves a particular kind of loathing for the people—the women—who get rich because we can't stop looking at them. Smith was hated because, as Jeffrey Brown wrote in the Feminist Review in 2005, she was "poised to become a financial powerhouse simply because of her cartoonish sexuality." Kim Kardashian is commonly hated now for the same reason. Both women flouted the rules—regarding sex, class, capitalism, and what is allowed to constitute "work."
Framing Britney Spears illuminates, with stark clarity, how uniquely cruel Spears's treatment was. One scene pulls up footage from an episode of the game show Family Feud in which "Things Britney Spears Has Lost" was a category: "Her hair," "her marriage," and "her mind" were all winning responses. The documentary's chronology, as Vulture's Kathryn VanArendonk has pointed out, is revelatory all on its own, simply because it points out how Spears's breakdown came after she had two children in the space of one year, and before she turned 25. Not many people were talking about postpartum depression when Spears was brawling with photographers or shaving her head. But it's clearer now that whatever she was going through was exacerbated tenfold by the insatiable interest in watching her struggle in real time. The more vulnerable she became, the greater the interest in watching her disintegrate, and the greater the pressure upon her in turn. "Will she OD or commit suicide like Monroe?" Mark Stevens wrote in New York magazine in 2007, praising Spears's head-shaving incident as the most "fascinating" thing she'd ever done. "Will she have a Grand Guignol death like the fat-obsessed Anna Nicole Smith? No one publicly asks those questions, but that's what everyone wonders."
In Discipline and Punish, Michel Foucault considers the specific form of torture that is being turned into a public spectacle, subject to the "instrument of permanent, exhaustive, omnipresent surveillance," and scrutinized by the "faceless gaze … [of] thousands of eyes posted everywhere." American media still have a long way to go. Still, on balance, it's striking how differently stars in crisis tend to be treated now, and how much the tenor of media coverage surrounding women in the public eye has changed. "We shouldn't be attacking the vulnerable people," Ferguson said in 2007, startlingly prescient and singularly empathetic. It would be a long time before people actually listened.