The Explosive Song That Liberated Tina Turner
Fifty years ago, the Queen of Rock seized her crown—and sparked her rebirth—with her fiery rendition of "Proud Mary."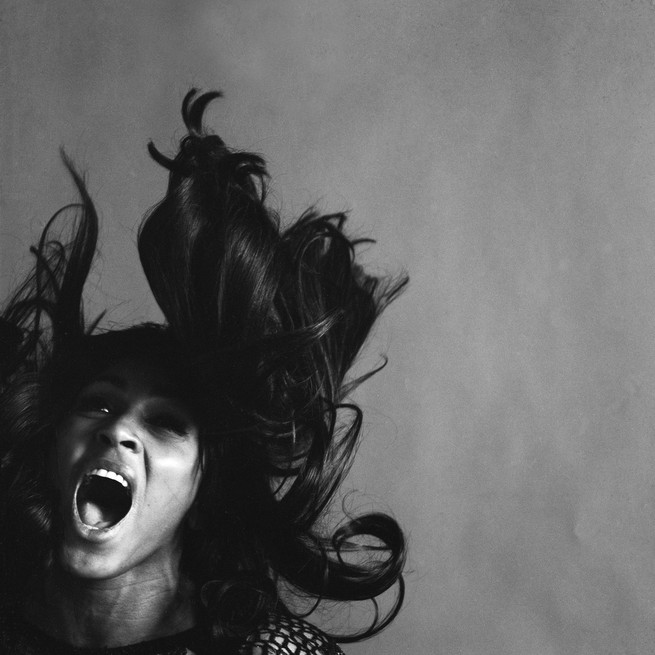 Before a concert one night in 1968, shortly prior to recording the song that would launch her into superstardom, Tina Turner swallowed sleeping pills and lay down to die. "People backstage noticed something was very wrong with me and rushed me to the hospital, which saved my life," she writes in her book Happiness Becomes You, published in the fall. "At first I was disappointed when I woke up and realized I was still alive. I thought death was my only chance at escape. But it was not in my nature to stay down for long."
The song that helped revive Turner was "Proud Mary." A cover of the Creedence Clearwater Revival hit from 1969, Turner's sizzling version was released when she was half of the married duo Ike and Tina Turner—and it was "the single that brought this dynamic group to national attention," Cash Box magazine subsequently said. Before that, Turner and her infamously abusive husband were an established act in the world of R&B. (Ike later said that the allegations of abuse were exaggerated, though he admitted multiple times to hitting Turner.) The couple had yet to make a big impression on America at large—until "Proud Mary" busted down that door. After the single's release in January 1971, it rose to No. 4 on Billboard's pop chart, sold more than 1 million copies, and earned Turner the first of her 12 Grammy Awards. But the song's success didn't just help bring her back to life after her suicide attempt; it also planted the seeds of her liberation as both an artist and a woman.
"Proud Mary," which celebrates the 50th anniversary of its release this month, remains a staple of popular culture. In recent years, performances of Turner's version have appeared on The Voice and The Masked Singer, and in 2005 Beyoncé sang it in Washington, D.C., when Turner was recognized at the prestigious Kennedy Center Honors. Onstage, Beyoncé said to her hero, who was sitting in a balcony next to the first lady, Laura Bush, "I'll never forget the first time I saw you perform. I'd never in my life seen a woman so powerful, so fearless, so fabulous."
Turner had to face her fears just to get "Proud Mary" made. She was 18 when she joined Ike's Kings of Rhythm in 1957. As the founder and songwriter of the group, Ike brooked few creative suggestions from Turner. He also beat and belittled her, as she's opened up about publicly many times throughout her life. "I have to do what Ike says," she told Rolling Stone in 1971. "My whole thing is the fact that I am to Ike—I'm going to use the term 'doll'—that you sort of mold." Their 1962 marriage didn't make things any better, but when Turner heard CCR's "Proud Mary" on the radio in early 1969, she knew she had to record it. Ike disliked the song and refused. Turner put her foot down anyway. As she says in her 2020 book That's My Life, "Whatever happens to me, when it's time to get something done, I do it." The result was the career breakthrough she and Ike had long been fighting for.
CCR's rootsy, laid-back "Proud Mary" is no slouch. Written by the band's leader, John Fogerty, it remains as famous and revered as Turner's version, and rightly so. But Turner upped the intensity of Fogerty's country-rock anthem by a factor of 10. The song begins slowly and sparsely, with a hushed arrangement of guitar, bass, and drums. Turner says a few words by way of introduction, but the softness in her voice isn't a sedative—it's the hiss of a fuse being lit. After a couple of hypnotic minutes, the music trails away ... and the bomb goes off. In a detonation of blindingly fast funk, the band throws riffs, beats, and blasts of horn into the sky as Turner's rasp goes supernova. "Rolling! Rolling! Rolling on the river!" she sings at the top of her formidable lungs, just as much a force of nature as the Mighty Mississippi in the lyrics. It's no wonder the song stormed the airwaves in the early '70s. It has all the fury of James Brown, all the grit of Janis Joplin, all the swagger of the Rolling Stones. But in the end, it's Turner's soulful ecstasy that sells it.
The media descended on the duo after "Proud Mary" blew up. Soon they were guests on numerous television shows, some of which were not prepared for a woman like Turner. On The Dick Cavett Show, Cavett asked her to list her musical inspirations. Rather than naming the soul sisters Aretha Franklin and Etta James, she cited Ray Charles and Sam Cooke as big influences on her vocal style. "I've never been one to be real feminine, like the girl singers that I love so much," she told the host. "When I started singing, Ike had mostly male singers, and I wanted to sound like they sounded." When Cavett then asked, "All the women want to be men these days. What do you make of that, Ike?" Turner jumped in before her husband could respond and declared, with a hint of dismay, "I didn't say I wanted to be a man." On Soul Train around the same time, a teenage girl in the audience asked Turner what her favorite hobbies were. Her answer: "I like to skate. I think maybe just to go in the country a while." Then she paused and flashed a sly grin. "And I like being a woman."
Who better than Turner to breathe new life into "Proud Mary"? She deeply related to Fogerty's yearning, earthy song. After all, it mentions Memphis—just an hour from where Turner grew up—as one of the cities where the narrator takes on menial jobs while chasing her dreams along the Mississippi River. Then the narrator has an epiphany: Instead of searching for bliss on the shores of the river, maybe she should try on the river. Hopping a boat called the Proud Mary, she finds an idyllic way of life, one where "you don't have to worry though you have no money / People on the river are happy to give." At the same time, she has zero regrets about the tough journey: "I never lost one minute of sleeping / Worrying 'bout the way that things might have been." It's a story arc Turner knew all too well—and was elated to make her own.
Some artists get resentful about how others render their songs, but Fogerty loved Turner's cover. The CCR front man was thrilled when he first heard her blistering version, as he recounted to American Songwriter magazine. And in Turner's That's My Life, he's quoted as saying, "Thank you, beautiful Tina, for shooting my song into the stratosphere." The sizable royalty checks Fogerty received from the Turners' version surely sweetened his opinion that much more. "Turner was elbowing her way into the rock and roll boys' club, fitting herself into what was becoming a more and more homogenous white and male space," Maureen Mahon writes in her book Black Diamond Queens: African American Women and Rock and Roll. Once past the gate, Turner made that space her own. "I felt that I had become all the songs that I was covering," she writes in her autobiography I, Tina, "that I had become rock 'n' roll." Eventually, she would be crowned its queen.
Before taking on that mantle—and emboldened by the confidence brought on by "Proud Mary"—Turner wrote her first hit song. The duo's next mainstream smash, "Nutbush City Limits," was released in 1973, and in it Turner draws from her own impressions of her rural hometown, Nutbush, Tennessee. Following that triumph, she became not only a world-class singer, performer, and feminist symbol; she was also a successful songwriter. Within three years of the victory of "Nutbush City Limits," Turner finally broke away from Ike and went solo. She was 36, a hard age to start over as an entertainer; rather than fading, though, her career had just begun. The '80s would see her revive herself yet again, and in so doing, conquer the world. As if to punctuate her accomplishments, Turner's reinvention of "Proud Mary" received a Grammy Hall of Fame Award in 2003, cementing its place in the pantheon of rock. But it's always had a more intimate meaning to Turner. When asked by Haute Living this winter to do a little word association with some of her biggest hits, she responded to "Proud Mary" with a single word: freedom.
Throughout Turner's decades-long dominance of the music world, the 81-year-old icon has had plenty of phases: R&B pioneer, rock insurgent, disco diva, movie star, pop legend. But in many ways, she's still the steadfast protagonist of "Proud Mary," the role she first owned 50 years ago. Her life has been filled with dizzying ups since her near death in 1968, but it hasn't been without tribulation or tragedy, most recently the loss of her eldest son, Craig Raymond Turner, who took his own life in 2018 at the age of 59. However, like the character Fogerty created in "Proud Mary"—which seems like it could have been written with Turner in mind—she's nurtured her hopes while weathering her hardships. "You know, every now and then I think you might like to hear something from us nice and easy. But there's just one thing," she says wickedly in her spoken-word intro to "Proud Mary." "You see, we never ever do nothing nice and easy. We always do it nice and rough."