D.C. Statehood Is More Urgent Than Ever
"The real fraud is that we call ourselves a democracy yet deny the people of our capital political representation."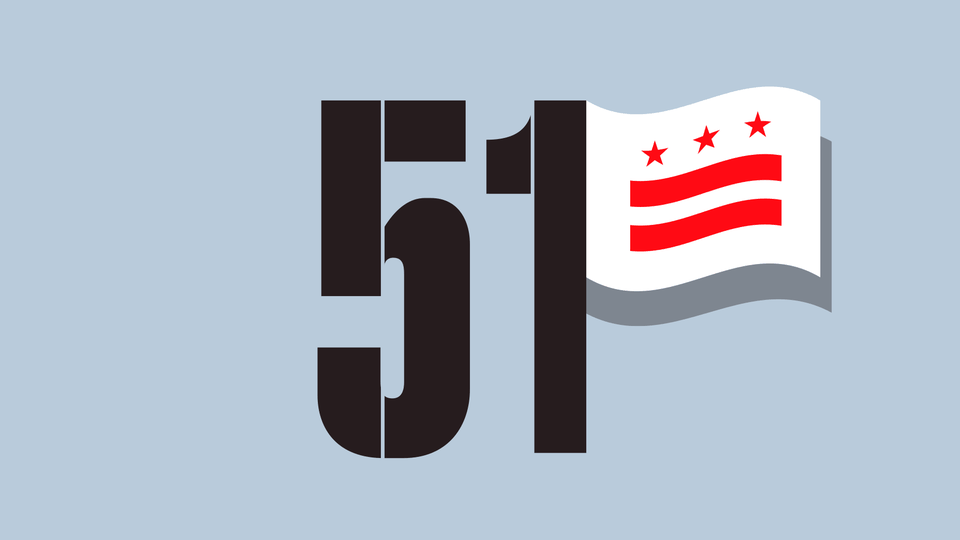 Less than six months before a mob of the sitting president's supporters would descend upon the United States Capitol, a more solemn crowd gathered at its steps. Among those who arrived to pay their final respects to the late Representative John Lewis were Washington, D.C., residents who appreciated his unwavering support of statehood for the district. As they waited in line for the public viewing, a small group of Black women raised their fists in honor of the Georgia lawmaker known as the conscience of Congress, who saw their city's struggle as the very kind of "good trouble" that defines his legacy. Lewis had backed the symbolically named House Resolution 51 since Eleanor Holmes Norton, the District of Columbia's nonvoting delegate, first introduced it nearly three decades ago. In 1993, Lewis declared, "It is not right that there is still an America where there is still some taxation without representation."
At a D.C. rally on Wednesday, President Donald Trump called on his supporters to march to that same Capitol and confront legislators, repeating false claims that the 2020 election had been stolen from him. Within hours, many of his embittered followers invaded the halls of Congress. In the days since, area residents, lawmakers, and those watching from other parts of the world have asked how such a breach of security could've taken place. But this week's calamity wasn't a logistical misstep or simple law-enforcement blunder. It was just one logical outcome of Trump's twin passions: provoking his base with antidemocratic falsehoods and exerting authoritarian control over populations he deems disposable. In this case, the District had no real voice in the Capitol and no real autonomy to defend its own streets without federal approval.
Many local advocates saw Wednesday's attempted coup—which left five people dead, including a police officer—as further evidence that D.C. should be a state. The attack at the Capitol was carried out by "people fooled by political leaders that there was fraud in the election, [but] what they were fighting against is mythical fraud," Josh Burch, a co-founder of Neighbors United for DC Statehood, told me. "The real fraud is that we call ourselves a democracy yet deny the people of our capital political representation." Now, following a day of mayhem and fear, all Americans have a clearer window into the stakes of granting D.C. statehood.
The entire country has now witnessed the Capitol—and the city surrounding it—come under siege by extremists acting out the wishes of the president. "This is definitely a flash point," Kenyan McDuffie, the Ward 5 councilmember, told me. "I hope in the midst of the tragedy, the insurrection, and the continuous inexplicable behavior by the president, that citizens across the country will better understand the plight of District of Columbia residents and why we continue to demand statehood." To fully comprehend Wednesday's events, and the potential for such chaos to recur, it's imperative to grasp just how little control the District's elected officials and its more than 700,000 residents hold over their city—and how statehood would change that.
The District of Columbia's lack of sovereignty leaves its residents and local officials with few defenses in the face of organized attacks. The Capitol Police answer not to District councilmembers or even to the mayor, Muriel Bowser, who called Wednesday's events "textbook terrorism." Rather, the taxpayer-funded law-enforcement entity charged with protecting the Capitol and its perimeter is accountable only to the federal government. That means officers didn't fail at restraining the rioters early into the insurrection so much as enact the will of the president who beckoned those rioters to the city. When Trump's supporters first stormed the Capitol, the Department of Defense reportedly denied Bowser's request to send in the D.C. National Guard, which is also controlled by the federal government.
Most states' National Guards are controlled by the governor. When asked on Thursday what would be different if D.C. were a state, and if she were governor, Bowser listed key administrative changes: "We wouldn't have to clear a deployment plan with the secretary of the Army. We could be nimble in how we change it." Absent this authority, she is limited in her capacity to respond to such violence. Even securing outside help is cumbersome when federal forces control a city: Maryland's governor, Larry Hogan, said it took nearly an hour and a half to receive permission from the Department of Defense to send in his state's National Guard. The Capitol riot, and Trump's role in provoking it, makes the danger of D.C.'s reliance on the federal government woefully obvious—because of both whom he chooses to protect here and whom he doesn't. Contrast Wednesday's tepid police response with his handling of racial-justice protests in D.C. last year. Trump deployed heavily armed troops who tear-gassed those who gathered to mourn the police killings of George Floyd, Breonna Taylor, and other Black people around the country.
Some of the tactics being suggested to prevent future insurgencies ignore one clear takeaway: Laws are only as effective as their application, and leaving room for them to be enforced unevenly is dangerous for everyone. Though the events of this week might suggest otherwise, the Capitol Police have routinely apprehended protesters en masse throughout Trump's presidency, in many cases during nonviolent demonstrations on federal grounds. As The Washington Post political reporter Eugene Scott pointed out, Capitol Police officers arrested Reverend Raphael Warnock, now a senator-elect of Georgia, in 2017, while he and a group of clergy were praying and singing in a Senate office building to protest Trump's massive cuts to health care. That same law-enforcement entity responded to a "die-in" staged by protesters with disabilities, some of whom used wheelchairs. Officers forcibly removed them from the premises, leaving drops of blood on the floor outside Senate Majority Leader Mitch McConnell's office.
Bowser has long advocated for statehood and often accused Trump of abusing federal power in the District, and she doubled down after the Capitol attack. "Washingtonians have waited over 200 years for the representation we deserve as American citizens," she said in a statement released Wednesday. "But now, we are ready to finally fix this injustice by getting statehood on President Biden's desk within the first 100 days of the 117th Congress." On Thursday, she again connected the siege to the District's lack of political representation: "I'm upset that 706,000 residents of the District of Columbia did not have a single vote in that Congress yesterday, despite the fact that our people were putting their lives on the line to protect our democracy."
Though the rapidly gentrifying District is now 46 percent Black and 46 percent white, many still see it as "Chocolate City." Scaling back democratic protections for Black people has been a hallmark of this administration and the ones it's modeled itself after. As my colleague Adam Serwer wrote, "Presenting the disenfranchisement of Black Americans as an exercise in good government is one of the most recognizable constants of American history." D.C. residents consistently support statehood, but national attitudes are just beginning to catch up. As recently as July 2019, a Gallup poll found that only 29 percent of surveyed Americans supported D.C. statehood—even though prior polls indicated widespread support for District residents to have full voting rights. But as of last year, polling showed that 43 percent of respondents supported statehood measures. (Those changes were most noticeable among Democrats, young people, and Black voters.)
The same House chamber doors where the armed standoff took place hours ago is being cleaned for members to return for the joint session: pic.twitter.com/JlZgzwci8n

— Daniella Diaz (@DaniellaMicaela) January 7, 2021
Arguments against D.C. statehood can sometimes be driven, paradoxically, by a general distrust of the federal government. But more often, especially among Republican elected officials, objections reveal garden-variety partisan rancor: "It's 100 percent Democrat, basically," President Trump said of D.C. last May. Some who dismiss its residents' right to enfranchisement resort to racist dog whistles that erase the District's Black population. Senator Tom Cotton of Arkansas, who in June advocated for sending in the military to suppress the Black Lives Matter protests, said on the Senate floor in July that Washington would not be the same kind of "well-rounded working-class state" as Wyoming.
But D.C. residents aren't just the lobbyists and lawmakers who trade back pats on K Street. They're also artists, civic employees, and teachers. They're the oft-ignored low-wage workers who sustain the federal government, even when the president puts their lives in danger during a deadly pandemic. When the House chamber needed to be sanitized so Congress could resume its session, these staffers were the ones who scrubbed the halls while a maskless police officer stood watch. "As soon as I saw those seditionists storm the Capitol, my first thought was to the wonderful men and women that work in the Capitol, that clean the floors, that give tours, that operate the elevators, that keep our government functioning and do it because it's a job but because they also feel a sense of duty to their nation," Burch said.
There are many macabre lessons to be taken from Wednesday's attack. We cannot allow ourselves to forget this uniquely American tragedy. And even if Trump is impeached again, or steps away willingly later this month, the threats to American democracy will remain. "The president has a talent for sniffing out those places in the legal order where a would-be authoritarian can act out his ideal of governance with minimal restraint," Quinta Jurecic, the managing editor of Lawfare, wrote in The Atlantic last year. "Now that Trump has done the nation the uncertain favor of making those weak points known, the task is to shore them up to prevent similar abuses in the future." For the Congress members who'll convene once more in the days to come, there's one clear way to begin modeling democratic ideals. D.C. statehood isn't a legislative panacea, but it's certainly a start.