The Grapevine Looks a Little Different Today
What do Bridgerton, DeuxMoi, and Dickinson have in common? They capture the new appeal of anonymous gossip.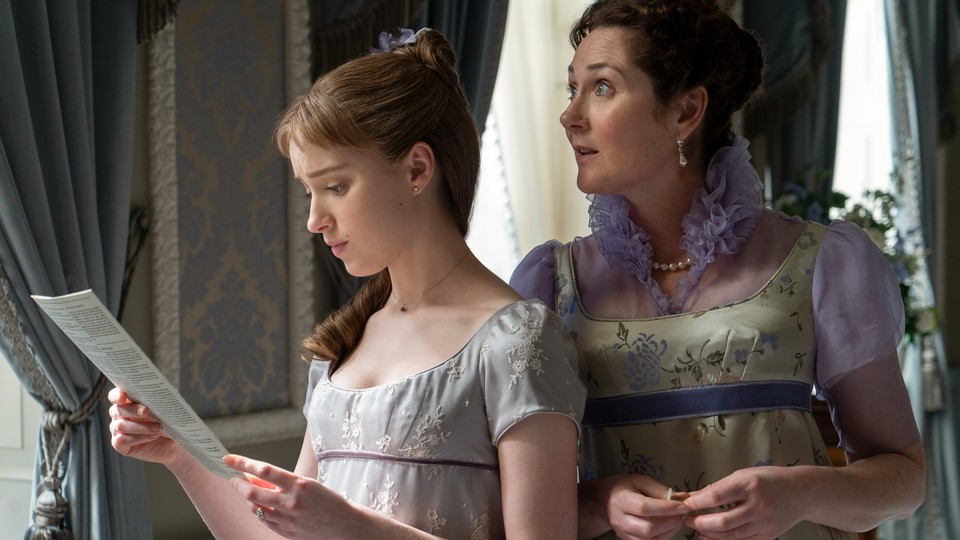 This story contains spoilers for Bridgerton and Dickinson.
In the Netflix series Bridgerton, everyone reads the pamphlets written by the pseudonymous "Lady Whistledown," Regency England's answer to Gossip Girl. Each issue targets the wealthiest and most powerful residents of London in 1813, revealing something new about the city's high-society ecosystem. Voiced by Julie Andrews, Lady Whistledown takes distinct pleasure in exposing—or even just threatening to expose—a scandal or two. And though she sometimes offers little more than a rundown of which couples danced together at the most recent ball, what she chooses to share can make or break a household's status.
Netflix viewers have been addicted to Whistledown too. According to the streaming service, Bridgerton has become one of its most-watched original series ever, and is projected to have reached more than 63 million households in its first month since debuting on Christmas. The show, which is based on the romance novels by Julia Quinn and produced by Shonda Rhimes, seduces with its tremulous sighs, feigned swoons, and montages of scenes between the sheets. But it also satisfies a particular, pandemic-induced craving: the need for anonymous gossip.
It's perhaps no secret that gossip has become a hot commodity lately, both on- and offscreen. Bridgerton was renewed for a second season yesterday, and the hit series Gossip Girl is set for a reboot on HBO Max this year. In real life, the pandemic has disrupted normal social interaction, leaving many nostalgic for the days of exchanging morsels of illicit information in person. "I miss the grapes and the grapevine. I miss the cocked eyebrow, the lowered voice, the precautionary glance around the room," one writer lamented in The Economist. "We've never needed the fizzy respite of good gossip more," another argued in O: The Oprah Magazine. Gossip, of course, isn't always good or accurate, but it hasn't vanished, either. Over the past year, it has simply evolved in new ways on social media while offering two of the same services it did to 19th-century Londoners—entertaining the public and checking those in power.
The gossip of the current moment tends to be an anonymously driven, curated, and crowdsourced enterprise. It often takes the form of Instagram accounts such as TikTokRoom and DeuxMoi, the latter of which has racked up more than half a million followers since the start of the pandemic. DeuxMoi posts tidbits about celebrities submitted by followers every day; all of it is unverified, and all of it disappears after 24 hours, which encourages frequent visits. The submissions are usually casual sightings (a tip about Sophie Turner and Joe Jonas grabbing coffee, for example), though occasionally a disturbing rumor gets shared. For the most part, as Vox explained, these gossip accounts are "meant to be fun."
Traditional tabloids haven't always treated celebrity minutiae with such a light touch. Popular gossip bloggers have tended to use a sensational tone to sell storylines about feuds, friendships, and heartbreak. But with the rise of both social media and pandemic-era social distancing, celebrities now have greater command of their public image. Gossip, especially from secret accounts, undermines that narrative control, often presenting information at face value. The anonymous administrator behind DeuxMoi told The New York Times, "I don't do any additional research. I'm not a reporter. … I will censor, but I don't edit. So you're seeing exactly what somebody is writing to me." New gossip accounts tend to operate outside the realm of tabloid media. (They don't appear to have relationships with members of a star's team, for one.) They do not hold themselves to anything resembling journalistic standards, existing only to surface daily rumors, whether true or false, potentially damaging or purely innocuous.
When wielded responsibly, gossip can be a means of challenging unequal power dynamics—something that Bridgerton understands. The season finale reveals Lady Whistledown to be Penelope Featherington (played by Nicola Coughlan), the overlooked and undervalued youngest daughter of a baron's family. As Penelope, she and her observations go unnoticed, but as her alter ego, she holds the entire town's attention. One of her reports details a scandal surrounding a belligerent lord, driving him out of town. Another pamphlet even targets the queen (Golda Rosheuvel) and her judgment, which is considered near-infallible among the high-society set. Many real-life gossip accounts that have taken off in the past year derive similar authority from their anonymity. Gossip that has spread on social media organically, without the help of dedicated accounts, has led to the justified scrutiny of figures ranging in influence from Hilaria Baldwin to Ellen DeGeneres. The attention that gossip provokes may not always be pleasant, but it encourages vetting—a crucial mechanism for separating fact from fiction.
The so-called "tea" can fine-tune the public's perception of people with significant reach, revealing flaws in their manicured images—and, in some cases, demonstrating our own changing attitudes. "I think that the conversations that we have about celebrities are always a reflection of our values and who we are at a certain moment," Elaine Lui, the journalist behind Lainey Gossip, told The Cut last year. After certain TikTok stars posted videos encouraging pandemic safety, for instance, TikTokRoom shared follower-submitted footage of them on vacation in the Bahamas, flouting those precautions. (Noah Beck, one of the TikTokers, defended the trip but added that their actions would have been criticized either way. "No matter what we do in life," he said, "people are going to say things.") Online rumors helped pave the way for DeGeneres's talk show to reckon with its allegedly toxic workplace culture. (Over Zoom, the host has since apologized to her staff; on air, she called herself "a work in progress.") Anonymous gossip can be trivial, but it can also be a sharp and potent tool—one that, despite not always leading to clear ramifications, can certainly lay the groundwork for them.
---
Bridgerton isn't the only show to depict the upsides of gossip in a way that resonates today. Dickinson, Apple TV+'s dramedy about the life of the 19th-century poet Emily Dickinson, also tackles the subject in its second season, which has been releasing new episodes on Fridays. But although Bridgerton explores the effect of gossip on class, Dickinson contemplates its effect on fame, as filtered through the dynamics of today's attention economy. If that sounds like a stretch, just know that Dickinson itself requires some mental gymnastics: The show deploys Gen Z dialogue, an anachronistic soundtrack, and flourishes of magical realism to underline the modern relevance of its heroine's experiences.
The second season explores Emily's (Hailee Steinfeld) struggle over whether to publish her name with her poems—in essence, whether to become the resident influencer of Amherst, Massachusetts. Early on, she meets a local newspaper publisher, Samuel Bowles (Finn Jones), who dazzles her with his knowledge about the goings-on around New England. "It's my job to know things before other people find out," he boasts. Impressed with him and heady with thoughts of her own potential greatness, she gives him a poem to publish. But as the season continues, rumors about Samuel's conduct with female writers challenge Emily's trust in him. In a fascinating, later-season twist, she becomes—literally—invisible to everyone around her, allowing her to investigate what she heard. She's like a superpowered gossip, able not only to gather others' secrets but also to confirm them firsthand in a way that modern Instagram accounts cannot.
In these scenes, Dickinson captures the intense sway of gossip. The thrill of it comes not just from the information itself, but also from what that information can do. Fame can confer enormous power, but gossip—the kind meant only to shine a light on the unknown, without malice—can keep such power in check. It's no coincidence that gossip has historically been traded by those on society's lowest rungs; both Bridgerton and Dickinson feature scenes with servants eavesdropping on the households they attend to, and both series focus on young women who realize that acquiring secret knowledge is the best—and perhaps only—way to get what they want.
The anonymous gossip hubs that dominate Instagram today appear to share rumors indiscriminately; the raw material they supply can be used by others to hold influential people to account. This style of gossip may not last. In a world where social distancing is no longer necessary, the users religiously checking gossip accounts will have more to do away from their screens. Celebrities will emerge from their posh cocoons to feed the tabloid cycle of speculation and analysis. Crowdsourced gossip fed to an anonymous curator doesn't always create the same spark that whispering in person does. As The Economist puts it, "reading online accounts of people's indiscretions is a poor substitute for the electrical charge of hearing them." Poor or not, though, the new era of gossip has arrived—as a storytelling device, and as a new normal of pandemic life. In public, people like to pretend they're above gossip, silently eyeballing the covers of tabloids rather than picking them up. But the truth is, everyone looks.