The Year of Ambitious TV Watching
In 2020, tackling 121 episodes of a single show was no longer as daunting as it once seemed.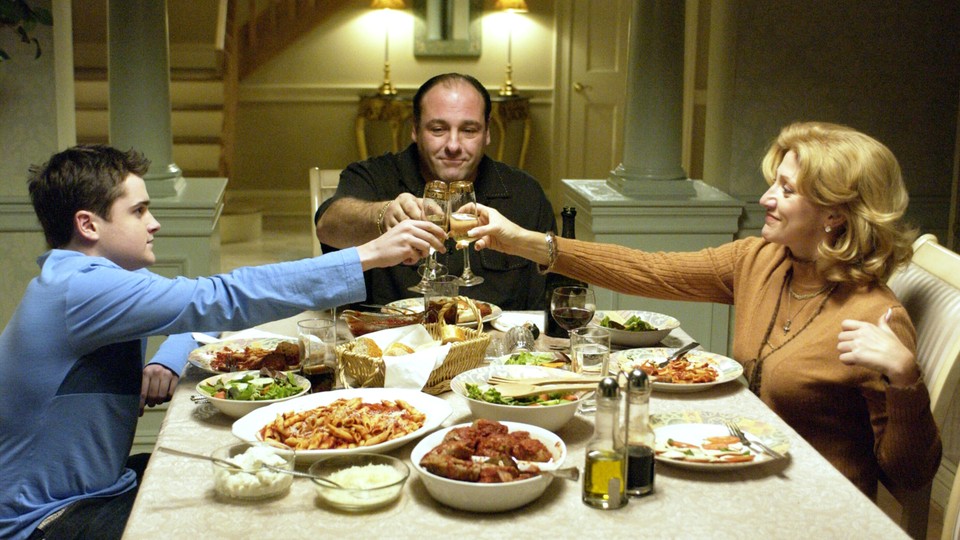 My biggest accomplishment of the year was a bloody mess. The project started simply enough, but within weeks, I found myself regularly staring at contorted limbs and gaping wounds. Soon few things marked the end of my workday more clearly than a grisly episode of Dexter, the mid-aughts Showtime series about a forensic analyst who moonlights as a serial killer. Tearing through all eight seasons of the sanguinary drama isn't something I imagined doing at the outset of 2020, or even in the earliest days of the coronavirus pandemic.
Back in March, I turned to old TV favorites for comfort, like countless other Americans who were stuck at home. I revisited the Manhattan of Sex and the City and the Brooklyn of Living Single, awash in a curious kind of nostalgia as I stared out the window of the same walk-up where I'd lived for years. Even under normal conditions, my taste in TV and film skews mellow. I'm more likely to pore over the Wikipedia entry for a scary movie than to subject myself to the sight of dismembered bodies. But as the monotony of life indoors took on a sharper edge in late spring, my standbys lost some of their luster. Unfocused and anxious, I needed TV to do more than lull me into a stupor. The threat of COVID-19, along with an economic downturn, was already radically altering the modern entertainment landscape. As the current shows I loved started truncating their seasons, the pop culture of the present felt like a constant reminder of the devastation unfolding around the country.
With no end to the pandemic in sight, I turned to bingeing unlikely TV shows and films to ground myself, unwittingly joining the many people who began watching old series they missed out on in real time. Whether it was The Sopranos or Survivor or Dexter, any show with a giant back catalog offered both distraction and the concrete promise of achievement, despite not being the most edifying quarantine project. Shows that once seemed prohibitively long, or intimidating because of their robust fandoms or towering critical stature, didn't seem so inaccessible anymore. Settling on a show that ran for seven full seasons (or 40) eased decision fatigue and guaranteed at least a few weeks of blissful simplicity—if in no other arena than our TV watching.
Publications noticed that certain time-consuming series drew renewed attention, sometimes breaking down how long different programs would take to binge-watch (Grey's Anatomy: 343 hours) or analyzing a show's unique quarantine appeal. As The Ringer's Alison Herman wrote of the 92-episode series Mad Men in May, "There's something both specific and paradoxical about going back to Mad Men in a time of crisis. I have the same attachment to Peggy, Pete, or Joan that I do to any fictional character I've spent more than a decade of my life with, but that fondness plays out against a darker emotional backdrop of ennui, anxiety, and mounting despair, whose indicative opening image is that of a man tumbling into the abyss." The show, she added, reportedly saw a dramatic uptick in both old and new viewers during the early months of COVID-19.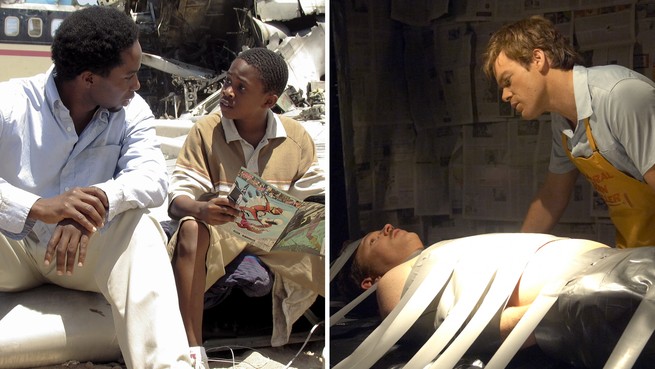 Binge-watching is hardly a pandemic-specific pastime, but TV has become sacrosanct under quarantine. Streaming numbers have soared as people everywhere rely on the medium for escapism, and some audiences have apparently become more willing to commit to full series. Many viewers are discovering the sensory comforts and expansive universes of shows such as The Great British Bake Off or Barefoot Contessa. Even TV showrunners, grappling with the new realities of production, are gravitating toward the series they missed: The Vida creator Tanya Saracho told The New York Times that she binged the effervescent British rom-com Lovesick, while the prolific director and screenwriter Greg Berlanti has seen his tastes shift toward survivalist series such as the long-running quarantine favorite Alone.
Back when my life was studded with the joy of consistent human interaction, I would've balked at the prospect of diving into the political morass of Aaron Sorkin's West Wing fantasyland or the eerie Louisiana bogs of Cary Fukunaga's True Detective. Why would I want to approach my leisure viewing like yet another item on my to-do list? In March, I remember scoffing at my colleague David Sims's recommendation to treat movie watching as a project. (Sorry, David!)
My skepticism faded quickly. Character-driven shows about crime soon became my balm for the unrelenting sameness of daily life. These worlds follow a consistent storytelling logic. The plot changes as time moves along, and time—unlike in real life—always moves along. At various points this year, I might not have been able to immediately recall the date, but I always knew what case the Miami Metro Police Department was working, and how close Dexter was to being discovered. Despite my discomfort with the propagandistic theater of most police shows, I appreciated the routine pleasure of watching Dexter (played by a brilliantly lupine Michael C. Hall) solve crimes by making sense of the mess in front of him. And like HBO's Barry, Dexter pushed the edges of my squeamishness, challenging my ability to keep watching onscreen violence instead of immediately turning away or looking through my fingers.
Besides increasing my capacity for tolerating TV bloodshed, the past several months have also presented opportunities to catch up with series and loved ones alike. I can't imagine ever starting Girls or even finishing the Scandal seasons I dropped off on when those shows were airing. Prior to the pandemic, the idea of clearing a weekend just to watch an old series that my friends have talked about for years would have seemed ridiculous—why do that when I could be outside with them instead? I might never have found an occasion to watch the first several seasons of Billions, no matter how much I believed my boyfriend when he said I'd like it. And I certainly wouldn't have carved out time for both of us to watch it together before March, when chaotic work schedules and ever-churning release cycles competed for our attention.
In its rare pleasant moments, the slowdown of this past year has highlighted how television and film can bring people closer even when we can't gather physically. I'd known anecdotally that tons of Dexter fans hated the show's finale, but watching it seven years after it aired, I finally counted myself among the indignant legions. (Will I ever forgive the screenwriters for the last two seasons of Deb's arc? Probably not.) Even if I never tweeted about it, I knew my snarky disapproval was part of something bigger.
Thankfully, this new sense of connection applies beyond telepathically bonding with strangers over a shared distaste for a show's plot choices. In April, a friend wrote that hosting a virtual Netflix party every Friday had become her only way to mark a week gone by. As we gear up to watch the first few Gossip Girl seasons this coming holiday, I keep thinking about her words from all those months back. It's hard to look at 2020 and find things to be grateful for. The shows and movies I've watched, alone but especially "with" others, haven't just provided levity. Diverse in tone and scope, they've all managed to anchor me during a year that's threatened to sweep many of us into the abyss. Even at their bloodiest, they've helped me see through the year's chaos.