What Two Late-Night Shows Learned From Covering Trump
Head writers weigh in on how comedy could change as the country transitions to a new administration.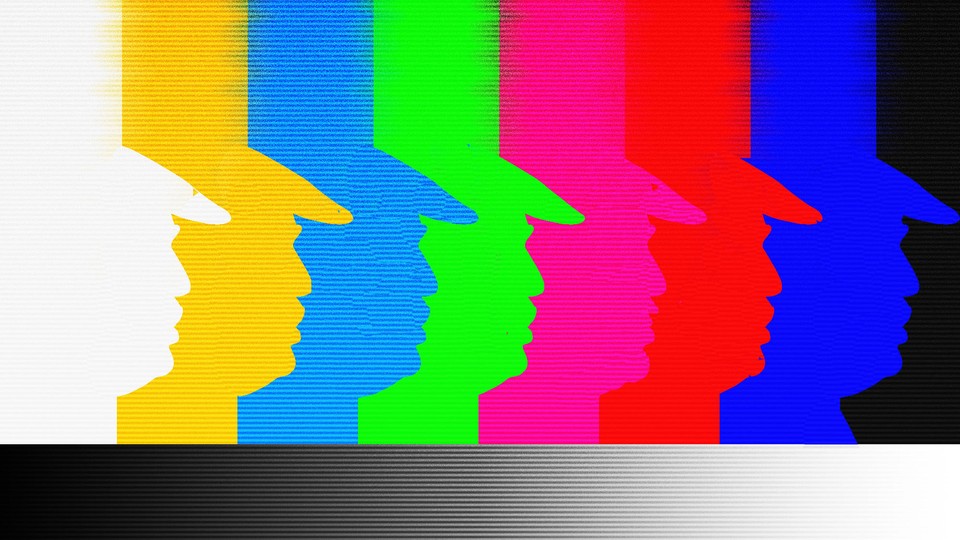 Kristen Bartlett's entire TV comedy-writing career has revolved around Donald Trump's presidency. She became a writer on Saturday Night Live in 2016, before joining the staff of the late-night series Full Frontal With Samantha Bee in 2018. And between the two shows, she's spent four years telling Trump-related jokes, parsing his press conferences, and trying to cover his actions without serving as a mouthpiece for his administration. That's why, she told me over Zoom late in November, "I feel like I haven't slept in four years."
So when, after a long week of ballot counting, the election was finally called for President-elect Joe Biden, Bartlett and her co–head writer on Full Frontal, Mike Drucker, felt relieved, even with the legal battles that followed. The outgoing president would no longer be a mandatory comic subject. "He gave a press conference after 6 o'clock the other day," Bartlett recalled. "We were just like, 'No. This is after hours. We don't have to cover him right now.'"
Trump has been a singular challenge for writers in the late-night landscape. An obvious target as a candidate—with his verbal gaffes, body language, and appearance contributing to facile impressions and shallow punchlines—he killed the joke when he won the White House. As president, he placed traditional late-night shows in "a rock-and-a-hard-place situation," Drucker, who worked as a writer for The Tonight Show Starring Jimmy Fallon until 2016, explained on the call with Bartlett. If a late-night show avoided Trump jokes, it'd be seen as out of touch; if it leaned into covering Trump, it had to do so seriously without coming off entirely humorless. "They're shows that for 40, 50, 60 years are more song-and-dance shows," Drucker continued. "Johnny Carson would talk about the news, but then he was doing fun bits with celebrities. Jay [Leno] was the same way, Jimmy's the same way … A lot of these hosts that weren't politically oriented had to work really hard to figure out what direction they should be going with this."
As a result, late night transformed. Some of the hosts who leaned into delivering political commentary—such as Stephen Colbert—saw their ratings soar toward the end of 2016 and in early 2017. News-satirizing series such as Full Frontal and Last Week Tonight With John Oliver went viral with in-depth packages about the president. Gone were the easy punchlines about Trump's hair; in came nuanced takes such as Seth Meyers's "A Closer Look" that elicited laughter and provoked thought. For a genre unused to shape-shifting, adapting to an audience seeking comedic interpretations of the news happened uneasily and indelicately; shows that treated Trump as mere entertainment drew backlash. A new style of late-night programming emerged, preferring politics-and-analysis to song-and-dance. And those already doing the former had to recalibrate after the election. On Full Frontal, for example, Bee hosted tongue-in-cheek segments, including one on whether Trump could read, that treated the candidate as a goofy outlier to actual politics. After he took office, the show regularly covered Democratic activists and delved into the Trump administration's policies.
That said, "it's not on a late-night show to make sure the public is thinking critically about their vote," Matt O'Brien, the head writer for Conan, told me. They're just going for laughs, ultimately. It's not journalism on display; it's just a comedian trying to have a fun moment. The line has certainly been blurred now, where we are taking our cues from late night just as we do the nightly news, which is certainly a weird position for comedians to be in."
It's a shift that may change yet again, as the country transitions to a new administration. Amid the pandemic, late-night shows have already had to face the challenge of filming without live audiences, making it even harder to tell whether their viewers want the genre to remain more infotainment than entertainment. With so much uncertainty, few late-night writers I reached out to would comment on their thinking on the subject of what happens next; those who did just told me how drained they've been from covering the past four years. All they know is that Biden's win gives them the opportunity to change their approach.
"The biggest myth and the most annoying thing you hear from people, including comedy people, is, 'You guys must be secretly upset that Trump's gone, because you had so much to do with him,'" Drucker said. "That was never the case, and it's so exciting that it's no longer going to be the case. Like, it's so exciting he'll be gone, and we do not have to cover him, and it's so frustrating people are like, 'But you're a little sad, right?' No. Not even a little."
But Trump did have the uncanny ability to dominate a writers' room. Whatever he did was often prioritized as the subject for a monologue or segment, Bartlett said, even though covering him meant risking a show's integrity. "We definitely had the experience of having to bump pieces we were excited to do because he went on TV and did something dumb," she said. "We made the conscious decision of, 'You know what, what he's doing is trying to get attention; let's ignore it,' or, 'No, what he's doing is putting a lot of people's lives at risk, and he's being flagrantly racist, and we need to cover that.' It's a balancing act."
Even on Conan, a series that refused to abandon its usual comedy bits during Trump's administration, the president still served as a flash point for behind-the-scenes strife. According to Matt O'Brien (no relation to Conan O'Brien), the host chose early on to avoid leaning into political content as much as possible and would bristle at telling political jokes, even though the writers talked politics "all the time, every day." Instead, Conan embraced segments that played to his strengths, only tackling the president when there was an undeniably absurd angle to be explored. The host's trip to Greenland, for instance, was predicated on Trump's hopes to purchase the land. Eventually, that discernment worked in Conan's favor, O'Brien explained. "There are a lot of shows going after the same piece of meat," he said. "I think it can probably feel exhausting to viewers, to writers, to everyone, really."
So with Biden in office, a late-night writer's primary struggle—over whether to cover what the president does or says—may become less of a burden. Biden is a less sensational public figure; there's little chance of him conducting contentious press conferences or chasing TV ratings with rallies. Even so, O'Brien pointed out, "he is the oldest president we've ever had. He's not immune to humorous angles by any means. It's just a matter of time before angles are going to emerge."
In the meantime, the bigger challenge may be in parsing what viewers want. "Coming out of 2016, a lot of comedy was the national mood at the time, which was: People were angry; people were ready to fight; people were marching every day," Drucker observed, pointing to the way The Daily Show took off during the George W. Bush administration by covering the Iraq War. "In the late-night space, the political interest of the audience ebbs and flows."
And now? "I think we'll be starting a shift in the other direction," Bartlett said. "People desperately want and need hope right now." She and the other Full Frontal writers will turn to topics such as climate change that the show could rarely cover because of the airtime Trump-related topics required, and they'll try to be "more goofy" in tone. Drucker said he's looking forward to analyzing "a whole new class of Batman villains" with the incoming administration—even if that potentially means turning off some left-leaning viewers. "There's going to be a while that especially Democratic voters are going to be like, 'You can't criticize [Biden]. You cannot criticize; we worked very hard,'" he predicted. "There is going to be a cushion of time when audiences might not like you taking a critical eye to them."
As for Conan, the show announced shortly before my interview with O'Brien that the host would be leaving the nightly series in June 2021 and moving to HBO Max to lead a weekly variety program. O'Brien assured me that any stress from calibrating the tone and humor of the show over the past four years had nothing to do with the host's call; instead, Conan simply wanted to lighten his workload after decades in the late-night game. "He's been on TV four or five nights a week now for almost 20 years," he said. "I don't think anybody will criticize him for not producing enough night talk shows."
Still, Conan's exit may be an indication of where the genre goes from here. O'Brien has written for the host across three different late-night shows, for nearly 500 episodes. In that time, he's observed the way the late-night landscape has become an ever more crowded space, with social media making headline-targeted joke-writing harder than ever. Soon, without Conan, "you'll lose the only show that does sort of straight-absurd sketch comedy, regardless of the news cycle," he said.
Indeed, the shows that remain will have to brave new comedic terrain going forward, but for now, late-night feels a little lighter to some. "We've been working underneath, like, a boulder," Bartlett explained, laughing. "It's so exciting to see what it might be like to not have that on us."