Miley Cyrus Is Perfect for the Rock-and-Roll Revival
The pop star's career is a case study in courting public expectations by rebelling against them.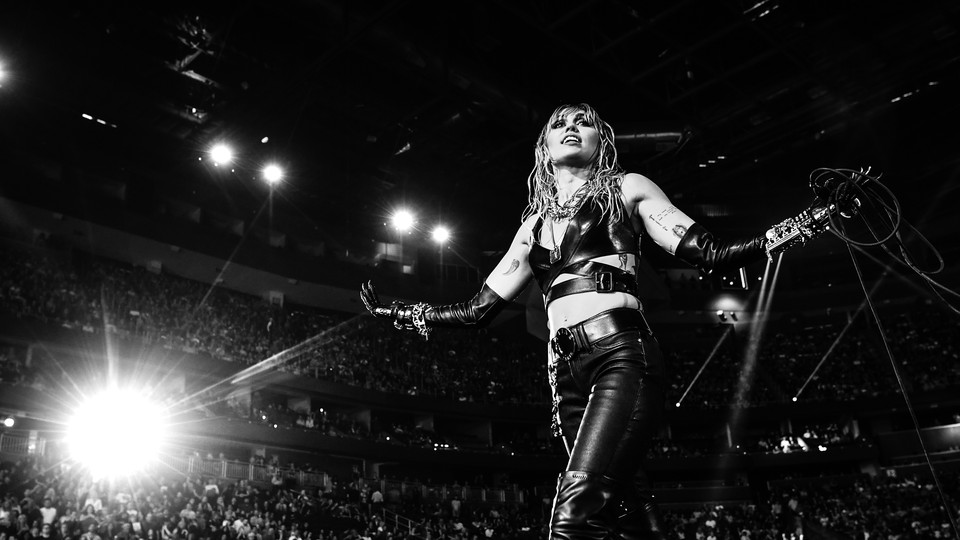 "I'm everything they said I would be," Miley Cyrus sings, her voice dewy with disappointment, on her new album, Plastic Hearts. She's apologizing to a lover she let down. But who's the "they"? It's you, the listener. It's the imagined audience of Hannah Montana, the fictional pop star Cyrus portrayed in her early teens on the Disney Channel. It's the actual audience of Hannah Montana who tracked Cyrus into adulthood. It's the casual fan and casual hater, the pundits and influencers, and the friends and rivals. It's basically everyone—because for the general public, people like Cyrus exist as examples of what fame does to a human life.
Cyrus knows by now that the concept of Miley Cyrus can't be separated from the expectations that have followed her since tweendom (and maybe even before, as the daughter of the country star Billy Ray Cyrus). As she morphed from kid's TV idol into tongue-wagging pop provocateur in the early 2010s—and then, across the decade, spent time as art punk, queer activist, and demure folkie—she has been ridiculed as excessive, desperate, fickle, insensitive, immature, and bad at twerking. She has never really bothered with countering the criticism. She has, instead, seemed to become more Miley with every phase, and by flipping her finger to the public, she's only drawn more interest. Cyrus's rowdy new album, out last Friday, is one of her stronger provocations.
It follows a period in her life that was especially exciting for the tabloids. In December 2018, her years-long, on-again, off-again relationship with the actor Liam Hemsworth culminated in marriage. "I wore a dress on my wedding day because I felt like it, I straightened my hair because I felt like it," Cyrus, America's most out-and-proud pansexual, wrote in an open letter afterward, "but that doesn't make me become some instantly 'polite hetero lady.'" Just eight months after the wedding, she and Hemsworth separated—right around the time she was spotted cuddling with the reality star Kaitlynn Carter. From the inside, as Cyrus's excellent breakup single "Slide Away" communicated, the split with Hemsworth was not easy. From the outside, as the gossip media's reaction conveyed, it had the feeling of prophecy fulfilled: Hollywood girl experiences a Hollywood marriage.
Plastic Hearts processes Cyrus's divorce in much the same way Cyrus has processed lots of things before—with a defiant embrace of how she's being perceived. It's trippy to think back to how the Disney show that made her famous was about a girl who leads a double life as an arena-packing pop star. As Hannah Montana petered out, Cyrus launched an actual pop career that remains viable today, even though her spot in the mainstream musical firmament in less obvious than it is for some of her peers. There really is no Miley Cyrus sound. There is, however, a Miley Cyrus voice, which is always molting from a pudding-mouthed mumble into a dragon-fire geyser. There is also a Miley Cyrus attitude, which blends cheekiness, earnestness, and a feeling that she's returning the camera's gaze with hundredfold intensity. (Tremble at such a gaze three minutes and 42 seconds into this recent performance.)
Though Cyrus's infamous teddy-bear rave at the 2013 MTV Video Music Awards solidified an image of the star as a hip-hop-appropriating, Gaga-adjacent nightclub diva, the truth is that was her vibe for only one album cycle. For most of her career, Cyrus has tried to be a rock star. Her Hannah Montana–era work served up mall-mosh fare in the lineage of Avril Lavigne, with some impressive forays into country balladry, such as on the 2009 hit "The Climb." Even in the circa-2013 stretch, "Wrecking Ball" showed how Cyrus's musical abilities suit the spaciousness, the drama, and the endless possibility for emotional escalation afforded by rock. Albums of abrasive psychedelia and cutesy folk then laid out the yin and yang of her creative inspirations: the druggy explorations of the Flaming Lips and the peppy country of Dolly Parton. Neither phase wowed the public, but you got the sense that she was exercising the rock auteur's prerogative to make music for the creator and not the audience.
A promisingly omnivorous, pop-minded 2019 EP hinted at the return of Miley Cyrus the world conqueror. Then her Malibu mansion burned down in a wildfire—taking with it some of the material for two follow-up EPs—and her marriage ended. She's said Plastic Hearts is a creative and emotional reset in the aftermath of these life events. It does still punch for the mainstream, but by making Cyrus's most full-throated, nostalgia-soaked, capital-R Rock statement yet.
Rock and roll has been mourned as "dead" or "irrelevant" for decades now, but there's an unmistakable revival going on lately in popular culture. The quavering vocal inflections of punk and the dissonance of industrial metal are common in the rap and new electronic-pop styles surging on TikTok. To be sure, this does not mean that there's currently a viable rock band anywhere in the upper reaches of the Billboard Hot 100. Rock now often works as an aesthetic talisman, opening portals to sensibilities and values that are out of fashion. When Harry Styles grabs for '60s hippy sounds, he's trying to access a bleary-eyed, openheartedness verging on naïveté. Lana Del Rey's vintage pastiches pine for a kind of serene, fatalistic surrender that in other contexts might be called toxic.
Cyrus's Plastic Hearts also treats rock as a tomb to be raided rather than an ecosystem to inhabit, but it's to jolt Cyrus, and the listener, into fresh liveliness and clarity. The first way to talk about an album like this is by listing reference points, which Cyrus makes easy by collaborating with Joan Jett, Billy Idol, and Stevie Nicks—and by including covers of songs by Blondie and the Cranberries on the deluxe edition. Throughout the album, there are scuzzy bass lines reminiscent of the Stooges. There are dorky synths like you'd hear in a Don Henley song. The extraordinary "Hate Me" has a melody that recalls the Strokes and several compositional ideas from the Beatles. A few tracks combine buzzsaw guitars with disco beats in the manner of Nine Inch Nails. The music video for "Prisoner" is pure Mötley Crüe, though the song itself is more inspired by Olivia Newton-John's aerobics anthem "(Let's Get) Physical."
Those comparison points may appear scattershot, but what Cyrus wants to conjure is made clear by the CBGB-evoking album cover shot by the legendary photographer Mick Rock. Cyrus is hung up on the late-'70s and early-'80s period during which punk and metal were finding a place on FM radio. She's gravitating toward the coke-fueled, pissed-off, self-gratifying sounds that accompanied post-Watergate disillusionment, nightlife excess, and record-high divorce rates. It's not all throwback: Present-day studio gurus such as Mark Ronson, Louis Bell, and Andrew Watt provide muscular, glossy production for ecstatic headphone listening. But Cyrus is definitely presenting herself as a historical caricature who's slithering through carpeted nightclubs for a fleeting high. "Love you now, but not tomorrow," she sings on the title track, a rhythmically and harmonically rich takedown of the L.A. social circuit. "Wrong to steal, but not to borrow."
She'd be working in the realm of pure cliché if her growl and her point of view weren't distinctive. Plastic Hearts is an angry breakup record, but the anger isn't quite directed at a bad lover (though the "Prisoner" video does close with a graphic saying, "In Loving Memory of All My Exes. Eat Shit."). Rather, she's livid at deeply internalized social expectations. The thrashing opener, "WTF Do I Know," captures her tussling with the fact that she doesn't even miss the former beau whom she once thought she'd be with for life, and the confusion in her voice is convincing. There are hints in the lyrics about the flaws of her ex, but really the focus of the song is internal: "I couldn't be somebody's hero." By the time of "Angels Like You," the mood is much sweeter—it's one of her most effective ballads—but the gist is the same: She's not able to reciprocate affection.
Indeed, the most bracing thing about the album is Cyrus's steadfast rejection of commitment, monogamy, or even romantic love as be-alls and end-alls. In the terrifically intense "Bad Karma," she dismisses the idea that actions have moral consequences so as to give her own self-interested behavior an existential justification. The ballad "Never Be Me" has the least inspiring arrangement of the album but the most jolting message: "If you're looking for faithful, that'll never be me / If you're looking for someone to be all that you need, that'll never be me." In an interview with Apple Music's Zane Lowe, Cyrus confirmed that she's in some ways uncoupling herself from the very idea of romantic relationships. "Animals pair up, y'know?" she said. "It's instinctual. It's not a choice. That's programming. I try to not be a total servant to the programming."
Asserting that you're fine being single isn't exactly groundbreaking. But the way that Cyrus renders her independence on Plastic Hearts—thunderingly, agitatedly, and with unnerving indifference toward the concepts of fidelity and eternity—makes it feel like another compelling provocation in a career full of them. On the waltzing closer, "Golden G String," Cyrus addresses her own record of scandalizing the public via skimpy outfits by essentially asking, "Who cares?" The answer, obvious in the fact that the song can expect an audience at all, is that lots of people care. Is Cyrus zigging and zagging so as to retain command of the spotlight? Or is she simply doing what she wants when she wants to do it? A tweet she posted after her breakup with Hemsworth suggests an answer. "You can say I am a twerking, pot smoking, foul mouthed hillbilly," she wrote, "but I am not a liar."