Ma Rainey's Black Bottom and the Liberating Power of Music
Netflix's new adaptation of August Wilson's play understands the singular magic of the blues.
Ma Rainey's Black Bottom begins with what seems at first like a harrowing journey. Netflix's new adaptation of the late August Wilson's play opens with a foreboding shot of the woods; the only noises are of crickets chirping, dogs barking, and young Black men gasping for air as they sprint through the trees. But then, we hear the music. As soon as the men detect Ma Rainey's thunderous voice spilling out from a tent where the famed blueswoman is singing, we know they're safe. Cradled by sweet sounds and the chatter of the crowd, they've made it home.
Released yesterday on streaming, Ma Rainey's Black Bottom tells the story of a fictionalized Ma (played by Viola Davis) gathering with her backing band to record new songs in a Chicago studio in 1927. The members of the band—Cutler (Colman Domingo), Slow Drag (Michael Potts), Levee (Chadwick Boseman, in his final role), and Toledo (Glynn Turman)—clash with one another and with the white managers producing Ma's album. But like Wilson's play, the George C. Wolfe–directed film isn't just about a brilliant singer, or about the entertainment industry. The story concerns itself chiefly with the role of music in documenting and, in some cases, defusing the unspeakable pains that birthed the blues. Even when no songs are playing, Ma Rainey is a reminder of Wilson's reverence for the genre. Just as the film takes care to depict its lead's formidable presence, it pays attention to the larger forces threatening Ma's artistry—and the lives of all the singers in the room with her.
Though some of the disagreements among the band members stem from prosaic matters, much of the conflict in the studio is rooted in the racism of the era. Even when the musicians criticize one another's style, musically or otherwise, they are really wrestling with their place in the country as Black men. When Toledo mocks Levee's ostentatious sartorial choices, he scoffs that "more niggas have got killed trying to have a good time than God got ways to count." Meanwhile, the white record-label managers treat Ma carelessly, seeing her only as a vehicle for their own profit. They botch her recordings, ignore her requests, and interrupt the band's studio time. Ma knows that the executives, Irvin (Jeremy Shamos) and Sturdyvant (Jonny Coyne), don't actually value her as a person. "They wanna take your voice and trap it in all them fancy boxes with all them buttons and dials, and then too cheap to buy you a Coca-Cola," Ma tells Cutler at one point. "They don't care nothin' about me. All they want is my voice."
Along with showcasing her vocal prowess, Wilson's play imbues the Georgia-born singer with the rebellious spirit that many observed in real life. As the blues scholar Steven C. Tracy wrote in his 1987 essay "A Reconsideration: Hearing Ma Rainey," "Ma's southern-drenched voice, echoing the field hollers and folk songs of 16-hour days among turn rows worked so unrelentingly that the laborers could see them in their dreams, had a depth of feeling matched by few other blues singers of her time." Fittingly, Rainey is played by a southern woman and one of the greatest modern actors: Davis (who won an Oscar for her role in Fences, another Wilson adaptation).
From Ma Rainey's opening musical performance in the woods, Davis throws all of her artistic gravitas into the portrayal. She moves with calculated swagger and delivers her monologues with rawness and precision. In real life, Rainey was sometimes mocked by northerners for her "country" mannerisms. But as Davis told Vanity Fair, Wilson displayed a deep respect for the speech patterns that came most naturally to southerners such as Rainey and herself. Plus, Davis said, Wilson "lets [Black characters] talk. A lot of times I don't get to talk. And then sometimes even when I do talk, I'm like, that's not what I would say."
The original play premiered as the second in Wilson's The American Century Cycle, a series of 10 works that each dramatized one decade of Black life in the 20th century. After the concert in the woods, Ma Rainey's Black Bottom (the only American Century play set in Chicago) doesn't have any more scenes in Georgia. But for Wilson, exploring the resistance baked into mundane parts of Black life meant emphasizing the southern sensibilities that Black people held onto even after leaving the region. The Netflix adaptation's screenwriter, Ruben Santiago-Hudson, sought to preserve Wilson's interest in conveying the "nobility and courage" of his characters. "Their values, their integrity, the way they do things, their recipes, and the way they worship and courted—I had to keep all that intact," Santiago-Hudson, a longtime collaborator of Wilson's and a playwright himself, told me. "The music of August Wilson is his writing. And his writing is exactly what he heard from the people."
Other writers might have portrayed Ma, a queer, dark-skinned woman born in 1886, as a wholly tragic character; Wilson's play and Santiago-Hudson's adaptation resist that narrow vision in part by focusing on the power of her music. Brash though she may be, Ma speaks with a defiance honed by years of working in an industry that first discarded her. To witness her singing is to feel that vulnerability and triumph, if only you know how to listen. Ma Rainey's Black Bottom stresses how integral music is to keeping its protagonist, and all Black people, alive. "White folk don't understand about the blues. They hear it come out, but they don't know how it got there," Ma says in the film. Wilson's writing underscores the legacy of suffering that created the blues—and the comfort the music provides. "You don't sing to feel better," Ma explains in one scene. "You sing 'cause that's a way of understanding life. The blues help you get out of bed in the morning. You get up knowing you ain't alone."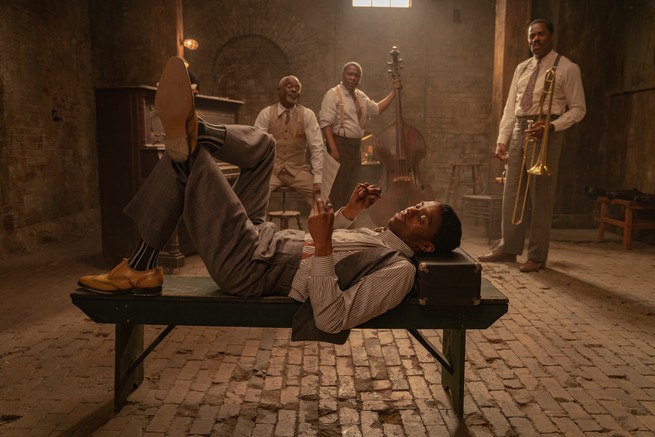 Wilson once called the blues "the bedrock of everything I do." As he told The Believer in 2004, a year before his death, "all the characters in my plays, their ideas and their attitudes, the stance that they adopt in the world, are all ideas and attitudes that are expressed in the blues." Like Wilson, Santiago-Hudson embraces the literary virtue of the blues. Both men have marveled at the genre's ability to tell the story of Black America, whose history in this country has largely been distorted by official accountings. "There's no clearer documentation of our journey than the blues," Santiago-Hudson said. "The blues'll tell you when the boll-weevil crop wiped out all the cotton. The blues'll tell you when Martin Luther King [Jr.] got killed." The genre gave Wilson the name of one Pittsburgh play and provided the thematic foundation of many others. And it has brought Black artists together and had a seismic influence on the cultural landscape of America.
Ma Rainey's Black Bottom doesn't suggest that making music is a panacea for Black people. The characters wrestle with the failure of white power brokers to grasp the depth of Black art; at the same time, the musicians grapple with racism's hold on other areas of their lives. Some of the movie's most affecting scenes feature Levee, a zealous and temperamental trumpet player, whom Boseman inhabits with characteristic grace. Levee alternates between deference to a label manager and confrontation with Toledo, who chastises the younger musician for pandering to an indifferent white executive. Boseman's Levee is a hothead, to be sure, but he's also a wounded man whose craft eases the grief of losing his father to racist violence. "Me and this horn, we's tight. If my daddy had-a knowed I was gon' turn out like this, he woulda named me Gabriel," he jokes early on. "I know how to play real music, not this old jug-band shit. I got style."
Through casual conversations such as these, Ma Rainey lays bare the effects of 1920s racism, and the frustration of seeing Black art filtered through white arbiters' visions of commercial success. In real life, Rainey was said to have reserved her best singing not for the technologically shaky records that her label produced, but for live concerts in front of Black audiences, who responded to her with wonder and genuine appreciation. In the film, the ecstatic opening performance is a visceral illustration of what Bonnie Raitt called "the fire and gusto" of her voice at Rainey's 1990 induction into the Rock & Roll Hall of Fame. The most famous blues artists of the early 20th century challenged white entertainment institutions, whether record labels or performance venues. These musicians demanded more ethical treatment than such institutions were accustomed to giving Black people, especially women. Billie Holiday, whose complicated legacy gets a thoughtful investigation in a recently released documentary, rejected the societal expectations placed on her. Like Rainey, she resented the gatekeepers who held her career in their hands even as the talent was all her own.
No matter how varied the arc of their stories, these women, like so many of their fellow musicians throughout history, found ways to keep the best of themselves for the people who most understood the traumas sublimated into their songs. With their music, they charted a path toward collective understanding, if not also healing. They did what Santiago-Hudson noted that Black artists such as Rainey—and Davis and Boseman—do best: "With a free hand, we express things that we protect and cherish inside."