How a Queer Icon Made the Holiday Film of the Year
Twenty years after becoming an LGBTQ icon for her role in But I'm a Cheerleader, the director Clea DuVall has broken records with Happiest Season, a rom-com about queer joy.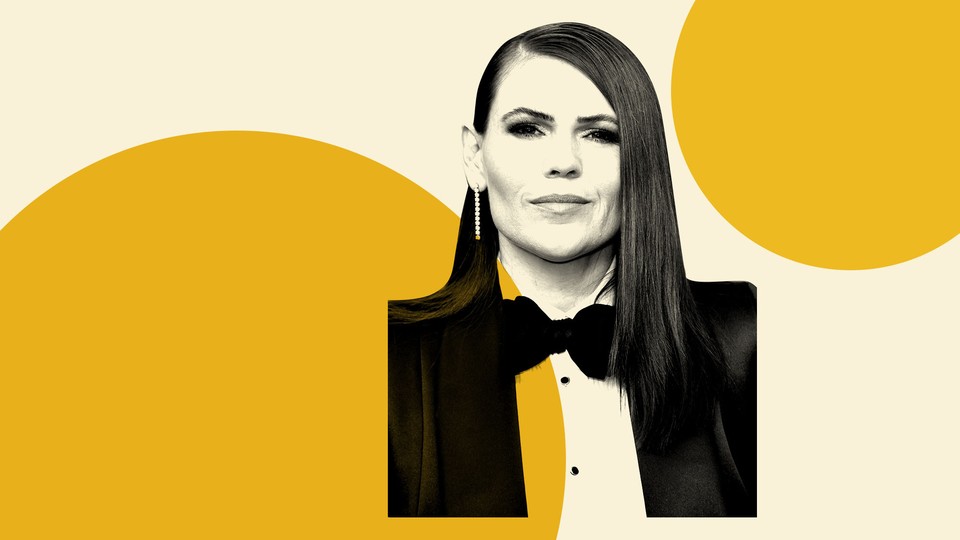 Ask Clea DuVall, the director of the holiday rom-com Happiest Season, for her favorite shot from the film, and she'll know her answer, no problem. It has to be the one of Aubrey Plaza, who plays Riley, in the bar scene. No, wait, she's a big fan of that shot toward the end of the film, when several of the lead characters are gathered in the living room. Or, actually, maybe it's—
"I have a lot," DuVall admitted as we spoke about the film over Zoom. "I feel like I watch the movie, and I'm like, 'Oh, I love that, and I love that, and I love that. I love the thing that Kristen did here, and the thing that Dan did here, and Mary here, and Victor! I'm so in love with everybody in the movie that it's kind of embarrassing."
It's early in December, and DuVall—sporting a festive red-and-green striped shirt—sounds beyond giddy about her work. She has good reason to be thrilled: Over Thanksgiving weekend, Happiest Season broke records on Hulu, attracting more new subscribers than any other film on the platform, and becoming the streamer's most-watched original movie during its opening weekend.
Happiest Season provides a welcome dose of warmth for audiences desperate for respite this year. The film is packed with pandemic-free, Christmastime touchstones. There's a walking tour of holiday decorations, a scene set at an ice-skating rink, and even a white-elephant gift exchange. But the film isn't just a holiday rom-com; it's the first major entry in the genre to feature a same-sex couple. Abby (played by Kristen Stewart) and Harper (Mackenzie Davis) must keep their relationship a secret from Harper's conservative family over the holidays. In that sense, DuVall, with her co-writer, Mary Holland, have made the yuletide truly gay.
Oh, don't groan; DuVall herself has also dropped a pun or two about her film. "I'm so grateful that this movie is out now, no pun intended," she said early in our call, grinning. The actor turned writer-director told me she's elated to see queer audiences connect with the movie, having drawn inspiration from her own holiday memories, including the time she accidentally came out to her mother in the middle of a fight on Christmas Day. "There is nothing torn from my life in a literal sense," she clarified, "but going home with people as the 'friend,' having people come places with me as the 'friend,' there is this very casual closeting that happens that I think is very relatable for a lot of queer people."
And, she hoped, relatable on a widespread level. DuVall's true aim for Happiest Season was to crash the thoroughly straight, thoroughly mainstream genre of holiday films. All of the conventional elements of the movie feel subversive because it's about queer joy. Yes, there are more LGBTQ-centric projects and visibly queer characters than ever according to GLAAD, but such stories rarely take the wide-release spotlight and reach broader audiences. Lesbian couples on the big screen in the past several years have mostly appeared in prestige art-house films, typically period pieces set in remote locations. Studio-backed projects happen less frequently; the last such rom-com about a gay couple, Love, Simon, hit theaters in 2018.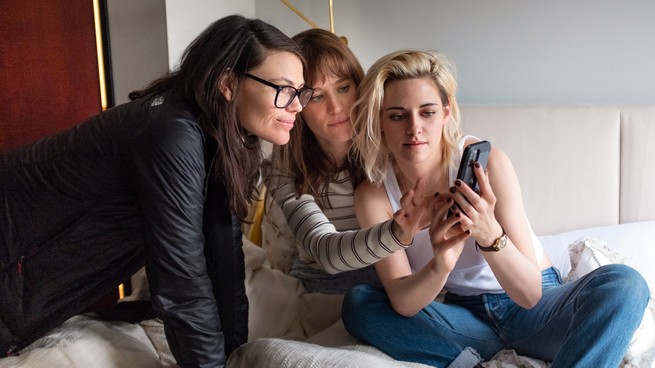 But with the pandemic shutting theaters down, Happiest Season replaced its original, Sony-supported rollout plan for thousands of theaters worldwide with a streaming debut on Hulu. DuVall saw the compromise not as a sacrifice, but a blessing in disguise. "The people who need it most shouldn't be in jeopardy to be able to go to a movie, and watch themselves be represented," she said. This way, even audiences without the means to travel to theaters can see the film.
And perhaps participate in the feverish social-media debate surrounding it as well. The film's typical rom-com ending has fueled arguments over whether Stewart's Abby chose the wrong romantic partner, causing the title to trend over Thanksgiving weekend. DuVall doesn't mind the discussion. It just shows how many more queer perspectives remain to be portrayed onscreen, she said: "My main goal for the film is to do well enough that it takes away any fear from more mainstream media from telling more stories, because this is one story of hundreds of thousands of millions of stories that deserve to be told."
---
DuVall has one of those Hollywood résumés that spans genres, budgets, and mediums. She's been an actor since she was a teenager growing up in Los Angeles. Sets were comfortable for her, spaces where she could blur the lines of fantasy and reality. She scored roles in cult hits such as The Faculty and Can't Hardly Wait early in her career, before moving on to a wide variety of projects, in which supporting roles have made up her bread and butter as a performer. She's been a dependable character actor in Oscar winners (Argo), irreverent TV comedies (Veep, Broad City), and pulpy dramas (American Horror Story). To the general public, she's one of those actors—the kind you know you've seen somewhere before.
But to a generation of LGBTQ audiences—and despite not being publicly out until recently—she's been a queer icon since the late '90s. In the 1999 satirical comedy But I'm a Cheerleader, which has a special director's cut out this week, DuVall starred as Graham, the love interest to Natasha Lyonne's Megan, a teenager coming to terms with her sexuality. The colorful, cheeky film, directed by Jamie Babbit and set at a gay-conversion facility, follows Megan as she and Graham secretly pursue a relationship.
Graham, all smirks and sarcasm, is painted as the "bad boy" of the ensemble, and the young DuVall plays her with a wiser-than-her-years, no-nonsense resolve. She's sharp, defying the rules of the camp and insisting that the only way to be gay is to pretend not to be. But as the film goes on, Graham's tough exterior gives way to reveal a character who's frightened and deeply unhappy, struggling to meet the expectations of her uptight father.
Offscreen, DuVall could relate to that side of Graham. "When we made But I'm a Cheerleader, I was 21 and very closeted. I was so happy to be in the movie and loved it so much, but there was also the side of me that was so scared," she explained. "To end up in this place where I am now, a 43-year-old happily married woman who is so comfortable with myself … That journey was one that was not always easy."
She told me she doesn't remember if she ever had a conversation with Babbit about her sexuality—"It didn't keep me from doing the movie," she quipped—only that she avoided the subject as much as possible off set. Throughout our conversation, DuVall repeatedly used the word destabilizing to describe her experience: It was destabilizing to be asked by journalists about her sexuality when she played queer roles, destabilizing not to know exactly how she was perceived, and destabilizing to have the same role that made her a star also make her a mark.
So DuVall retreated from the public aspect of a rather public business. Fewer red carpets, fewer interactions with the press, fewer chances to encounter journalists and paparazzi trying to out her. "I didn't want to feel like I needed to watch myself because people were in the bushes going, 'Oh! See? There!'" She mimed peering through binoculars, studying herself from afar. "So you out a young person and then what? What prize are you going to get?" She paused, choosing her words carefully. "It just didn't feel safe to me, you know? So I tried to make myself smaller. A smaller target."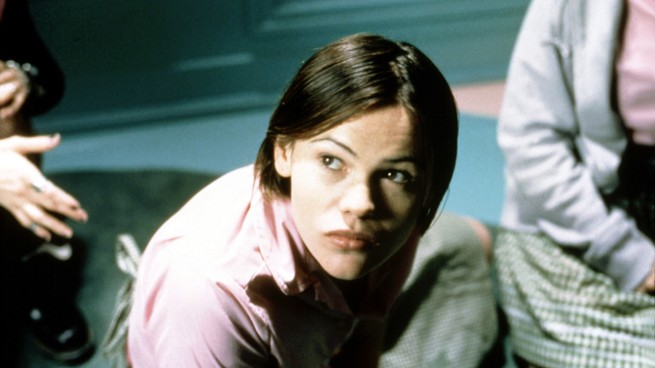 She was often the only queer person on sets, but she never had to be cagey about herself, because no one pried when everyone worked on a collaborative effort. Performing wasn't the problem; if anything, acting was both self-expression—experience can inform a role—and an escape. Sets and stages meant "a safe environment," she said. "You're in a sandbox. You can play in here." She drew an outline with her hands, boxing herself in. "And you can be safe in here. Don't get out of the box, because it's scary."
Until, eventually, it wasn't, she told me. Four years ago, DuVall spoke publicly for the first time about her sexuality. She mentioned it casually, while discussing her directorial debut, the indie dramedy The Intervention, as part of a panel. "Nothing happened," she said of the experience. "I was still there; I was still me. The earth didn't open up. And also …" She laughed, looking delighted by the memory. "Nobody cared! … No one was sitting around going, 'Well, is Clea DuVall gay or what?'"
Still, a public figure coming out, even without a Time cover and a daytime interview, remains a news story. The morning we spoke, the actor Elliot Page announced that he's transgender, launching a cycle of coverage. I asked DuVall about choosing to be a part of headlines after years spent avoiding them. The difference is, she explained, it happened on her terms. She'd been the one to determine that her character in The Intervention would be gay, and she'd been the one who spent years figuring out what felt comfortable for her as an actor and a public figure. "I've done a lot of work, and I still have a lot of work left to do, but I'm really proud of the growth that I have made in life, and I think embracing that, celebrating that, and loving that person is so important," she said. "I'm able to be happy because of that."
Happiest Season is the culmination of all that work. DuVall's search for a way to prolong that "sandbox" sensation she'd experienced on sets led her to directing in a style that felt "like silk," as Mary Steenburgen, who plays Harper's mother, described it. "What I love about directing is that it's not about me," DuVall explained, adding that creating a sense of ease from behind the camera came naturally after spending years in front of it. "I try to create an environment where everyone feels protected and safe enough to do their best work," she said. "I also try to create a set that is very calm."
Still, directing the film was "fucking terrifying," she conceded. While she worked, the weight of the film's significance sat in the back of her mind—the significance of its existence in terms of the industry, but also in terms of her personal journey. In 20 years, DuVall went from starring in a movie in which characters were sent to a gay-conversion camp to renounce their homosexuality, to directing a mainstream film in which the biggest controversy appears to be the protagonist's choice in romantic partner. "You know, to be able to even be on this Zoom and have a conversation with you and be completely open about it is remarkable to me," she said. "It just makes me feel so, so grateful. And …" She paused, and then smiled. "It's wild."
---
There is something both wonderful and painful about being the first of a kind. It's a victorious position to be in, to provide something long overdue, and an isolating position too, because uncertainty lies ahead: Will this open every door going forward, or is this only a flash in the pan?
For DuVall, seeing Happiest Season be called a "gay holiday rom-com" is complicated. "It's like, it's this movie, but it's this," she said, drawing boxes in the air again. "So it's not really this." Yet, even with the baggage, the film has become shiny, tinsel-laden proof of how mainstream queer narratives can be. After all, the story of Abby and Harper isn't just about coming out, but about two people feeling misunderstood by those they love the most. "I grew up watching movies with people who didn't represent my life in any way, and I still connected with them, and I still cared about them," DuVall said. "Creating a movie with LGBTQ characters in it can have the same impact, can reach people whose lives don't look like that."
Because of this, DuVall sees less risk going forward in telling queer stories in conventional spaces. If her own public coming-out could happen on her terms, then the weight of the label can fade too. When she, along with co-writer Holland and the producer Isaac Klausner shopped the script around to studios, many were "eager," she remembered, to bring the story to the screen. And though there's been a significant gap in mainstream gay storytelling, more studio films are on their way: The Ryan Murphy–produced The Prom hits Netflix this week, she pointed out, and the comedian Billy Eichner has a rom-com about a gay couple in the works that's backed by Universal. So, DuVall concluded with a chuckle, "It's not risky. If anything, it's an asset to a film that it is something new. And then, eventually, it won't be new."
She would know; she's seen how "eventually" works. Growing up, DuVall watched the TV show Facts of Life and saw herself in Jo Polniaczek (Nancy McKeon), the suit-wearing tomboyish transfer student who flouted rules and feminine styles. "She was not this traditional girl, and, if you can believe it, I was not either," DuVall explained. "It made me feel better about myself."
That confidence translated to her work. Her performance as Graham in But I'm a Cheerleader gave a generation of queer women someone to look up to: DuVall has been approached countless times by fans who tell her how the story makes them feel less alone. And now, if the response to Happiest Season is any indication, DuVall's work has resonated with a new generation of queer viewers. It's a cycle, DuVall explained, that gives her hope: "It will be less of a story soon [for a film to feature gay characters]," she predicted. "I definitely think we're living at a time where the danger around a story that is not told through the lens that we are all used to is not a negative thing; it's actually a positive." Maybe that sandbox can be bigger than it used to be. Maybe being out publicly doesn't have to be so destabilizing.

Whatever happens, DuVall will hold on to the warmth of those moments when someone tells her what her work has meant to them. That feeling of being understood—that's the feeling her characters chase in Happiest Season, the feeling she found in writing and directing her own stories, and the feeling that "transcends movies and TV and the jobs," she explained. "I mean, what an incredible gift [audiences] are giving to you, to allow you to be a part of their lives."