The Astonishing Duality of BTS
In 2020, the world's biggest band proved that it excels equally at massive spectacle and small-scale intimacy.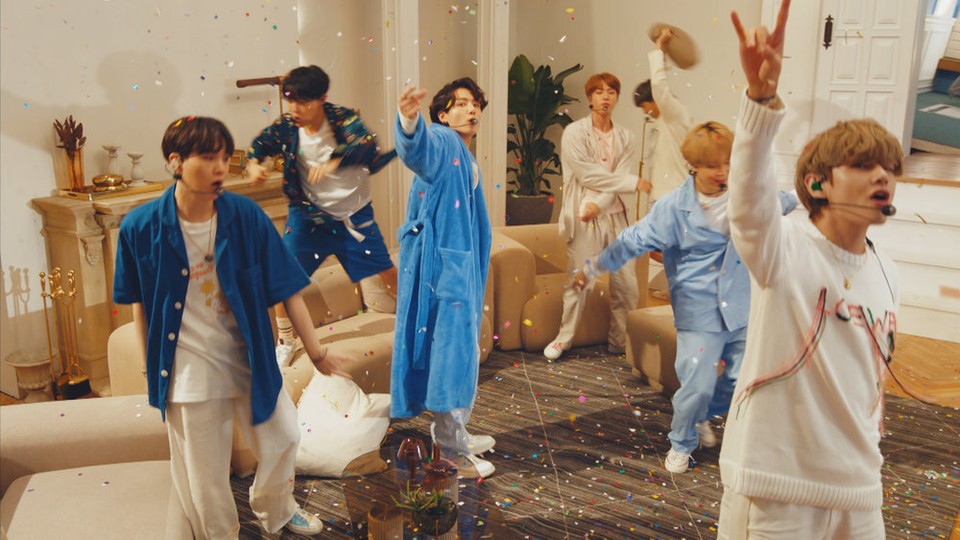 BTS has spent enough time in the pop-music stratosphere that it can be easy to forget, or surprising to learn, about the years they spent at the basement level. Back in 2014, for the first anniversary of their debut, the group's seven members celebrated by cleaning the tiny dorm they shared and cooking a nice meal. They recorded a video of themselves for fans, soaking seaweed for a traditional Korean birthday soup, blowing up balloons, vacuuming the living room, and decorating a cake. Their then-19-year-old leader, RM, attempts to peel an onion. "Man, I wonder how my mother did this every day," he says, sounding embarrassed. "The members always tell me not to drive or cook for the sake of world peace."
Unbothered by the cramped quarters, they seem giddy about reaching a career milestone together. Watching this video now—six years, seven studio albums, and a mountain of broken industry records later—isn't just an exercise in nostalgia for the early days of RM, Jin, Suga, J-Hope, Jimin, V, and Jungkook. It's a reminder of how the world's biggest band became so popular in the first place, an object lesson in making the most of what little you have.
Humility was useful in 2020, a year that brought the entertainment industry, as well as the world, to its knees. The coronavirus pandemic led to canceled tours and closed venues; when musicians performed, they did so from home or to empty seats. This new reality could've hurt BTS, an act known for putting on spectacular, high-energy live concerts. (Last year, they sold out a show at London's Wembley Stadium in 90 minutes.) Used to thriving on elaborately designed stages before tens of thousands of people, they suddenly found themselves recording TV appearances from their practice space and executing grandiose comeback routines with only staffers cheering them on. But although BTS is no longer a ragtag rookie group from a tiny label, their modest beginnings prepared them to succeed during a year that would have had them shrink their ambitions.
Originally, 2020 promised a world tour for Map of the Soul: 7, the group's most sophisticated album to date and one that fans hoped would land the pop stars their first Grammy nomination. "We've struggled this year," Jin told me in a recent email interview with the group. "Most of the plans that we arranged two years ago have vanished, but in the midst of this, we worked hard and … did something meaningful."
For BTS, something meaningful is getting nominated for a Grammy months after performing at the Grammys—and being the first Korean group to do either. They released their fifth Billboard Hot 200–topping album in a row with BE. They landed three No. 1 songs on the Hot 100, including their first English-language single, "Dynamite," and their dark-horse hit, "Life Goes On." Although "Dynamite" is BTS's biggest song thus far, RM said the latter achievement made him feel "double the joy because, as you said, it was a Korean song. It's a title given to us by our fans." Unlike "Dynamite," "Life Goes On" received virtually no radio play, so purchases and streams by fans pushed it to the top of the chart, making it the first Korean song to get there.
The hyperbolic language that surrounds BTS today (global phenomenon! K-pop sensation! First Korean act to …!) can obscure the fact that the group doesn't need big stadiums or epic set lists to reach audiences. They're comfortable talking to fans via impromptu live-streams in their PJs and posting stripped-down song covers on Twitter. And unlike many idol groups, the members of BTS have always addressed the subject of mental health in their lyrics and in their lives. That candor resonated this year in particular, as they've spoken about feeling angry, helpless, and depressed.
For his birthday earlier this month, Jin released a solo track called "Abyss," along with a note explaining that he wrote it after experiencing severe burnout and seeking counseling for anxious thoughts. When I asked whether he found this honesty difficult, he demurred. "I don't know if it was hard to share this," Jin said. "I think music is just another form of expression. If I hadn't written the text on the blog, I think people might have only guessed I was in such a state." Moved by his words and the song's delicate beauty, fans shared their own struggles on social media. "If you know how to deal with your mental health, it's fine to keep it to yourself," Jin said. "But if you don't, I think it's good you open up because you might have someone around you who knows how to handle it."
This week brought a duo of surprise SoundCloud releases also intended to comfort: Jimin's "Christmas Love" and V's "Snow Flower." Jimin, to accompany his bright, nostalgic track, wrote a message about feeling joy despite the social scripts of adulthood: "Instead of dismissing your feelings as 'cringey' or 'childish,' as we often do, I hope the day will come that we can all happily enjoy these emotions together." In his note for the sweetly jazzy "Snow Flower," V wrote, "This year felt like time stopped, and I think there will be many people who feel more anxiety and depression as the end of the year approaches. For at least today, I hope the white flowers come down to your hearts and you feel even just a little bit of warm comfort and happiness."
---
Against this backdrop of vulnerability, BTS also offered audiences solace through eye-catching stages. With their tour postponed indefinitely, they reconfigured their songs for online consumption. A cozy summer performance, and a two-day fall concert attended by nearly 1 million, tested the boundaries of virtual live shows. "I don't think our music or performance has been limited, but it's just the way we deliver the best performance that has changed," V said of the group's pandemic-era work. In 2019, one of BTS's best performances was a 37-minute set for South Korea's Melon Music Awards, featuring live horses, seven solo stages, a lung-busting dance break, and a sea of extras. In 2020, many of their best performances were much smaller but no less memorable. For The Late Late Show With James Corden, they sang "Life Goes On" while walking (thanks to editing trickery) through the same room over and over again, conveying the claustrophobia of quarantine life.
When BTS returned to the Melon Music Awards this year, they wowed not with scale, but with precise choreography. Jimin and Jungkook performed an exquisite and technically difficult pas de deux during the song "Black Swan." And the group unveiled an endlessly rewatchable Michael Jackson–esque dance break for "Dynamite." "To be honest, I think that performance was close to perfection," J-Hope told me. That means a lot coming from the group's famously meticulous dance leader. "It wasn't something that could be done by myself, but everything was in sync—the costumes, lights, choreography, camerawork, and the [other] members."
Sometimes, putting on the "best performance" meant no dancing at all. For their NPR Tiny Desk Concert in September, BTS did the whole set (mostly) sitting down. And "Life Goes On" is their first title track to not have official choreography. "We think the song's emotion goes better without any choreo," Suga said of the understated single, which feels as though it was written not from idols to fans, but from one human to another. The rest of BE comes across that way too—raw and personal, like a mixtape designed for your closest friends. In his "Life Goes On" verse, Suga references a gorgeously introspective song from his latest solo mixtape called "People," whose lyrics are similarly about taking an optimistic view of life's vagaries. "The message of 'People' was something like 'so what, life still goes on,' so I wanted to extend that message," Suga said.
At the end of 2020, as vaccine distribution begins, the notion that life goes on might sound more plausible than it once did. For BTS, as for everyone else, next year looks blurry, but it at least has a clear starting point. "2021 begins with the Grammys," J-Hope said. "They say that the first step [of the year] is important, so I hope we have good results there." BTS is nominated for Best Pop Duo/Group Performance for "Dynamite" and are expected to perform, although many fans were disappointed that Map of the Soul: 7 wasn't recognized. "It would be such an honor to earn a nod for our album some day," the group said.
BTS hopes that the rest of 2021 will bring with it the possibility of live concerts. "I want to show our fans our 'On' performance," Jungkook said of their most extravagantly choreographed song. "If fans want to see 'Louder Than Bombs,' of course we can perform" it too, he added. The year ahead is also expected to yield more solo work, including highly anticipated projects from V and Jungkook. "This year has been packed so I couldn't find that much time to work on it. I will try to perfect it next year," V said of his mixtape. "When I revisit the songs I made, I am not fully satisfied. So I honestly don't know just yet!" Jungkook said of his record's release, though he has written or produced multiple songs this year, including the dreamy ballad "Still With You."
Whatever happens at the Grammys, the nomination of "Dynamite" is a huge deal. As Jimin put it in a recent Vanity Fair interview, "Worldwide, when people look at us, they might not know what country we're from. They might not know what little rural town us bumpkins came from. And yet, there we are on the highest stage, in the running to win an award." That symbolism of the Grammys stage, the legitimacy it confers, is real. But BTS's humble past is ever present. They seem, at all times, to remember where they came from, even as they seek to not be confined by the label of K-pop. "Producer Bang [Si-hyuk] once told me that I was 'local,' and I think that's something that describes me accurately," RM told me, referring to the founder of BTS's label, Big Hit Entertainment. "I am also aware that, as millennials, limiting ourselves to a certain region is not desirable." With BTS, the only constant is their duality—they're "local" yet global, industry outsiders on the inside, equally skilled at intimacy and pageantry.
This year might have looked very different for BTS if their bond hadn't been forged in the crucible of those early years. "When life gets tough or it's hard to find motivation in life, what keeps me going are the relationships and the energy I get from them—our members, the people around me and our fans are all so valuable," Jimin told me. His sentiment is illustrated in the BE track, "Skit," which documents the group's reaction to learning of their first Hot 100 No. 1. The members yell and joke about skipping dance practice to grab a drink. The track ends with RM asking J-Hope, "Hope-ah, don't you think this is what happiness is like?"
Six years ago, BTS gathered for a quieter sort of celebration. At the end of their first-anniversary video, they sit on their dorm-room floor around a table piled with delicious food, laughing. They sing "Happy Birthday" to themselves. Then, together, they begin to eat. It looks like happiness too.