The 15 Best TV Shows of 2020
The year's most distinct and worthwhile series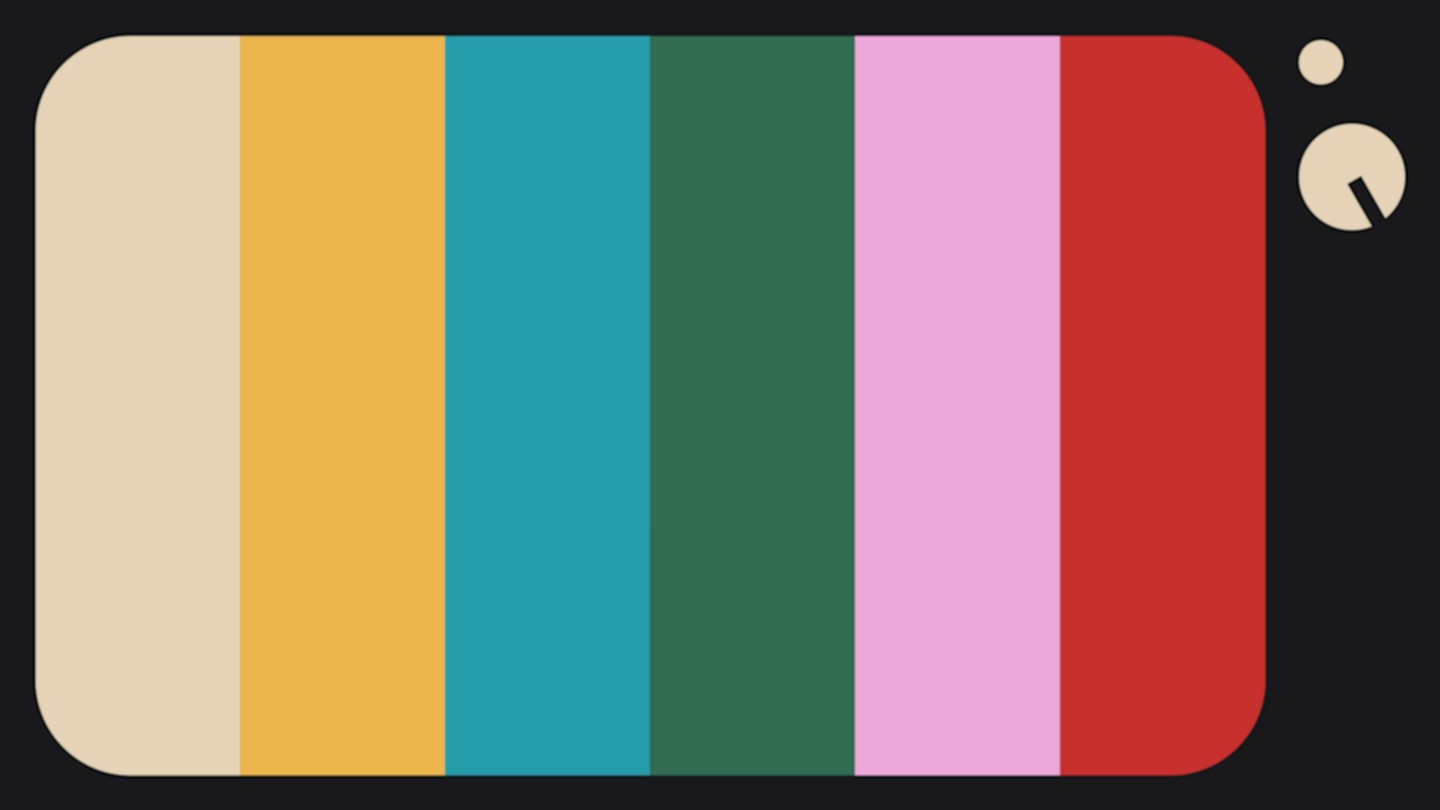 In 2020, TV became essential. With the closures of sports stadiums, concert halls, and movie theaters, the only stage fit for the pandemic turned out to be the small screen. And for those of us who could afford to spare time for such storytelling, TV took us to places where we could find some reprieve, whether in the form of a pulse-pounding mystery, a gut-wrenching romance, an endearing fish-out-of-water comedy, or a mind-boggling docuseries. We even found solace in following the ins and outs of a Los Angeles real-estate firm.
Like those of years past, this list attempts to highlight the shows—new and old, ongoing and canceled—that not only captivated us, but also impressed us by excelling in a specific arena. Some nailed tricky tones; others offered unforgettable performances or standout concepts. All of them went beyond mere entertainment, because in a year like this, TV had to do much more than just keep us tuned to the screen. The ones listed below enchanted us, excited us, and, most of all, helped us make it through.
---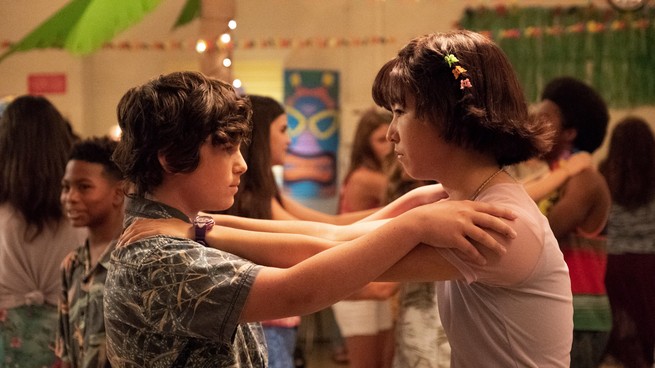 ODE TO ADOLESCENT BFFS: PEN15, HULU
When Pen15 began, the 30-something creators and stars, Maya Erskine and Anna Konkle, drew laughs by perfecting the physicality of tweenage best friendship. As their 13-year-old onscreen counterparts, they seemed inseparable, clinging to each other to survive the horrors of middle school. But in its second season, Pen15 transforms into a more insightful show, as Maya's and Anna's individual conflicts strain their friendship. Anna's parents are separating, Maya suffers her first heartbreak, and though they get up to their usual antics to cope with the turmoil, something has changed between them. What if their interests no longer completely align? What if their insecurities don't either? Pen15 mines much of its humor from observing how, at 13, adulthood appears to be the solution to all problems. But what raises the show from mere cringe comedy to heartfelt character study is its understanding that at 13, adulthood also starts to reveal itself to be much more complicated than it seems.  — Shirley Li
Also noteworthy: Never Have I Ever (Netflix)
---
AUTEURIST VISION: I MAY DESTROY YOU, HBO
Much of what happens in the brilliant, biting I May Destroy You revolves around a sexual assault that the protagonist, Arabella—sublimely played by the series's creator, Michaela Coel—cannot fully remember. That fact makes it hard for Arabella, a talented but reckless writer, to process what happened. Based in part on an experience Coel had, the series follows Arabella as she probes the confusing language of consent, parses her own views on sex, and struggles to write about her trauma. What does it mean if an incident feels wrong in retrospect? How can anyone define or interpret a sexual experience "correctly"?
Coel treats these questions with a steady, sensitive, and lyrical touch—and even some levity in just the right moments. Each episode of I May Destroy You unlocks a piece of Arabella's history and shades in the ways her rape has transformed her worldview and self-regard. The result is a confident, empathetic reflection on how trauma can shrink a person's world, force it into orbit around a single event, and realign her emotional center of gravity. It also ponders how the weight of all that can be eased when handled with care.  — S.L.
---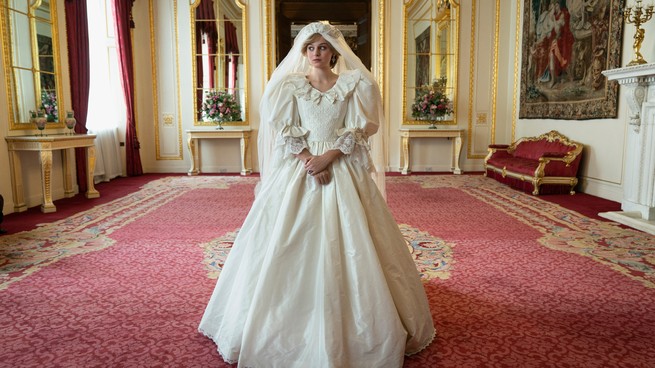 ROYAL BINGE: THE CROWN, NETFLIX
The latest season of The Crown is sometimes shorthanded as "the Diana one." That's fitting—the season does tell the story of how Lady Diana Spencer joined the royal family—but it also doesn't quite do justice to a stretch of episodes that are darker and deeper than any that have come before in the series. The Crown's Season 4 is a meditation on betrayal: of Princess Diana, yes, by a royal family who demanded she be something she wasn't, but also of a nation whose own dreams for the future would never fully come true. In The Crown's telling, Margaret Thatcher's Britain is a place of austerity both fiscal and otherwise, cold and bleak and full of lurching despair. Violence is everywhere in this show about broken fairy tales: Cars careen too quickly, hinting at what's to come; a boat explodes in an act of terrorism; a buck that has wandered onto royal grounds is stalked and, finally, felled. This doesn't always make for pleasant viewing, but the message fits the subject: No one in this world—even and especially the people who claim to be above it—is exempt from the ambient threat.  — Megan Garber
Also noteworthy: The Great (Hulu)
---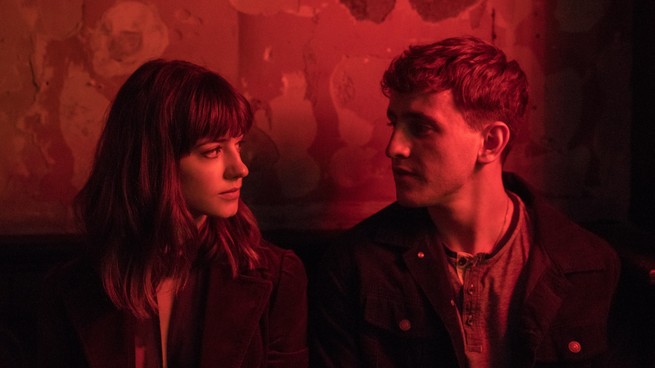 STELLAR LITERARY ADAPTATION: NORMAL PEOPLE, HULU
Normal People, the much-lauded Millennial author Sally Rooney's second novel, is a wrenching exploration of young romance in all its uncertainty. In her writing, Rooney brings torturous precision to her depiction of Marianne and Connell's stochastic courtship. I'll admit, I was skeptical that a TV series could capture the exquisite agony of the novel's characters. But Rooney isn't interested solely in pain, as she told my colleague Sophie Gilbert: The author works "to take the mundane, unglamorous difficulty that we all have just being alive, and to allow romance to infiltrate that." Daisy Edgar-Jones and Paul Mescal, the leads of the Hulu series, capture that tension with remarkable grace, which makes the series so compulsively watchable. The pair imbue their performances with all the gravitas that Rooney's characters command on the page: They are alternately wounded and caustic, desperate and soaring. It's hard to look away, and harder still not to hope that they keep finding ways back to each other.  — Hannah Giorgis
Also noteworthy: Little Fires Everywhere (Hulu), My Brilliant Friend (HBO)
---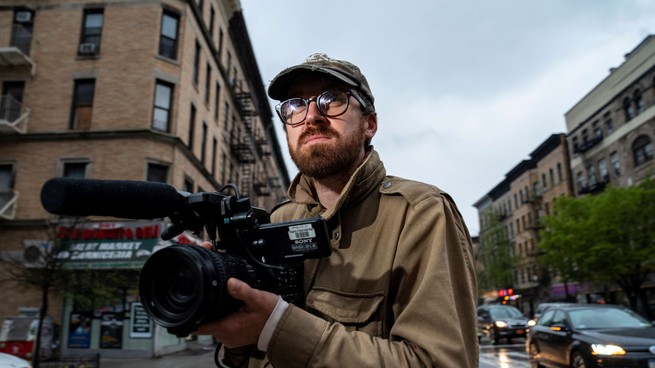 UNEXPECTEDLY PROFOUND DOCUSERIES: HOW TO WITH JOHN WILSON, HBO
You know when you glimpse something out of the corner of your eye and do a double take? Watching How to With John Wilson feels like that, but in 25-minute-long chunks. The docuseries isn't a conventional one; it's more a collection of clips curated from hours of footage Wilson accumulated while wandering New York City. His camera is his armor, a way for him to capture the oddities of everyday life and attempt to make sense of it. What he notices then becomes the amusing, sometimes baffling, often profound backdrop for his narration. (A shot of a discarded paper cup drifting into a drain, for instance, illustrates a thought that Wilson has about burnout.) Wilson is an endlessly and hilariously curious observer; in a behind-the-scenes interview, he reveals that he once worked for a private investigator, hence his talent for combing through film in search of eye-catching moments. Produced by the similarly eccentric comedian Nathan Fielder (Nathan for You), How To is difficult to describe. Part of the charm and poetry of every episode comes from never knowing where Wilson, in his meandering search for meaning, will end up. It's best to follow his lead and see for yourself.  — S.L.
---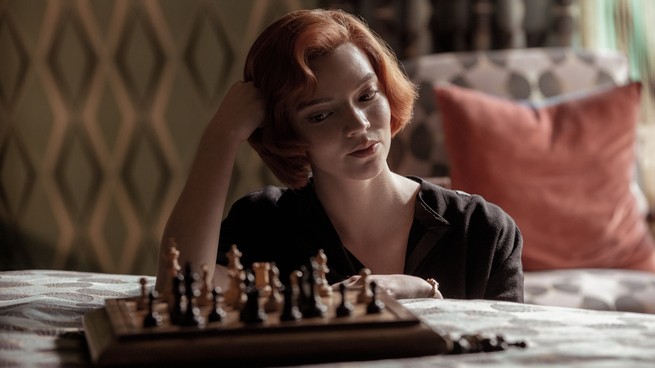 EPIC SPORTS DRAMA: THE QUEEN'S GAMBIT, NETFLIX
If you'd told me at the beginning of 2020 that one of my favorite shows by the end of the year would involve nearly seven hours of chess, I would've told you that was impossible; I don't even play chess, and I was far too busy to be sitting at home watching a show about it. But The Queen's Gambit isn't really about chess—it's more about the dangers of obsession, the allure of self-sabotage, and, most of all, the thrill of finding your calling. Based on Walter Tevis's novel, the series isn't fully faithful in the details of its adaptation, but it masterfully captures the energy of the book with its tight pacing and captivating ensemble of chess devotees. Anchored with a magnetic lead performance from Anya Taylor-Joy as the prodigy Beth Harmon, whose drug and alcohol addiction both aid and damage her genius, the show offers a portrait of an unrelenting heroine that not only has the hallmarks of a terrific sports drama (think career-long rivalries and intense showdowns) but also wraps up with a superbly satisfying ending. In other words, it's a small-screen checkmate.  — S.L.
---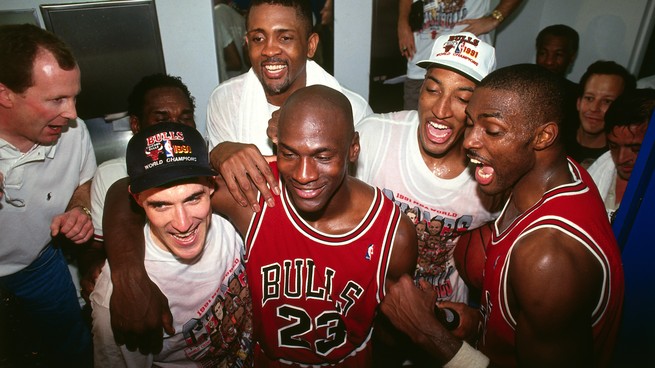 EPIC SPORTS DOCUSERIES: THE LAST DANCE, ESPN, NETFLIX
When the pandemic put almost all sports on pause, The Last Dance arrived just in time to fill the void. Never-before-seen footage from the late '90s of Michael Jordan's final, championship-winning season with the Chicago Bulls, and scores of interviews with bold-faced NBA names, produce an embarrassment of storytelling riches. With the scope and tone of a superhero epic, the series skips through the span of four decades to recount the origins of the Bulls dynasty—and to explore the ways in which Jordan's overwhelming talent, well, overwhelmed not just the sport of basketball, but also its culture. Yes, The Last Dance required Jordan's approval to be aired, but even though the 10 episodes were an authorized look at the NBA legend, they also provided viewers with a thorough understanding of Jordan's self-perception. Meme-fueling scenes of him reacting to others' criticism and admitting to his bullish attitude helped make the series more than a history lesson. It's a rare glimpse of a sports legend coming to terms with his legacy.  — S.L.
Also noteworthy: Cheer (Netflix)
---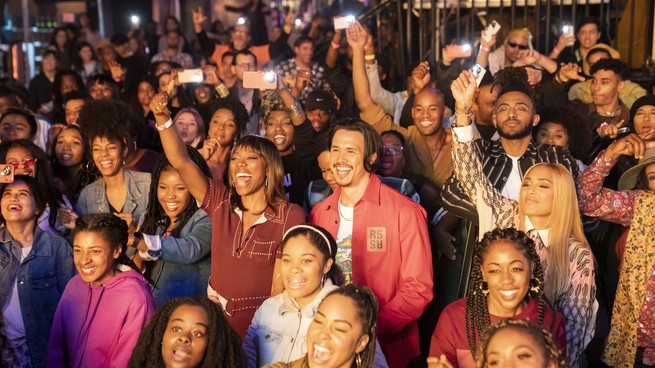 ANATOMY OF A FRIENDSHIP: INSECURE, HBO
One of my favorite continually updated ledgers this spring was Vulture's cheekily titled  "A Breakdown of the Breakdown of Molly and Issa's Insecure Friendship." After every episode, the writer Chris Murphy refereed the latest conflict between the two leads of Issa Rae's Millennial dramedy, tracking over time the development of minor squabbles into a full-on rift. The starkly divided camps suggested by "#TeamIssa" and "#TeamMolly" are a bit false. By the end of the season, most viewers agreed that Molly (played by Yvonne Orji) had largely failed Issa (Rae); some even called Molly the show's villain. Amusing as these jokes might be, they belie the depth of this season's character study. In its fourth season, Insecure leaned into its best instincts by exploring the friendship between the two women, and revealing details about each in the process. It delivered on its earliest promise, showcasing two friends who are unquestionably flawed, and who sometimes run afoul of each other without intending to.  — H.G.
Also noteworthy: Dead to Me (Netflix)
---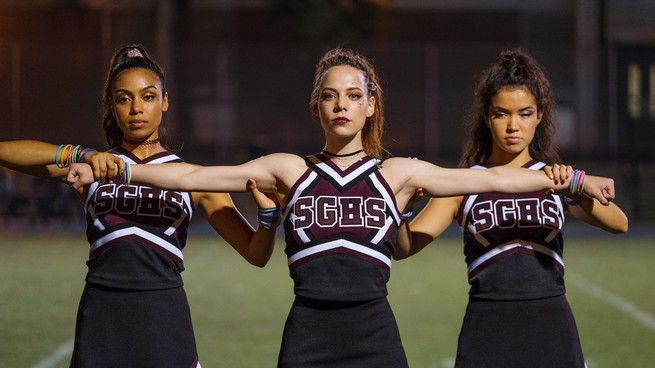 CANCELED GEM: DARE ME, USA
Glitter and pom-poms shouldn't pair so well with a murder mystery. Yet the peppy positivity and fierce discipline of cheerleading contrasts beautifully with the genre's messy violence in Dare Me. USA Network's addictive, seductively shot adaptation of Megan Abbott's novel follows a pair of best friends rattled by the arrival of their high-school squad's enigmatic new coach. One girl, whose niceness masks her guile, becomes enamored with the prospect of a mentor; the other, the bitchier of the two, sees the coach's determination to elevate their squad as a threat. Together, the three form a twisted, emotionally intimate triangle that makes Dare Me a potent watch even before the blood starts to spill and the secrets become not so fun to keep. Featuring charismatic performances from Herizen Guardiola, Marlo Kelly, and Willa Fitzgerald, the noir-infused drama elegantly unfolds into a slow-burn thriller that proves how teenage obsessions and female ambition can be anything but innocent.  — S.L.
Also noteworthy: Stumptown (ABC)
---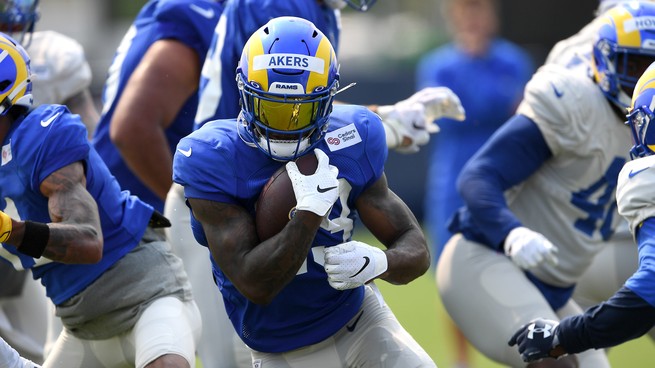 TOUGH DOCUSERIES: HARD KNOCKS: LOS ANGELES, HBO Sports, NFL Films
Culture takes time; as a result, many of the shows that aired in 2020 addressed the year's traumas with a partially accidental relevance. On Hard Knocks, though, the traumas are the point. The 15th season of HBO Sports' documentary series is framed like the ones that came before: It's an inside look at NFL training camp, focusing on individual players and highlighting the extremes—of risk, of reward, of power, of exploitation—that come with football careers. This year, though, the standard way of doing things worked only so far. The season's first episodes find L.A.'s Chargers and Rams coping with the onset of the coronavirus pandemic: nasal swabs, Zoom coaching sessions, the looming threat of contagion. Later episodes—filmed just after the killing of George Floyd—find the teams grappling internally with police brutality and the politics of activism. The NFL is itself long overdue for a reckoning, which can make Hard Knocks, a documentary that occasionally reads like an infomercial, as uncomfortable to watch as it is clarifying. But there's raw power in a show that embraces its status not just as entertainment, but also as an artifact—a work of escapism, until it isn't.  — M.G.
Also noteworthy: Jeffrey Epstein: Filthy Rich (Netflix)
---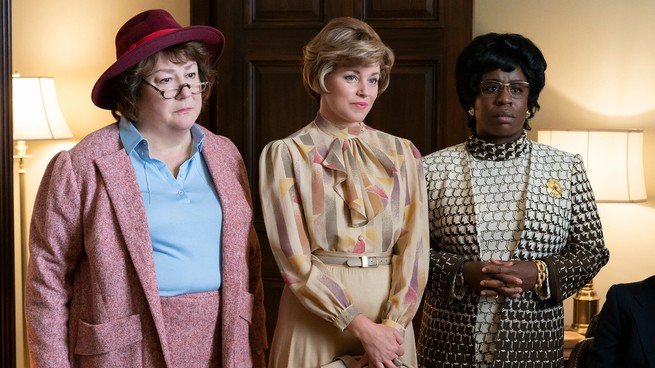 TIMELY POLITICAL DRAMA: MRS. AMERICA, FX ON HULU
The success of Mrs. America is partly a matter of its prepositions: The show's examination of the failed passage of the Equal Rights Amendment in the 1970s takes place both within the women's movement and beyond it, looking by turns inward and outward. It is the story, most directly, of Phyllis Schlafly and Shirley Chisholm and Gloria Steinem (and Flo Kennedy and Bella Abzug and Betty Friedan and many others) cooperating—and often competing—to realize their own varied visions of the future. But it is also a parable about history's untidiness. Selectively fictionalized in its dialogue and epic in its sweep, Mrs. America could have read as historical iconography: big, broad, just a little bit cartoonish. Instead, the show shines in its smallness. It cares above all about the banalities—quirks of personality, accidents of circumstance—that shape human events just as readily as the glossier stuff does. As it plays with its own perspectives, the series considers what it means to live in the difference between inside and outside, inclusion and exclusion, intimacy and surveillance. The effect is aptly destabilizing—an exploration of progress and backlash that understands how the one can become the other.  — M.G.
---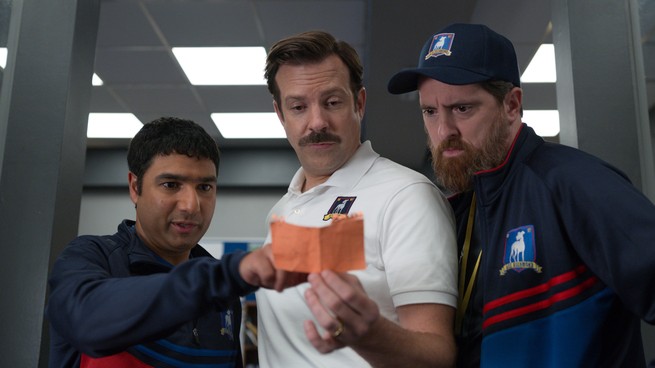 FISH-OUT-OF-WATER SHOW: TED LASSO, APPLE TV+
Ted Lasso is the happiest of mediums: The sitcom about an American football coach brought on to lead a British soccer team is charming but not smarmy, smart but not pedantic, heartfelt but clear-eyed too. I find myself describing the show to those who haven't watched it as "humane"—which I realize is a weird quality to associate with a sitcom, but which I think might also be, at this particular moment, the best one there is. In a time when "toxic masculinity" is the stuff of daily headlines, the show is incisive, and insightful, about manliness. In an era of poisonous partisanship, it offers a nuanced celebration of teamwork. Ted Lasso's 10 perfectly paced episodes are studies, like Ted himself, in the art of under-promising and over-delivering: They seem to be about soccer, but they're about more than sports. They center on an American, but care deeply about everyone on the team. The exceptions, here, are the rule: Silly but witty, wacky but wise, brilliant in a way that is almost stealthy, Ted Lasso is a sitcom that delivers much more than comedy.  — M.G.
Also noteworthy: Emily in Paris (Netflix)
---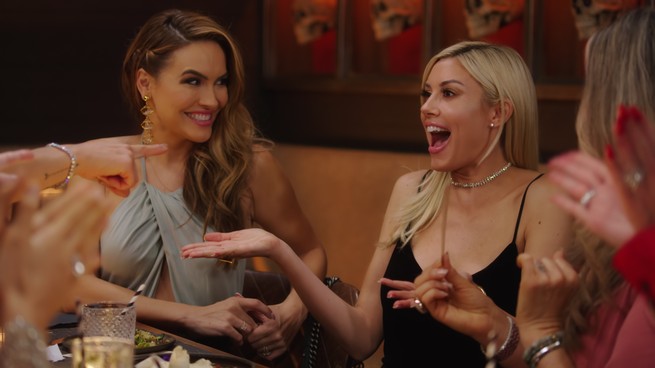 DOMESTIC COMFORT: SELLING SUNSET, NETFLIX
This year, I've thought a lot about the spaces we're all occupying, about how "small elements of home design can have significant consequences," as my colleague Megan Garber wrote way back in March. My obsessive interest in what home (and neighborhood) design can mean for different people's experiences of the pandemic  led me to a certain television phenomenon: the deliciously messy real-estate reality series Selling Sunset.

Like many shows about the vapidness of the über-wealthy, Selling Sunset is best at its most ridiculous moments. In one memorable sequence, the show's most ostentatious agent, Christine, suggests staging a themed open house for one of her clients. The client cautiously agrees, noting that she'd like something low-key, only for Christine to suggest that they throw a "Burgers & Botox" party. The thrill of Selling Sunset isn't just in hearing Christine say such ridiculous words aloud, though; it's in knowing—and then seeing—that most of the firm's Hollywood clientele will eat them up.  — H.G.
Also noteworthy: Million Dollar Beach House (Netflix)
---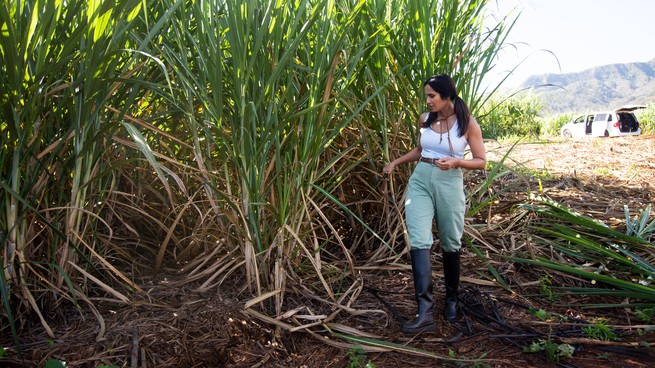 FOOD FOR THOUGHT: TASTE THE NATION, HULU
As a culinary travelogue hosted by the food-show mainstay Padma Lakshmi, Taste the Nation might seem like a casual comfort watch. But the show does more than offer a menu of recommendations; it's an in-depth examination of what "American" cuisine means. Each episode finds Lakshmi in a new location, tracking down the history of local dishes and interviewing a variety of subjects, including chefs, food writers, and farmers. In her conversations, Lakshmi strikes a careful balance between lighthearted discussion about a dish and probing interrogation of America's effect on cultural cuisine. Often, she finds that the food introduced by an immigrant group is accepted long before the people who cook it are seen as Americans. In that sense, Taste the Nation does what few food-centric shows manage to do: It delves into the tricky subject of cultural authenticity and exposes the way America, a long-proclaimed "melting pot," takes its food for granted. Restaurant recommendations abound, to be sure, but so too does overdue reflection.  — S.L.
Also noteworthy: The American Barbecue Showdown (Netflix)
---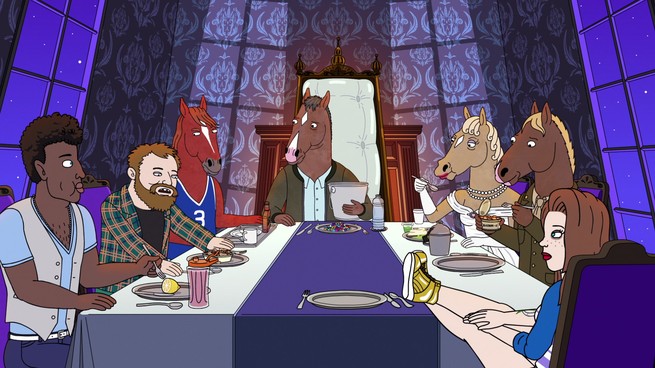 FINAL GOODBYE: BOJACK HORSEMAN, NETFLIX

The penultimate episode of every BoJack Horseman season always guts me. Still, I wasn't prepared for "The View From Halfway Down," the 15th episode of the show's two-part final season. In the visually stunning installment of Raphael Bob-Waksberg's animated Netflix series, BoJack (voiced by Will Arnett) has a near-death experience that brings him into close contact with the friends and family he's lost over the years. He's confronted once more with how badly he's hurt them all, reminded again how poisonous his self-obsession has been. The sequence is brutal and sobering, made all the more haunting by the director Amy Winfrey's use of a mysterious black substance to convey the characters' mortality.

BoJack's final season didn't just further indict its protagonist, though. In some of its most satisfying moments, the show also homed in on Princess Carolyn (Amy Sedaris) and Diane Nguyen (Alison Brie), two women who have buoyed BoJack and the series itself. Seeing the two of them enjoy some hard-earned wins—including distance from BoJack—was a surprisingly affecting experience. For all its emotional blows, BoJack Horseman ended on a quietly hopeful note.  — H.G.

Also noteworthy: The Good Place (NBC), Schitt's Creek (PopTV)