Why a Movie About 1930s Hollywood Resonates Today
David Fincher's new Netflix film, Mank, is about the tortured making of Citizen Kane. But it has plenty to say about the entertainment industry—and America—of 2020.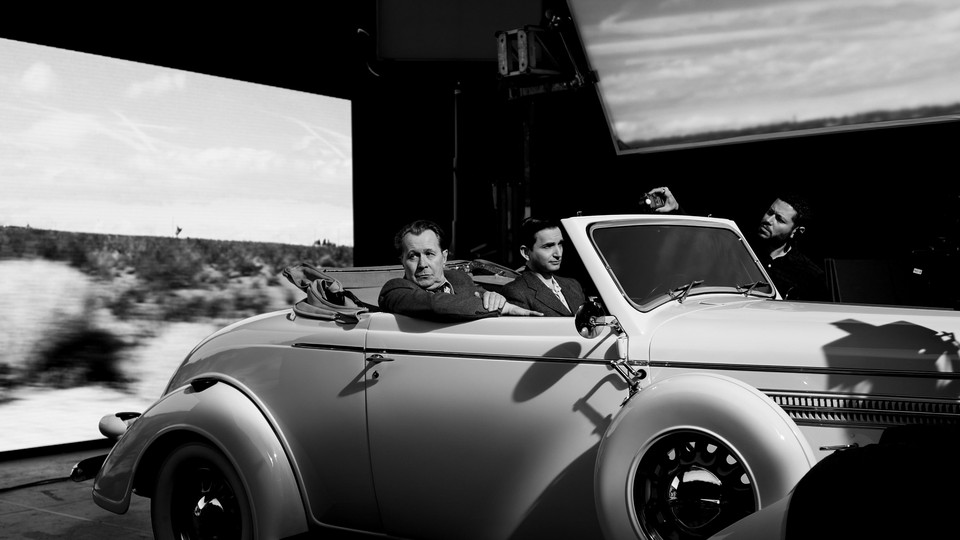 The screenwriter Herman J. Mankiewicz is an odd sight on a glamorous Old Hollywood movie set. As played by Gary Oldman in David Fincher's new biographical film, Mank, he's a disheveled figure on the sidelines, an acclaimed New York wordsmith brought to serve as a cog in a giant Los Angeles machine. During a movie shoot, "Mank" makes a wisecrack that gets him summoned to the tent of William Randolph Hearst, the famous newspaper magnate and movie producer (played by Charles Dance). To Hearst, Mankiewicz is little more than a court jester, an amusing addition to his collection of oddball pals. To Mankiewicz, Hearst represents something more serious and frightening.
Today, Mankiewicz is most remembered as a co-writer of Citizen Kane, the Orson Welles masterpiece widely interpreted as a scathing critique of Hearst and the tycoon class he belonged to. And although some of Mank (which debuts in theaters Friday and on Netflix next month) is concerned with the arduous process of writing Kane's first draft, Fincher's film has a grander scope. It interrogates the fragile dynamic between creator and mogul that's essential to the Hollywood business of hammering art into commerce, whether in the 1930s or today. In Mankiewicz, Fincher has found a perfect unsung hero, a man who tried to reckon with an industry that so often puts business before authenticity—and ended up writing what is considered the best film ever made.
One might dismiss Mank as a niche story that relitigates old arguments about the tortured creation of Citizen Kane and the extent to which that film was a condemnation of Hearst and his partner, the actor Marion Davies (Amanda Seyfried). But Kane is just an anchor for Fincher's deeper exploration of the monolithic conservatism of 1930s Hollywood. When Mank takes place, the Great Depression is raging, and American cinema is booming. The industry is stamping out political radicalism, and most of its storytelling power is concentrated in the hands of mega-moguls such as Jack Warner, Darryl Zanuck, and Louis B. Mayer.
Similar to Citizen Kane, Mank unfurls much of its narrative via flashback. The film drifts between Mankiewicz toiling away at the Kane screenplay in a secluded lodge and his memories of his friendship with Hearst, Davies, and Mayer (who hired him to work at MGM Studios). A former drama critic and playwright, Mankiewicz moved West like many great writers of the era—F. Scott Fitzgerald, William Faulkner, Dorothy Parker—to dash off crowd-pleasers in exchange for a healthy paycheck. "This is a business where the buyer gets nothing for his money but a memory," Mayer (a wonderfully grouchy Arliss Howard) barks to Mankiewicz. "What he bought still belongs to the man who sold it. That's the real magic of the movies."
Don't be fooled by Mank's old-fashioned presentation—by the black-and-white cinematography, echoey dialogue, and melodramatic throwback score. This movie is surprisingly resonant in 2020. Since Disney's acquisition of Fox in 2019, Hollywood is the most centralized it's been since its Golden Age. Even newer upstarts like Netflix, which is releasing Mank, are multibillion-dollar monoliths aiming for global domination with every major release.
The film speaks to the creative frustrations of working within such a rigid system, something Fincher himself has experienced. His first movie, Alien 3, had a notoriously difficult production during which he clashed with the studio and lost control of the final cut. In a recent interview, Fincher ruefully recalled being "a hired gun [asked] to make a library title for a multinational, vertically integrated media conglomerate." It's no wonder he admires the ornery Mankiewicz, a man who always goes one joke too far, drinks one glass too many, and crows about being the one angry socialist in a room of millionaires.
Fincher's filmography includes generational classics such as Seven, Fight Club, Zodiac, and The Social Network, all movies focused on obsessive and sometimes abrasive figures struggling against what they perceive as a hostile world. Mank is full of nostalgic visual splendor, and certain shots evoke the deep-focus magic of Kane, but the vintage vibe only goes so far. There's a digital crispness to the black-and-white photography, lending a bizarre sense of clarity where older films might look warmer and fuzzier. The look fits the hard-bitten perspective of Mankiewicz, who churned out fanciful scripts for his studio but viewed the industry with deep cynicism.
Mankiewicz spends much of the film in Hearst's good graces, charming the magnate with self-deprecating bons mots and just enough truth-telling to remain interesting; his relationship with Davies, an actress who was Hearst's longtime partner, is chummy to the point of flirtation. But California's 1934 gubernatorial election, a mostly forgotten bit of political history that pitted the Republican Frank Merriam against the famed author and avowed socialist Upton Sinclair, is what finally fractures their relationship. Sinclair's End Poverty in California campaign called for guaranteed pensions, tax reform, and massive public works, and was decried by the right as encroaching communism. MGM, in league with Hearst, produced propagandist newsreels to discredit Sinclair that played in cinemas around the state.
As Fincher put it, the studio and Hearst "sort of pioneered fake news," using the glitz and glamour of cinema to manipulate audiences and distract people from a duller reality. This plotline hits hardest in Mank, which is arriving after a drawn-out presidential-election season choked with falsehoods on cable news and distorted social-media feeds. Fincher didn't set out to make a movie about today's politics; he's telling a universal story about trying to change an industry (and a world) in which every system seems freighted with inertia. Mankiewicz isn't quite a radical, nor is he especially principled. Still, in trying to make sense of his experiences with Hearst through a Hollywood narrative, he transforms a familiar tale about shattered idealism into a revolutionary work of art.
Is the power of Citizen Kane solely thanks to Mank? Fincher, working from a screenplay by his father, Jack (a journalist who died in 2003 and has no other scripts to his name), knows that would be too bold a claim. Kane's co-writer, a 25-year-old Welles, is imposing and charismatic as played by Tom Burke, but he's portrayed as secondary in Mank, waiting to take the reins once Mankiewicz is done writing. Welles is yet another egotistical giant whom the humble screenwriter bumps up against while trying to do his job. With Citizen Kane, an electrifying young filmmaker collaborated with a jaded old storyteller at the perfect moment, seizing on the wounded heart of Mankiewicz's script to decry the allure and hubris of America's titans of industry. In that way, Mank is a tale of triumph, the kind that's been told countless times on the silver screen, but never quite with this moving blend of realism and regret.