Is This the End of the Election Night Watch Party?
Americans have gathered during significant political moments since the mid-1800s. But with so much at stake this year, many will remain anxious and alone at home.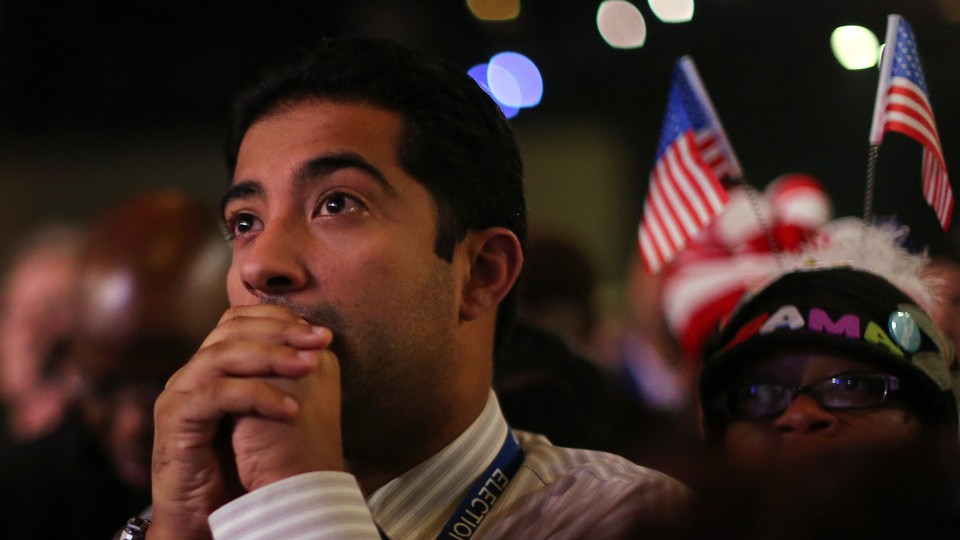 For Election Night in 2016, Dwight Onley and his wife set up a life-size cardboard cutout of Hillary Clinton in their living room and bought a cake with chocolate ganache, strawberries, and "Madame President" written on it in frosting with curlicues. After Clinton lost, the cake remained. They were inclined against waste, and so they finished it, eating "in a rote, joyless manner," Onley, a retired high-school English teacher in College Park, Maryland, told me. This year, he's still hopeful, but his wife has vowed to go to bed by 9 p.m. tonight and has forbidden him from waking her up to share any news. He hopes that his children might be able to come over, but he is preparing to watch alone.
Onley's experience is not unique. Super Bowl–like watch parties have been part of presidential elections for many years, an opportunity to gather with friends and family at the end of a long electoral process. But with a deadly pandemic at hand, a racist misogynist in office, and potentially life-changing policies on the line, this year feels different for many Americans. Some people may gather virtually to simulate a co-watching experience, and others will still party in person, but far more Americans will be watching alone and anxious at home. Watch parties and their kitschy decor don't necessarily fit with an election in which many voters fear the collapse of democracy. Furthermore, given delays with counting mail-in ballots, there may not even be conclusive results on Election Night.
From a psychological perspective, the past popularity of watch parties makes sense, Jon Krosnick, a political psychologist at Stanford University, told me: Politics is a social, group activity, so of course people are going to gather during significant political moments—though the events can sometimes be uneasy. Even like-minded people have highly individual, independent interests in elections, such as those based on their economic stakes and personal identity. "In a watch party, not everybody's on the same wavelength about why to be happy, or sad," Krosnick said. Onley, a 65-year-old Black man, felt this contrast during the 2008 election with his wife, who is white. "She almost expected [Obama to win]. Whereas the rest of us, people on my side of the family, the Black side of my family, we didn't," Onley said. "We never really thought we would get over the finish line."
Despite this potential for uneasiness, people have always found ways to make Election Night into a social event, Ira Chinoy, a journalism professor at the University of Maryland, told me. Early crowds outside newspaper bulletin boards in the mid-1800s gave way to more elaborate demonstrations, such as those with magic lanterns that projected results and entertainment onto the sides of buildings. With new technologies that made getting election results from more locations easier, these crowds broke up into smaller parties around the turn of the century. Telephone companies could call results into bars or even the private homes of wealthy people. As radios grew more popular, families and friends would gather in their home to listen for results. And then in 1952, CBS finalized the creation of the televised Election Night spectacle we know today, with vote projections and official calls for state results and glitzy graphics. That year, viewers gathered at their home, in businesses, theaters, and dance halls for watch parties.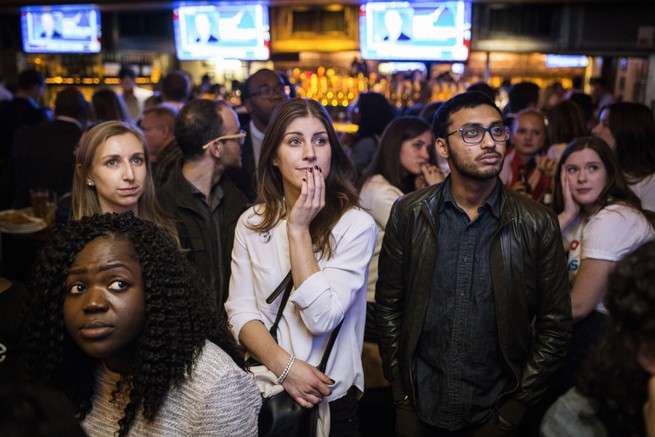 But this year, when the potential for a second Trump term feels shattering for many, there's an unsurprising desire to avoid parties. Melissa Hagan, a psychology professor at San Francisco State University, conducted a study several years ago on the stress that students felt in the aftermath of Trump's election, and found symptoms similar to those seen in post-traumatic stress disorder. "When trauma is shared, it's not only tapping into your personal view as to whether the world is safe and predictable. It's tapping into aspects of your identity," Hagan told me. Collective trauma makes you question not just the world but also your place in it—and though the feeling may be shared, it can be personal enough to feel isolating. Brandon Myers, an attorney in Washington, D.C., told me that friends at his 2016 watch party felt such an urgent need to be alone after the results came in that some left without saying goodbye.
For those still traumatized by 2016, hosting an Election Night watch party might demand a level of irreverence or naive confidence that is difficult to reconcile with this year's high stakes. People "don't know how they're going to react. They don't know what it's going to look like. And so how can they think about reaching out for support if they're not even sure what it is they're going to be reaching out for?" Hagan said. Even like-minded viewers choose to be alone out of an awareness that they cannot console their friends when they themselves risk the same emotional defeat, Krosnick, the political psychologist, told me. Allie Glickman, who works as a fundraiser for a private high school in New York, told me that though she took the train home from a 2016 watch party with her roommate, they could barely look at each other. She'll be at home this year. "If things go in the way I would like them to, it'd be great to then get to be with everybody. But I think at least for initial watching, I would prefer something small," she said. "When the mood of a room of only two people changes, it doesn't feel as drastic as when the mood of 40 people changes."
Of course, some parties still will take place. Danny Stigall, a student at Northwest Missouri State University, plans to hold a virtual watch party this year with friends. He's arranging a game of bingo, with different squares representing different potential occurrences, such as states being called. He recognizes that such a playful game may feel discordant with the night's mood, but that's precisely why he's chosen it: He believes he'll need something lighthearted on such a stressful night.
Still others remain undecided about their plans. When I asked Hagan about her agenda for tonight, she immediately told me about her arrangements for tomorrow: She'll process the election at her department meeting and then discuss the results in class with her students. She hadn't made any decisions about how she'd watch during the night itself, but she was already bracing for the aftermath.