BTS's 'Life Goes On' Did the Impossible
The Grammy-nominated pop septet's newest single became the first Korean song to top the Billboard Hot 100—with virtually no radio play.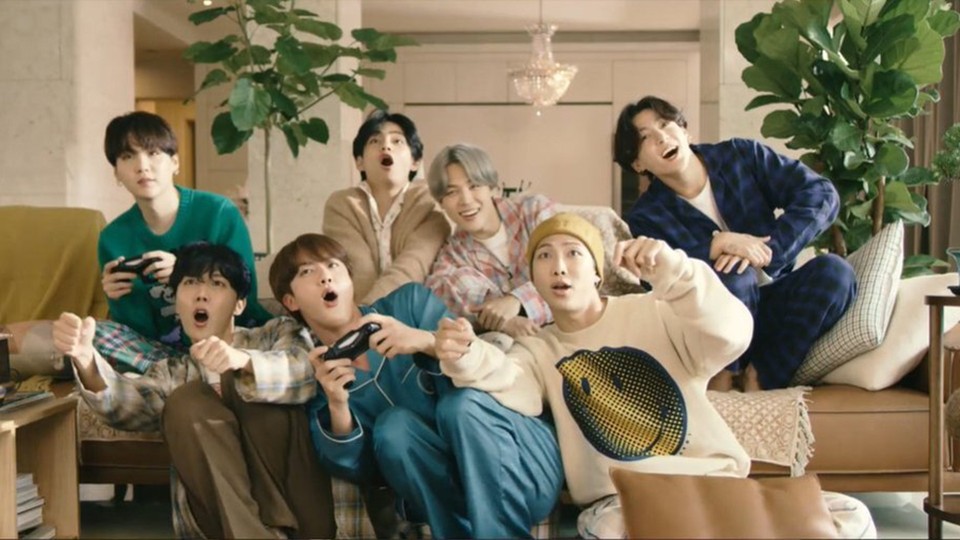 Maybe it's because the pandemic has warped my sense of time, but it feels like just yesterday that BTS got their first No. 1 song on the Billboard Hot 100. The South Korean pop septet's first all-English single, "Dynamite," was everywhere—in commercials, at the MTV Video Music Awards, on the radio. In September, the song made them the first all–South Korean group to top the chart. Just last week, it landed BTS a Grammy nomination—the first such nod for a Korean group. (These guys break records so often that reciting their achievements can sometimes feel exhausting.)
When I wrote in September that BTS would one day get a No. 1 hit with a song in their native Korean, I didn't think it'd happen less than three months later. Today, the band topped the Hot 100 again, this time with "Life Goes On," a hip-hop–inflected, guitar-laced single about the struggles of pandemic life. Unlike "Dynamite," "Life Goes On" received minimal promotion and radio play, which makes its debut at No. 1 that much more unbelievable. Enormous physical and digital sales—led by the group's dedicated fans, known as ARMY—pushed the single to the top. In other words, "Life Goes On" is currently the biggest song on the charts, released by the biggest musical group in the world, and there's a good chance you haven't heard it.
The lackluster radio spins for "Life Goes On" aren't surprising; many non-English-language artists struggle to break into the mainstream. (Even Latin music continues to be siloed, despite its enormous popularity, its artistic innovation, and the fact that Spanish is the second-most-spoken language in the United States.) The takeaway seems clear: If you don't primarily perform in English, you need to outsell your closest competitors many times over—or secure a radio-friendly collaboration or remix—to have a shot at reaching No. 1 on the Hot 100. In September I wrote, "Whether the band intended to or not, the only English-language single they've released in seven years has become their biggest chart success yet, outperforming the dozens of more artistically ambitious records that they wrote or produced in Korean." The success of "Life Goes On," the lead single from BTS's highly anticipated new record, Be (on which every member has writing credits), goes some way toward proving the extent of their star power.
.@BTS_twt is now the first and only group in history with multiple No. 1 debuts on the #Hot100 ("Dynamite" and "Life Goes On").

— billboard charts (@billboardcharts) November 30, 2020
Be provides ample evidence as well. The album is a kind of musical document of the members' thoughts and feelings about losing a year to the pandemic. Unable to embark on their stadium world tour, the seven members—RM, Jin, Suga, J-Hope, Jimin, V, and Jungkook—turned their attention back to making music, taking on a greater role in songwriting, producing, and even directing. The result: a carefully composed eight-track album of intimate and stylistically diverse songs in Korean, capped by the juggernaut "Dynamite." Yesterday, the record debuted at No. 1 on the Billboard Hot 200.
If you're familiar with BTS's music, "Life Goes On" is both a perfect and unlikely candidate for their biggest Korean song yet. In an interview, the group's leader, RM, described the track as "really calm, almost contemplative," adding, "It might even come off as bland next to 'Dynamite.'" Unlike many of BTS's hit singles, the song has no compulsively danceable beat, no maximalist production, no intricate choreography. Its gentle, stripped-down melody is memorable, like a tune you've heard somewhere before. "Life Goes On" is full of longing for a different time, aching for human connection. This emotional register—nostalgic, vulnerable, melancholy yet optimistic—pervades BTS's work and captures the core of their appeal to millions of fans around the world. That tone is most apparent in 2017's "Spring Day," arguably the group's best song and one that holds particular meaning for South Korean listeners. But nearly every BTS song seeks, in some way, to assure the listener: You are not alone.
Indeed, "Life Goes On" attempts to commiserate without getting consumed by grief. "One day, the world stopped / Without any prior warning," Jungkook sings in a voice edged with exhaustion. "On a street with footsteps since erased, / Here I am, fallen on the ground," Jimin continues, rising to a falsetto. In his rap verse, RM paints an image of trying to outrun a rain cloud before admitting his helplessness: "I must merely be human." The members each add their own texture to the song, creating a sense of togetherness out of individual alienation. "Here, hold my hand / Let's fly to that future," Jungkook and Jin sing together before the chorus erupts: "Like an echo in a forest / The day will surely return / As if nothing happened / Yeah life goes on … like this again."
If "Life Goes On" received airplay, non-Korean-speaking audiences would, of course, not understand most of the lyrics. But the aural warmth of the vocal harmonies, combined with the English refrains ("Life goes on" and "I remember"), make it the sort of healing track that could resonate with many listeners in a difficult year. (Alicia Keys seemed to agree, posting a short, all-English cover of the song over Thanksgiving weekend that went viral.)
The other new songs on Be create a more holistic emotional picture of pandemic life; the album is like a giant mood ring orbiting the listener. "Fly to My Room" is a jaunty track, full of delicious synth stabs and playful electric organ, about finding adventure amid claustrophobia. ("This year's been stolen from me / I'm still in bed / I feel nauseous / It's killin' me slowly," Jimin sings.) The midnight-colored lullaby "Blue & Grey," originally written by V for his solo mixtape, reflects on the depression and malaise of quarantine existence. ("As ever, is this blue question mark / Unease or gloom / Perhaps it's an animal of regret / Or a me, born of loneliness," Suga raps.) These songs couldn't be more different in energy or tone; back to back, they speak to BTS's stylistic omnivorousness.
Be might be born of frustration and a sense of powerlessness, but it seeks to energize, not wallow. "Telepathy," a funk-filled bop, delights in the thrill of a long-awaited reunion ("I think about these streets of ours that the stars have allowed for us," RM raps). "Dis-ease," largely written by J-Hope, is ostensibly about the sickness of overworking; an old-school hip-hop track with a slick, half-time bridge written by Jimin, this is for rap lovers. Aside from "Skit" (a recording of the members celebrating the No. 1 win of "Dynamite"), the final new song is "Stay," a dance track originally intended for Jungkook's solo mixtape that seems designed for the catharsis of a stadium performance. Jin sings his own lyrics ("When I open my eyes, it's again / A room devoid of people") in a near whisper before the track builds to a pulsating beat for its anthem-like chorus: Yeah, I know you always stay. Those words hold particular meaning for ARMY, especially those who organize to stream and buy BTS's music in defiance of an indifferent industry.
When I said that BTS breaks records so often that reciting them can feel exhausting, I didn't mean to suggest that those victories have become less meaningful over time, or that the group's enormous success somehow dilutes its discrete achievements. But these records, no matter how dutifully listed, do not capture what is most interesting about BTS, which is their ability to be perfectly understood by fans around the world who themselves don't speak a word of Korean.
Still, that cultural identity is essential to the group's artistic identity. In a recent interview, RM referenced the famed Korean abstract artist Whanki Kim to make a point: "After moving to New York [in the '60s], he embraced the style of artists like Mark Rothko and Adolph Gottlieb, but then [Kim] said, 'I'm Korean, and I can't do anything not Korean. I can't do anything apart from this, because I am an outsider.'" The same, RM said, applies to himself, but it can also describe BTS. The language they speak, their steady sense of self, is a strength. Once pushed to the margins, these "outsiders" decided to create their own world and welcome everyone in.