Is It Possible to Replace Alex Trebek?
The legendary game-show host had a distinctive ability to toggle between gravitas, gentleness, and theatricality.
When Alex Trebek began hosting Jeopardy, Ronald Reagan was in his first term, Ghostbusters was a recent box-office hit, and most Millennials hadn't been born yet. Now, after nearly four decades, his time behind the podium is done. Trebek, a TV icon, died over the weekend from pancreatic cancer that he was diagnosed with a year and a half ago.
That diagnosis, and the resulting chemotherapy, did not stop Trebek from continuing to host the show, even when he was in serious pain. He was in the studio as recently as 11 days ago, meaning that—because Jeopardy is taped well in advance—several episodes featuring Trebek have yet to be released.
The final one, which is scheduled to air on Christmas Day, will close out the year, and an era. In an industry where hosts come and go, and many shows have short runs, Trebek had a rare lifetime appointment. During his tenure, he hosted more than 8,000 episodes of Jeopardy, and the program became one of the most watched game shows in the history of American television. What propelled Trebek's success was his distinctive ability to toggle between gravitas, gentleness, and theatricality.
Jeopardy has remained popular even as the media landscape has shifted around it. When journalists and critics have written appraisals of Jeopardy in recent years, they've remarked on its commitment to facts and truth, and marveled at its appeal at a time when trivia questions are easily Google-able. These may be fruitful lines of inquiry, but perhaps they obscure a simple, enduring reason for Jeopardy's popularity: Viewers enjoy testing their knowledge and, even more, the satisfaction of shouting out a correct response.
Trebek's polite, steady demeanor helped create an environment that invited trivia newbies and experts alike to play along at home. "Whenever it was something that you knew, Alex would make you feel good that you knew it," Bob Boden, a TV executive and game-show expert, told me. "And whenever it was something that you didn't know, Alex made sure that you felt good about learning it."
Boden, who has worked on dozens of game shows, also thinks that Trebek was effective on-screen because of how he treated contestants. "A good game-show host should have sympathy, should enjoy the highs and be disappointed in the lows," he said. "Alex had just the right approach toward being sympathetic, relatable, and kind." This was on display whenever Trebek would offer gentle encouragement to contestants who stumbled, perhaps reminding them of the opportunities that lay ahead in the next round. (Trebek did say in a late-career interview, though, that he was aware he took on a "You've disappointed daddy" tone when contestants bungled easy clues.)
In his onscreen interactions, Trebek savvily avoided drawing attention to himself. "He never believed that he was the most important part of that show," Boden said. "He made the contestants the stars." This was the magic of Alex Trebek: He managed to cultivate a persona while remaining almost entirely ego-free.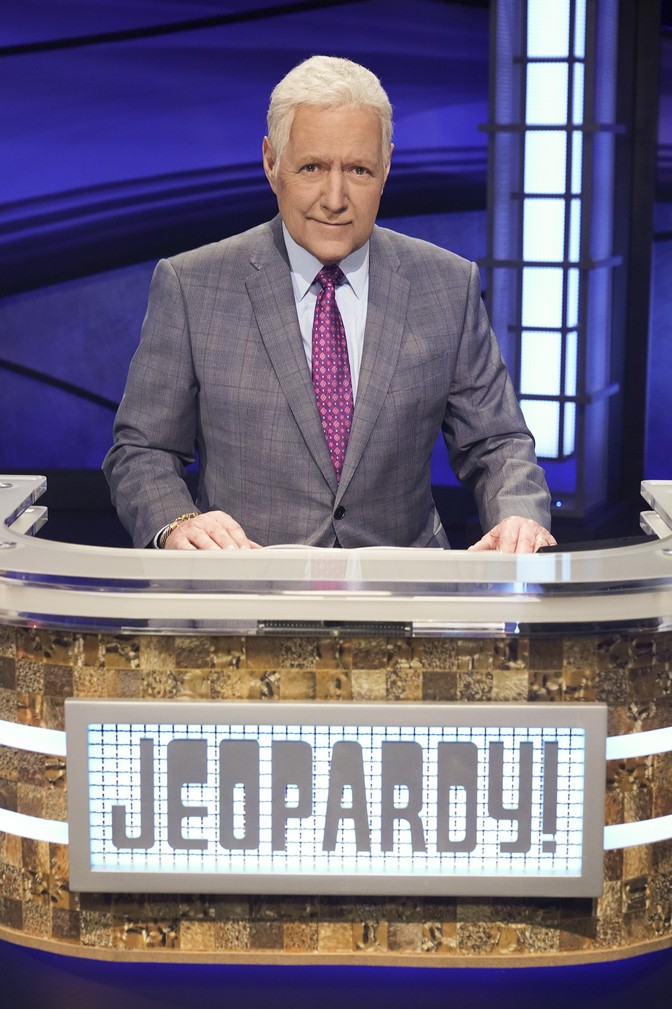 Trebek's appeal was remarkably broad in such a polarized era. His devotees have a range of ages and backgrounds; last week, one contestant said to Trebek, "I learned English because of you," explaining that he had watched the show as a child sitting on his grandfather's lap. In 2013, Reader's Digest published a list of the most trusted Americans. The poll was not exactly rigorous, but Trebek came in at No. 8, behind Tom Hanks and Maya Angelou, but ahead of Jimmy Carter and Julia Roberts.
Jeopardy is expected to continue after Trebek, but finding someone as well liked to succeed him will be tough. Trebek himself speculated in a 2018 interview that the show's producers might consider a woman for the job. Boden, for his part, said that the "the trend today is to put celebrities in as game-show hosts," so that is a possibility as well.
Andy Saunders, who runs the blog T he Jeopardy! Fan , told me that "Anderson Cooper has long been seen as the front-runner," and that "a number of fans are convinced that Ken Jennings—[the Jeopardy legend] hired as a consulting producer for the start of this season—will be the next host."
One trait of Trebek's that seems hard to replicate is his hallmark seriousness, which was endearing but sometimes over-the-top, as when he pronounced certain non-English words with a flourish. But as Jennings wrote in a tribute to Trebek last year, "Of course Alex has all the responses on a big sheet of paper in front of him, but he's also well-read and well-traveled … When he pronounces the name of an Italian aria hyper-accurately, or explains that a contestant got George V and George VI confused, he's not putting on airs." He did genuinely seem to relish his job in a way that would be difficult to fake for more than 8,000 episodes.
It's hard to imagine a future Jeopardy host reading out clues without the same mix of seriousness, warmth, and flair, but it's just as hard to imagine who, other than Trebek, could pull it off.