20 Movie Families to Spend Your Holidays With
Excellent cinema for every mood, whether you're feeling homesick, ruminative, or perfectly content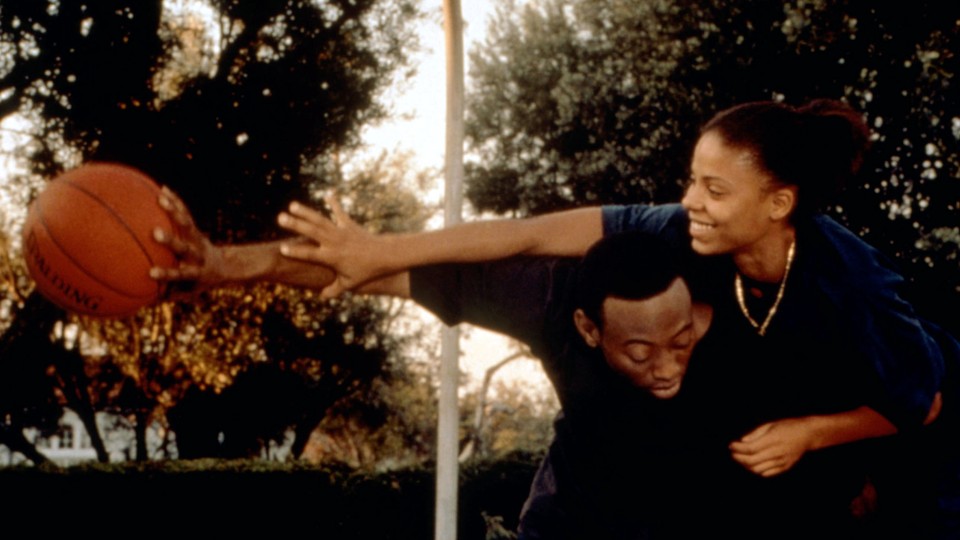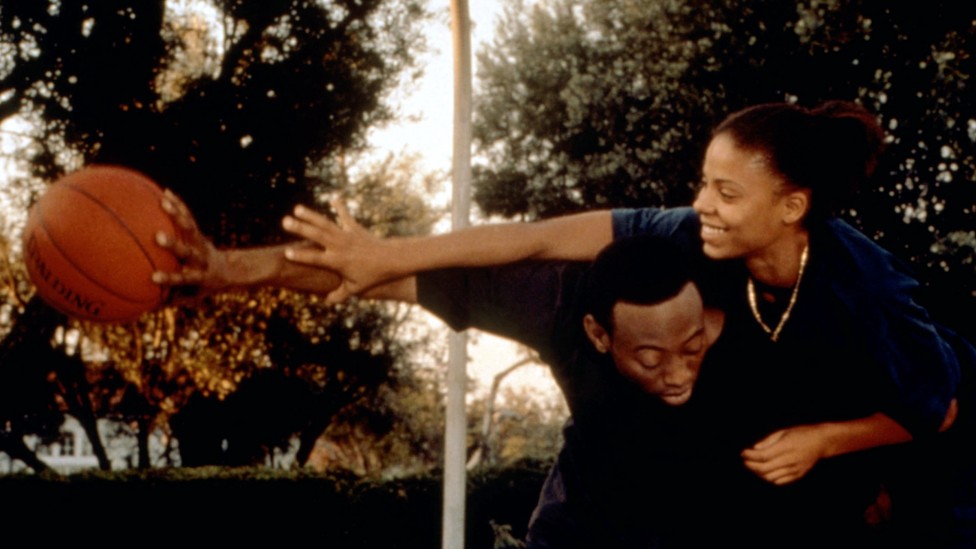 The coming holiday season will be a particularly strange one, with family gatherings limited and travel options diminished because of the coronavirus pandemic. One of my favorite traditions as fall edges into winter is watching movies, whether that means corralling the family to catch new releases at the theater, or arguing over the best film to enjoy at home on the couch. With so many rituals upended in 2020, I've assembled a list of family movies for every mood, whether you're looking to laugh, cry, be horrified, or just ponder the curious personal dynamics that can arise this time of year.
Some of the movies here are more traditional, warm, and fuzzy, but in the vein of the other watchlists I've compiled this year, I've tried to cast a wide net, including stories from around the world that touch on themes of community, belonging, and selfhood. These 20 movies include terrible families, makeshift families, lost families, and stories about finding comfort and hope without a conventional support system. Spanning epic romance, action and adventure, bleak horror, tragicomic farce, and quiet drama, these highly rewatchable films are, above all, simply excellent cinema.
---
A Little Princess (1995, directed by Alfonso Cuarón)
Many classics of children's literature are about an orphaned or abandoned protagonist searching for safety and love. The heroine of A Little Princess, Sara Crewe (played by Liesel Matthews), is sent to a boarding school by her loving father as World War I rages, but when word arrives that he has died, she's left at the mercy of the cruel headmistress. Alfonso Cuarón's English-language filmmaking debut, an adaptation of Frances Hodgson Burnett's novel, remains one of his most gorgeous and heartfelt movies. The director focuses on how Sara's profound goodness sustains her through loneliness and eventually helps her forge a new family.
Watch it on: HBO Max, or rent it
---
Desert Hearts (1985, directed by Donna Deitch)
One of the first wide-release films to portray lesbian characters in a positive light, Donna Deitch's feature debut is a underrated piece of '80s indie cinema that's deservedly found a second life in recent years. Set in the late 1950s at a ranch house in Reno where women wait to finalize quickie divorces, the movie is full of characters from all walks of life looking for a fresh start. Deitch tracks the romantic bond that springs up between an English professor named Vivian (Helen Shaver) and a free-spirited sculptor named Cay (Patricia Charbonneau). But the whole female ensemble forms raw and insightful bonds, becoming a makeshift family free of men, which was quite revolutionary to see on film at the time.
Watch it on: Criterion, HBO Max, or rent it
---
Eat Drink Man Woman (1994, directed by Ang Lee)
So many of Lee's movies—including his chilly '70s drama, The Ice Storm; his Civil War epic, Ride with the Devil; and his superhero entry, Hulk—are about family units besieged by dark histories and personal failings. His breakout Taiwanese film, Eat Drink Man Woman, has a lighter touch and follows the three unmarried daughters of the beloved master chef Mr. Chu (Sihung Lung) as they navigate work, love, and filial responsibility. The film is sensuous, funny, and obsessed with the ways in which food can unite a family, even when its members are emotionally at odds. Lung stars in the other two movies in Lee's "Father Knows Best" trilogy, Pushing Hands and The Wedding Banquet, both of which are worth revisiting this time of year.
Watch it on: Available to rent on iTunes, Prime Video, and elsewhere
---
Enough Said (2013, directed by Nicole Holofcener)
No list of family movies is complete without at least one that deals with divorce, and Holofcener's biting comedy is a personal favorite in that subgenre. Enough Said digs into the awkward intricacies of postdivorce dating. Years after splitting with her husband, Eva (Julia Louis-Dreyfus) is trying to get back into the game but has to contend with both her ex's feelings and her daughter's opinions about her new boyfriends. Eva embarks on a halting, sweet, and sometimes fraught relationship with a divorcé, Albert (James Gandolfini, fantastic in one of his final performances), and Holofcener mines laughter and cringe-inducing drama from every step of Eva's attempt to build a new connection amid the wreckage of an old one.
Watch it on: Available to rent on YouTube, iTunes, and elsewhere
---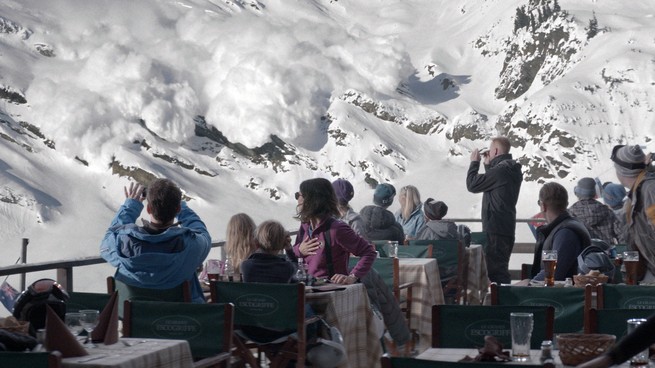 Force Majeure (2014, directed by Ruben Östlund)
This brilliant Swedish comedy (later remade by Hollywood as Downhill) begins with an act of fatherly failure. A family vacationing in the Alps is dining outdoors when an avalanche appears to barrel toward them; rather than try to protect his wife and children, Tomas (Johannes Bah Kuhnke) instinctively panics and runs away. Nobody is hurt, but Tomas's moment of cowardice haunts his wife, Ebba (Lisa Loven Kongsli), and Östlund ratchets up the comic tension as their holiday continues, night by miserable night. Force Majeure is a thought-provoking exploration of the family unit and the fragile nature of masculinity in the 21st century. But the film is also acidly funny and compelling, an emotional Jenga tower that grows taller and taller before it comes crashing down in a series of spectacular climaxes.
Watch it on: Prime Video, or rent it
---
Get on the Bus (1996, directed by Spike Lee)
Several parallel storylines play out in Spike Lee's drama, which follows a group of Black men traveling by bus from Los Angeles to Washington, D.C., in hopes of joining 1995's Million Man March. The camera bounces between the many characters onboard, including an egotistical actor, a gay couple on the verge of breaking up, and a babbling conspiracy theorist. But one of the most compelling plotlines is about Evan (Thomas Jefferson Byrd) and Evan Jr. (De'Aundre Bonds), an estranged father and son who have been literally shackled together by a court order after Junior's arrest for petty theft. Their strained relationship, which heals over the course of the movie, is the emotional core of Get on the Bus, an underappreciated jewel in Lee's storied filmography.
Watch it on: DVD, or wait for it to return to streaming
---
Home for the Holidays (1995, directed by Jodie Foster)
Movies about families gathering for Thanksgiving are usually an opportunity to stage madcap comedy or tense drama. Home for the Holidays, an underrated '90s charmer about an ordinary visit home that turns into a tragicomic farce, offers a healthy mix of both. The movie is anchored by the wonderful lead performances of Holly Hunter and Robert Downey Jr. as siblings Claudia and Tommy—she's a single mother who has just lost her job; he's a gay bachelor with a penchant for causing trouble. At the height of her own star power as an actor, Foster used her industry clout to make a family story that was unusual for Hollywood in 1995, about two grown-ups still learning to keep their heads above water in a frequently hostile world.
Watch it on: Starz, or rent it
---
Leave No Trace (2018, directed by Debra Granik)
The family bond at the center of Leave No Trace is powerful, but unsettling. Set in Oregon's wilderness, Debra Granik's film follows Will (Ben Foster), a military veteran who has largely renounced society, and his teenage daughter, Tom (Thomasin McKenzie), who knows only the reclusive lifestyle he's raised her in. When they're discovered and forced to reenter civilization, Will's shortcomings as a father are laid bare. But Leave No Trace has a deep well of compassion for both its main characters, showing how we can still empathize with our closest family members, even as we start to realize their limitations.
Watch it on: Prime Video, or rent it
---
Love & Basketball (2000, directed by Gina Prince-Bythewood)
A love story first and foremost, Gina Prince-Bythewood's decade-spanning saga of romance, athletics, and heartbreak takes stock of two families that become intertwined when neighbors Quincy McCall (Omar Epps) and Monica Wright (Sanaa Lathan) fall in love. As she charts the ups and downs of their relationship over the years, Prince-Bythewood roots through class differences (Quincy is the rich son of a basketball player; Monica is middle-class and more conservatively raised) and the ways in which boys' ambitions are coddled, while girls' dreams are dismissed. Warm and lovely but also blunt, it's still one of 21st-century cinema's best love stories.
Watch it on: Available to rent on iTunes, Prime Video, and elsewhere
---
Midsommar (2019, directed by Ari Aster)
This film begins with a horrifying familial loss that pushes Dani (Florence Pugh) into a state of total withdrawal. Accompanying her emotionally distant boyfriend on an academic field trip to Sweden, she finds herself embroiled in the fey antics of a sunny death cult, in a village where murder and psychedelic festivals are the order of the day. Ostensibly a work of horror, Aster's movie evokes cult classics such as The Wicker Man, but its core is Dani's deep yearning for a new family and a sense of belonging—something this ancient commune is all too happy to provide.
Watch it on: Prime Video, or rent it
---
Mother (2009, directed by Bong Joon Ho)
This slow-burn, ruminative thriller is the saddest and most touching entry in Bong Joon Ho's eclectic filmography. Kim Hye-ja plays an unnamed mother working to clear her intellectually disabled son's name after he's accused of murder. The screenplay is unpatronizing and complex: The mother acts not just out of loyalty; she's also trying to overcome her own guilt about the way she's treated her son over the years. As each new layer of the plot is peeled back, Kim's performance becomes all the more intricate, illustrating how unshakable the bond of family can be even in the darkest circumstances.
Watch it on: Criterion, Hulu, or rent it
---
Only Yesterday (1991, directed by Isao Takahata)
In Only Yesterday, 27-year-old Taeko Okajima is spending a summer in rural Japan and reflecting on her workaholic lifestyle when she begins poring over memories of her youth. Takahata's animated masterpiece switches between different styles as it moves between Taeko's past and present, deploying a more simplistic cartoonishness for her childhood. The film explores how grown-ups cling to adolescent memories, even of trivial moments, such as when Taeko's father brings the family a pineapple. In sifting through her earlier years, Taeko is searching for a way forward as she builds a life of her own—an undertaking that should feel familiar to many viewers in their 20s and 30s.
Watch it on: HBO Max, or rent it
---
Princess Cyd (2017, directed by Stephen Cone)
A great indie drama about a very specific family dynamic, Princess Cyd follows the relationship between a rebellious 16-year-old named Cyd (Jessie Pinnick) and her aunt Miranda (Rebecca Spence), a religious author. Sent to spend a summer with Miranda, the teenager disrupts the fairly structured world of her aunt, who's unsure of how to manage her young charge's bustling emotions. Soon, they find common ground, not just as family members but also as women trying to navigate life's obstacles—Cyd is queer and exploring her sexuality, while Miranda is anxious about staying single as she gets older. Underseen on its debut in 2017, Princess Cyd is delicate, funny, and appropriately heart-wrenching.
Watch it on: Prime Video, Criterion, or rent it
---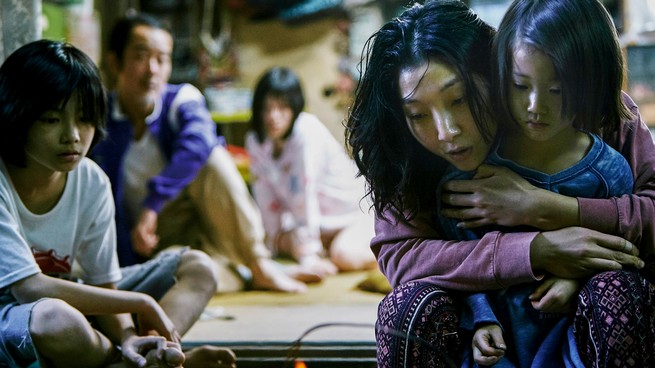 Shoplifters (2018, directed by Hirokazu Kore-eda)
This Palme d'Or–winning drama is one of Hirokazu Kore-eda's many movies exploring family units, each with its own unconventional angle (I'd also recommend Nobody Knows; Still Walking; Like Father, Like Son; and After the Storm). Shoplifters is a particularly transcendent work about an oddball band of friends and relatives who share a small home and scrape together a living by taking itinerant work and stealing from stores. A piercing examination of the lives of Tokyo's impoverished communities amid an economic recession, the film explores how a makeshift family unit can evolve in profound ways. Kore-eda is honest about the limits of his characters' lives, without sacrificing an iota of empathy, demonstrating how love can endure in the face of deep societal neglect.
Watch it on: Hulu, or rent it
---
Spy Kids (2001, directed by Robert Rodriguez)
It spawned a franchise with three similarly anarchic sequels, but the charming DIY nature of Rodriguez's first kid-focused adventure has long made it my favorite. More famous for making ultraviolent indie films up to that point, Rodriguez used all his cost-cutting know-how to create a CGI-powered action-adventure about a plucky brother and sister (Daryl Sabara and Alexa PenaVega) who learn that their parents (Antonio Banderas and Carla Gugino) are superspies. It's a goofy, charming, visually inventive bit of family-friendly fun, stacked with great actors (Alan Cumming, Tony Shalhoub, even George Clooney) who seem happy to be along for the ride.
Watch it on: Starz, or rent it
---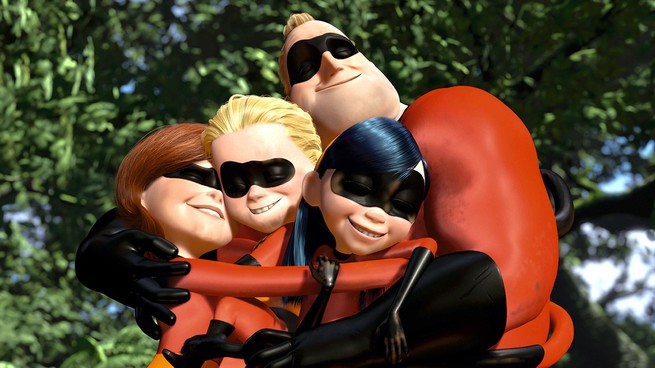 The Incredibles (2004, directed by Brad Bird)
Maybe my favorite Pixar film of all time, The Incredibles is a superhero comedy about a mid-century American nuclear family that's blessed with almighty abilities but forced to keep their talents a secret. Bird knows how to direct action better than anyone, but his real gift is finding pathos in ordinary humanity. The father, Mr. Incredible (Craig T. Nelson), is a relatably flawed, thin-skinned, but ultimately noble figure, while the mother, Elastigirl (Holly Hunter), tries to find fulfillment in semiretirement. When the movie springs into its grand finale, the set pieces feel even weightier because the viewer understands that the fate of the world isn't the only thing at stake—so is the happiness of a loving family.
Watch it on: Disney+, or rent it
---
The Martian (2015, directed by Ridley Scott)
Mark Watney (Matt Damon), the stranded astronaut at the center of Ridley Scott's terrific space adventure, spends most of the movie alone on Mars trying to grow potatoes and extend his oxygen supply as he waits to be rescued. Some of the best family movies are about solitude, and the absence of Mark's colleagues, and of any human life, makes the prospect of his eventual return home seem all the sweeter and more meaningful. The Martian is also about collaboration—the film jumps between Mars, NASA headquarters, and Mark's space shuttle, knitting together a broad ensemble all working toward one common goal and creating a new family in the process.
Watch it on: Available to rent on YouTube, iTunes, and elsewhere
---
This Is My Life (1992, directed by Nora Ephron)
Nora Ephron was already a famous writer, known for her work on such films as When Harry Met Sally and Heartburn, when her directorial debut came out in 1992. But This Is My Life is the forgotten gem in Ephron's filmmaking career, a candid but nonetheless whimsical portrayal of a woman balancing work, success, and motherhood. Julie Kavner plays Dottie Ingels, an aspiring stand-up comic and a single mother to kids Erica (Samantha Mathis) and Opal (Gaby Hoffmann); as her star begins to rise, her relationship with her kids grows strained. Ephron works in plenty of sweet moments between mother and daughters, but the film stands out because it doesn't shy away from Dottie's flaws or from the challenges that working mothers face.
Watch it on: Available to rent on Prime Video, YouTube, and elsewhere
---
Toni Erdmann (2016, directed by Maren Ade)
One of the funniest and strangest comedies in recent memory, Ade's German film has the running time of an epic (162 minutes), even though it's just about the dysfunctional relationship between an immature father and his overachieving daughter. When a dad, Winfried (Peter Simonischek), lover of weird pranks, visits his daughter, Ines (Sandra Hüller), during an important work trip, farcical antics ensue, mostly revolving around Winfried pretending to be an eccentric businessman called Toni Erdmann. The film is odd enough that it defies easy summary, but it's a smart and bittersweet examination of a loving duo, with a closing set piece that is mind-bogglingly hilarious and sad.
Watch it on: Available to rent on Google Play, YouTube, and elsewhere
---
Wild (2014, directed by Jean-Marc Vallée)
Cheryl Strayed (Reese Witherspoon) spends almost all of Wild alone, hiking the Pacific Crest Trail in search of meaning and purpose after the death of her mother and the dissolution of her marriage. Despite its emotional intensity, I find Wild a surprisingly calming and rewatchable movie, maybe because Strayed's journey has a destination and a clear sense of purpose. Though her big trek is about building her own inner self back up, much of the movie concentrates on her close connection to her mother, Bobbi (Laura Dern), who appears in scattered flashbacks. While the holidays are a time for gathering, they can be as much about remembering family and friends you've lost and the traditions you used to share. Wild is a lovely memorial to that tough but important process.
Watch it on: Available to rent on Prime Video, YouTube, and elsewhere