SNL Takes a Much-Needed Break From Politics
Issa Rae's sunny demeanor enlivened last night's episode and ushered in a handful of sketches that diverged from the show's standard fare.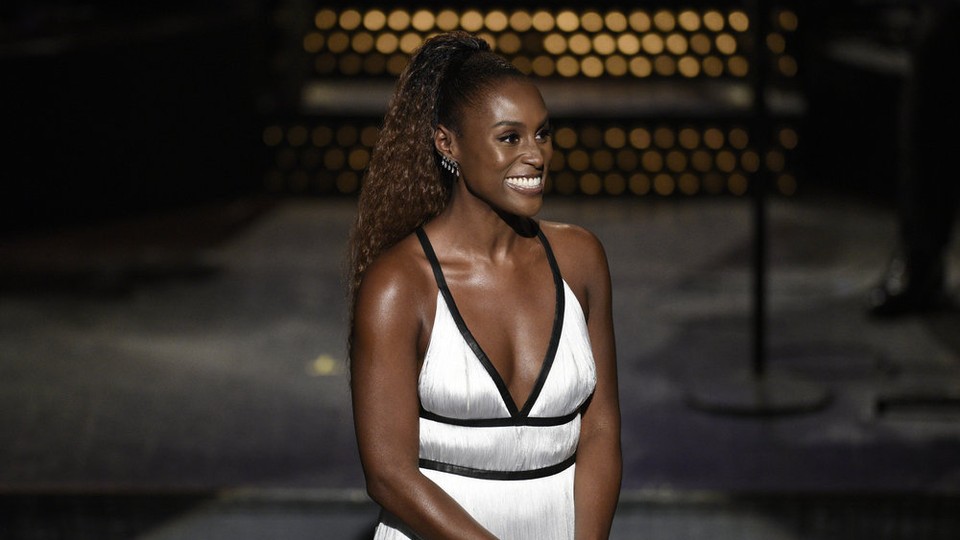 For a few merciful moments during last night's episode of
Saturday Night Live
, viewers were offered a rare distraction from the fact that the nation is barreling toward
a chaotic election
. When Issa Rae, the evening's host, stepped onto the stage for her opening monologue, I breathed a sigh of relief—in no small part because that meant the "
Dueling Town Halls
" cold open was over. That skit had eased the audience into the night's antics with another satirical installment of conflict between presidential candidates: The narrator described the split-screen viewing experience as "trying to decide between a Hallmark movie and an alien autopsy."
The segment delivered on its characterization of President Donald Trump's town hall as a "thirst trap" laid out for him by NBC—midway through, viewers got a replay of the bizarre moment when a South Florida voter began her question for Trump
by telling him
, "You're so handsome when you smile." But even with Kate McKinnon's Savannah Guthrie lodging pointed questions about the president's
refusal to condemn QAnon
, Maya Rudolph's Senator Kamala Harris joking about mimosas, and Jim Carrey's former Vice President Joe Biden breaking into an impromptu
Mister Rogers' Neighborhood
sing-along, the skit felt much like the rest of
SNL
's recent political commentary—tepid, tedious, and woefully inadequate given the cataclysmic state of the country. As my colleague
David Sims wrote
of the Season 46 premiere earlier this month, "The show's return to a standard format makes clear that its brand of topical satire simply won't be enough for the chaotic months of pandemic and election uncertainty that lie ahead of us."
Enter Issa Rae. After such a droll cold open, the host's sunny demeanor enlivened last night's episode and ushered in a handful of sketches that diverged from SNL's standard political fare. The Insecure creator began her monologue as many SNL presenters do: by emphasizing the honor of standing on the stage where many of her comedy heroes, including Tina Fey and Amy Poehler, have performed. She then exclaimed that she was scared she "might throw up, [but] I'm gotta hold it down because I'm the first Black person to host SNL, y'all!" Rae quickly informed viewers that this alleged milestone wasn't true, but that claim was just one of several jokes last night that poked fun at Hollywood's ongoing struggle with diversity. (SNL has had a particularly abysmal record in this regard; Tiffany Haddish, for example, was the first-ever Black woman comedian to host the show, just three years ago.)

Rae's monologue was delightfully self-aware, peppered with jokes about industry racism that felt fun and fresh even though they drew on familiar material. It's hardly news that Black people in Hollywood and other predominantly white industries are often confused for other people who look nothing like them—I've certainly had it happen to me—but I still chuckled when Rae adopted a solemn tone to tell audience members, "If the show goes bad tonight, just blame it on me, Mary J. Blige." Rae's approach to tackling political comedy was similarly rooted in her own uncomfortable experiences. Insecure premiered four years ago this month, and Rae explained the awkwardness of having had a major personal breakthrough happen in the run-up to the previous presidential election. "It was rude for me to be peaking right when democracy was collapsing," she said, adding that it "feels weird to say, 'Thank God for what happened in the fall of 2016.'" Such remarks felt self-deprecating rather than boastful, a posture Rae has successfully spun into relatable comedy for much of her career. Her show is, after all, called Insecure.