The Many Beginnings of Louise Glück
The American poet, who was awarded this year's Nobel Prize in Literature, examines our compulsion to tell the same stories, again and again.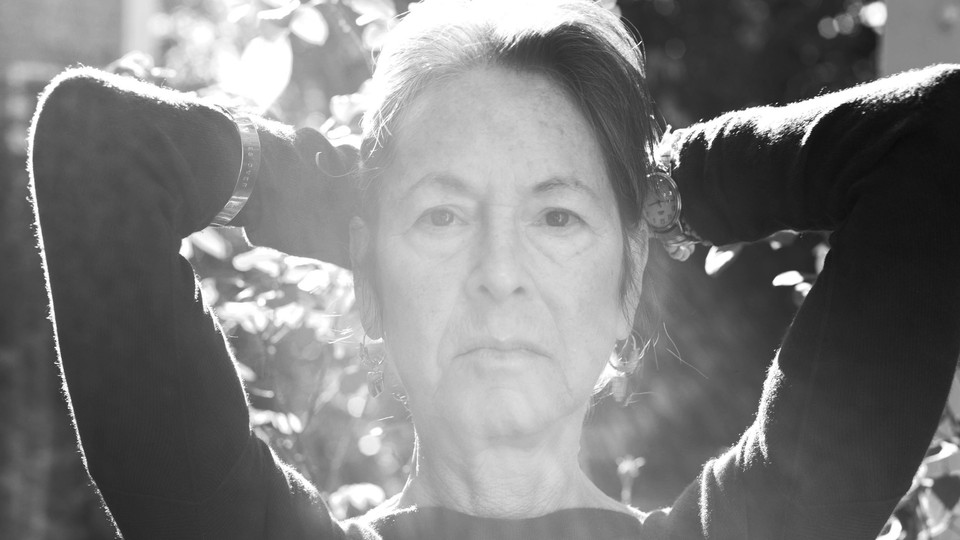 One of the most striking qualities about the poetry of Louise Glück, who on Thursday won the Nobel Prize in Literature, is the way it returns again and again to the start of things—a story, a myth, a day, a marriage, a childhood. The question How do we begin anew? runs throughout the American poet's work, from Firstborn (1968) to her most recent collection, Faithful and Virtuous Night (2014). While her early, densely patterned poems look onto the world from the perspective of characters, her later poems, which tell longer and looser narratives, uncannily drift between personal experience and the lives of others. Glück examines the human compulsion to retell stories and reimagine scenes; in the face of grief, sadness, and destruction, she asks, how can belief in new beginnings possibly still persist? Her poems, which rarely mark the present moment through political references or proper names, nonetheless resonate at a time when renewal—for individuals, for communities, for societies—can seem difficult to imagine.
One way that poets write about beginnings is simply by choosing the morning hour, when impressions are unfamiliar and sensations are refreshed. There is a genre of poetry for this: the aubade, or dawn poem. Glück's "Aubade," from Descending Figure (1980), begins with overlapping human and bird calls:
Today above the gull's call
I heard you waking me again
to see that bird, flying
so strangely over the city
This poem recalls the moment of waking, as the sounds and images of the day gradually come into greater clarity. Already present, though, are the repetition of experience ("again") and the strange blurriness of perception in the early hours, as the "gull's call" is heard at the same time as the human voice.
The morning intimacy of this poem deepens into a melancholy, minor key:
I felt its hunger
as your hand inside me,

a cry
so common, unmusical—

Ours were not
different. They rose
from the unexhausted
need of the body

fixing a wish to return:
the ashen dawn, our clothes
not sorted for departure.
Like the seabird's cry, out of place in the city, the human cry expresses an ambivalent "wish to return." The first sound of the day, it is also the reminder of staleness (they've heard it before), separation ("departure" seems to be imminent, now that the day's begun), and "unexhausted need." The beginning, in this poem, is a new day in an ongoing series, rather than a radical break.
Glück's poems can "wake up" metaphorically as well as literally, plunging readers into a striking image or scene without much explanation. "Illuminations," a poem about a child learning language by looking outside at the snow-covered world, starts with the line
My son squats in the snow in his blue snowsuit.
Another poem, "Happiness," begins
A man and woman lie on a white bed.
These two images are remarkable not for their strangeness or novelty, but rather for their ordinariness and familiarity, and for their emergence from a kind of psychological family album. These single lines feel impossible to edit or to make more precise: Each has a figure (child, couple), an orientation (squatting, lying down), a place (snow, bed), and a single color (white bed, blue snowsuit). The simplicity of these images suggest exquisite craft and revision.
"Illuminations" and "Happiness" are poems that "start up close," as the writer Nick Laird puts it. At a certain point, perhaps with her collection The Wild Iris (1992), Glück begins not with the up-close immediacy of an image or a sound, but with the opening of a story instead. Some of Glück's preferred stories are myths: Odysseus and Penelope, for instance, in Meadowlands (1996), or Persephone in Averno (2006). Her most recent volume, Faithful and Virtuous Night, makes this embrace of narrative obvious with storylike titles such as "Parable," "A Work of Fiction," and "The Story of a Day." Other tales are biblical in nature; in particular, the recurrent setting of the garden becomes one way for Glück to mount her human-scaled dramas of new beginnings.
Take "The Garden," from The Wild Iris, which initially resists telling a story at all:
I couldn't do it again,
I can hardly bear to look at it—
It's surprising, then, to discover that the unbearable image is a very ordinary one:
in the garden, in light rain
the young couple planting
a row of peas, as though
no one has ever done this before,
the great difficulties have never as yet
been faced and solved—
The two figures are presented with stark, economical detail. No word goes wasted: Each line adds one element to the scene, building it slowly. Time unfolds at a processional pace that feels adjacent to the movements of bending and planting. The action of planting the garden, the falling of the light rain of spring, and the innocent obliviousness of the young couple tell a set of interwoven old stories: the beginning of a garden, a year, and a relationship.
They cannot see themselves,
in fresh dirt, starting up
without perspective,
the hills behind them pale green, clouded with flowers—
The only moment of dramatic conflict in the garden is a minor one. It's getting late or rainy, and so the question is whether to continue the planting or finish the work another day:
She wants to stop;
he wants to get to the end,
to stay with the thing—
But instead of entering into the psychology of the couple, or putting them in dialogue, the poem takes a moment to zoom in:
Look at her, touching his cheek
to make a truce, her fingers
cool with spring rain;
in thin grass, bursts of purple crocus—

even here, even at the beginning of love,
her hand leaving his face makes
an image of departure

and they think
they are free to overlook
this sadness.
The final lines of this poem remain startling even after multiple rereadings; the short story it tells culminates in an "image of departure," a simple movement of a hand away from a face. But what does the image mean? In one sense, Glück returns to John Milton's Paradise Lost, and to the garden from which Adam and Eve, "hand in hand, with wandering steps and slow, / through Eden took their solitary way." Glück uses the garden to suggest that there is no originating state of innocence, but that all beginnings contain intimations of departure.
Some of the most lyrical writing in English seeks a language for endings: for lamentation, for mourning, and for protesting violent and unjust death. Contemporary American literature offers many examples of powerful elegies, particularly when it comes to the Movement for Black Lives and to the catastrophic effects of climate change on both human and nonhuman lives. Glück's poetry, while not elegiac in a traditional sense, casts a silhouette against a terrifying horizon and irremediable finale—a "world breaking apart" as she calls it in one of her most moving poems. In "October," from Averno, Glück writes, "This is the light of autumn; it has turned on us. / Surely it is a privilege to approach the end / still believing in something." Bound to believe in a new beginning, the poet is doomed to relearn its destruction.
Yet the ultimate point, in Glück, is not despair or resignation, but the abandonment of a "wish to return," whether to a first garden, a first view of the earth, an origin story, or an undamaged relation to the world. Such has been the process of Glück's own poetic career, at least as she describes it. When asked about the "formal shifts" that distinguish one of her books from the next, and whether they're deliberate changes in style, Glück responds, "I think the only conscious aim is the wanting to be surprised." Glück's poetry asks: Why make a life together if it might only come apart? Why endure ever-renewing prospects of inescapable ruin, expulsions from the gardens that are planted, lived in, and lost? By beginning with optimism despite the knowledge of the sadness to come, Glück's poems testify to "the wanting to be surprised" that somehow continues even when the ending is already known.