It Had to Be the Lakers
Love them or hate them, the NBA's most storied franchise was the right team for this moment.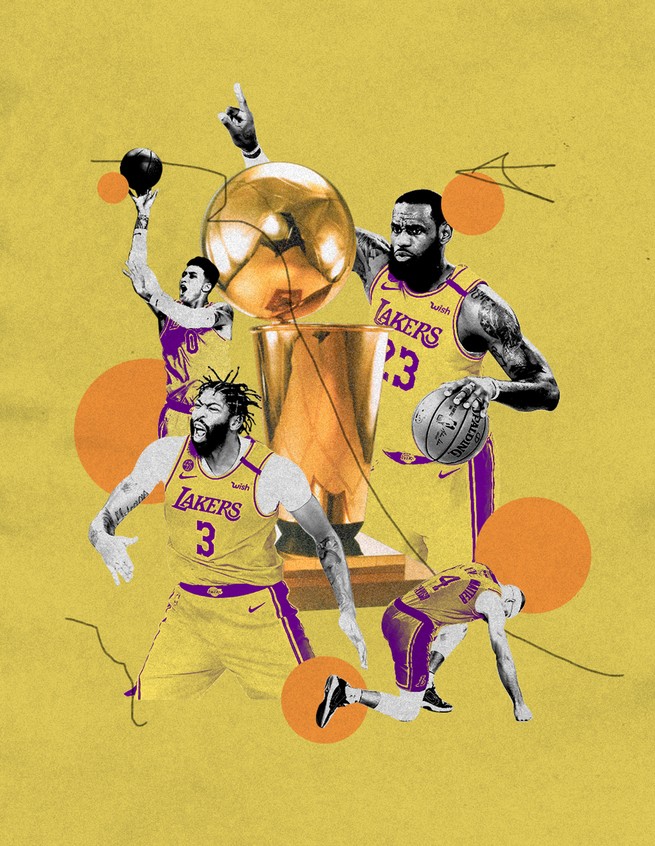 In the end, the NBA bubble held. A complex of resorts and mini-arenas in Orlando, Florida, somehow kept the coronavirus out of the playoffs, as though it were a member of the New York Knicks. Tonight, the curtain fell on the whole affair after the Los Angeles Lakers dominated the Miami Heat to close out their 17th championship, tying the Boston Celtics for the most in NBA history. Still smarting from their loss in Friday night's Game 5 thriller, the Lakers swarmed and bullied the Heat, building a big lead early, which they held until the final buzzer of the league's most bizarre season.
The trophy presentation was thick with 2020 surrealism. The arena was nearly empty, apart from the pixelated spectators, glitching away in a digital grandstand. Masked reporters interviewed the new champs from a distance, with boom mics. On the polished blond hardwood, gigantic letters spelled out Black Lives Matter. Like the social-justice slogans that adorned players' jerseys, the logo served as a reminder that no amount of money—the bubble reportedly cost more than $150 million to operate—could seal the NBA off from America's raging cultural currents. Indeed, many of them were at work in the Lakers' triumph.
As a majority-Black league run by mostly white managers and owners, the NBA's culture has never been apolitical, not even for its glamour franchise. During the 1980s, commentators criticized Magic Johnson's Lakers as "flashy" show-offs. This racial caricature contrasted with their rivals, the Celtics, the team of the white working class led by Larry Bird, whose wholesome desire to win was alleged to be untainted by showmanship. (Never mind that Magic beat Bird when they faced off in the NCAA championship, and beat him again in the NBA, where he won five titles to Larry Legend's three.)
This year's Lakers were led by LeBron James, who, as an early BLM supporter and fierce Trump critic, might be the most political player in purple and gold since Kareem Abdul-Jabbar. Last year, James's season was cut short by a pulled groin. Some wondered aloud about whether he was washed up. Even before he was sidelined by injury, James seemed to have lost some of his closing speed and leaping ability. Thick patches of gray had bloomed in his beard. The specter of an aging James was jarring to an NBA fandom that has come to think of him as an avatar of eternal youth. James himself appeared to be spooked. In the off-season, he went all in to recruit Anthony Davis—a giant, ultra-skilled spider of a man—to the Lakers. When the season kicked off last October, James took to Instagram to describe this tour as his "revenge season," adding, as an evocative touch, the yellow emoji with smoke streaming from its nostrils.
James would need more than social-media swagger to get his vengeance. The Lakers had shipped out all of their young talent—or nearly all, depending on how you feel about Kyle Kuzma—to New Orleans for Davis. To fill out their roster, they had to go rummaging in the role-player bargain basement. Some of their signings seemed like writing prompts for NBA Twitter. (No one had taken Dwight Howard seriously in a half decade.) A few months into the season, the NBA literati seemed to favor the L.A. Clippers or the Milwaukee Bucks to win it all. And that was before Kobe Bryant and his daughter Gianna died, with seven other people, in a tragic helicopter accident in late January.
History and legacy always weigh heavily on the Lakers, but Bryant's death was something else. Bryant's ghost haunted L.A. Murals depicting him and his daughter appeared on the exterior walls of the city's liquor stores. The pressure to win—for Bryant's family, for the franchise, and for a grieving fan base—was enormous. And then the pandemic hit. On the same night that Tom Hanks announced his COVID-19 diagnosis, the NBA suspended its season. The push-notification twofer instantly made the nature of the pandemic real to millions of Americans. For months, it looked as though James had lost one of his last best hopes to win another title.
When the Lakers arrived in Orlando to resume play in July, they were awarded rooms at one of the best Disney resorts, on account of their first-place record. Whatever advantages the extra amenities conferred, they didn't show up on the court. The team looked disorganized and listless. Their shots careened off the rim. They threw passes to no one. James, in particular, seemed to have grown older in quarantine, and not only because he'd been deprived of his barber.
When the Lakers lost their first playoff game to the eighth-seeded Portland Trail Blazers, sportswriters' knives came out. The team might have needed to taste blood: They would go on to win four straight to close out that series, before ripping through their next two series in similar fashion, finishing each with a 4–1 "gentleman's sweep." Only the Heat took the Lakers to six games, and the last one wasn't close.
Because Lakers history is so rich with championships, it will take more than one for James and Davis to earn immortality in L.A. But now they have at least paid the table stakes: No one can scoff when they're mentioned in the same sentence as the franchise's former illustrious duos. And with his fourth title on three different teams, James adds a résumé line that his admirers can cite when pitting him against Michael Jordan, in basketball's most rehearsed debate.
If the Lakers' victory is a rebuke to James's doubters, the NBA's remarkable success with the bubble is a rebuke to the president. Donald Trump has made a foe of the league and its Black stars whenever possible. But despite having the resources of the federal government at his disposal, Trump could not match its achievements at any scale. He failed to keep the coronavirus from rampaging through America and killing 210,000 of its citizens. He failed to surround the highest, most secure layers of his administration with his own mini-bubble. He could not even protect his wife from infection—or, in the end, himself.
Meanwhile, the NBA has displayed a refreshing institutional competence. While Trump and his maskless cronies backslapped and hugged at rallies and White House gatherings, hundreds of wealthy NBA players—all similarly accustomed to the autonomy and comfort of America's elite—worked together to observe strict norms. Many lived alone in the bubble, without their partners or children. All submitted to pervasive surveillance, mandatory masks, daily testing, and serious penalties for breaking the rules. (The NFL and MLB have had a much harder time keeping the virus out.) Their discipline was a welcome reminder that there are still grown-ups somewhere in America.
As a cultural product, the NBA has also given the country something else it badly missed. At a time when Hollywood's storytellers are largely on ice, many of us long to give our imaginations over to new stories. While we're suspended in a collective state of limbo, we're wondering when all this will be over. We're craving the closure of a real ending, and sports, with its clear winners and losers, gives us that.
Because the Lakers are so polarizing, they're the perfect vehicle for our narrative fix. Very few basketball fans are neutral toward L.A. Most can easily slot them into a hero or villain role. If you hate the Lakers, you see them as a super-team that lucks or cheats its way into signing the best free agents. You think the refs give them all the calls, especially in the playoffs. It feels instinctual to root against them, and although it may sting to see them win, at least you know how to interpret it as an event. You can start thinking about your own revenge season. But if instead you're a Lakers fan, you have your happy ending: The team banded together to win one for Bryant. The NBA's most storied franchise is restored to glory. The legend of its best player grows. Maybe, after a year of tragedy, your fortune is starting to turn. Maybe all will be well again soon.