Emily in Paris Is an Irresistible Fantasy
In Darren Star's latest series, the Sex and the City creator imagines an alternate universe where good intentions and accomplishing the bare minimum are enough.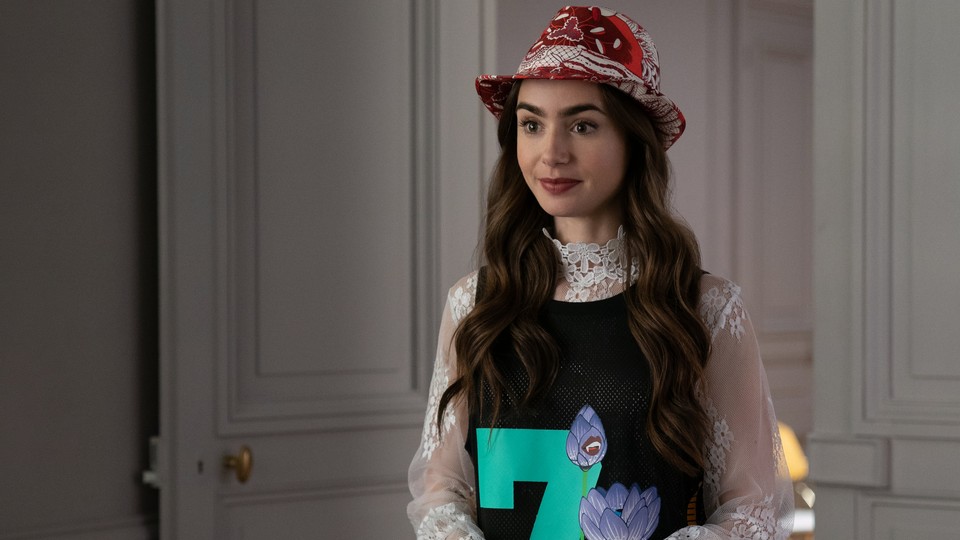 Late in Netflix's Emily in Paris, the new comedy series from Sex and the City's creator, Darren Star, Emily (Lily Collins), the titular American expat, tries to give herself a reality check about her new home. "It's just Paris," she says. "It's not some alternate universe where rules don't apply."
Oh, but Emily does live in an alternate universe, one built by Star for his first Millennial protagonist. The 59-year-old producer has been mesmerized by the generation for some time: He thinks of them not as a generation so much as a "state of mind," he told Indiewire in 2015. In that interview, he compared Millennials to a foreign language, a system older generations "can learn to be fluent in."
With Emily, he takes that idea even further: Being a Millennial isn't just a foreign language, but a fantasy. The 10-episode series portrays Emily, a marketing executive from Chicago, as a fish out of water not only because she's an American who speaks zero French, but also because she's an influencer whose life off camera mirrors the life she posts to her grid. Sure, Carrie Bradshaw's life was just as stylish and aspirational, but through her and her friends, Star explored what Gen Xers faced when it came to relationships at the turn of the century. Emily's life, on the other hand, barely resembles reality. Star based Sex and the City on Candace Bushnell's perceptive New York Observer columns about dating in Manhattan. But for Emily in Paris, he appears to have been inspired by a Francophile's Pinterest board.
It's a grating approach initially. Emily is the kind of American who arrives in Paris wearing a beret and expecting a room with a view of the Eiffel Tower. When I began watching my screeners, I could barely make it through the pilot, almost tapping out after Emily declares the French "weird" for having a different system for numbering a building's floors. It didn't help that Emily never contends with anything weighty. In the third episode, she points out that an ad campaign might be sexist, but by the end of the half hour, Emily doesn't pick a side. She urges the client to turn the campaign into a social-media poll, through which users can vote on whether the firm's ad is prejudiced; the show doesn't reveal the results.
Yet there's also something appealing about Emily's improbable lifestyle and Star's allergy to conflict. The producer never goes too far or treads too lightly with any element of the series. The story is soapy, but not overdramatic. The jokes are sexual, but not risque. Emily's French colleagues are critical, but not withering. But as obnoxious as Emily's behavior may be, the chaos of Star's nonsensical interpretation of Paris eventually becomes riveting. In fact, after a few episodes, I found the show comforting, because I knew exactly what to expect: eye-popping outfits, silly puns, picturesque shots of Paris—and absolutely zero tension.
As the season progresses, Emily's sunny nonchalance becomes her—and the show's—strong suit. She laughs at her faux pas. She notices but doesn't dwell on her co-workers' criticisms. She moves past a breakup with ease. She's not ignorant of her missteps; she's just utterly unfazed by them. She's a Millennial who also happens to be a worry-free, serial optimist, a mix so supernatural in today's TV landscape that it made even a jaded viewer like me cheer on her idealism. Emily in Paris operates like a high-end perfume ad: cinematic in looks, low-stakes in plot, and somehow so strangely captivating that you can't look away.
Star's shows have generally been devoid of consequential drama, but he's never told a full-blown fantasy. His career can be separated into two distinct eras: the years before Sex and the City—as the creator of the '90s soapy hits Melrose Place and Beverly Hills 90210—and the years after the HBO series. Star struggled in the latter era to capture the same magic of Carrie and company, producing provocative, female-fronted dramedies like 2003's Miss Match, 2008's Cashmere Mafia, and 2012's GCB. Each of those shows attempted to achieve the same lightning-in-a-bottle effect of Sex and the City by dealing with the zeitgeist of the time: Miss Match handled divorce and complicated love lives, Cashmere Mafia scrutinized the lifestyles of the 1 percent, and GCB examined the women of a Texas church. All were also short-lived, while Sex and the City lingered in pop culture, influencing and inspiring similar, more successful series that tackled female sexuality and identity.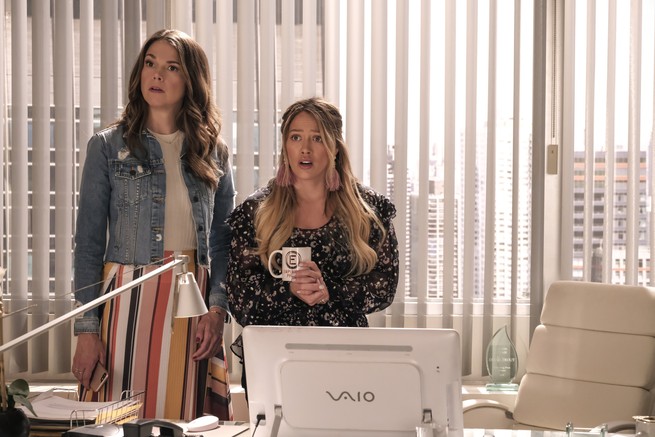 Younger, Star's ongoing TV Land comedy about a 40-something posing as a 20-something, corrected Star's course. Rather than attempt a story that tackled the theme of How Women Live Now, the series, from its debut in 2015, started leaning into the fairy-tale formula. The protagonist, Liza (Sutton Foster), gets a makeover to pass as a Millennial, and in doing so, she revives both her career and her love life. Yet Star also infuses the show with a heavy dose of reality and angst: Liza can't neglect her duties, for instance, as a mom to a college-age daughter. That dramatic tension helps the series strike a relevant chord. "It offers, almost in spite of itself, deep insights into the culture of the moment," my colleague Megan Garber wrote of the second season. "Because, for Liza, and for the age-obsessed universe she inhabits, youth is social standing." The fantasy in Younger, as Garber puts it, is clearly that of "extended youth."
Emily in Paris, on the other hand, mixes multiple fantasies. There's the fantasy of a perfectly maintained work-life balance. Unlike Liza's 20-something confidante Kelsey (Hilary Duff) in Younger or other Millennial characters on air today—such as the ones on The Bold Type and Good Trouble—Emily never laments having a job that affects her social life. The show portrays her ability to find inspiration for pitches through her adventures around the city as her superpower as an outsider. She's ambitious, but not in the #girlboss way; she leaps at the opportunity to work abroad for a year, but doesn't aim to run the firm. There's also the fantasy of success without risk: In Younger, Liza's lies threaten to undermine her success. Emily, however? She builds a following on Instagram, but at one point deletes and restarts the account without losing a single fan.
And finally, there's the fantasy of indifference. The Millennial protagonists of other female-fronted shows actively deal with topical, social issues. Emily, though, doesn't even use Twitter. The show treats every conflict with a breezy touch: Emily's friend Mindy (Ashley Park) has money troubles and a difficult relationship with her Chinese family, but discussions about her finances and her heritage amount to little more than jokes. The finale, called "Cancel Couture," isn't about the source of its pun at all, but about Emily's fashion-designer client deciding not to put on his show.
Perhaps that's the ultimate fantasy of Emily in Paris: peace of mind. American Millennials, in reality, have been saddled with an uncertain future of economic turmoil and climate change. But Star has given Emily a lifestyle of blissful unreality—and allowed himself the privilege of dispensing with real-life matters. Sex and the City's foursome dealt with the changing dating scene and their fears of being unmarried well into their 30s. Younger focuses on a protagonist who's climbing the ranks of her industry, but who's also constantly at risk of being exposed as a liar. But Emily in Paris doesn't pretend to have any larger cultural insights; it's just a show about a young woman confident in her future as she works her dream job in her dream city, with several romantic prospects to boot.
Younger has more to say about the generation gap, but Emily in Paris is the show for the Millennials of this moment. Star's depiction of the Millennial lifestyle may be fantastical, but it's also irresistible, because it's built on the idea that you can live a life made of small victories. Emily exists in an alternate universe where good intentions and accomplishing the bare minimum are enough. That's a resonant fantasy in a time when, for many Millennials, life feels out of balance and modest pleasures—say, taking a walk around the block for a "commute" or participating in a Zoom happy hour to "see" friends—have become quotidian. Toward the end of the season, Emily's beleaguered fashion-designer client pulls an Amélie Poulain by cracking the surfaces of several bowls of crème brûlée to relieve stress, and as I watched him, I felt his relief: Here in Emily's world, nothing is so insurmountable that clacking a few French desserts can't fix it. The world is not in grave danger. Nothing is.
Emily in Paris is a confection, a series so charming and fanciful that it becomes impervious to snobbery and cynicism. Star has served je ne sais quoi in a glittery package, a tray of macarons arranged neatly in a Ladurée display window, each episode providing a morsel of airy delight. As a Gen Xer, Star may have a loose understanding of what the American Millennial lifestyle truly entails, from social-media habits to work-life balance. But as a TV producer, he does understand one thing: Millennials could use a treat.