Atlas Coughed
Donald Trump has steadily turned masks into symbols—not of government overreach, but of governmental impunity.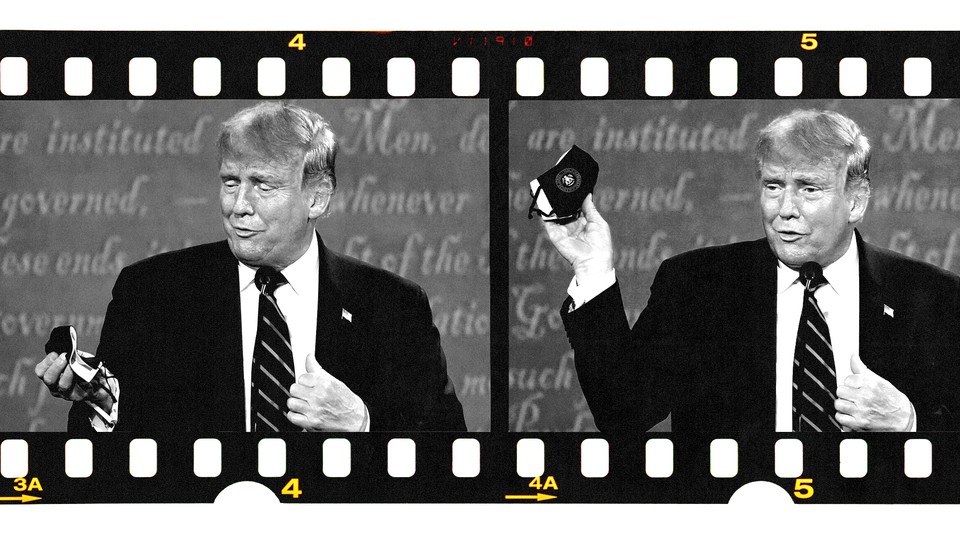 During Wednesday evening's vice-presidential debate, as he refused to acknowledge that climate change is an existential threat and to agree that he would accept the results of the upcoming presidential election and to elaborate on the Trump administration's alleged plan to ensure that Americans will continue to have health care during a raging pandemic, Vice President Mike Pence uttered the following line to Kamala Harris: "Stop playing politics with people's lives."
The wrongness of the comment was made even more acute by the events that followed the debate: After the event concluded, Pence was joined on the stage—outfitted with plexiglass, in weak acknowledgment of the fact that politics is people's lives—by his wife, Karen. She was pointedly not wearing a mask. Pence then posed for pictures with fellow Republicans. None of them wore a mask.
"Shocking but not surprising" has been a constant refrain of the Trump years, as applicable to the fact that leaders who reject science have failed to control the pandemic as it is to the fact that the president himself, last week, was taken to the hospital with a case of COVID-19. But maskless Trumpists are, at this point, neither shocking nor surprising. Their particular brand of medical vigilantism is, on the contrary, entirely logical. Donald Trump and those in his orbit have spent months insisting that wearing a mask is not what it is in reality—a simple act of solidarity and public health—but is instead a symbol, laden with meaning.
To wear a mask, they have suggested, is to capitulate. To wear a mask is to engage in empty performance. ("Every time you see him, he's got a mask," the president said of Joe Biden during last month's presidential debate. "He could be speaking 200 feet away from them and he shows up with the biggest mask I've ever seen.") To wear a mask, perhaps above all, is to betray the leader. In June, Trump suggested that people were wearing masks not to keep others safe, but to signal their disapproval of him. Earlier this week, Trump returned to the White House after his stay at Walter Reed National Military Medical Center. One of the first acts the still-contagious president engaged in was to remove his mask, dramatically, on the balcony of the South Portico. People made jokes about Evita; the photographer who was on the balcony to capture Trump's return was likely much less amused.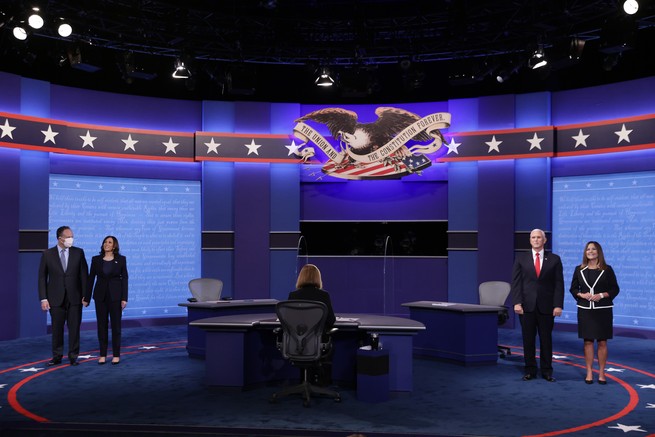 Masks, in this conception of things, are not tools of public health; they are weapons in America's ongoing culture war. They cannot be understood outside the context of partisanship, of factionalism, of "playing politics"—of battle. The absurdity of it all is also a tragedy: Trump and his allies are now trapped in a flawed argument of their own making. They are reluctant to wear masks precisely because they have spent months insisting that masks are not objects, but signals of virtue ("virtue," apparently, being territory they have ceded to the other side). They have caught COVID-19 to own the libs. And now they are exposing more people—people who often have little choice in the matter—to a virus that is spread through human breath. It is a profound dereliction of duty and of basic decency. It did not have to be this way.
In June, Adam Aron, the CEO of AMC Theaters, made an announcement: The chain's Cineplexes, he said, would not require patrons to wear masks when the theaters gradually reopened to the American public. AMC, Aron explained, didn't "want to be drawn into a political controversy." (Aron, his announcement having drawn him into a political controversy, later reversed that decision.) Also that month, as Trump was preparing for an in-person rally in Tulsa, Oklahoma, MSNBC interviewed a man who was waiting to attend the event. The man was not wearing a face mask. The reporter asked him why. "We had a friend who died from COVID, and his son was on a ventilator; he almost died," he explained. "So we know it's real. But then at the same time, you don't know what the facts are; you feel like maybe one side plays it one way and the other side plays it another."
So the man understood, intimately, the threat of the virus; he chose not to wear a mask anyway. And he subjected everyone around him to the same logic. This is another way the Trump administration has eroded norms; the norm in this case is community itself. Notions of shared responsibility, of common fates, of mutual compassion all crumple under the weight of a mask that has been weaponized.
You can see that erosion, as well, in many people's insistent gendering of masks—as objects that are symbolic, allegedly, of the assorted weaknesses of femininity. ("Might as well carry a purse with that mask, Joe," the conservative commentator Tomi Lahren scoffed earlier this week, in response to a video the Democratic presidential candidate shared of himself wearing a mask.) You can see it in messaging that treats Donald Trump's catching of the virus not as the result of profound recklessness, but instead as an excuse for an embattled president to prove his mettle on the field. Trump is "a true warrior," Eric Trump tweeted, after his father was diagnosed with COVID-19. "You are a warrior and will beat this," Ivanka Trump agreed. Kelly Loeffler, the senator from Georgia, tweeted a manipulated clip from a World Wrestling Entertainment publicity video of Donald Trump tackling the WWE chair, Vince McMahon, in 2007: Superimposed over McMahon's face is an image of the coronavirus. The Fox News contributor Greg Gutfeld found the ultimate twist of the logic: Trump, he suggested, got sick as a brave and selfless sacrifice for the rest of us—a leader leaping off his steed to do his fighting on the ground. "He didn't want America to hide from the virus," Gutfeld said. "He was going to do the same thing; he was going to walk out there on that battlefield with you."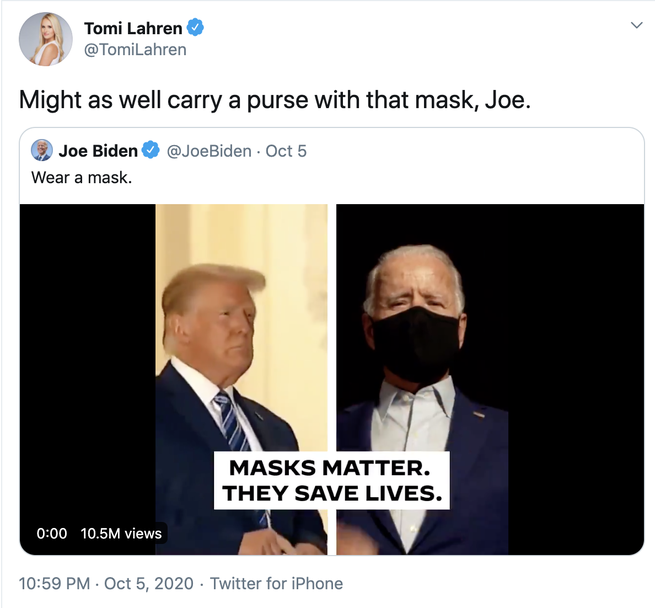 The effect of it all is to obscure the selfish recklessness that caused the president of the United States to contract the virus in the first place. War, as rhetoric, emphasizes the clash rather than the cause. If you can move the conversation toward the war itself, you might give people permission to forget why the battle is being waged in the first place. And you might be able to shift the terms of the discussion away from the sweeping failures of the federal government and toward the familiar reductions of the culture war. You can erode the matter down to the basics of "personal responsibility" versus "governmental intrusion." You can break the rules, openly, and justify doing so under the logic that the rules do not apply to your side of the war. "I will put a mask on when I think I need it," the president said during his in-person debate with Biden, when he might well have been carrying the virus. The American president was very possibly putting his opponent, and the many others in that room, in mortal danger. He was playing politics with people's lives.
Trump is, in that way, out of step with his constituents: In a recent poll, 74 percent of Americans said that they always wear a mask when out in public. The message of the president's bare face is clear: It refuses to acknowledge the preferences—or the needs—of other people. To go maskless in this moment is to flout the rules, proudly and wantonly and dangerously. It is to declare war against other Americans when the enemy at hand is a virus that threatens bodies on a bipartisan basis. The president's maskless appearances this week have been extensions of all the other times he has broken the rules, whether they relate to his finances or his judicial appointments or his lies or his performative cruelties. They have been preening displays of impunity. And they are reminders that war itself can be weaponized, as a justification for things that would never be permissible in times of peace.
Yesterday morning, Mike Lee, the Utah senator, tweeted, "Democracy isn't the objective; liberty, peace, and prospefity [sic] are. We want the human condition to flourish. Rank democracy can thwart that." Lee was laying out a framework through which "rank democracy"—which is to say, the will of the people as demonstrated through their votes—might be rejected. His tweet was reckless and deeply revealing. It is unsurprising, and not shocking at all, that Lee wrote that tweet while infected with the coronavirus: He was at the White House event thought to be responsible for the outbreak among high-ranking members of the government. At that event, Lee chatted with fellow guests and hugged them. He was not wearing a mask.