25 Feel-Good Films You'll Want to Watch Again—and Again
Anxious? Here are some of the best and most rewatch-friendly movies to soothe your mind.
Over the course of 2020, I've compiled several movie-recommendation lists for viewers who are at once in desperate need of distraction and yet never able to fully escape the year's pressing realities. A global pandemic. Economic turmoil. An impending election showdown. Natural disasters. Police killings and unrelenting national protests. With movie theaters shut down around the world, I curated collections of films to watch at home—works that were unheralded upon release, took singular approaches to storytelling, or told stories about horror, government mistrust, and the end of the world.
But I think this fall season calls for lighter fare—movies that don't make serious emotional or mental demands of you, that entice you to sink deeper into the couch and give yourself over to the screen. These films lend themselves best to multiple viewings (and eventual line-memorization). Everyone has their own personal list of "comfort movies," but the films I rewatch the most have no particular theme or genre. Some of the movies that relax me the most are intense action epics, while others are quiet conversational comedies. Comfort movies don't have to be low energy or low stakes to be soothing; they simply have to evoke a certain mood or atmosphere, or transport viewers to a world they'll want to revisit. Below are 25 of my own favorite feel-good watches, films I cue up again and again whenever I need a brief break from the world.
---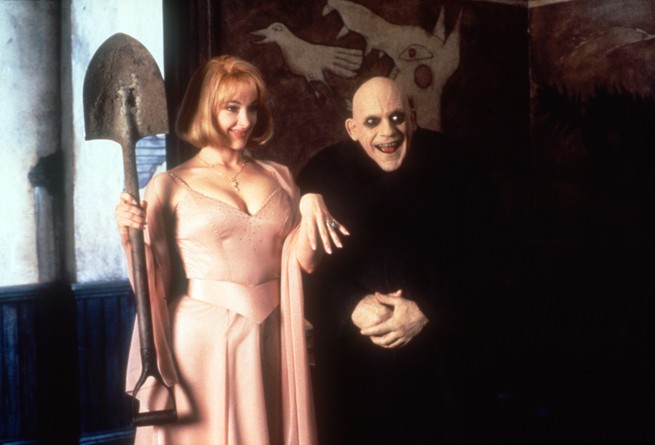 Addams Family Values (1993, directed by Barry Sonnenfeld)
Some of the best comedies are endlessly rewatchable because of the sheer density of the humor—movies such as Airplane!, The Naked Gun, or anything from Mel Brooks, with too many jokes per minute to process in a single viewing. Addams Family Values, Barry Sonnenfeld's brilliant sequel to The Addams Family, is not only a Thanksgiving classic, but also a breakneck laugh-fest that throws a clever line or visual gag at the viewer every chance it gets. On top of that, it creates compelling character arcs for all its big stars, particularly Wednesday Addams (played by Christina Ricci), Uncle Fester (Christopher Lloyd), and the villainous Miss Debbie (Joan Cusack). The most comforting comedies are the ones you can quote line by line; Addams Family Values, which I first saw at the age of 7 and have rewatched every year since, was the first for me.
Watch it on: Prime Video, CBS All Access, or rent it
---
Before Sunset (2004, directed by Richard Linklater)
All three films in Richard Linklater's Before trilogy follow an anxious American, Jesse (Ethan Hawke), and an insightful Frenchwoman, Céline (Julie Delpy), as they meander through a different European milieu (Vienna, Paris, the Peloponnesian coast) and talk about life, love, and art. Each is a meditative experience in its own way, but the second film, Before Sunset, is the most rewatchable for its sequences of Jesse and Celine ambling Paris's cobbled streets in real time and carefully flirting after many years apart. It's the most swooning, the quietest, and the sweetest film in the trilogy—one you can watch without having seen the first—and a winning reminder that simple conversation can be enough to generate real drama for an entire movie.
Watch it on: HBO Max, or rent it
---
Bridge of Spies (2015, directed by Steven Spielberg)
Watching Tom Hanks play the Everyman has been a source of comfort to Americans for almost 40 years, but his later collaboration with Steven Spielberg on this robust but talky Cold War drama is one of his best, and most underrated, efforts. Hanks plays James B. Donovan, the real-life figure who was sent to East Germany to negotiate the return of an American U-2 pilot who had been shot down over the USSR; an Oscar-winning Mark Rylance plays Rudolf Abel, the Soviet spy being offered in exchange. Hanks wanders into this stressful situation with the energy of a tired uncle, constantly complaining about his bad head cold and reciting bits of the U.S. Constitution to anyone who will listen. It's essentially a warm, reliable History Channel movie—just one directed by a Hollywood master of popcorn entertainment.
Watch it on: Available to rent
---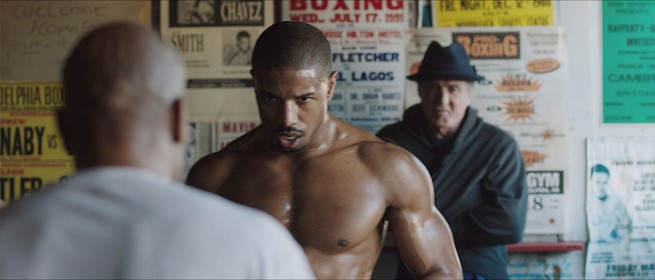 Creed (2015, directed by Ryan Coogler)
Sports movies are among the most rewatch-friendly subgenres if done right. They usually tell some variation of the familiar story about someone emerging into stardom, confronting various obstacles, and eventually winning the big game—even if sometimes the victory is more of a moral triumph. Ryan Coogler's Creed, a sequel-slash-reboot of the Rocky series, has every element that turns a good sports film into a great one—a grounded, lovable hero in Adonis Creed (Michael B. Jordan), earthy and memorable supporting characters, and electrifying competition set pieces that play just as well even if you know who ends up winning. The big boxing bout in the middle of the movie, presented in one unbroken shot, is a scene I return to constantly for a jolt of energy.
Watch it on: Available to rent
---
Free Solo (2018, directed by Jimmy Chin and Elizabeth Chai Vasarhelyi)
Much of the suspense on the first viewing of the documentary Free Solo is wrapped up in whether its subject, Alex Honnold, will survive his attempt to climb Yosemite's 3,000-foot-tall El Capitan peak without any safety equipment. Once you know that he's pulled that off (and, really, it's hard to imagine the movie existing in the first place if he hadn't), Free Solo becomes a transfixing rewatch, a monumental depiction of someone's obsessive focus on their craft. Honnold's personal idiosyncrasies are part of the film's charm, but the true satisfaction is in watching him tackle an impossible job, figure it out piece by piece, and accomplish it, with every angle of his journey beautifully photographed and assembled.
Watch it on: Hulu, or rent it
---
High Fidelity (2000, directed by Stephen Frears)
Nothing is more reliably entertaining than a "hangout movie," a comedy where much of the action comes from fun characters sitting around and bouncing dialogue off each other. High Fidelity, set in a dusty Chicago record store, is ostensibly concerned with the romantic travails of Rob Gordon (John Cusack), a grumpy lothario mulling his history of failed relationships. But some of the film's best material sees Rob bickering with his co-workers Barry (Jack Black) and Dick (Todd Louiso), debating the intricacies of pop music and trying to shut out the reality of his latest devastating breakup. Great hangout movies create worlds you want to live inside of, and High Fidelity's Championship Vinyl is exactly that.
Watch it on: Available to rent
---
Inside Man (2006, directed by Spike Lee)
This is arguably the best cop movie of the last 20 years, a work bolstered by Spike Lee's understanding that viewers can enjoy the heroic swagger of movie detectives while reckoning with the institutional rot that surrounds them. Inside Man is both an incredible hostage drama and a deftly written whodunit, in which Detective Keith Frazier (Denzel Washington) tries to understand the motives of a mysterious criminal (Clive Owen) executing a very odd bank heist in New York City. Even if you know where Inside Man is going, there's such glee in watching how it gets there, with Lee's visual sparkle and wry wit on display at every turn. Washington is my favorite leading man of his generation, and I find almost any film of his comfortingly rewatchable; Inside Man just has the right balance of artistry and fun.
Watch it on: Showtime, or rent it
---
Jack Reacher (2012, directed by Christopher McQuarrie)
By definition one of the most comforting subgenres of literature is the airport paperback, an easy-to-read romance or thriller that will distract you with enough twists and turns for the hours of travel ahead. Jack Reacher is the movie version of that, based on Lee Child's popular ongoing series about a former military policeman wandering America in search of justice. It's an artful, visually electrifying piece of pulpy trash, with Tom Cruise punching and glowering his way to the heart of a dark murder mystery. Christopher McQuarrie could have made 10 more of these had he stayed aboard, but he instead departed for the greener pastures of the (similarly rewatchable) Mission: Impossible series.
Watch it on: Available to rent
---
Julie & Julia (2009, directed by Nora Ephron)
Almost any of Nora Ephron's classics would fit on this list—the woman who made Sleepless in Seattle and You've Got Mail practically invented the modern rom-com movie, which is designed to be as familiar and inviting on the hundredth watch as it is on the first. But I have a soft spot for her final film, a biopic of Julia Child (Meryl Streep) that also, in a separate timeline, follows a young, modern New Yorker (Amy Adams) who embarks on a project of trying to cook every recipe in Child's Mastering the Art of French Cooking. Told with love for both of its characters, Julie & Julia is loaded with beautiful cooking imagery and features the reassuring presence of Stanley Tucci as Child's husband, Paul, a bedrock of support in her journey to becoming America's most celebrated chef.
Watch it on: Showtime, or rent it
---
Laggies (2014, directed by Lynn Shelton)
Another hangout movie, but this one is about that post-adolescent period in life where you don't know what to do with yourself—a feeling nearly everyone has experienced. Lynn Shelton, whose tragic death shook the indie-movie world earlier this year, was a wonderful essayist of character nuances, and this is perhaps her most charming and effortless film. Laggies focuses on a trio of unlikely friends—a teenager (Chloe Grace Moretz), a 20-something (Keira Knightley), and a single dad (Sam Rockwell), all listless for their own reasons and struggling to act their age. The plot antics are minor, but the cast chemistry is real, and what seems like a slight indie comedy on first viewing deepens with every rewatch.
Watch it on: Kanopy, or rent it
---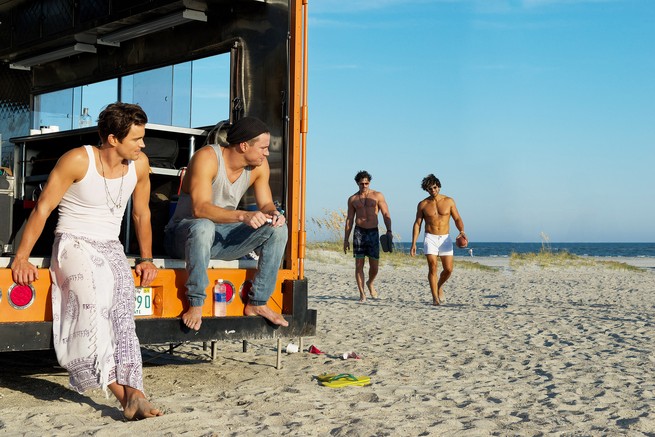 Magic Mike XXL (2015, directed by Gregory Jacobs)
The first Magic Mike, directed by Steven Soderbergh, is a fun and fascinating snapshot of the male-stripper industry, but it's burdened by a dull drug-dealing storyline. The sequel, Magic Mike XXL, made by Soderbergh's longtime collaborator Gregory Jacobs, cuts all of that plottiness out. The result is a cheerful road-trip movie featuring a bunch of burly, shirtless boys heading to a stripper convention in Myrtle Beach, South Carolina, and dancing at any venue they stop at along the way. Magic Mike XXL is essentially a sexy mood board, a neon-tinged mixtape of music and movement, where the only stakes are how much fun everyone's going to have.
Watch it on: Available to rent
---
Master and Commander: The Far Side of the World (2003, directed by Peter Weir)
Yes, this 138-minute, 19th-century nautical epic begins and ends with huge naval battles where cannon fire rages and bodies are flung overboard. But most of the action of Peter Weir's movie, an adaptation of Patrick O'Brian's popular series of seafaring novels, is of a far calmer variety, delving into the curious human ecosystem of a British warship. As Captain Jack Aubrey (Russell Crowe) and his faithful sidekick, surgeon Stephen Maturin (Paul Bettany), nurse their wounds after defeat in battle, Master and Commander explores the peculiar dynamics of their partnership, the complicated class politics of their crew, and Maturin's desire to chart rare birds on the Galapagos Islands. How many action epics have multiple scenes where the two heroes play string duets together?
Watch it on: Hulu, or rent it
---
Metropolitan (1990, directed by Whit Stillman)
Any Whit Stillman film relies on the same storytelling engine: conversation. He makes movies about the chattering classes that involve a lot of chatter of the fizzy, droll, and hyper-neurotic variety. His debut, Metropolitan, set in stuffy Manhattan high society, is the chattiest of them all, essentially following a group of fancy teenage debutantes as they mingle, flirt, and snipe from party to party. There's a certain calm I get from Stillman's confident sense of dialogue and rhythm, also on resplendent display in his follow-ups Barcelona, The Last Days of Disco, and Love & Friendship. He'll make you nostalgic for dinner parties.
Watch it on: Showtime, or rent it
---
Molly's Game (2017, directed by Aaron Sorkin)
Certain types of movies just play better on TV after you've already seen them three or four times. In the past, you'd stumble across these films on cable when flipping through channels; now, maybe you find them while scrolling through Netflix or some other streaming service. One such film is Molly's Game. On release, the directorial debut of the celebrated screenwriter Aaron Sorkin got mixed reviews, but on rewatch, it's sensational fun, telling the story of real-life underground poker mogul Molly Bloom (Jessica Chastain) with a breakneck screenplay that combines voice-over narration, flashbacks, and courtroom antics. It features Sorkin's typical approach to writing—an absolute piledriver of dialogue and speechifying—but has the perfect mix of gossipy sizzle and self-importance to entertain every time.
Watch it on: Netflix, or rent it
---
Moonstruck (1987, directed by Norman Jewison)
The deepest, richest, most romantic kind of a movie, a full-bodied glass of red wine to be enjoyed anytime one's faith in humanity is fraying, Moonstruck might be the most comforting film ever made. Norman Jewison's Oscar-winning rom-com, written by John Patrick Shanley, works because of its wonderful sense of place (the cramped kitchens and restaurants of Italian-American Brooklyn Heights), its passionate and committed cast (including Cher, Nicolas Cage, Olympia Dukakis, and Danny Aiello), and its loopy celebration of love emerging from the strangest and most unexpected places.
Watch it on: Showtime, or rent it
---
Mystery Train (1989, directed by Jim Jarmusch)
I find a lot of Jim Jarmusch's oeuvre quite relaxing—his films are often led by mood rather than plot, even when concerning dramatic figures such as cowboys (Dead Man), assassins (Ghost Dog: The Way of the Samurai), or vampires (Only Lovers Left Alive). Mystery Train is set in a dingy Memphis flophouse and follows the travelers who pass through its doors, telling sweet and sad stories of their lives. My personal favorite vignette is "Far from Yokohama," centered on a teenage Japanese couple who are obsessed with Elvis and making a pilgrimage to Graceland. Jarmusch depicts their journey through town with a mixture of wonder and whimsy in a sequence that never fails to bring a smile to my face.
Watch it on: Kanopy, or rent it
---
Ocean's Eleven (2001, directed by Steven Soderbergh)
There's nothing like seeing a plan come together perfectly; that's the joy of watching any good heist movie. In remaking the stodgy 1960 caper comedy starring Frank Sinatra, Soderbergh relied on a modern cast of A-list stars (George Clooney, Brad Pitt, Julia Roberts, Matt Damon) to up the coolness factor by 10. Even though the stakes of the heist are very high (Danny Ocean and his crew try to simultaneously rob three Vegas casinos), everything feels effortless—from the dialogue to the perfect fit of everyone's costumes. Soderbergh's breezy filmmaking, and his reverence for Hollywood star power paired with his willingness to poke fun at everyone's self-importance, make Ocean's Eleven an engaging blast even if you know how it's all going to end.
Watch it on: HBO Max, or rent it
---
One Fine Day (1996, directed by Michael Hoffman)
I am particularly drawn to movies set in the New York of yesteryear, shot on location, that have some sense of the city's unique atmosphere—it's an environment that I love to cinematically visit as often as possible. One Fine Day is a fairly frenetic work, given that it's about two stressed-out single parents (played by George Clooney and Michelle Pfeiffer) who accidentally swap cellphones and learn lessons about their workaholic ways. But every scene of the two leads dashing around town, crossing paths, and eventually (of course) falling for each other is all the better because of the film's sense of place. The last and flirtiest act, which unites the parents and their kids in Pfeiffer's apartment, is the movie equivalent of a warm bath.
Watch it on: Available to rent
---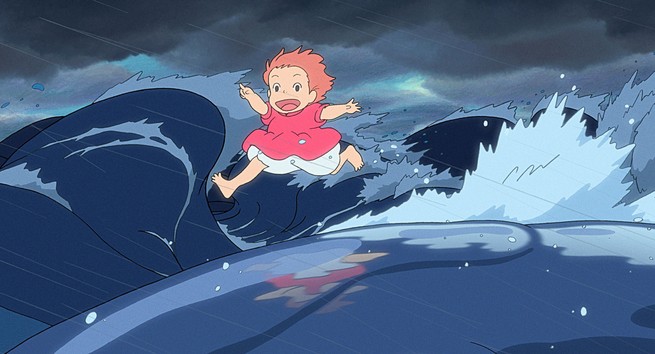 Ponyo (2009, directed by Hayao Miyazaki)
When I'm in a bad mood or in need of an energy boost, Ponyo is the movie I turn to most often for relaxation and rebalancing; of all of Hayao Miyazaki's films, it does the best job of cheering me up. Almost any of the Japanese animator's works would fit on this list, thanks to his ability to create beguiling worlds and his confidence with dialogue-free sequences that rely only on music and visuals. The additional joy of Ponyo lies in how cheerfully it plays out, focusing on the connection between a plucky 5-year-old named Sōsuke and Ponyo, the magical fish girl he plucks from the sea. Their youthful exuberance makes the adventure they go on feel carefree, even as storms rage around them and parents fret over their safety, while the film's quieter moments (like the duo eating a dinner of ramen with ham) are blissful and warm.
Watch it on: HBO Max
---
Set It Up (2018, directed by Claire Scanlon)
Just as the cinematic rom-com seemed to be floundering in 2018, drowned out by bigger blockbusters geared to appeal to global audiences, Netflix came to the rescue and churned out plenty of derivative but charming efforts in the genre. My favorite of the bunch is Set It Up, in which two harried personal assistants (Zoey Deutch and Glen Powell) conspire to make their demanding bosses (Lucy Liu and Taye Diggs) fall in love to take pressure off their own lives. Needless to say, their schemes succeed and unravel, secrets are revealed, and everyone falls in love. Set It Up works because its dialogue is crisp, the cast is chirpy and cheerful, and it sticks to a formula that's worked for decades.
Watch it on: Netflix
---
Comic-book movies have come to dominate Hollywood over the last two decades for a reason. They're massive money-makers that can offer viewers plenty of solace, with easy plot arcs about heroes and villains, problems being overcome, and conclusions of well-earned triumph. But those storylines can start to feel repetitive, and while Shazam! certainly has a caped crusader (Zachary Levi) facing a seething enemy (Mark Strong), the reason it's so wonderful is its deeper narrative of an unlikely family coming together. Set in a foster home populated by adorable misfits, Shazam! focuses its emotional climax on its hero, Billy, only truly realizing his powers once he comes to terms with his unusual support network. The third acts of superhero films are often perfunctory, but in Shazam!, it's the sweetest, warmest part.
Watch it on: HBO Max
---
Sully (2016, directed by Clint Eastwood)
Why did I pick a movie about a plane crash for a list about comfort watches—especially when I am deathly afraid of flying? Sully is soothing not because it depicts a famed real-life aviation disaster (the "Miracle on the Hudson" in which Chesley Sullenberger safely ditched US Airways Flight 1549 onto the Hudson River), but because it's a profile in competence and cool-headedness. As Sully, Tom Hanks is reserved, but possessed of great authority and compassion; the director Clint Eastwood builds out his character, cutting to before and after the accident, to underline how the pilot's skill and confidence saved the day. At the end of the film, Eastwood finally depicts the crash in full—and while the event is traumatic, there's huge relief and pleasure in watching someone do their job perfectly when the stakes are the highest.
Watch it on: Available to rent
---
The Parent Trap (1998, directed by Nancy Meyers)
As with Miyazaki and Ephron, almost any film by Nancy Meyers would fit on this list. She's a master of picture-perfect, tastefully appointed environments—not just kitchens, but entire homes. Her directorial debut, a remake of Disney's 1961 twin-swap comedy, is a little less emotionally fraught and chaotic than some of her later, more grown-up films. Lindsay Lohan plays a pair of twins separated at birth—one posh and English, the other a rugged Californian—who discover their sisterhood and conspire to get their estranged parents (Natasha Richardson and Dennis Quaid) back together. Their antics play out in the most sumptuous locales (fancy English estates, sweeping Napa Valley vistas), and Meyers puts every puzzle piece of the script into place with relish.
Watch it on: Disney+
---
Together (2000, directed by Lukas Moodysson)
Lukas Moodysson is a Swedish purveyor of comedy-dramas that veer from anarchic glee to profound tragedy within minutes—a particularly Scandinavian brand of comfort moviemaking. The teenage music drama We Are The Best! (which features very snug-looking sweaters) is another fine example of his work, but I'm fond of Together, which sees a mother of two named Elisabeth (Lisa Lindgren) moving to a shaggy but welcoming left-wing commune in the 1970s to flee her abusive husband. Plenty of dysfunction ensues as Elisabeth and her kids try to adjust to the culture clash, but that's part of the fun—Moodysson demonstrates all the pleasure and collective spirit of building up a new community, even if it's with a bunch of strange characters.
Watch it on: Available to rent
---
Unstoppable (2010, directed by Tony Scott)
Unstoppable might be the most purely underrated action movie of the last decade (though its stock has risen lately as filmmakers such as Christopher Nolan and Quentin Tarantino have championed it). The final film in Tony Scott's storied career, it has all the cinematic elements the director loved to play around with: blue-collar heroes (Denzel Washington and Chris Pine as a hardworking train engineer and conductor, respectively), big scary vehicles (a runaway train that shows no sign of slowing down), and flashy visuals that play up the importance of simple decision-making. Unstoppable is loud, but it's also tightly focused on just a few characters, grounded by a script that centers on problem-solving, and filled with cathartic victories that practically demand the viewer punch the air. Any cinematic comfort canon needs full-meal movies like this, where crises are resolved, lessons are learned, and everyone feels satiated by the time the end credits roll.
Watch it on: HBO Max, or rent it