Sufjan Stevens's Problem With America
The acclaimed singer was once famous for mythologizing the U.S. Now his "bossy and bitchy" new album expresses discomfort with the country.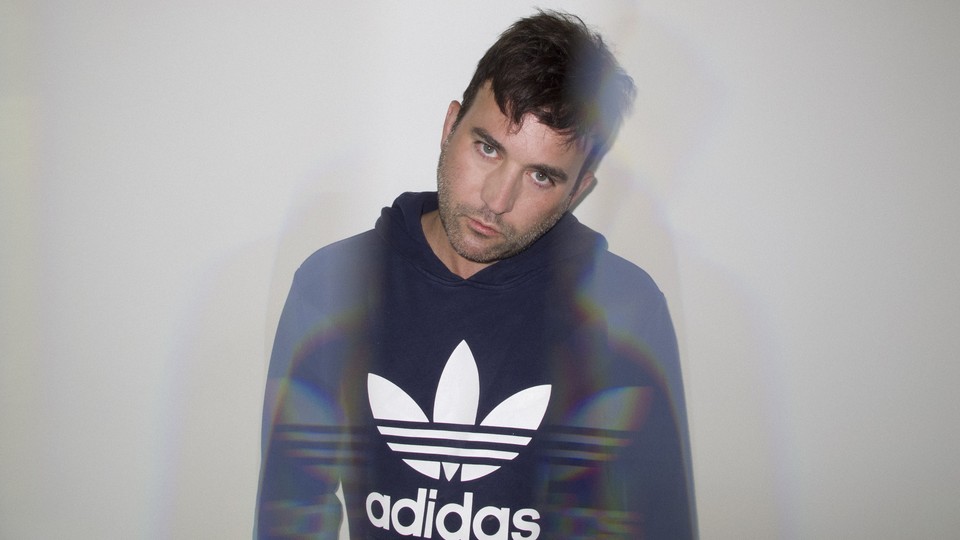 One stipulation was made before I interviewed Sufjan Stevens by phone last month. It would be nice, a publicist wrote along with a smiley face in an email, to avoid questions about the "50 States Project" "where possible."
This was an understandable thing to ask. Stevens first attracted notice with two albums, 2003's Michigan and 2005's Illinois, whose orchestral folk-pop was inspired by their title states' people, places, and pasts. One song conveyed the big-city energy of Chicago, another invoked the memory of Abraham Lincoln, others mourned the industrial decline of Detroit and Flint. The idea, Stevens said back then, was to eventually do 48 more albums for the rest of the country: an audacious proposal that got fans dreaming about the day when Stevens's satiny voice and lush production would memorialize their own home territory. It didn't hurt that Stevens, a banjo-wielding Christian whose songs radiated affection for the country without ignoring its inequality and violence, rose to fame just as the Bush-era GOP was trying to claim a monopoly on faith and patriotism.
But after Illinois, Stevens abandoned the 50-state plan, calling it a promotional gimmick. He then moved on with acclaimed albums of epic-scope electronica, autobiographical folk, symphonic sci-fi, and ambient experimentation, in addition to some Oscar-nominated contributions to the Call Me by Your Name score. Yet some fans still pine for Stevens to return his focus to the U.S. map—and presumably also to the emo-kitsch Americana sound of his earlier years. He must be tired of saying "no" to that pining.
So I did not ask Stevens where the California or Idaho songs are. But I did note that his sprawling new album, The Ascension, out on September 25, might be heard as the final subversion of his early-2000s output. "I'm ashamed to admit I no longer believe," he sings on the lead single, "America," before the knife-flick of a chorus: "Don't do to me what you did to America." Some listeners have speculated that the 12-minute track is about Stevens breaking up with God, but Stevens explained to me that it's not a religious song at all. It instead articulates a "crisis of faith about my identity as an American, and about my relationship to our culture, which I think is really diseased right now ... It's overtly a political protest song, specifically about America."
To the notion that such protest is in tension with his early work, Stevens, 45, said with a laugh, "I have changed. I've grown old and world-weary. I'm exhausted. I'm disenchanted. I'm a curmudgeon." But he insisted that his point of view hadn't radically shifted. "There's a lot of criticism on those [early] records; it's all just hidden behind a facade of joyfulness," he said. "But I'm inherently a pessimist ... For the first time ever, on The Ascension, I'm being honest about what I feel about the world."
Stevens, in fact, wrote "America" six years ago, during the sessions for Carrie & Lowell, his devastating album about personal family tragedy. He shelved the song because it seemed too bitter. "The election of Donald Duck stirred something in me that made me think I was entitled to this cynicism and mean-spiritedness," Stevens said. "I had been holding back a lot of resentment towards pop culture and American culture ... But when all of the shit hit the fan, I realized, I should say something."
Stevens's resentment refracts kaleidoscopically through The Ascension's 15 songs, which total an hour and 20 minutes of music. The lyrics impressionistically address love, death, and drugs with an overarching call to defy modern society's materialism, lies, and idol worship. "I'm speaking to you," Stevens said. "You are the subject of this record. You, the listener." It's an intimidating album, and I asked whether he was worried about coming off as didactic or preachy. "I think I've earned the right to be didactic and preachy," he said. "I've been doing this for 20 years, and how many songs have I written about my own personal grievances [with] judgment against myself, self-deprecation, and sorrow? I was like, No, I don't want to write another song about my dead mother. I want to write a song that is casting judgment against the world."
---
If Stevens is embracing his inner crank these days, you wouldn't know it by talking with him. On the phone, he was teasing and loose, and we digressed into conversations about his love of RuPaul's Drag Race and his fascination with rats. "I fucking admire them," he said. "They're like Tonya Harding; they're survivors." He became acquainted with rodents when they infested his Brooklyn apartment a few years ago, encouraging him to flee to hotels and Airbnbs for much of the period during which The Ascension was recorded. By the time the album was completed, he'd built a new home in the Catskills, where he now lives. "Thank you, next," he said of New York City. "I did my time, 20 years. I'm sorry I'm not a lifer."
The Ascension, like its creator's personal affect, is more jaunty than might be expected. After the hushed strumming of Carrie & Lowell, Stevens returned to the synthesizers and drum machines that defined 2010's Age of Adz, a dazzling left-turn of an album that decisively ended his 50 states phase. Although The Ascension is more depressing than the madcap Adz, its approach does call to mind Stevens's 2010–11 tour, for which he employed backup dancers while clad in neon. The Ascension's song titles reference many famous works—The Godfather, the epic of Gilgamesh, Carly Rae Jepsen's "Run Away With Me"—and some of the hookier, danceable moments evoke Janet Jackson. A goth streak runs throughout, too, starting when the opening track reaches a warehouse-techno climax that sounds like Nine Inch Nails covering the Beatles' "A Day in the Life."
"I just got so sick of folk music," Stevens said. "Don't get me wrong: I'm fundamentally and always will be a folk singer-songwriter. But I needed to exorcise all of those folk idioms ... I also think this record, because it is political and bossy and bitchy, needed to be somewhat fun, sonically."
There's an obvious irony in Stevens channeling mainstream culture while he purports to criticize it. On the catchy single "Video Game," his lyrics pooh-pooh social media even though the music video enlists the TikTok star Jalaiah Harmon. What Stevens is trying to do is distinguish between joyful self-expression and validation-seeking vanity. "We need the Nicki Minajes, we need the Charli XCXes, we need the indulgences, and we need the entertainment," Stevens said. "Those things can be pure and they can be useful. I'm not really criticizing any of that. What I'm speaking about is the apotheosis problem of America. We've indulged in the cult of personality so far that we have a TV celebrity for a president."
Stevens knows that he himself might be accused of heading up a cult of personality, though he would argue that he's tried not to encourage worship of him as an individual. "I don't want to be a pop star," he said. "I think that's pretty clear in my career and in my music." To that end, the lyrics of The Ascension aim for something "objective and vague" rather than narrative-driven or memoiristic. "Our problems are no longer personal; they're universal," he said. "I think we all feel like that right now."
That's not to say he's entirely removed himself from his music. The droning new song "Ativan" portrays a panic spiral treated with medication; Stevens says he wants to bring transparency to the sort of mental-health issues he has dealt with. On a later track, "Goodbye to All That"—a hopeful-sounding highlight whose sleigh bells and choral harmonies recall Stevens's many Christmas albums—he even mentions his birth year, 1975, before singing, "It's too late to have died a young man." The song, like the Joan Didion essay it's named for, is his kiss-off to New York City. It's also a call for the listener, and the world, to make a break with the toxic past.
"I decided to move on, and I wonder if that's what needs to happen culturally and politically," Stevens said. "What if we just cut it off? Severed the limb that causes you to stumble … and tried something new? Like, what if we rewrote the Constitution? What if we split up the country into different geopolitical regions and we were multiple countries? What if we put 10-year-olds like my niece in charge?" If these are jarring proposals to hear from an artist once thought to be a keeper of national mythology, Stevens would argue that his critiques are grounded in hope. "I don't want anyone to think that what we're going through is unsolvable, because I don't believe that," he said. "I still have faith, I still have hope, I still have love ... Yeah, we got to break shit up, but we should also build something better."