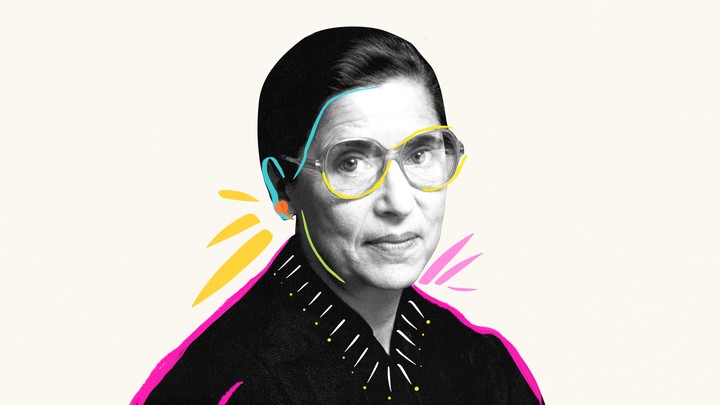 In 2014, Kate Livingston created a quirky Halloween costume for her 12-week-old son. It featured a black, sleeved onesie. And a white silken collar. And a pair of large, plastic-rimmed glasses. Livingston snapped a picture of the cosplaying infant—he provided the cool scowl—and then added a caption, in blunt all-caps, to the photo she took: "I DISSENT." Ruth Baby Ginsburg was born.
Justices of the Supreme Court have traditionally existed above the fray. They wear body-obscuring black robes, stay stoic at the State of the Union address, and prioritize a long-view approach to human events. But Ruth Bader Ginsburg, who died today at age 87, changed that model, because Ruth Bader Ginsburg lived within the fray: Particularly in her later years, she was a justice who was also a celebrity. There was Notorious RBG, the meme and the Tumblr and the book. There was On the Basis of Sex, the 2018 biopic telling the story of Ginsburg's early years as a professor and a litigator. There was RBG, the documentary. There were Kate McKinnon's swaggering impressions on Saturday Night Live ("You've been Ginsburned!"). And there was the array of RBG-themed goods: the prayer candles, the dolls, the coloring books, the jewelry. There are the collections of RBG-inspired collars. Hers is a visible fandom.
The celebrations, as outgrowths of an internet culture that has turned irony into an aesthetic, often amount to a form of kitsch. They revel in their own playful collisions, the Bubbie and Biggie. But they are not frivolous. And, following Ginsburg's death, they have an epigraphic feel. Ginsburg's celebrity was an adjunct to her legal career that recognized something essential about that career. One way you can read Ginsburg's work, after all, is as a long-running assertion—conducted over decades, within lower courts and the highest in the land—that the law itself is much more personal than the staid traditions of the Court might imply. SCOTUS makes decisions on behalf of people's bodies. It arbitrates on behalf of people's minds. Civic participation, privacy, personhood, parenthood, family, love—these are not arguments; they are the warm facts of people's lives. The RBG fandom, in its way, recognized that intimacy. In an era when too many American leaders treat human lives as abstractions, the fandom, even at its cheekiest, insisted on the Court's humanity. The personal is political; the memes, like the person they celebrate, insisted that the personal is also judicial.
Read: The irony of modern feminism's obsession with Ruth Bader Ginsburg
One of the themes of On the Basis of Sex, the Ginsburg biopic, is the question of cultural evolution. Is progress best made patiently, incrementally? Or is patience a form of complacency? An early scene finds Ginsburg, played by Felicity Jones, and her husband, Marty (played by Armie Hammer), at law school: He's in his second year; she's in her first. A professor quotes the legal scholar Paul Freund's observation about the Supreme Court: Its justices, Freund once said, "should never be influenced by the weather of the day but inevitably they will be influenced by the climate of the era."
That insight informs the film, which focuses on the work Ginsburg did—long before President Bill Clinton, in 1993, appointed her to the Court—to end gender-based discrimination in American case law. Weather versus climate: Ginsburg, as a jurist, is typically associated with the style of change that is slow and systemic and therefore, the argument goes, sustainable. The film makes a notably different claim. It celebrates Ginsburg, in the end, as a revolutionary. It finds her working with Marty—who was a brilliant tax attorney—to challenge one of the gendered assumptions embedded in the American tax code. The effort was at once pragmatic and radical. It was a means of taking on a widespread system that discriminated on, yes, the basis of sex.
"The film is part fact, part imaginative," Ginsburg said. "But what's wonderful about it is that the imaginative parts fit in with the story so well." Its screenplay was written by Ginsburg's nephew, Daniel Stiepleman. And it focuses on Ginsburg as a wife and mother as well as a jurist. It tells the story of Marty's diagnosis of testicular cancer, when both he and his wife were in law school. It details how Ruth cared for him through radiation therapy and helped him graduate. It emphasizes Ruth's relationship with her daughter, Jane, who admired Gloria Steinem and didn't realize that she was living with another feminist icon. Like many biopics, the film has the glossy veneer of hagiography—down to one of its final scenes, which finds Jones's version of Ginsburg walking up the steps of the Supreme Court Building, only to morph into the real Ginsburg doing the same. But On the Basis of Sex earns its accolades, in part because it echoes Ginsburg's own legal argument: It insists that you can't understand Ginsburg as a jurist if you don't understand her as a person. It challenges the notion that legal wisdom can somehow be separated from justices' humanity.
Ginsburg herself saw her life experience—the discrimination she faced, as a woman and a mother—as essential to her interpretation of the Constitution. She knew in her bones what it is to be seen, by other people and by the law, as less than. ("If you want to understand how an underestimated woman changed the world and is still out there doing the work," the introduction to the book Notorious RBG reads, "we got you.") She took for granted that wisdom is not a matter of separation from the facts of everyday life; wisdom comes from a deep acquaintance with those facts. "As we live, we can learn," she noted. She added: "It's important to listen."
But wisdom can stem from anger and indignation. "Notorious RBG," the meme—and, soon enough, the brand—sprang up as a result of one particular dissent: Ginsburg's reaction to the Court's 2013 decision in Shelby County v. Holder, which struck down provisions of the Voting Rights Act of 1965. The decision split 5–4, along partisan lines. The majority argued, essentially, that American cultural conditions had changed enough that the kind of federal scrutiny mandated by the provisions in question was no longer necessary; squint just a bit, and you might have seen the high court engaging in the rhetoric of post-racism that was so common during the Obama presidency. Ginsburg, however, took the longer view. In her scathing dissent, she accused the majority of punishing the Voting Rights Act for doing what it had been intended to do. And she accused those five justices of lacking the foresight—or, indeed, the historical awareness—to recognize how quickly tides, and winds, can change. Dismantling the VRA provisions, she argued, was like "throwing away your umbrella in a rainstorm because you are not getting wet."
Read: How Shelby County v. Holder broke America
The Notorious RBG Tumblr emerged from that, as young progressives found their own reactions to the decision encapsulated in that objection. Then came the array of commercial goods that made an appreciation of RBG something people wore and gifted and shared. Celebrity, even as it idealizes people, relishes their idiosyncrasies. The fandom cared deeply about Ginsburg's long and loving relationship with Marty. It cared that Ginsburg's nickname was Kiki. It cared about her Brooklyn accent—which became more pronounced in her speech, Felicity Jones observed, the more impassioned she became. The fandom found catharsis in Ginsburg's righteous indignation. It understood that the Court is a profoundly human institution. And it is making sense of Ginsburg's loss in notably human terms. When news of her death broke tonight, many people took to social media to offer tributes, and to reshare the familiar memes. They talked about Ginsburg as a trailblazer for women's rights and minority rights. They talked about her legacy—and the acute fragility of progress. They talked about what she'd meant to them, personally. Many of their messages were soaring and searing and eloquent. But what trended on Twitter, as people learned of the loss, was something much more plaintive, and much more visceral: "No. No. No."
We want to hear what you think about this article. Submit a letter to the editor or write to letters@theatlantic.com.
Megan Garber
is a staff writer at
The Atlantic
, where she covers culture.